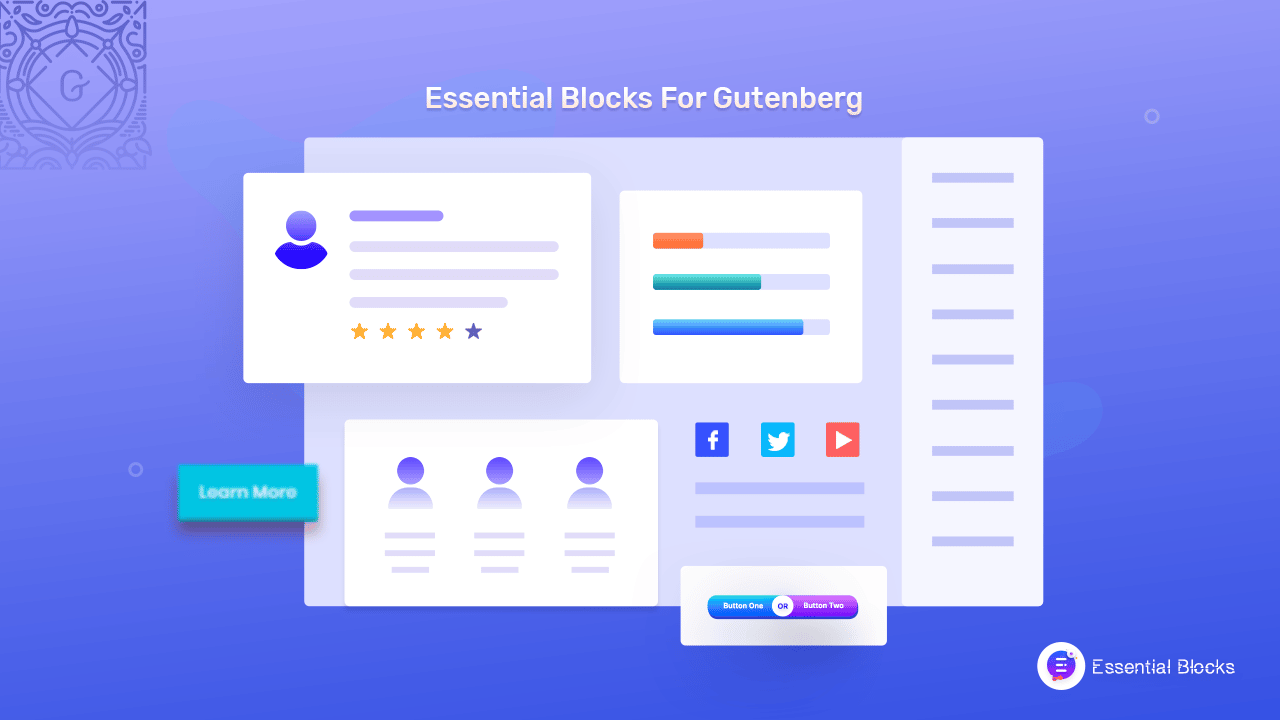 Getting Started With Essential Blocks for Gutenberg: The Best Block Plugin For WordPress
New to WordPress page builders or made a recent switch to the default block editor Gutenberg? While it is rapidly gaining popularity with its array of blocks and features, you can always add additional plugins especially to bring more enhancements to the block editor. And we have just the one to do the magic – introducing Essential Blocks for Gutenberg, the advanced free block plugin for WordPress block editor, packed with an entire collection of unique blocks, countless advanced features and facilities, and more!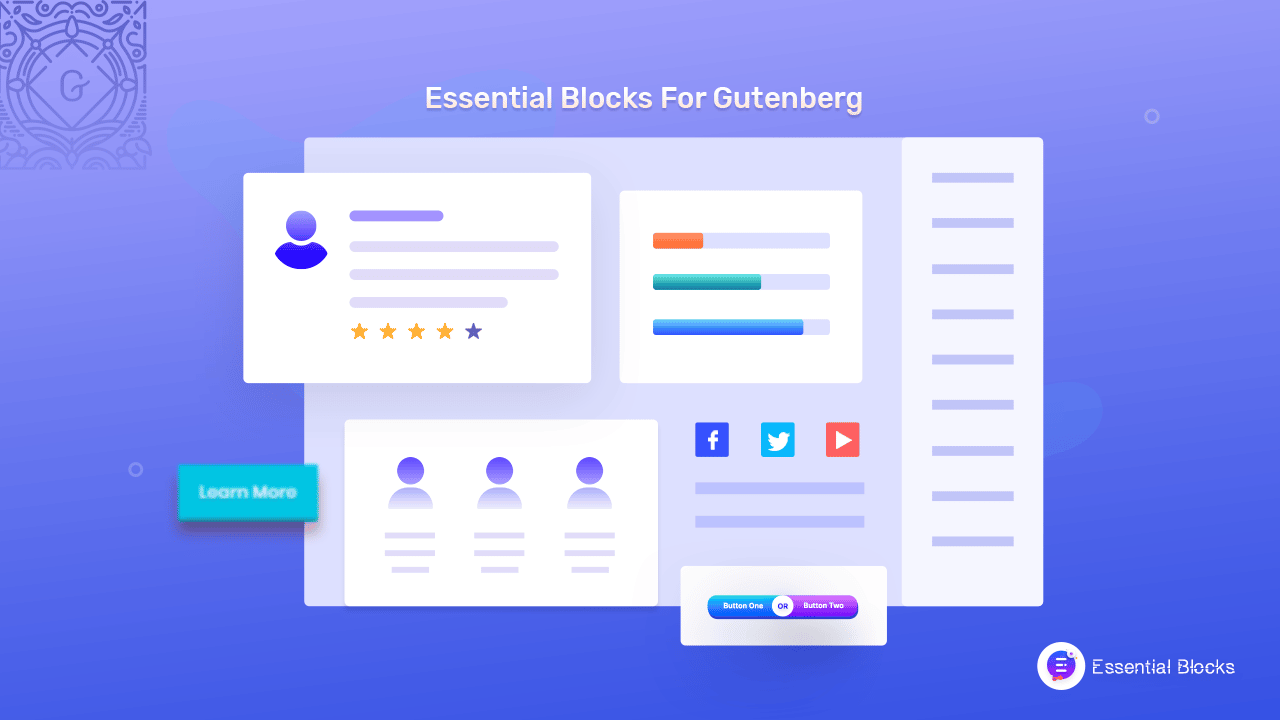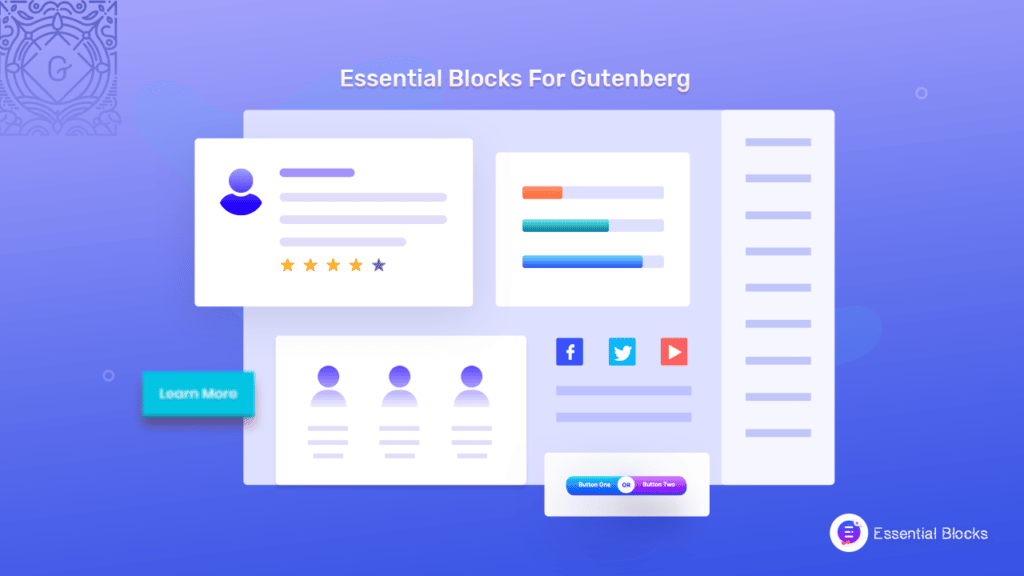 Importance Of A Complete Gutenberg Blocks Library In Web Building
For a few years now, Gutenberg has been WordPress' default block editor, slowly gaining popularity and power over time. With steady improvements and enhancements, this no-coding-required WordPress visual editor has managed to make web building and designing easy for both technical and non-technical users likewise.
However, while it does come with a rich library of pre-built Gutenberg blocks to help you create content on your website in a visually pleasing manner – the very small number of built-in blocks can sometimes be quite limiting. This is exactly where a complete Gutenberg Blocks Library plugin can come in handy, enabling you to make full use of the block editor's flexibility with countless additional, ready blocks to help you create a full-fledged website with ease.
And we are super excited to introduce to you Essential Blocks – the best plugin for Gutenberg – with tons of advanced, ready, and fully customizable blocks to accelerate your web designing skills instantly. A completely free plugin with more than 30 of the best Gutenberg blocks, this ultimate tool will give you more flexibility and a better web-building experience than ever before!
What Sets Essential Blocks Apart From The Rest?
Now, you must be wondering what sets Essential Blocks apart from the rest when, with the growing popularity of the Gutenberg block editor, more and more block plugins are sprouting up around the WordPress ecosystem by the day. Well, we can assure you that none possess all the outstanding features and facilities that this ultimate best Block plugin for Gutenberg brings to the table:
🧱 Accelerate Web Designing With 30+ Advanced Gutenberg Blocks
First and foremost, Essential Blocks for Gutenberg is here to an astounding collection of over 30+ (and counting) advanced, ready blocks to cover every aspect of your web building needs and fill your neat Gutenberg canvas with creativity. You will find blocks that fall under 5 different categories consisting: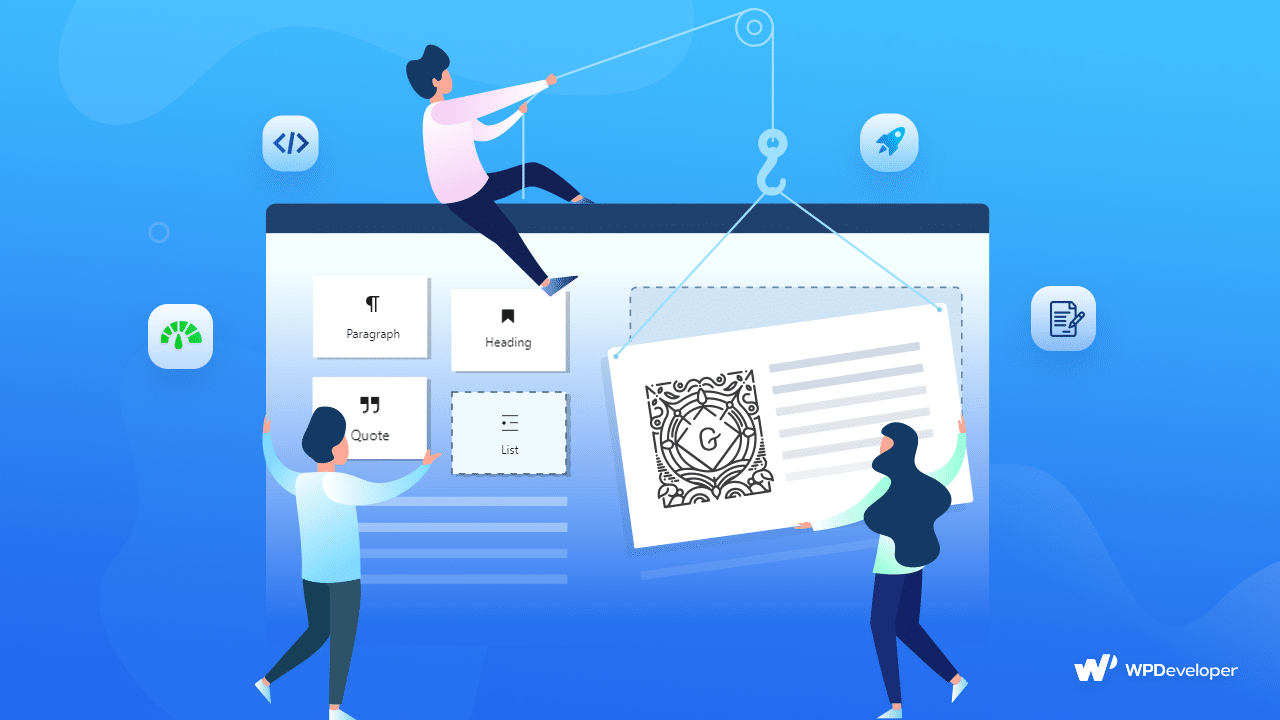 📃 Content Blocks: Create a one-of-a-kind, engaging web posts and pages with ease
🎨 Creative Blocks: Make your web content & pages irresistibly interactive to viewers
🔎 Dynamic Blocks: Help make navigation easier and improve user experiences
📢 Marketing Blocks: Accelerate campaigns, deal pages, call-to-actions, and more
✅ Form Builder Blocks: Add customizable contact forms to your web pages in 1 click
🖱️Get Complete Control Over Individual Blocks With A Single Click
While 30+ additional blocks on your Gutenberg block editor can be quite helpful, there is always a fear of your website speed slowing down if all are active at the same time on your site. But this is not a worry at all with Essential Blocks, because this advanced block plugin gives you complete control over the activation of each of these blocks.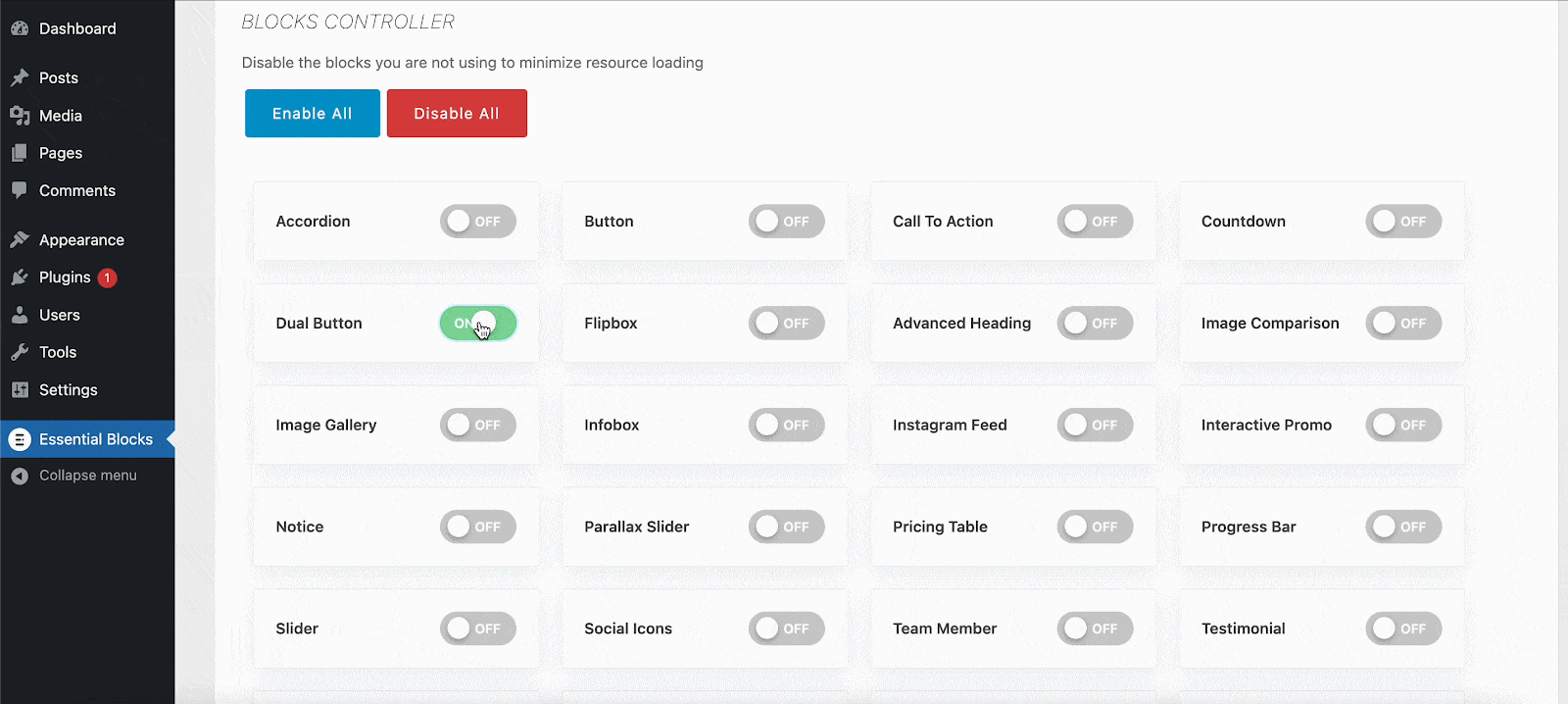 You can enable or disable each of the 30+ blocks individually, and use whichever one you need when you need to. This ensures that your site speed does not get hampered at all – all you need to do is toggle to enable your preferred blocks from your website's dashboard.
🖌️ Enjoy Limitless Customization & Infinite Design Possibilities
Now, the best part of Essential Blocks for Gutenberg – each and every one of the ready blocks that come with this plugin can be fully customized to take any preset and design possibilities that you want to give it.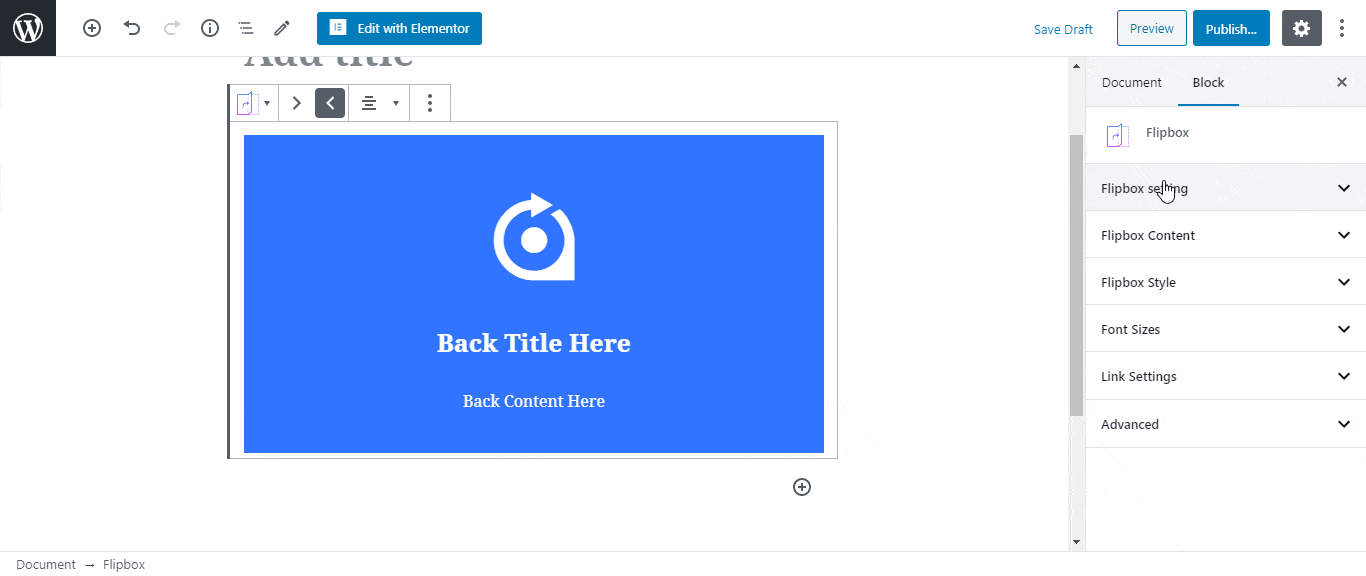 You will no longer be stuck with blocks or sections on your site that do not match your brand aesthetics or values. Simply click on the blocks, navigate to the block customizer on the left-hand side panel of your site and get limitless power over the block customization and designs effortlessly.
🖥️ Provide The Best User Experience With Fully Responsive Blocks
And not only that, all the 30+ Gutenberg blocks from Essential blocks are completely responsive and have been developed to load fast and seamlessly on all browsers. Regardless of what device website visitors or viewers use to access your site, they will receive a smooth experience because the blocks adjust themselves to all screen sizes and orientations automatically and lucidly.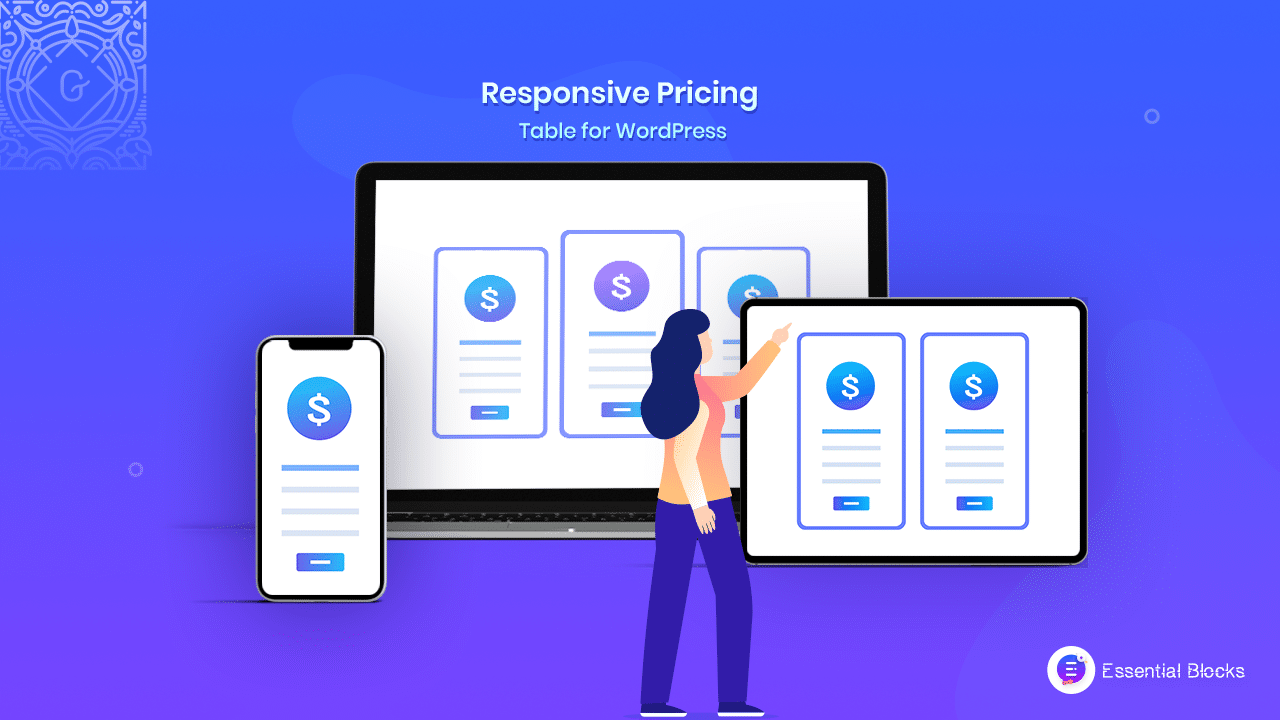 💭 Easily Translate The Gutenberg Blocks In Any Language You Prefer
And finally a feature you'll rarely find in even the WordPress plugins – you can easily translate the blocks from Essential Blocks to any language you feel most comfortable using, in just a few simple steps and boost your efficiency.
Especially, if English is not your native language or not the language of your website's target audience, it can be frustrating to have to google the translation of each string on your favorite plugin to understand what each feature stands for. But Essential Blocks has your back in this aspect, by bringing you translation-ready blocks to boost your user experience and helping your conversion rates grow.
Essential Blocks For Gutenberg: The Ultimate Block Collection
Essential Blocks introduces almost 30+ ready blocks for Gutenberg that will instantly upscale your page-building experience. Blocks belonging to a range of categories from content, marketing, and forms, you will get a variety of blocks to help you create a complete WordPress website within no time. With the most flexibility, you can use these blocks with ease and enhance your productivity while page building. Let's dive in and get to know all the outstanding block collections built for Gutenberg.
⭐ Make Your Webpage Interactive With Creative Blocks
The main purpose of creating any webpage is to drive conversion, build relationships with your audience and boost the brand to a new height. So creating a web page more interactive is essential to present all your content in a creative way. Let's see all the creative blocks available with Essential Blocks.
Progress Bar
To make your Gutenberg web page more interactive, add a progress bar using a progress bar without any coding. You can show your visitors important stats or information through the progress bar. The latest success rate, future goal prediction, or progress rate can be shown through this. It will immediately improve your website's user experience and make it appear more professional.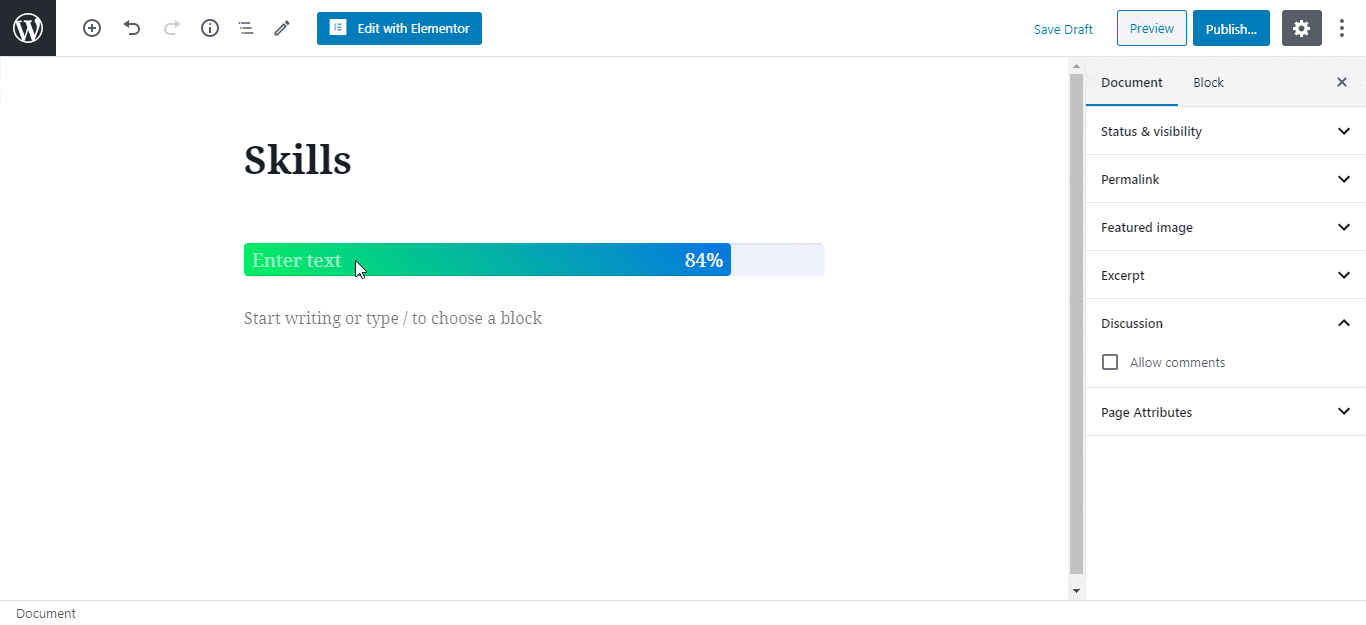 Countdown
Do you want to creatively boost your click-through rate? You can do so using the countdown block by Essential Blocks. With a lot more customization, you can turn your countdown into a fully functional and visually appealing countdown notice. The main purpose of this is to grab the attention of your visitors. Eventually, it will play a major role in your website conversion.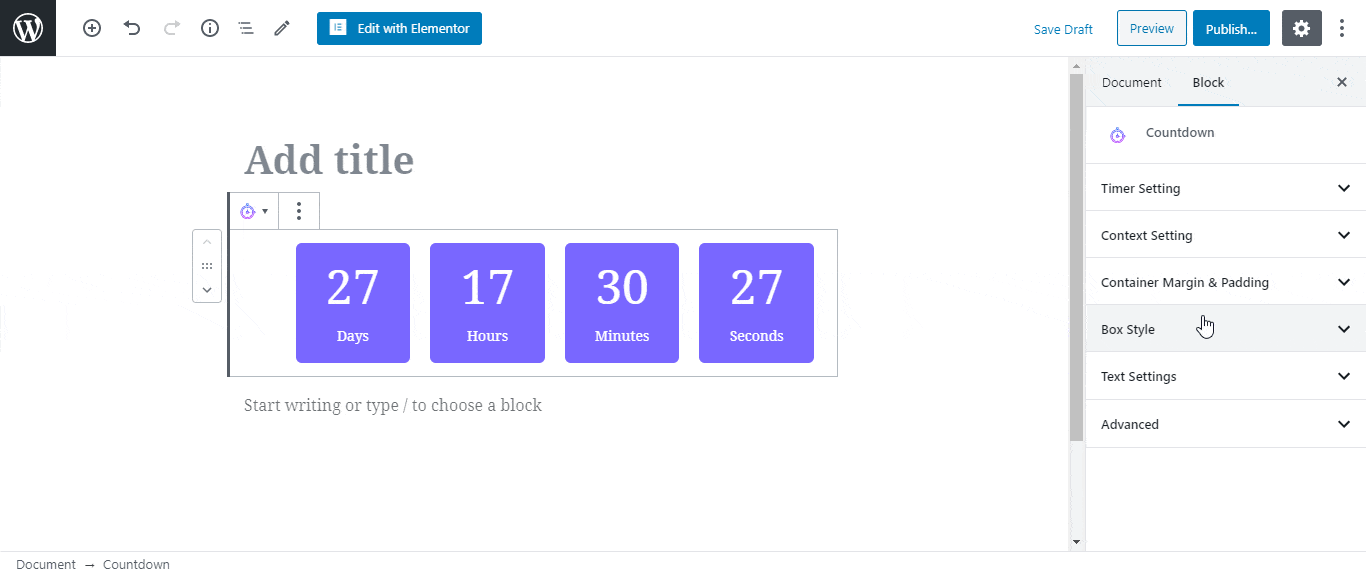 Interactive Promo
If you want to give your website a new look, Interactive Promo can help you do so by adding amazing effects to various sections. With a plethora of customization options, you can insert content as needed and style it as desired. It will also make your website appear lucrative.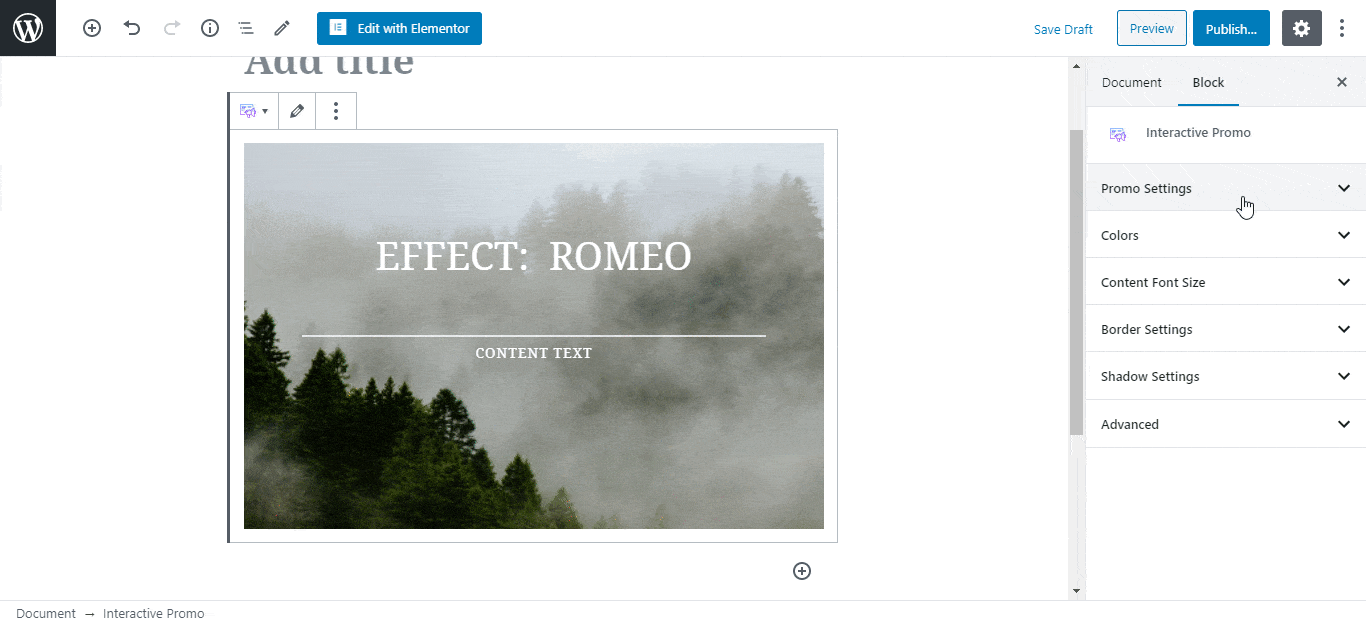 Image Comparison
Image comparison is a very beneficial block for Gutenberg users to visualize significant changes in whatever they want to present. If you own a bookstore and want to show a before and after image comparison of your store's renovations, this block will help you present it beautifully. With a variety of customization options, you can present a higher image resolution comparison.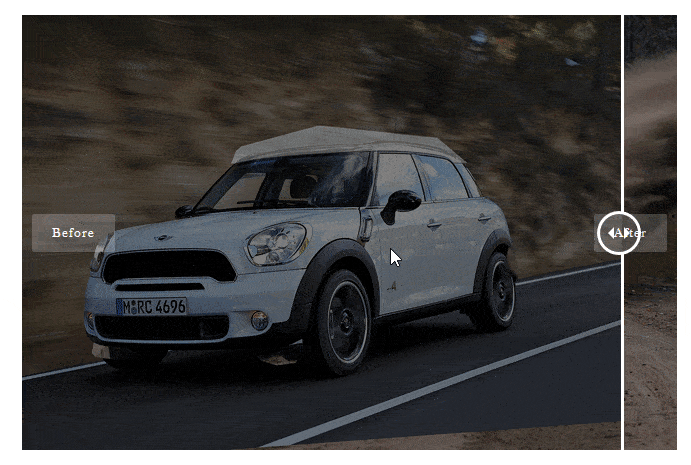 There are more blocks available for creative purposes, such as typing text or typing counts. These are useful blocks for Gutenberg users because they improve the presentation quality of their content as well as the overall appearance of their website.
⭐ Create Unique Web Content With Advanced Content Blocks
You can use the Essential Blocks plugin to create and design all of your content without having to code. This plugin includes 15+ content blocks that will make your content appear more engaging. You will receive a variety of elements to present your content, which will instantly increase conversions. Using this Gutenberg block, you can add a variety of functionality and features to your content sections. Let's take a look at the content blocks available in the Essential Blocks plugin to create a unified presentation of your content.
Accordion
The accordion block allows you to present all of your content in a more space-efficient and visually appealing manner. When a user clicks on one of the information panels, the accordion displays the entire text. This feature will allow you to be more creative in terms of content presentation if you want to save space on your website page.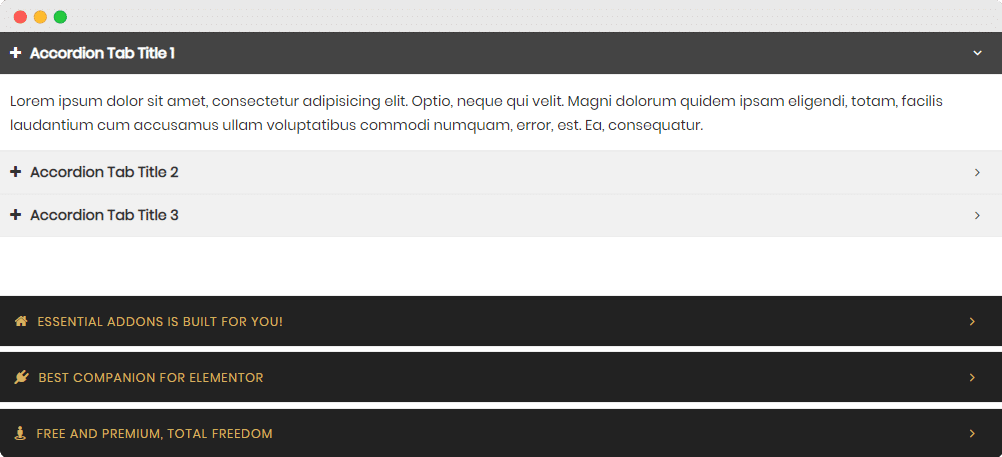 Flipbox
Keeping your audience's attention becomes more difficult whenever your web page becomes more content-heavy. The Flipbox feature of Essential Blocks allows you to display your texts in a unique way. You can easily show your text content with a flipping effect and make the section beautiful with some customization. It also saves space for the content presentation.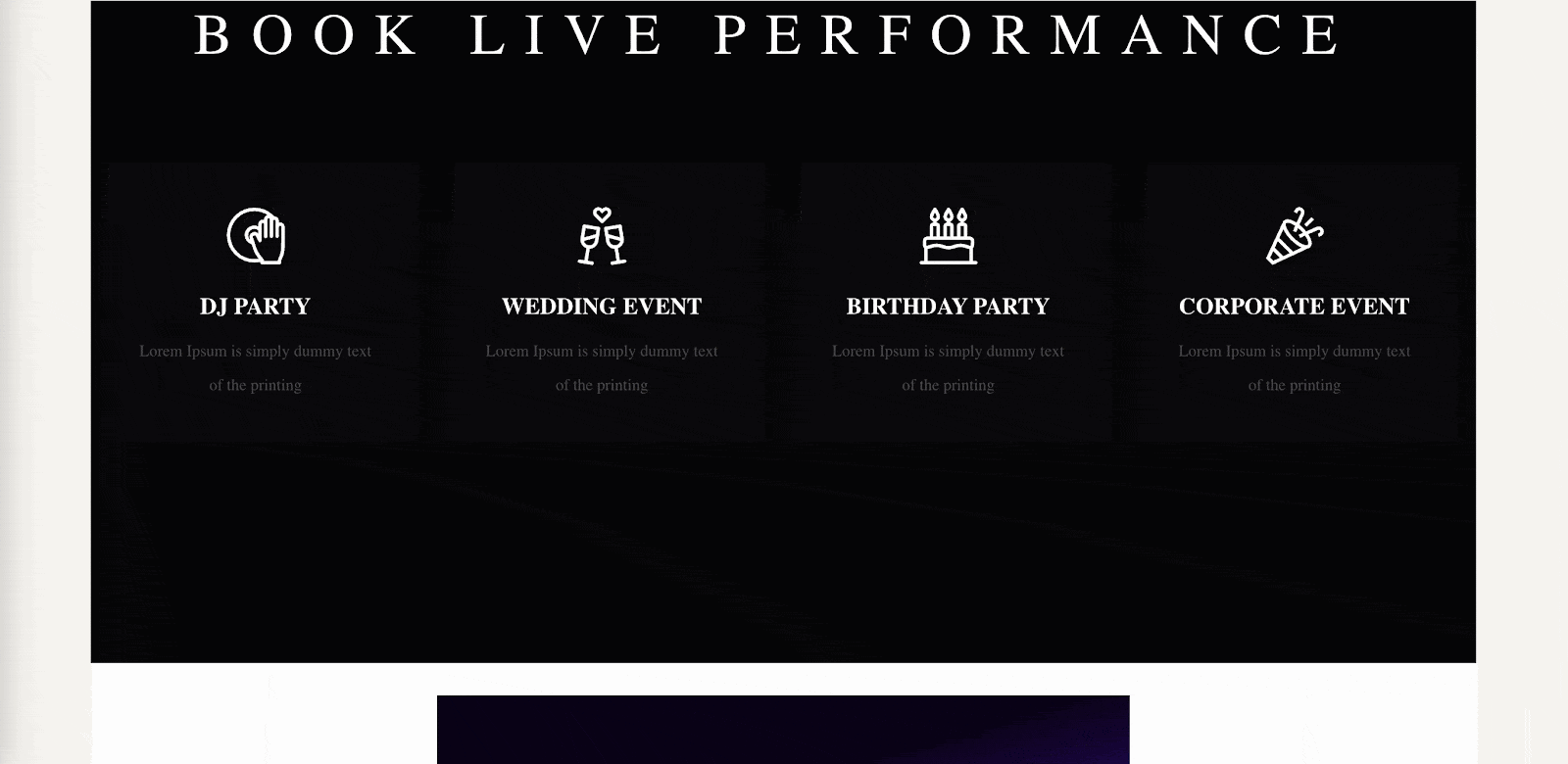 Infobox
If you want to display important information about your brand or website, infobox can assist you in doing so in a professional manner. Using this block, you can display feature details, services, or events all in one place. This section can be highlighted in order to provide all of the information in one location.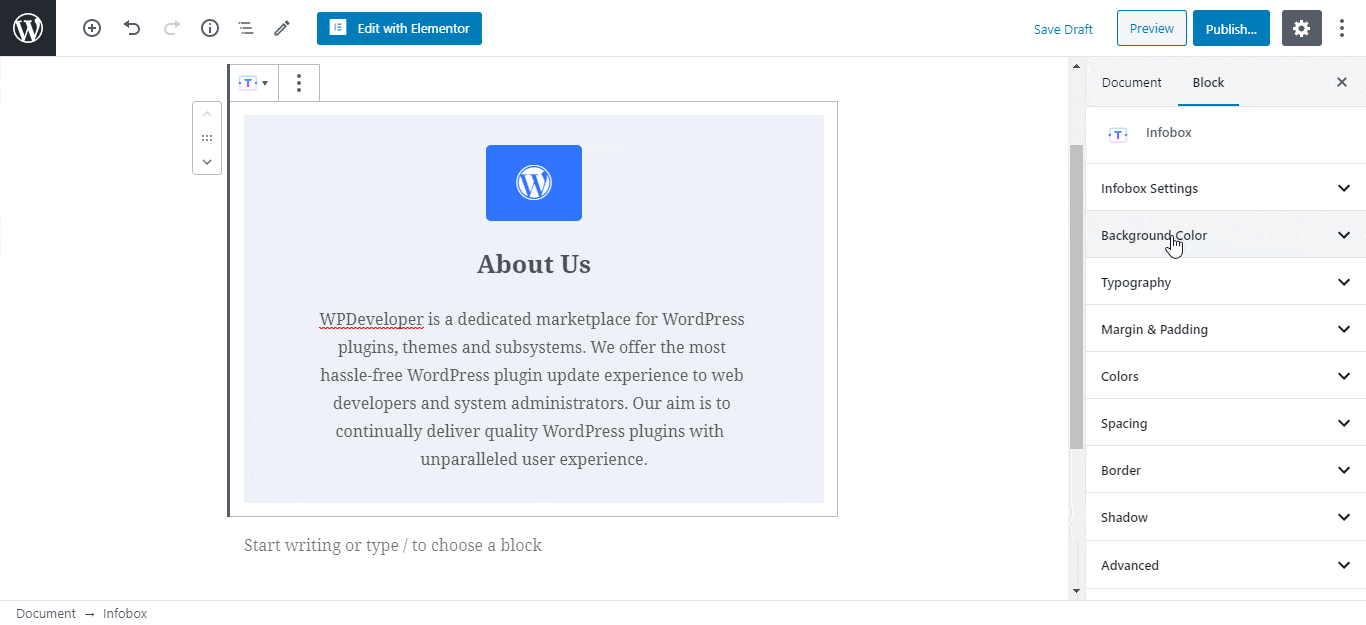 Image Gallery
You can now display all of your images in different layouts to make the image section more appealing. If you do not use a proper gallery format, no matter how many interesting images you include in your image section, it will appear bland. You can have a compact solution to this by using the image gallery feature of Essential Blocks.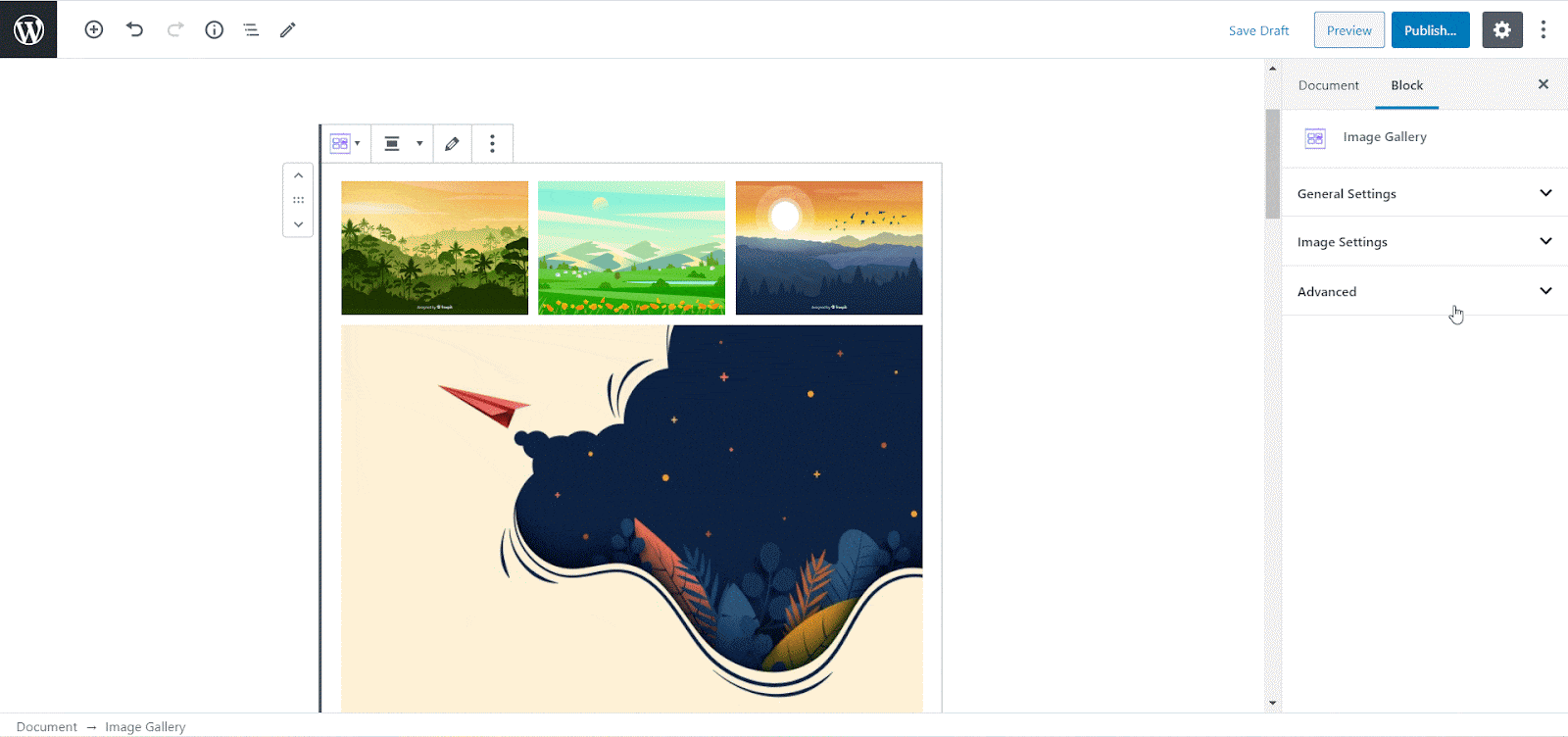 Advanced Heading
You can create eye-catching headings for your website using the Advanced Heading feature that will capture the attention of your readers. It provides the ultimate customization capability with ready presets for creating stunning headings for your website.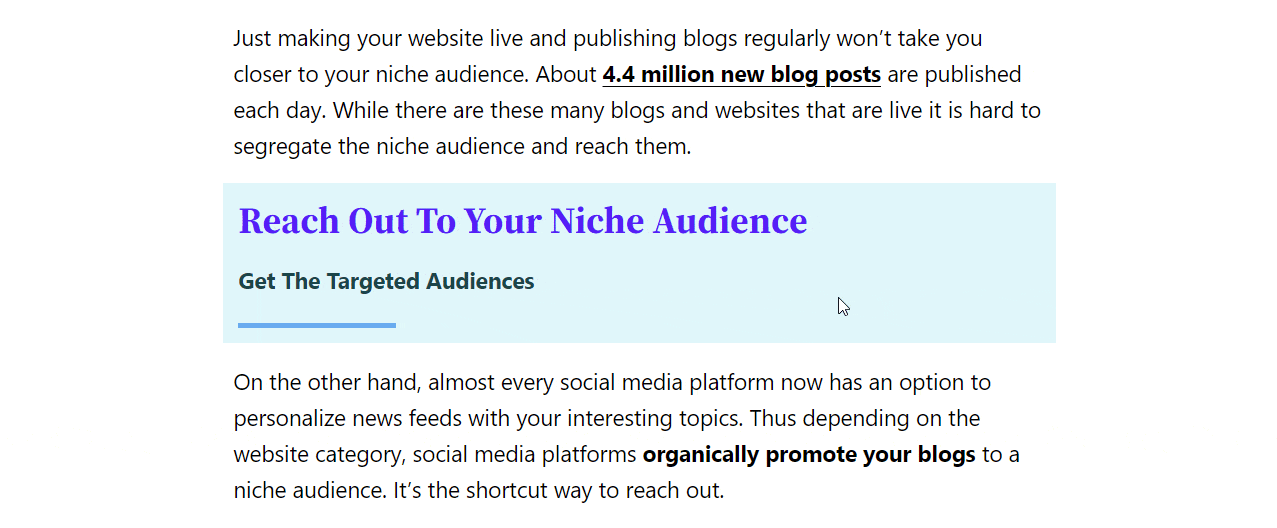 Notice
The Essential Blocks Notice feature enables you to instill a sense of urgency in your visitors. With the help of this element, you can easily create an eye-catching notification popup. For example, by using it, you will be able to display 'Special Offer,' 'Announcement,' or 'Milestone' easily without any coding. With its numerous customization options, you can instantly capture the attention of your users.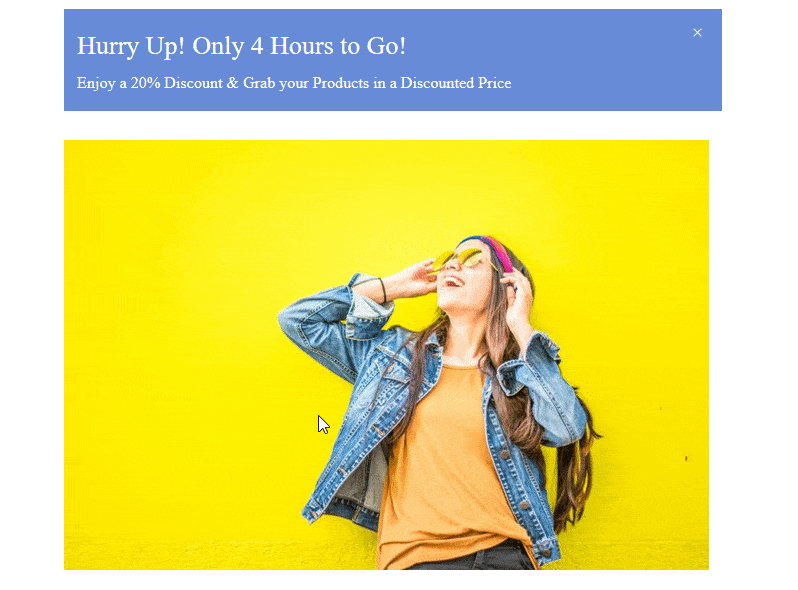 Button
Using the Essential Blocks Button feature, you can create eye-catching Call To Action buttons. You can make it unique by including exclusive Button patterns & effects and links that will redirect your viewers to a particular page.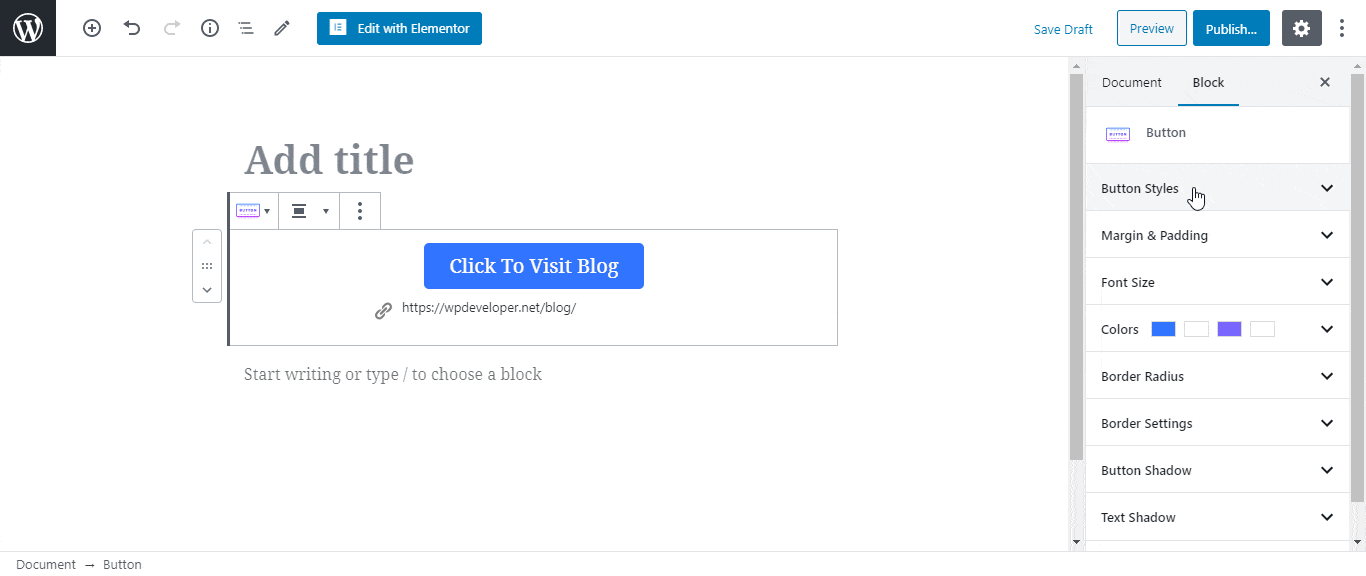 Slider
Essential Blocks Slider allows you to display your images using an incredible, animated slider that keeps moving when you hover over it. It can be used to highlight a series of photos in a more interactive manner. This is a unique way of presenting your content on your website.
⭐ Make Your Webpage More Engaging With Dynamic Content Block
When you have multiple contents on your website, a great strategy is to display them in a dynamic way that instantly grabs the attention of any viewers and website visitors. That's why Essential Blocks for Gutenberg brings you dynamic content blocks to make your content presentation more attractive. Let's explore all of them below:
Post Grid
The grid view is the best way to present your content because it allows your viewers to see all of the necessary information at a glance. Furthermore, the Post Grid block improves the appearance of your content library. You can use this block effectively by changing the layout settings from the simple setup process.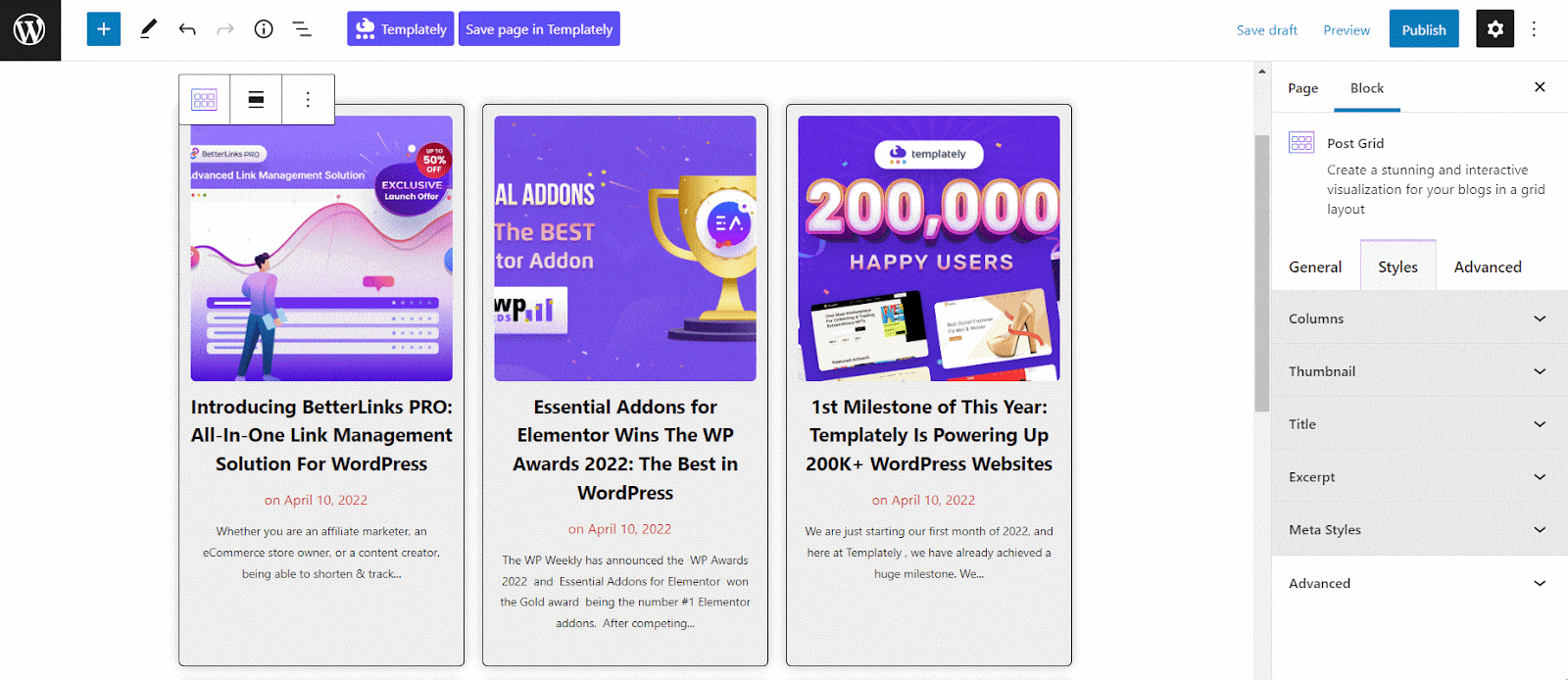 Parallax Slider
The Essential Block Parallax slider adds interactive motion scrolling effects to the content of your web pages, making them more dynamic. Choose from in-motion, multi-layered, and a plethora of other customization options to instantly capture the attention of visitors with parallax effects.
Table Of Content
Essential Blocks also includes a Table of Contents feature, which allows you to display all of your content posts' supported headers in a table view and in an organized manner. You can use this on all of your website pages to showcase all content in a table format and style it ahead of time by changing the color, view placement, or adding a number of icons.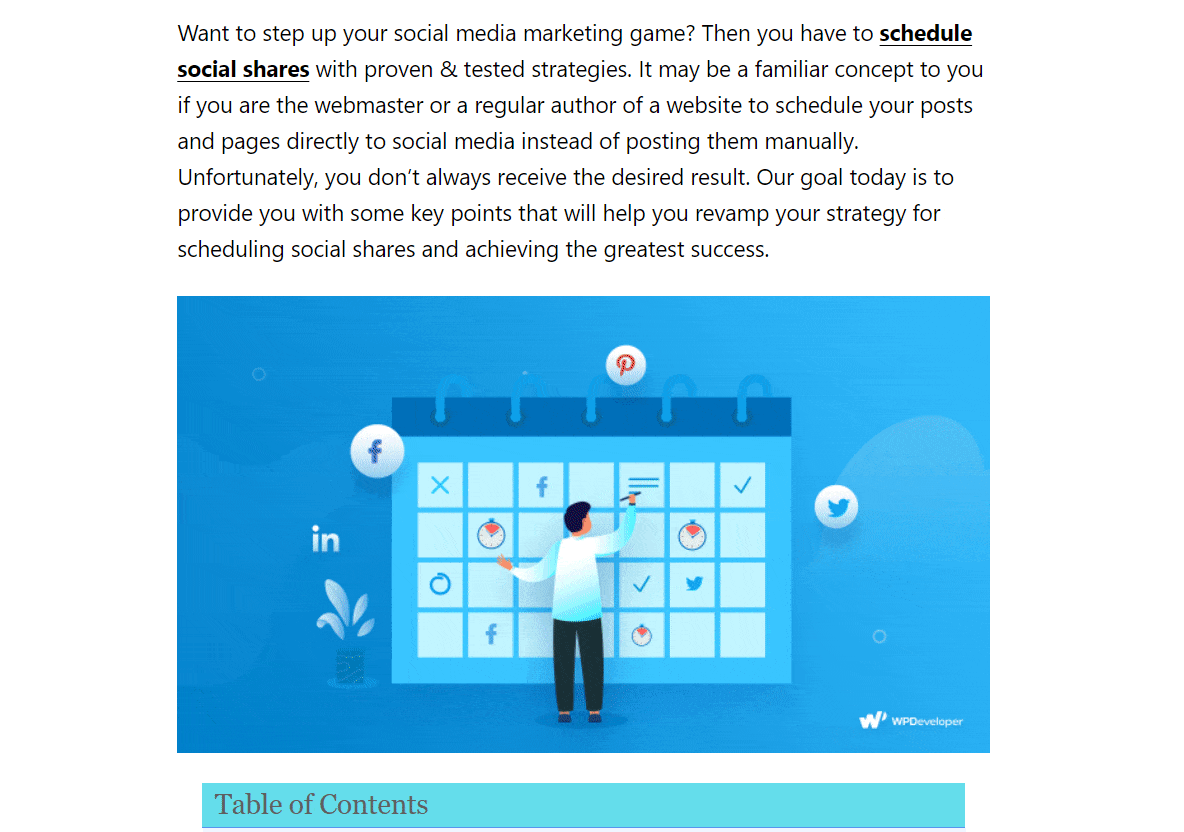 Advanced Tabs
The Advanced Tab in Essential Blocks allows you to display key information in an interactive manner and supports custom-made nested tabs designed to attract the audience to an instance. You will get multiple customization options with it.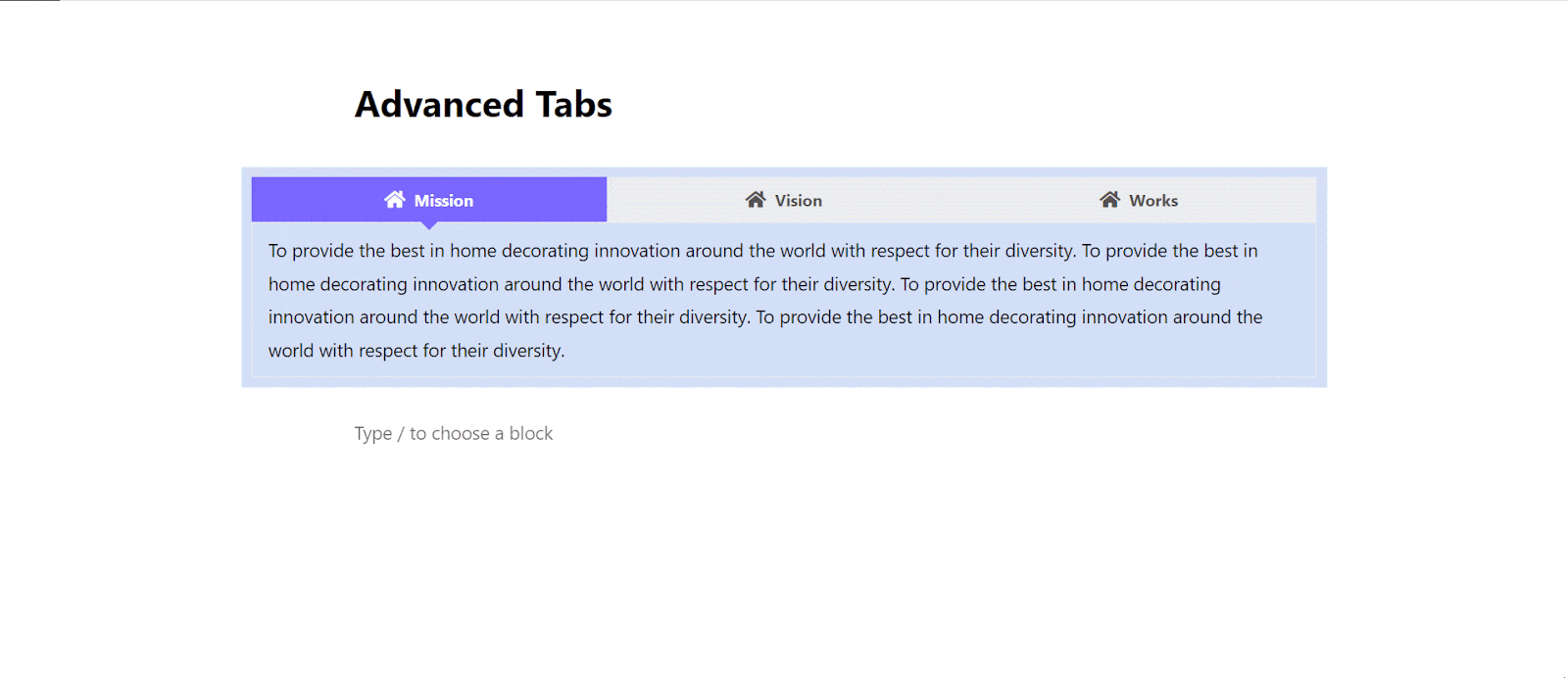 ⭐ Design Complete Campaign Pages With Gutenberg Marketing Blocks
To create a successful marketing campaign page, you must have all of the components that a marketing page should have. Essential Blocks is the ultimate block library, consisting of five essential blocks that will assist you in creating a complete marketing campaign. Let's take a look at all of the blocks listed below:
Pricing Table
Essential Blocks Pricing Table enables you to create an effective product pricing table with perfect styling in order to increase sales from prospective buyers. You can make this section attractive at the same time convenient to look at.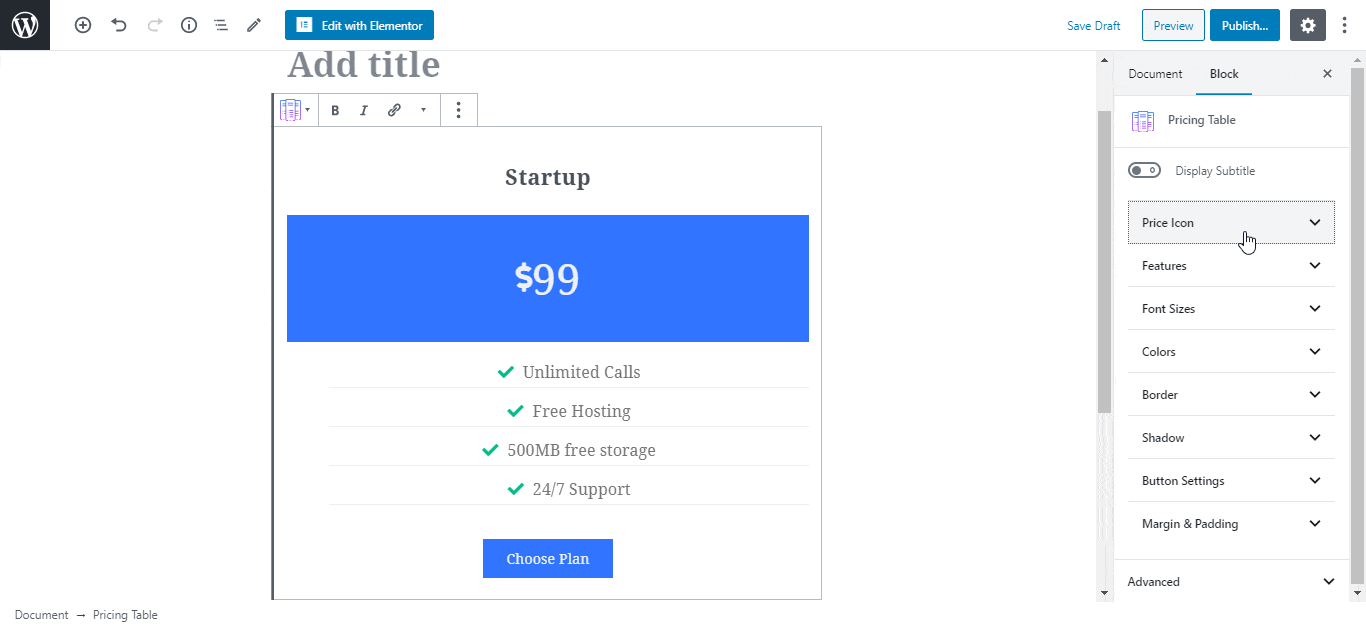 Call To Action
Essential Blocks includes a Call To Action block that allows you to create engaging CTAs for your website in order to capture visitors' attention on the spot. It will assist you in increasing conversions. Prepare to use this to create your ultimate marketing element.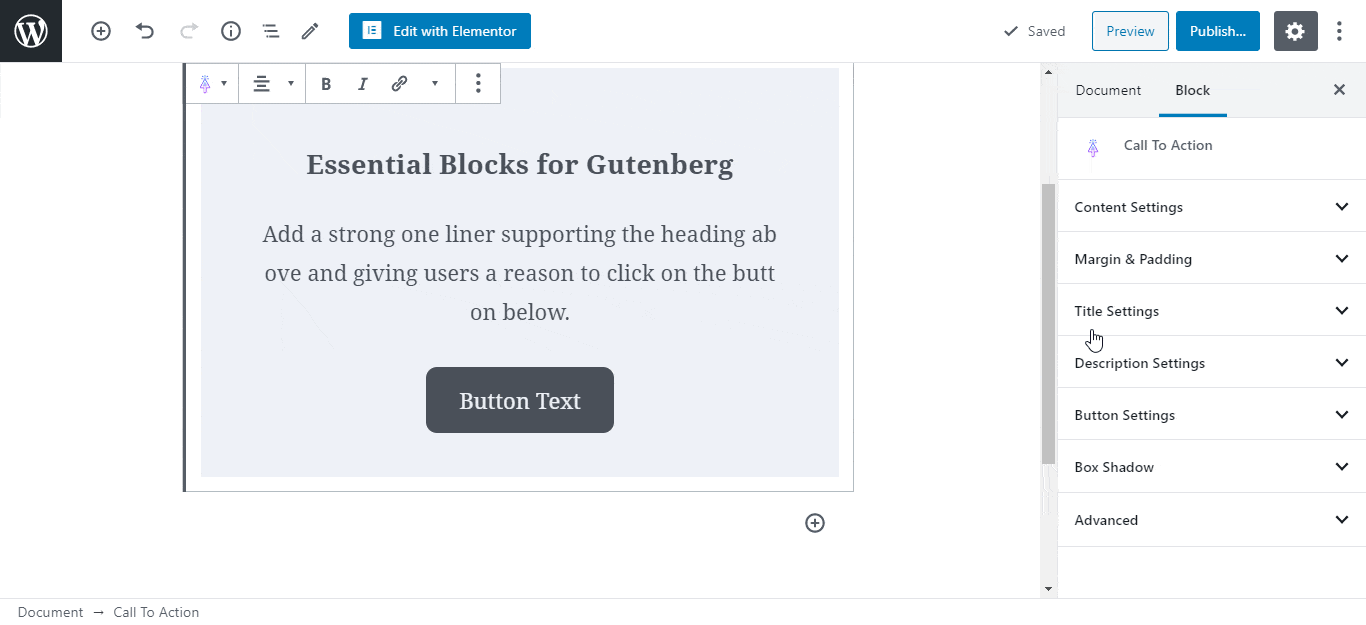 Instagram Feed
Attract the attention of your site visitors by displaying a stunning Instagram Feed with the Essential Blocks Instagram. You can include interactive hover effects as well as options for a beautiful Overlay Layout or a traditional Card Layout. This block is helpful to anyone who wishes to improve their social media presence.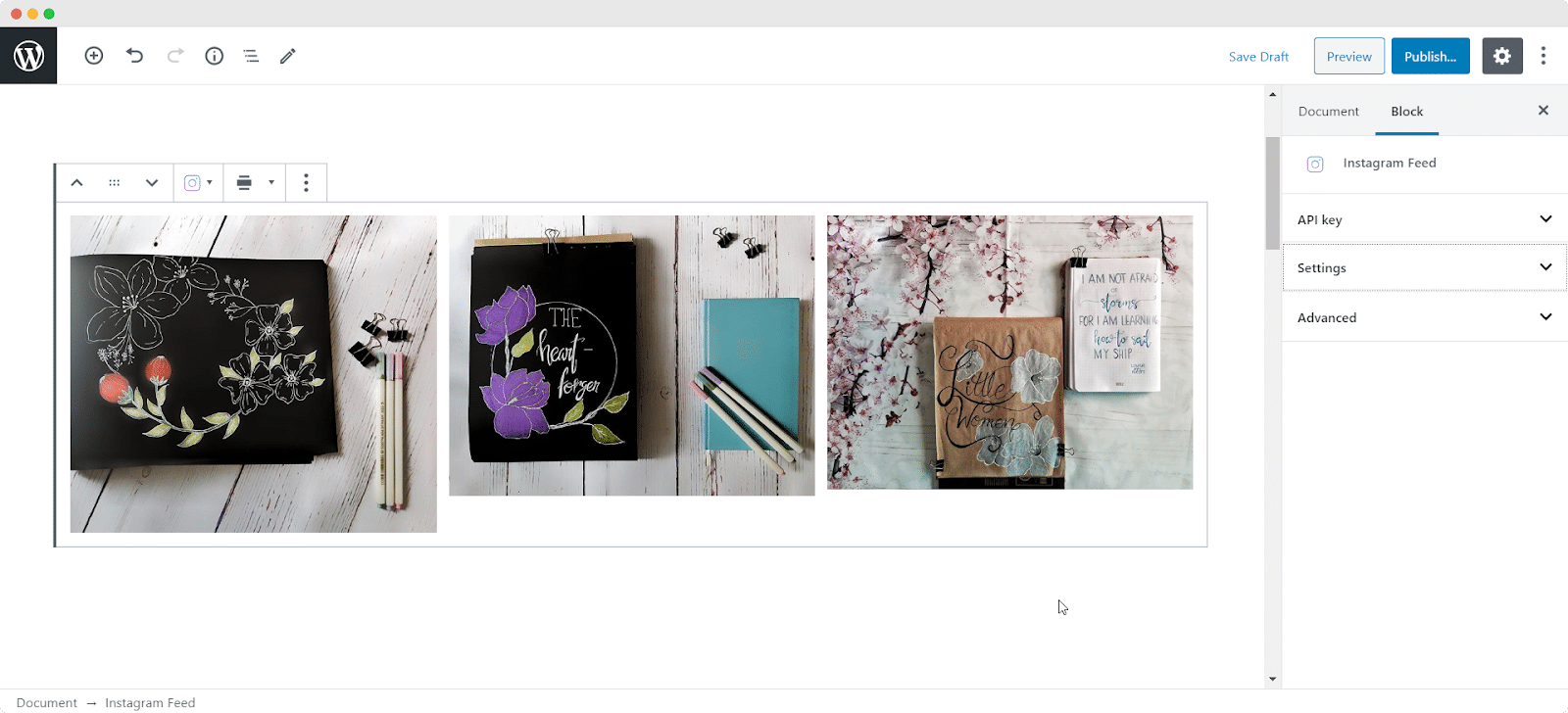 Social Icons
You can easily display your Social Media platforms on your website using the Essential Block Social Icons block to boost your site engagement right away. It provides simple customization and advanced styling options to draw the attention of your visitors to your social icon section.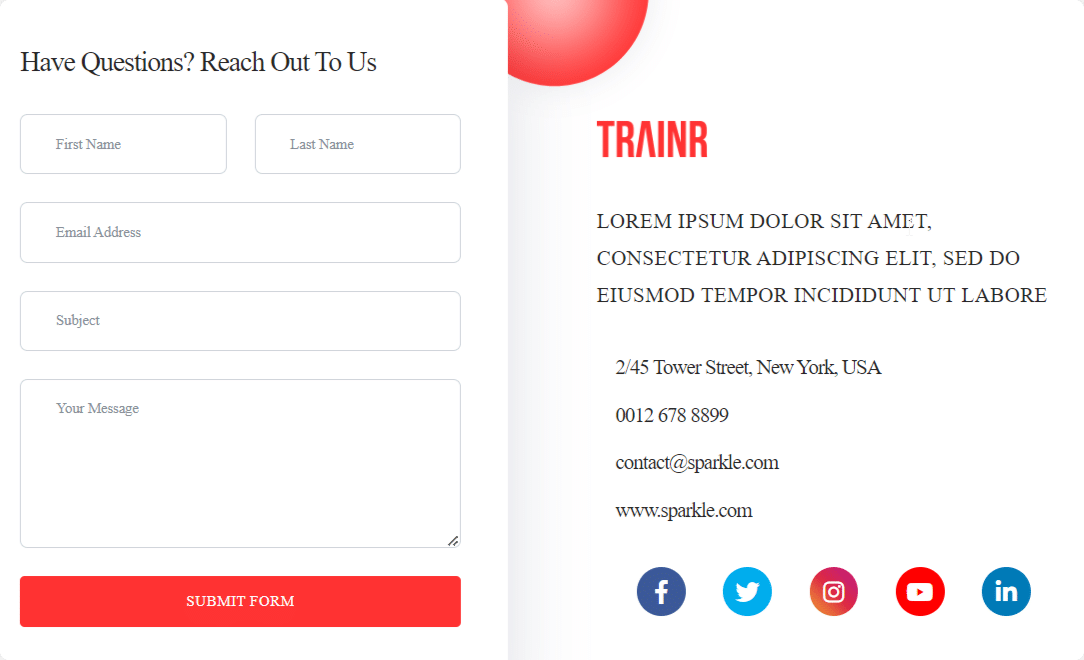 ⭐ Customize Forms Autonomously Using Form Styler Blocks
And finally, in the last category of our growing collection of Gutenberg blocks, you get 2 outstanding Form Styler blocks. Every high-converting website needs to incorporate fully responsive and customizable contact forms into your website to allow website visitors and customers to get in touch with the brand whenever needed. And Essential Blocks ensures that you get all the facilities you need to do exactly that with 2 seamless integrations:
WPForms
Essential Blocks lets you integrate with the form builder solution, WPForms, and lets you create and design contact forms as per your preference. You can design the block in any of the pre-built, visually attractive layouts and instantly grab customers' attention.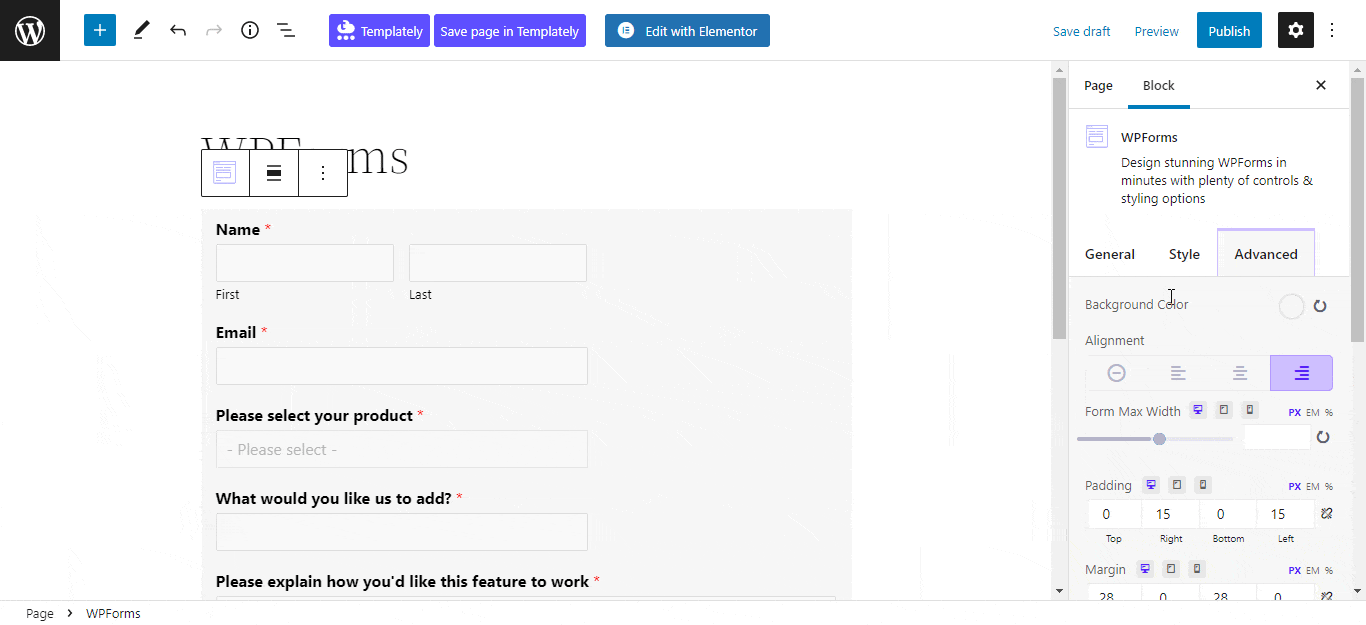 Fluent Forms
And for those of you who are more comfortable with Fluent Forms, an outstanding drag-drop form builder, Essential Blocks brings you smooth integration with it too. You will get your hands on a block which lets you create amazing contact forms using Fluent Forms in a few minutes, and then design and customize however you want to encourage more users to leave their valuable feedback and increase site engagement in the process.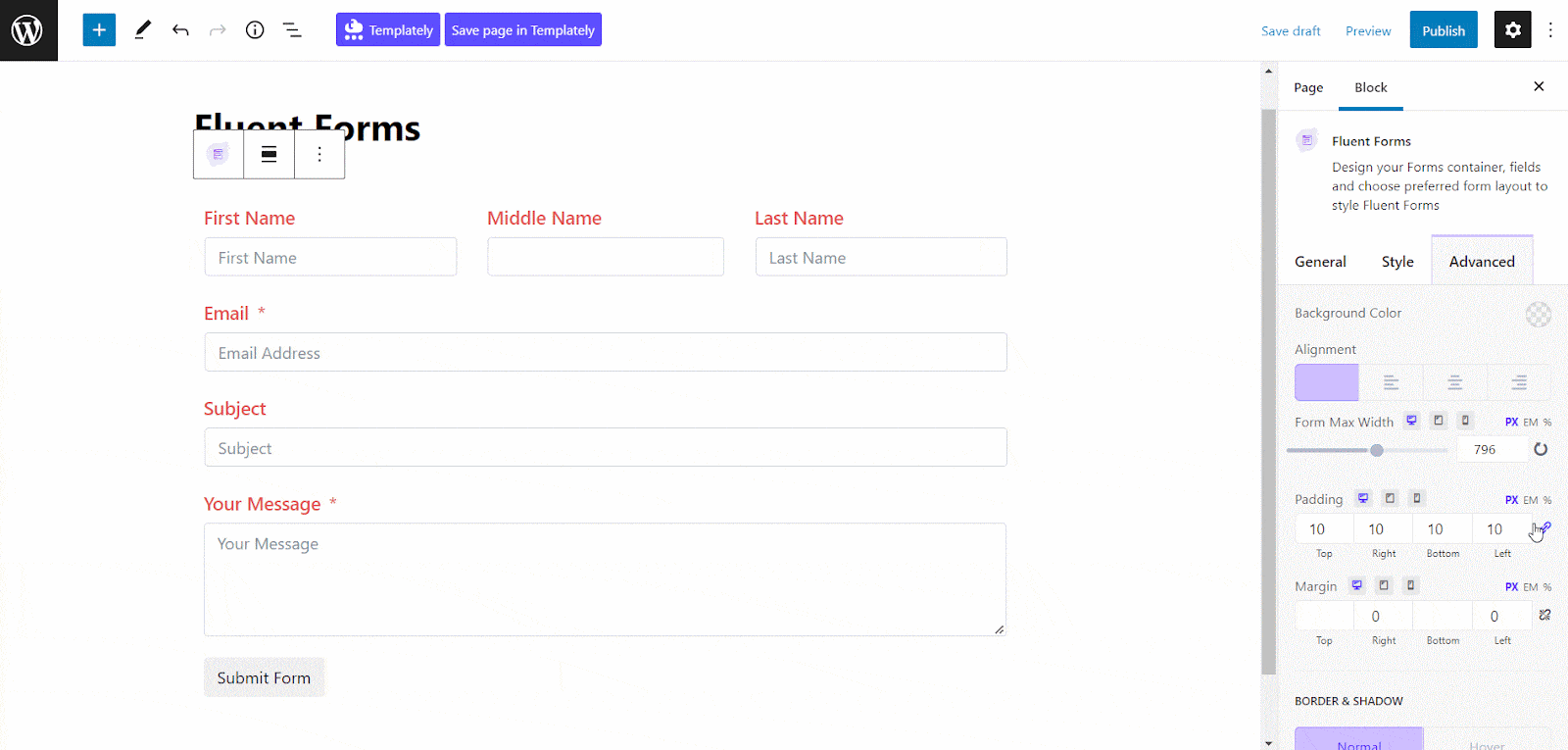 🎉 Try Essential Blocks To Have The Best Gutenberg Page Building Experience
Finally, we hope you have a thorough understanding of the Essential Block plugin best for Gutenberg. In the future, this plugin will be enhanced with more advanced features to provide an even better website design experience on Elementor.
If you have any suggestions or would like to see a source of your choice as a new feature, please let us know in the comments below or contact our support team; we would appreciate your feedback. Subscribe to our blog or join our friendly Facebook Community for more updates, tutorials, and tips and tricks.