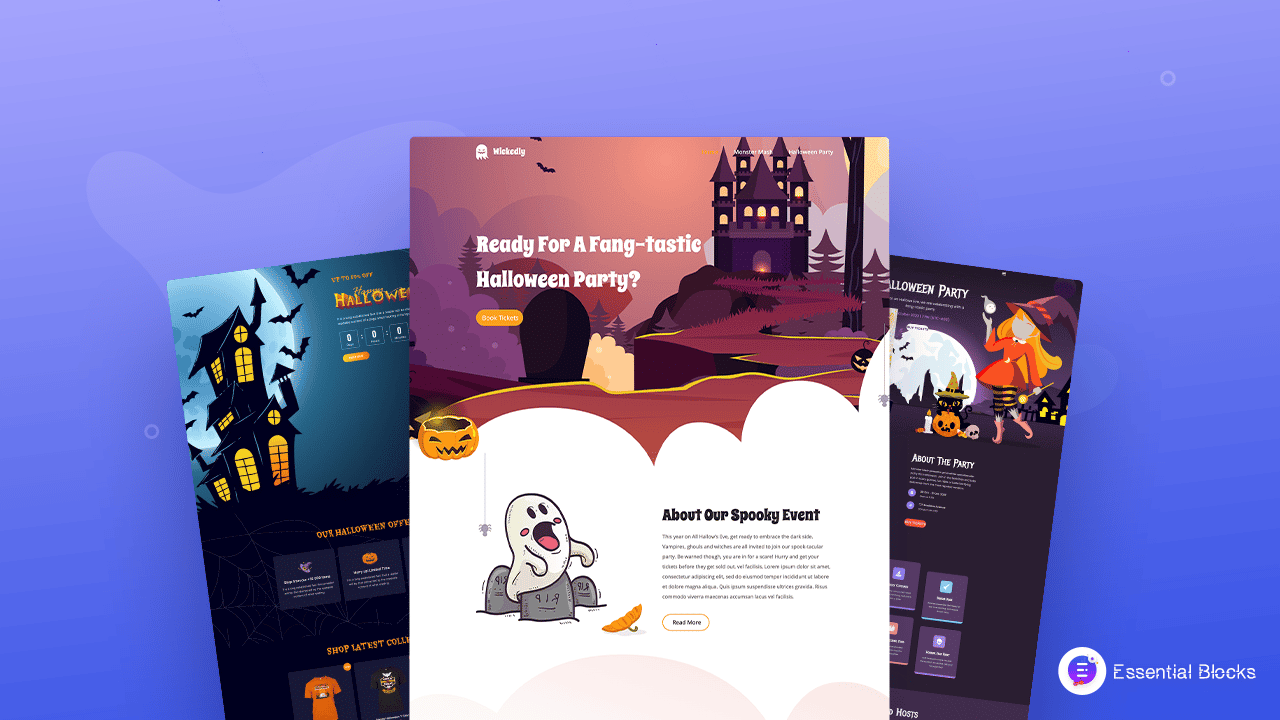 Best Spooky Halloween Website Template For WordPress & Gutenberg 
Halloween is just around the corner and if you are already preparing for the biggest sales season of the year, we've put together a pack of the spookiest Halloween website template that works well with Gutenberg and WordPress. To lift up the Halloween spirit high, customers usually buy decorations items, costumes, or home decor online. This makes it the ideal time to launch a Halloween website and run exclusive sales campaigns that help to grow your company. Let's dive in and see what we have got for you.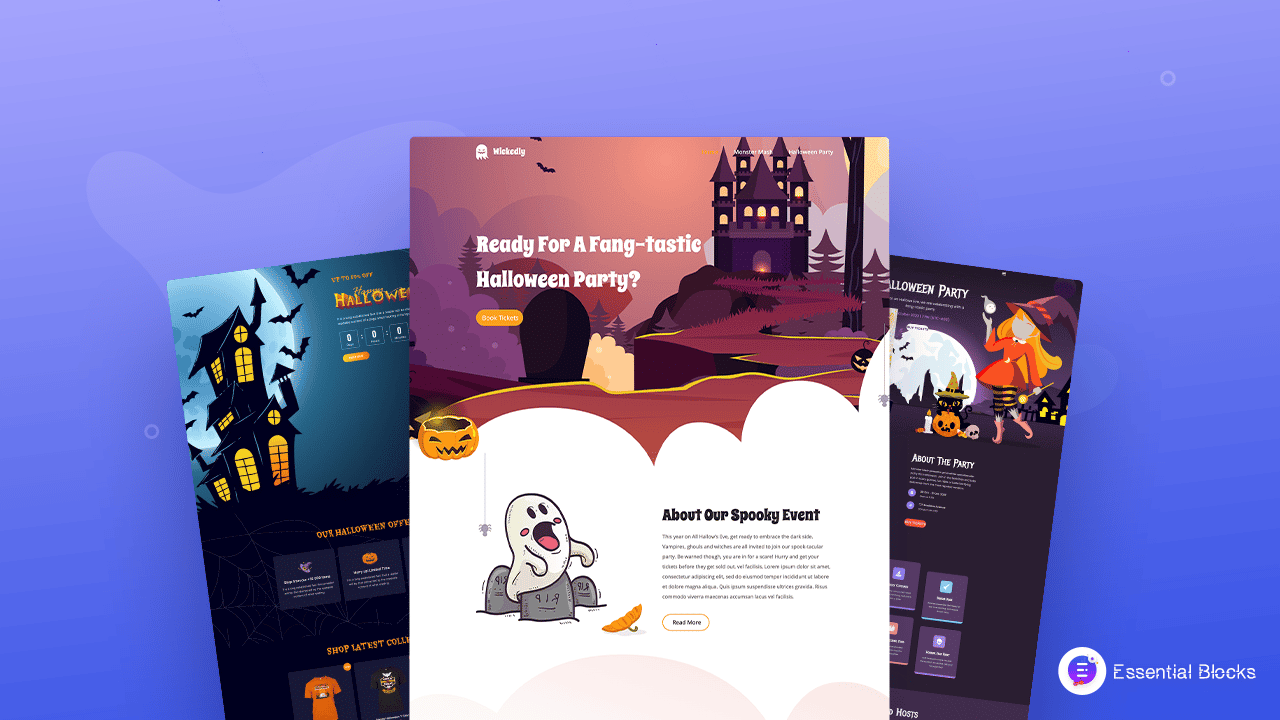 Spooky Halloween Website Template Pack For Gutenberg By Templately
Regardless of the kind of company you own, you may always join in the spooky fun and increase sales and conversions on Halloween. For instance, if you run a clothing shop, you can provide unique costumes with a Halloween theme. Special Halloween dishes might increase sales if you own an online food company. According to that, you can also arrange Halloween parties if you own an event planning company.
Gutenberg is the default page builder for WordPress that can help you to create and customize your Halloween website seamlessly. Because of this, Templately, the ultimate templates cloud, offers 2500+ ready-made template designs for Gutenberg and Elementor to make the process of creating a WordPress website easier. You can look at three stunning ready-made Halloween templates for the block editor among them that we've brought you with this blog. Additionally, you will receive unique templates for Cyber Monday, Black Friday, Christmas, and other occasions.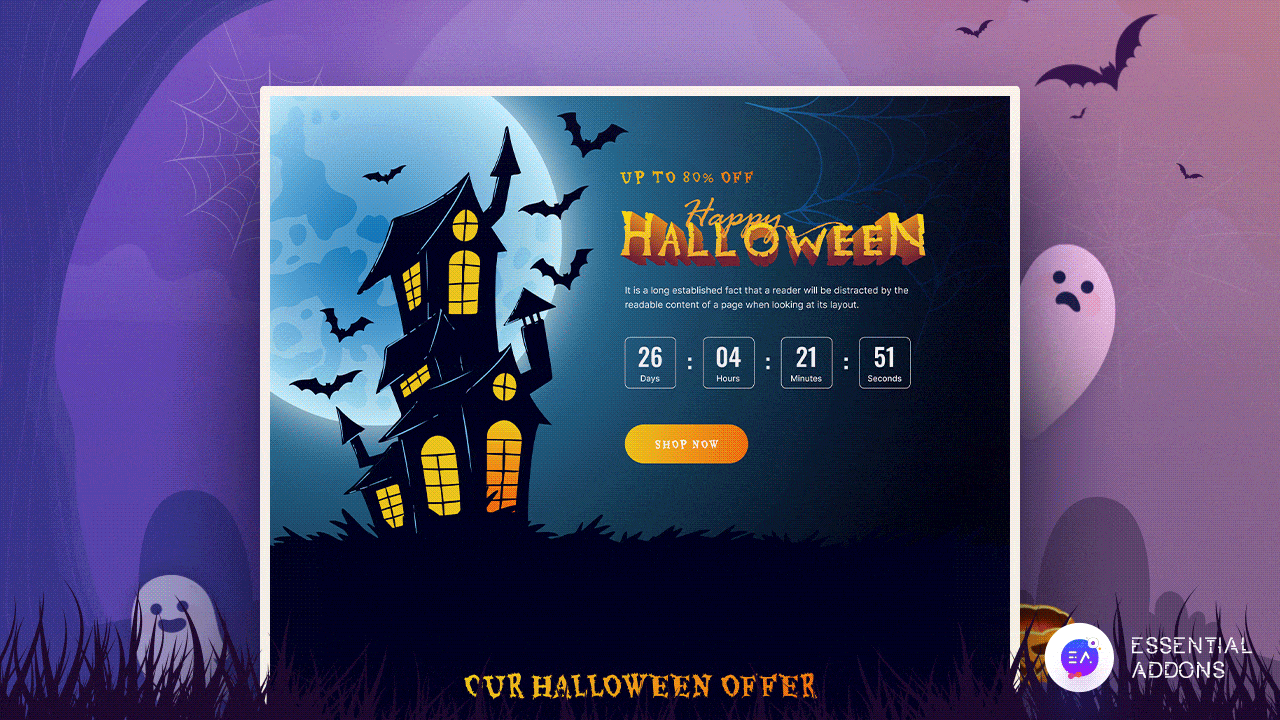 WordPress has unique Halloween themes, so if you have a website powered by WordPress, you undoubtedly already know about them. But if you can make a Halloween landing page with only one click, why bother creating a full theme?
You can quickly build a Halloween landing page for your WordPress website by utilizing ready-made Gutenberg templates. Simply paste any Halloween page template for Gutenberg into your WordPress website, add your own content, and you are ready to go. You won't have to worry around with coding. Let's explore Templately's Halloween template pack for Gutenberg. The three various types of Halloween landing pages included in this template pack are shown below:
✨ Templately Halloween Party Pack For Gutenberg
A comprehensive collection of gorgeous templates called Halloween Party is brought to you for the Gutenberg block editor for WordPress by Templately. It is the ideal landing page template pack for creating festive websites for Halloween parties and events as well as other festivities, thanks to its vibrant colors and dynamic patterns. Additionally, you may create advertising businesses, sales deal sites, and more with a Halloween theme.
You may completely customize this template, which was expertly constructed using Gutenberg and Essential Blocks, to make a genuinely original party website for Halloween. Furthermore, because it is 100% responsive, your website will load quickly on any device, screen, or browser.
Monster Mash Halloween Template Landing Page For Gutenberg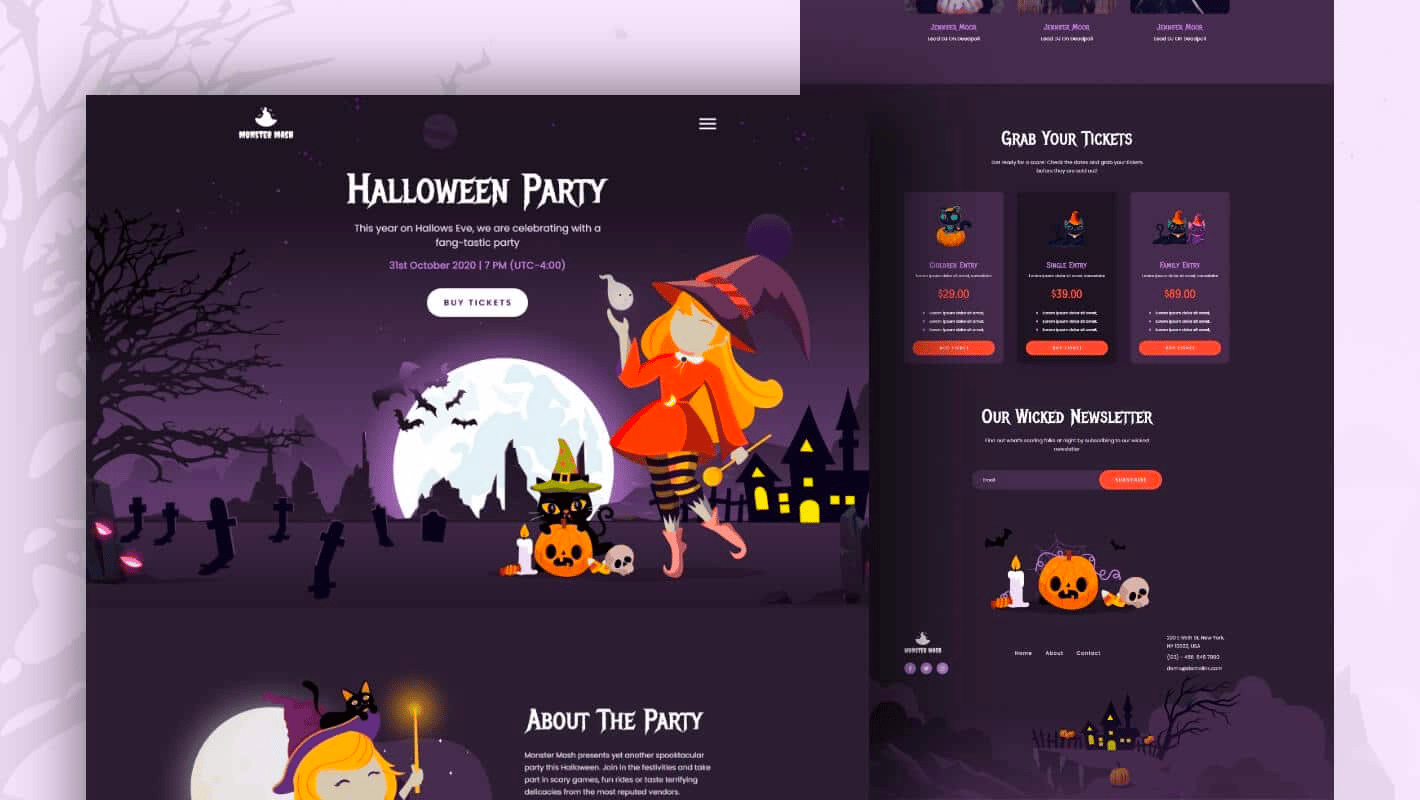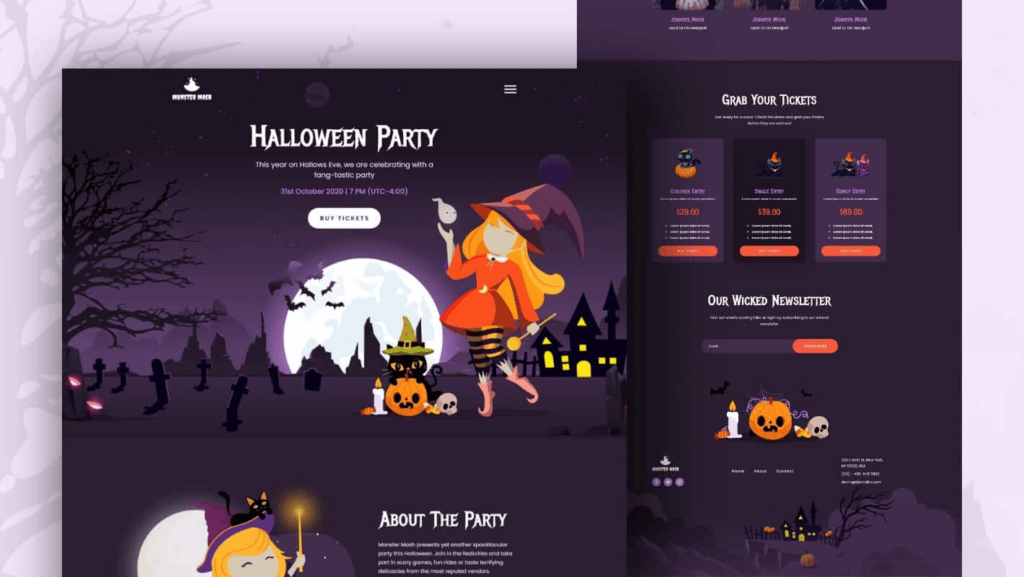 You can make a fantastic Halloween website without knowing any code by using Monster Mash's free Gutenberg Halloween template. The dark color scheme used in this Halloween template is complemented with lovely artwork, responsiveness, and eye-catching call-to-action buttons. This can be one of the better options for your Halloween landing page if you want to go with a gloomy theme.
Wickedly Gutenberg Landing Page Template For Halloween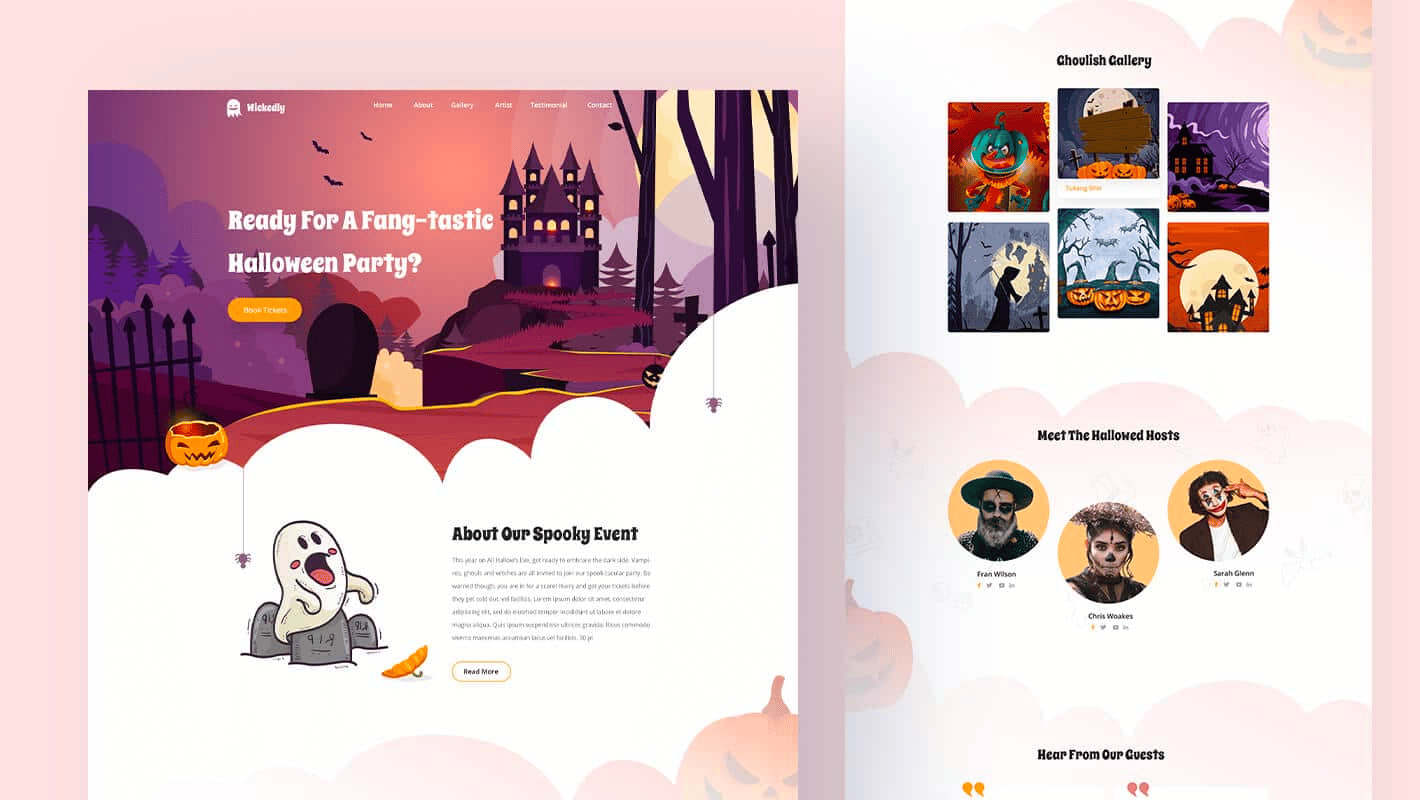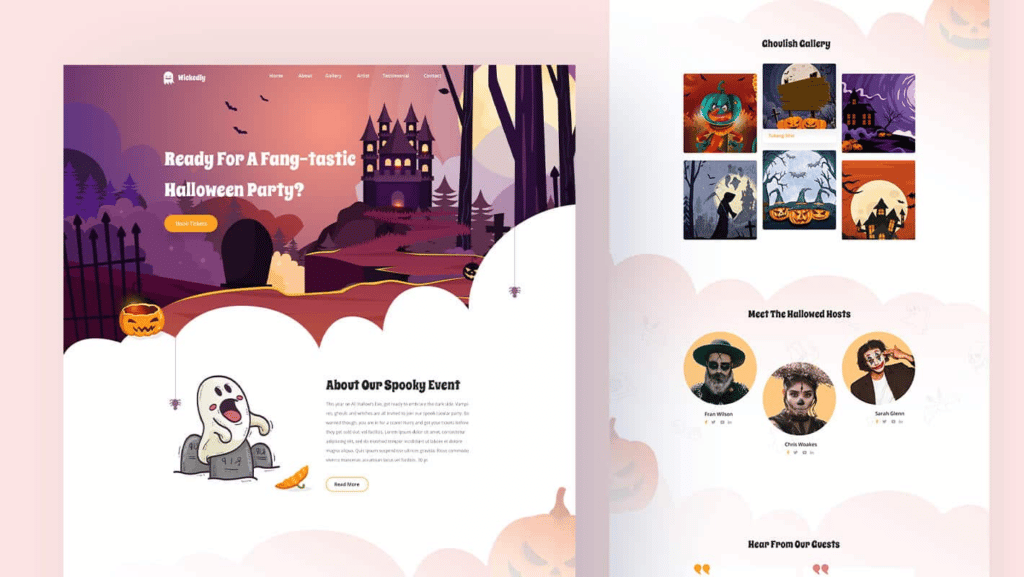 Wickedly is mostly created using a simple theme approach with its minimalistic but colorful outlock. If you want something clean and eye-catching, have a look at this special free Halloween template with a light theme. This template is fully mobile-friendly, cross-browser compatible, and responsive across the board.
ScareScream Halloween Website Template For Gutenberg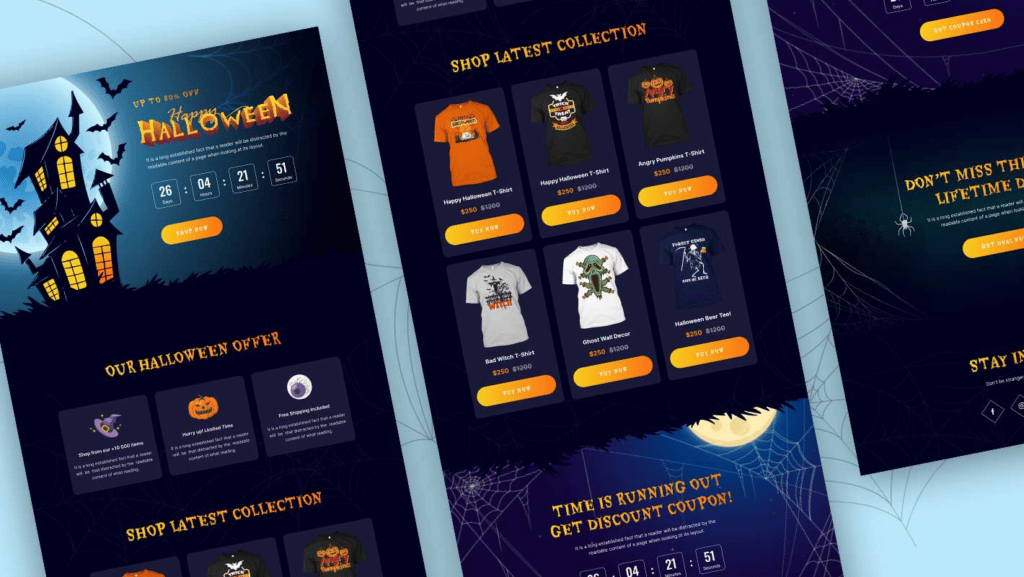 The free Halloween Gutenberg template ScareScream was designed with the idea of eerie spiders and haunting houses. It has scary images, dynamic countdowns, full responsiveness, and more. It can be the perfect template to revamp your online store's outlooks for the upcoming spooky season and grow sales.
Watch This Video To Get The Tutorial
Bonus: Halloween Website Sales Booster Tips For Your Business
Once you have your website up and ready for the Halloween season, you must concentrate on many sales aspects if you want to target your customers with the appropriate marketing strategies. The times you have sales and offers to celebrate specific events are one of the main things you should pay attention to. If you follow the appropriate pattern, events leading up to the end of the year, like Halloween, can help you make the most money possible.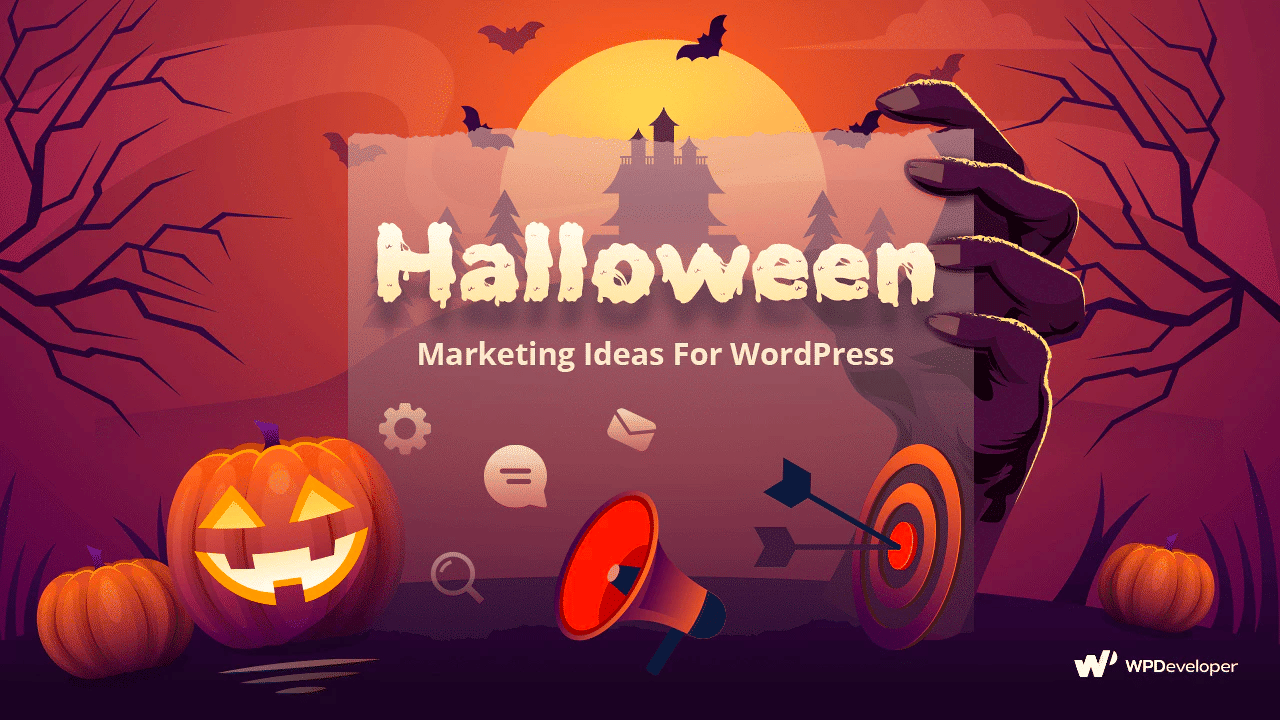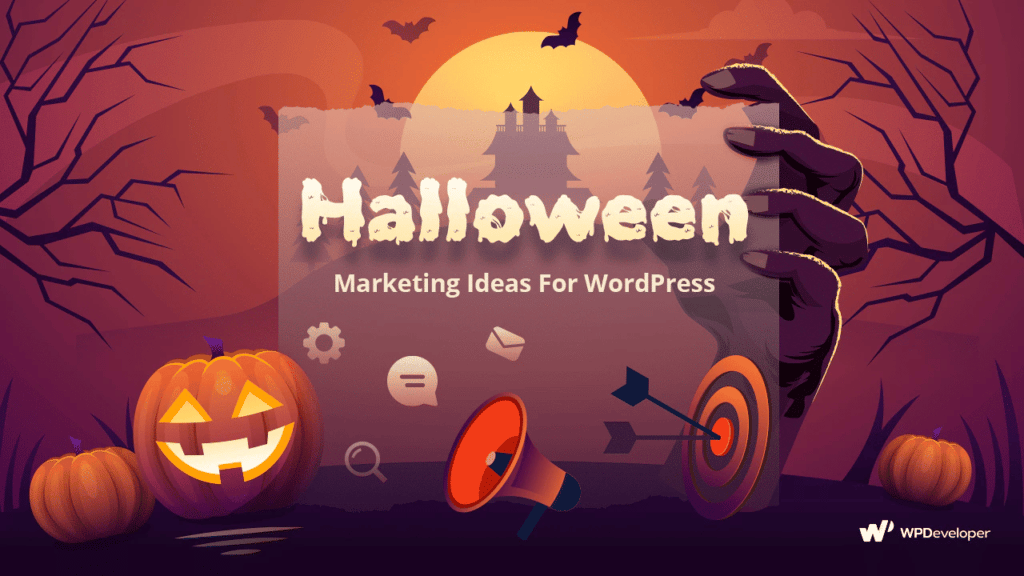 🔔 You may easily execute email campaigns, ad campaigns, or any other kind of paid campaign for that reason with the aid of an interactive Halloween landing page.
🔔You may advertise and increase your goods and services in this method. Additionally, you will see an increase in internet traffic, which will help your site's SEO.
🔔You may easily draw your customers' attention if you develop a Halloween landing page by including an interactive call to action, optin popups, a separate sales area, and more.
🔔Moreover, you can promote campaigns via social media platforms with a stunning Halloween landing page design.
Get Ready To Have A Spook-tacular Sales Website
This concludes our post on Halloween templates for WordPress and Gutenberg that can help you increase website sales. We wish you a happy Halloween and hope you find these hints and advice helpful.
Let us know what you think by leaving a comment below. Join our Facebook community or subscribe to our blog for more entertaining lessons, news, and updates.