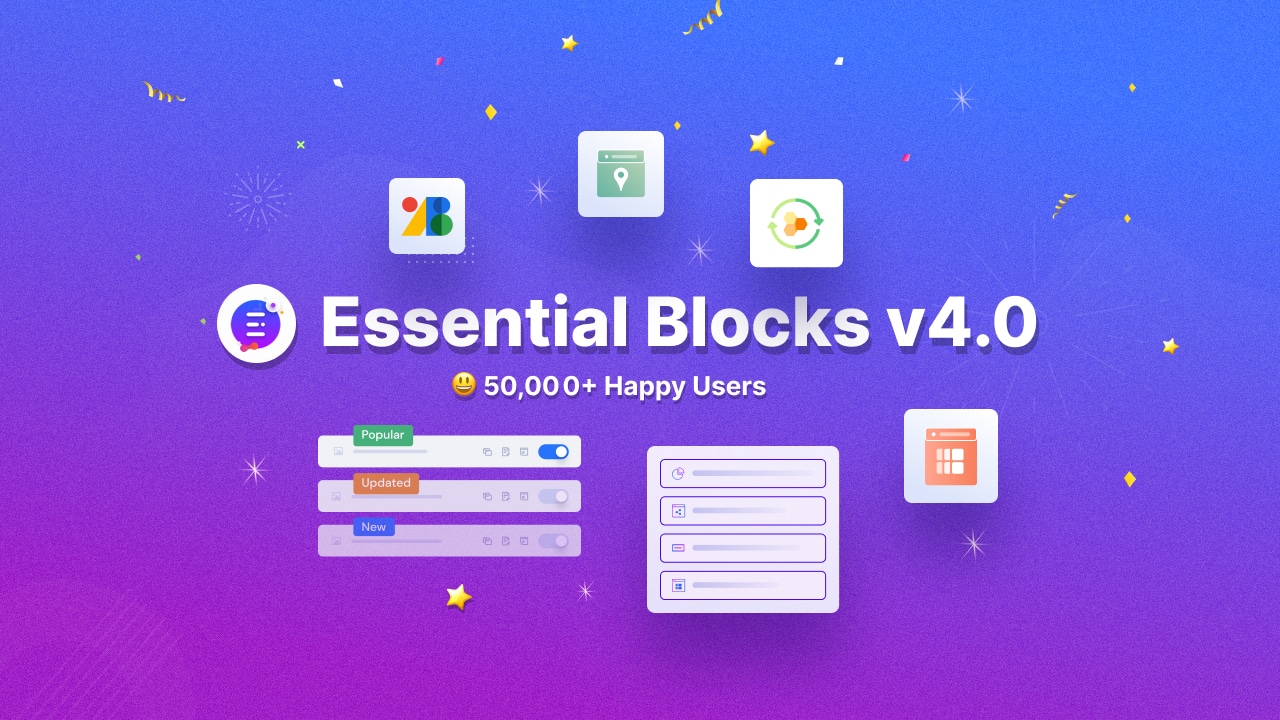 Introducing Essential Blocks v4.0: Join With 50,000+ Happy Users
We are only onto the second month of 2023, and already, we bring you Essential Blocks v4.0 – our latest release – revamped with amazing features, advanced controls, and more for the WordPress block editor, Gutenberg! Like a gift basket, this new release is packed with advanced settings requested by our cherished users. But that's not all, we also have some amazing news to share with all of you! So, to learn more about the all-new Essential Blocks v4.0 and our success story, read the article below. 🥳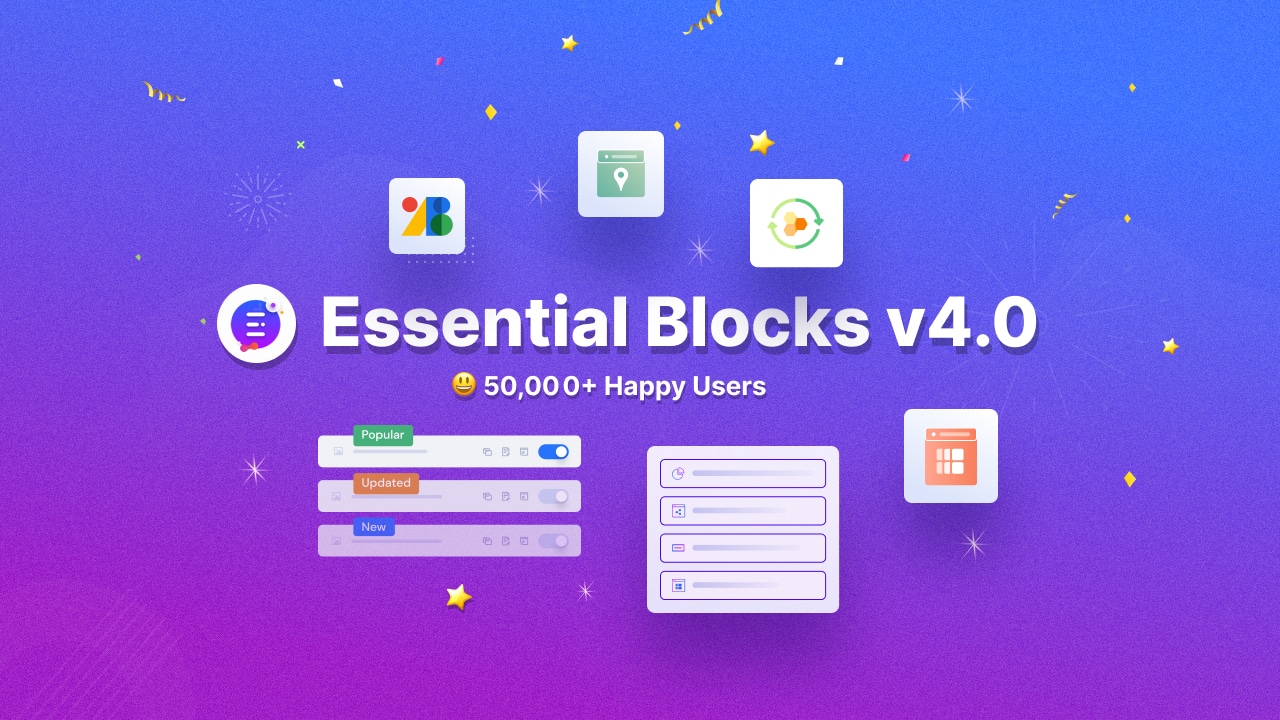 Time For Celebrations: Our Journey To 50,000+ Happy Users! 🥳
At present, Gutenberg is the default editor for WordPress. And although the WordPress default browser has come a long way with tons of enhancements, we wanted to help you boost your website-building experience on Gutenberg, by introducing Essential Blocks!
The super energetic Essential Blocks team continuously updates and introduces user-friendly responsive blocks, block customization options, and many more.
And with that, in a very short time, Essential Blocks has reached the outstanding milestone of 50,000+ happy users. This is a huge success for the team behind this plugin, and we are overwhelmed with all the love we have received from the community so far. The heartfelt appreciation constantly motivates us to go the extra mile and ensure the best experience for our users. And keeping all this in mind, we bring you Essential Blocks v4.0 – with reimagined user interface, tons of exciting new improvements, and much more.

What's New With Essential Blocks v4.0: Integration With Google Maps, Advanced Gutenberg Features & More
Essential Blocks is considered one of the most powerful Gutenberg libraries, with 40+ customizable, responsive blocks. While developing Essential Blocks v4.0, it was decided that our prime focus would be on enhancing your experience so it will be easier for Essential Blocks users to use all blocks more swiftly, making websites faster, saving time in website design, and more—the list goes on. Let's take a look.
🌟 Introducing The All-New Google Maps Blocks With Seamless Compatibility
Originally, it was not possible to connect with or embed Google Maps on the block editor without a plugin. So users had to use custom code to preview Google Maps. But with the release of Essential Blocks v4.0, a completely new Gutenberg block has been introduced – the Google Maps blocks!
With the Google Maps block, customers can display their business or personal addresses in 4 ready maps presets. Moreover, customers can also pin routes and locations with stunning markers. Now, displaying Google Maps is a matter of minutes in Gutenberg with Essential Blocks v4.0.
🌟 Blocks Global Control For A Increased Efficiency & Ease-Of-Use
Another one of the most notable updates of Essential Blocks v4.0 is the addition of Blocks Global Control. With this stunning addition, you don't have to recreate the same block styling over and over for every new page or post. All you have to do is set a preferred style for the block you're working with, save the settings globally, and use that customization for other posts and pages where the same block will be used later with just a few clicks.
Block Global control will save time in website design and boost efficiency exponentially. You will find this cool feature on the top toolbar of the Gutenberg editor.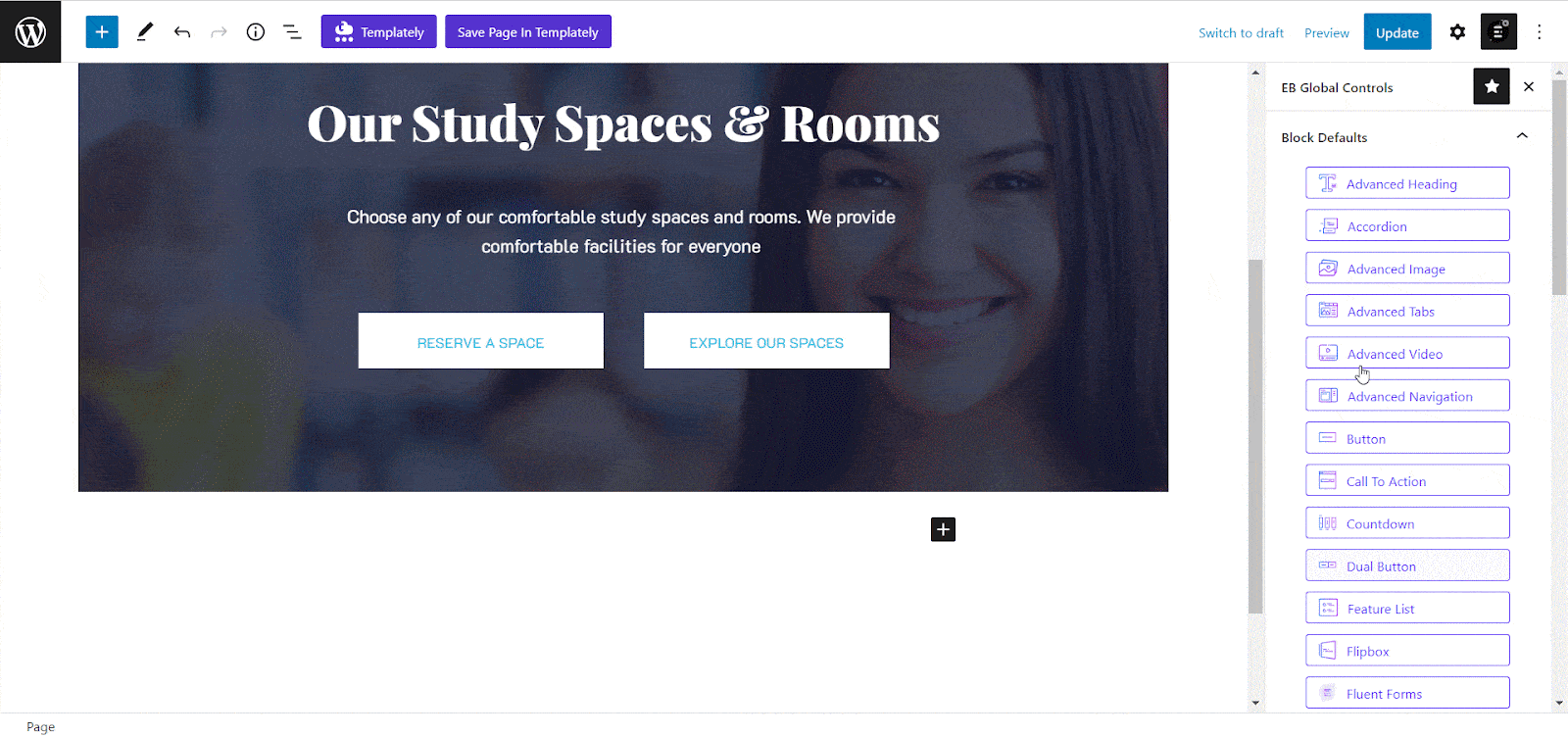 🌟 Assets Regeneration Option For A Speeded Load Time
Gutenberg editor is heavily Java Script dependent. At the same time, when you install and activate many plugins for the block editor, overall, it slows down the website's loading speed. But not anymore. With Essential Blocks v4.0, you now have the Assets Generation option. By enabling it, all created CSS styles and scripts will be refreshed for a smoother and much faster user experience.
🌟 Smooth Compatibility With Google Fonts For More Creativity
At present, Google Fonts is one of the most popular font libraries, and it offers 1400+ open-source & free fonts. In Essential Blocks v4.0, you will get seamless support for Google Fonts, opening a new door for designing possibilities on your website with interactive fonts and styles.
That will add a new dimension to designing with Essential Blocks. Once you enable Google Fonts from the dashboard, every font family will be available for each block of the plugin.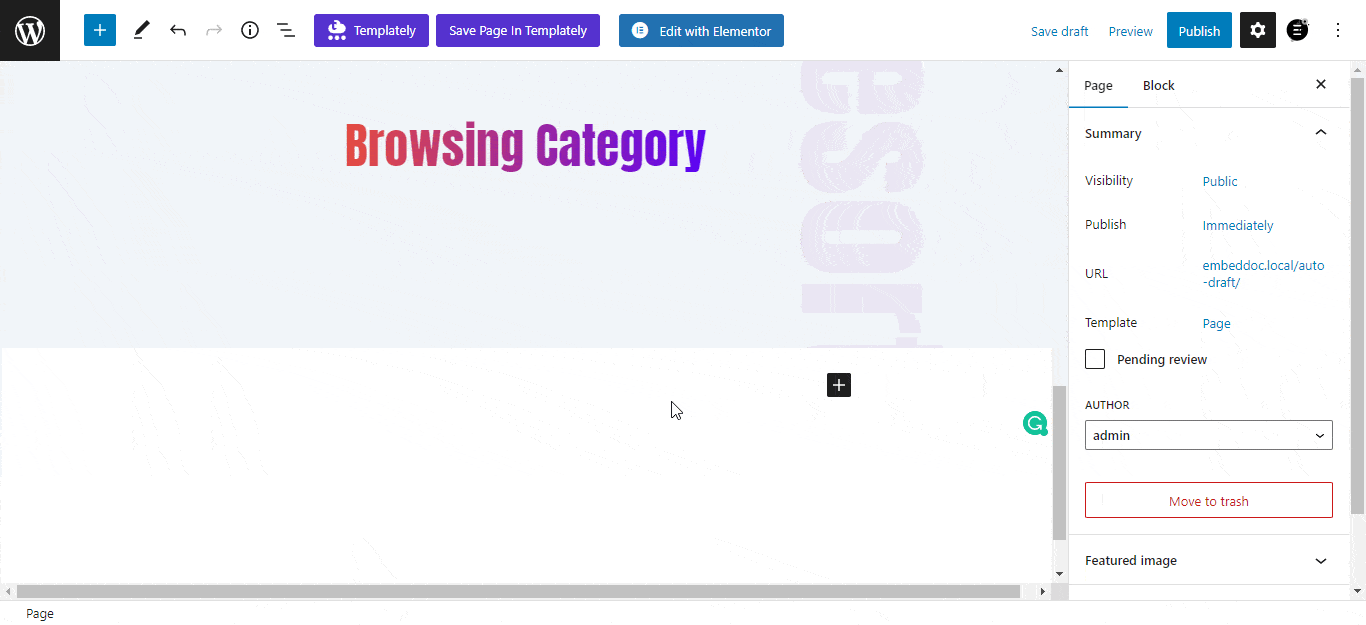 🌟 Revamped Dashboard With Advanced Controls For Better Experience
Modular control was one of the prime features of Essential Blocks from the beginning. In Essential Blocks v4.0, a revamped dashboard design is introduced with much more control and customization settings.
Now you can globally save blocks API Keys like Openverse, Instagram, Google Maps, OpenSea, etc.
Also, you can explore free Gutenberg templates directly from the dashboard. These ready-made Gutenberg templates will help you design websites in one click. Also, there is another tab that will help you get other essential plugins directly from the Essential Blocks dashboard with ease.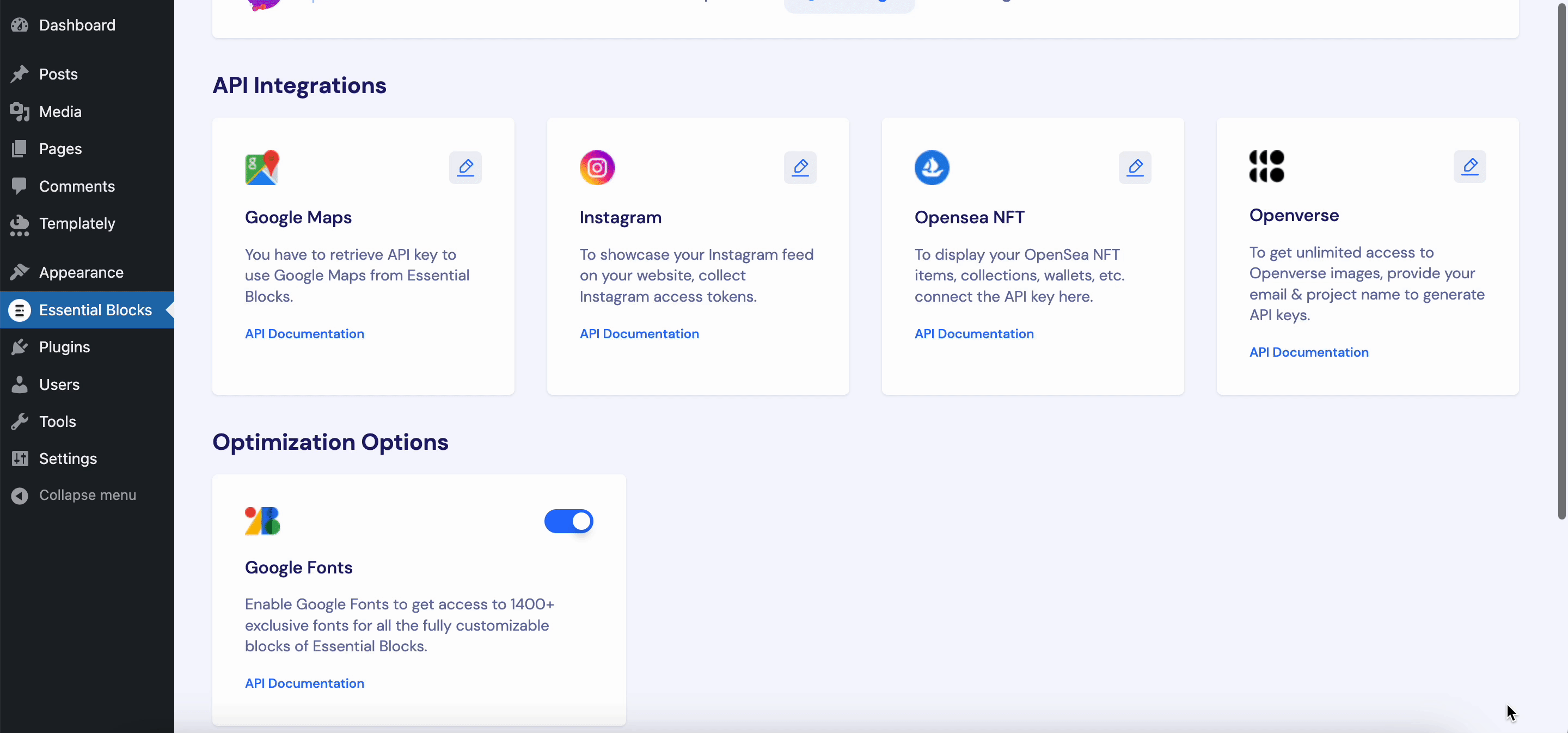 Enhance Gutenberg Experience With Essential Blocks v4.0
All the new, advanced features Essential Blocks v4.0 offers will not only give the utmost flexibility in customization but also make Gutenberg more powerful. So to make your website designing experience smoother, Essential Blocks is becoming a must-have Gutenberg library among users. 
What's your thought on Essential Blocks v4.0 new features? And what features do you want to see next? Share with us now. Also, don't forget to subscribe to the Essential Blocks blog to get the latest updates on Gutenberg tips and tricks.