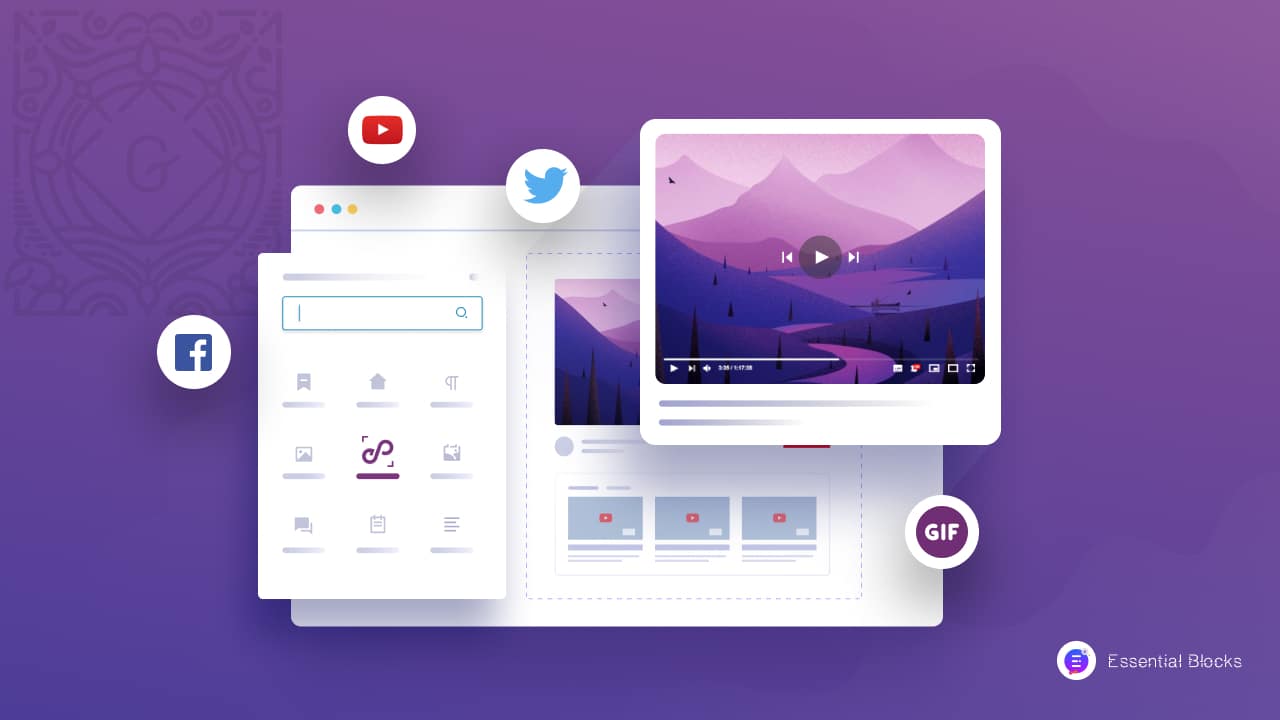 How To Embed Any Content In Gutenberg With EmbedPress?
Do you love to use Gutenberg editor for your WordPress website and looking forward to a complete solution to embed any content in Gutenberg? We have EmbedPress for you to add any content and make your website interactive, engaging & attractive that converts high. So, let's check out how you can embed any content in Gutenberg with EmbedPress in seconds!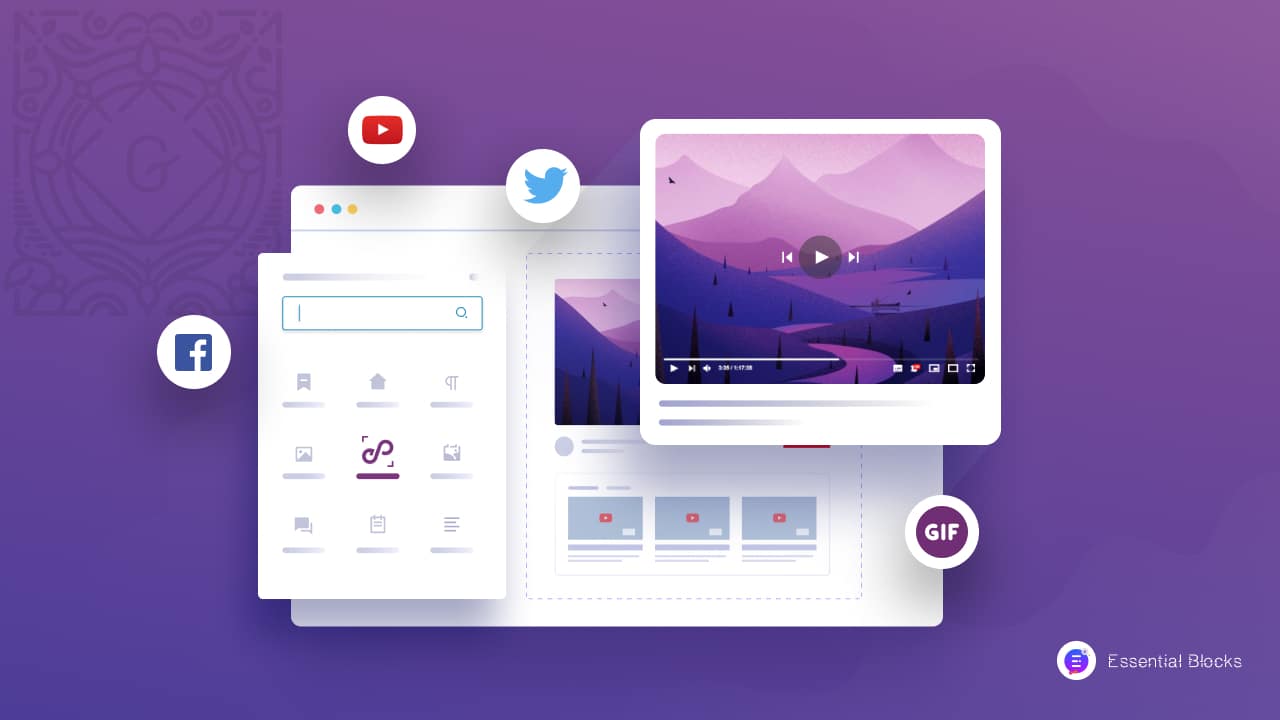 EmbedPress: Complete Embedding Solution To Embed Any Content In Gutenberg
WordPress users are fortunate since the Gutenberg block editor has wonderful features and blocks that make it simple to add anything. You can find specific blocks to incorporate Google content, social media stuff, or YouTube videos, for instance. However, opting for embedding plugins can be a good alternative if you're seeking a complete solution.
For those of you who have no prior knowledge about coding and how to incorporate versatile content in your WordPress website, embedding plugins are like a savior. And among all other embedding solutions, EmbedPress is one of the best to power up Gutenberg blocks.


EmbedPress allows you to embed content from 150+ enriched & powerful content sources to make your website more appealing, user-friendly, interactive, and advantageous. You can display images, videos, charts, docs, and much more using this embedding WordPress plugin. Before diving deeper into the blog, let's explore why you should embed content in your website
3 Reasons Why You Should Use EmbedPress To Embed Any Content In Gutenberg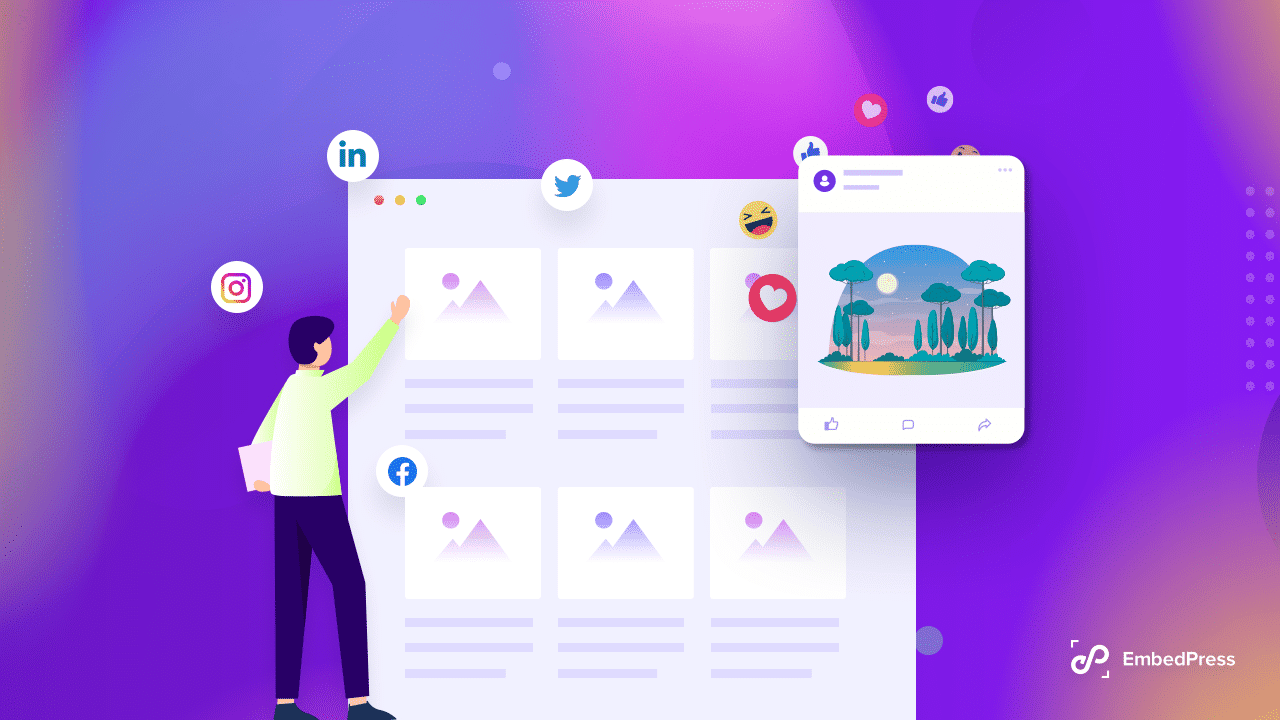 There are many benefits of using EmbedPress to embed any content in Gutenberg to enhance your WordPress website. It is easy to use for anyone maintaining a website without knowing how to code. So here are the reasons why you should use the EmbedPress embedding solution in Gutenberg.
🎯 Embed Contents In Just A Few Clicks
With EmbedPress you can embed any content in Gutenberg in seconds and cover important topics and demonstrate your expertise in a fascinating way. EmbedPress comes as a block in Gutenberg that anyone can easily use. In the shortest possible time, you can cover important data and all the details with visuals and other necessary content. The more dynamically you deliver the content, the more trust you will gain from the visitors and customers.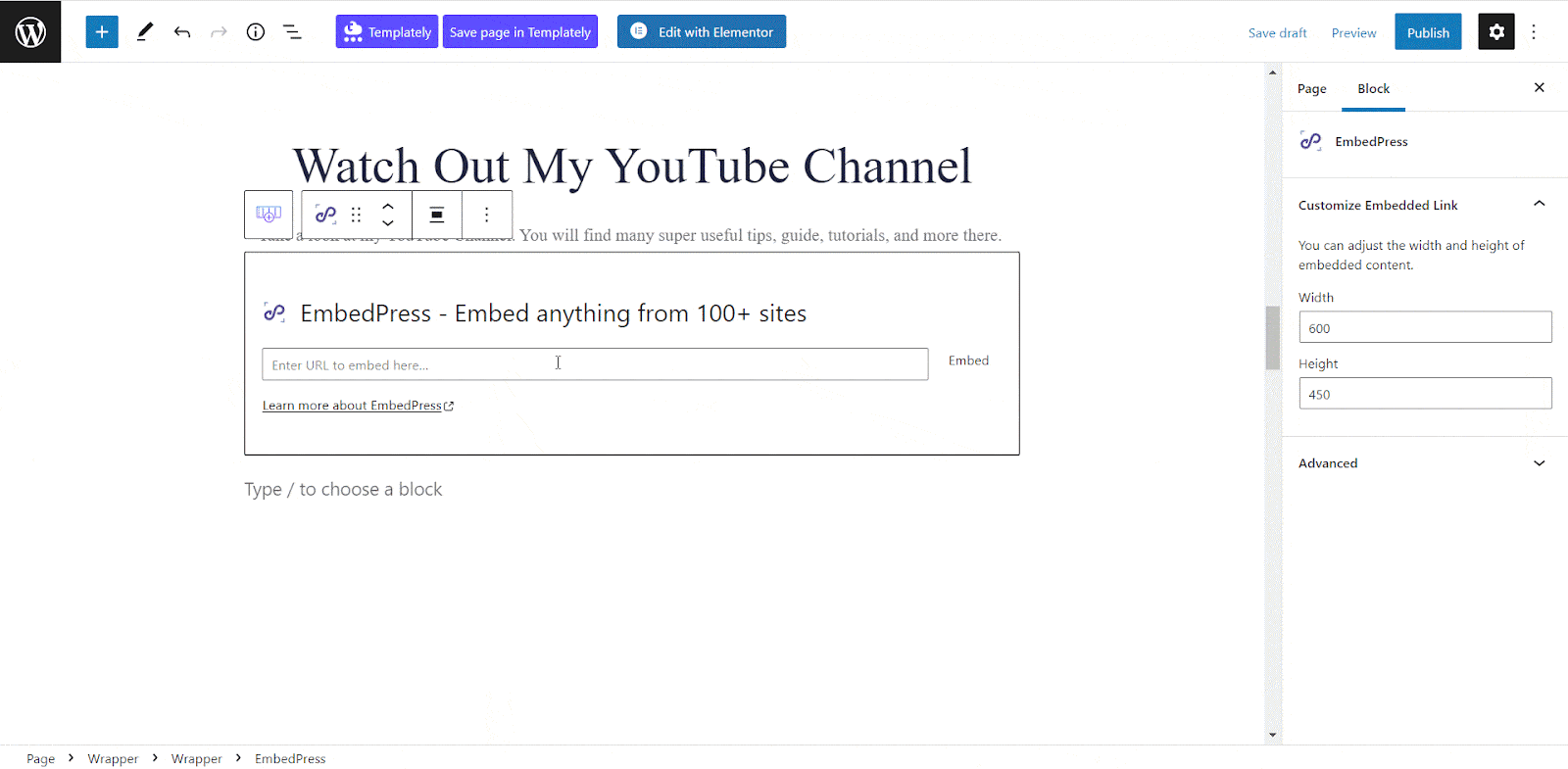 🎯 Make Your Website Content Interesting
Many people prefer to go through a variety of items than lengthy text-based articles. Therefore, you can incorporate interesting stuff on your website if you want to guarantee the finest experience for all of your visitors or audience. You can express the contents you produce in a more interactive way with EmbedPress. So visitors will not find it monotonous and enjoy surfing through your site. This increases the audience's interest in you, which is crucial to boosting conversions as well no matter what your website is about.
🎯 Increase User Engagement of Your Website
Adding diverse content has a positive impact on your brand's success and exposure. With EmbedPress you can add different contents easily. You can come up with an innovative way of presenting your website. As a result, if people find your content to be fascinating & beneficial to them, you can make a good impression and they will remember you. If your content fascinates them, they'll be more likely to share it with others.
Embed Any Content In Gutenberg With Ease Using EmbedPress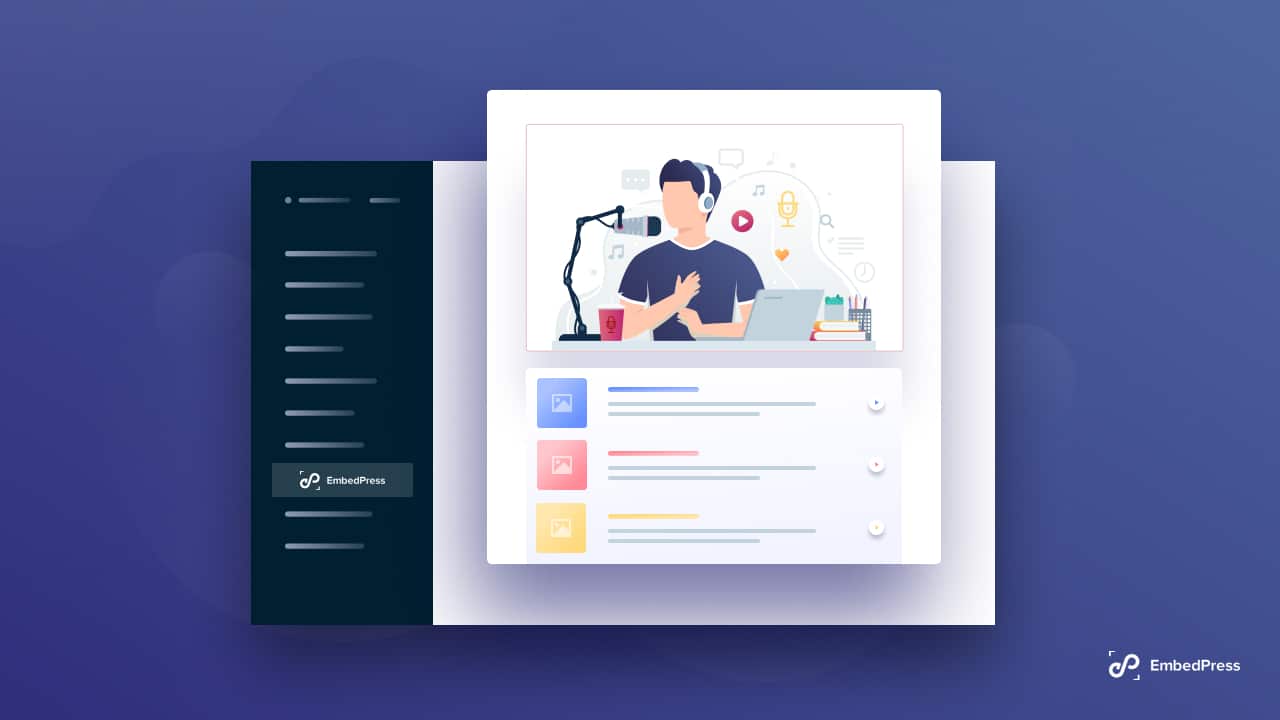 From engaging audio, interactive YouTube videos, and attractive visuals to necessary documents, and PDFs, you can embed almost anything with EmbedPress. So, it's time to explore more of it.
Embed Google Sources In Gutenberg
The Google suite includes Google Docs, Sheets, Slides, Forms, Drawings, Maps, and other features. You'll be able to immediately draw in more potential clients if you can add it to your website. Any of the Google Drive material listed above can help you impress website visitors by showcasing important content. Anyone who utilizes Google Drive, including WordPress users, authors, online company owners, and other users, is aware of how crucial it is to share their Google Drive content with consumers.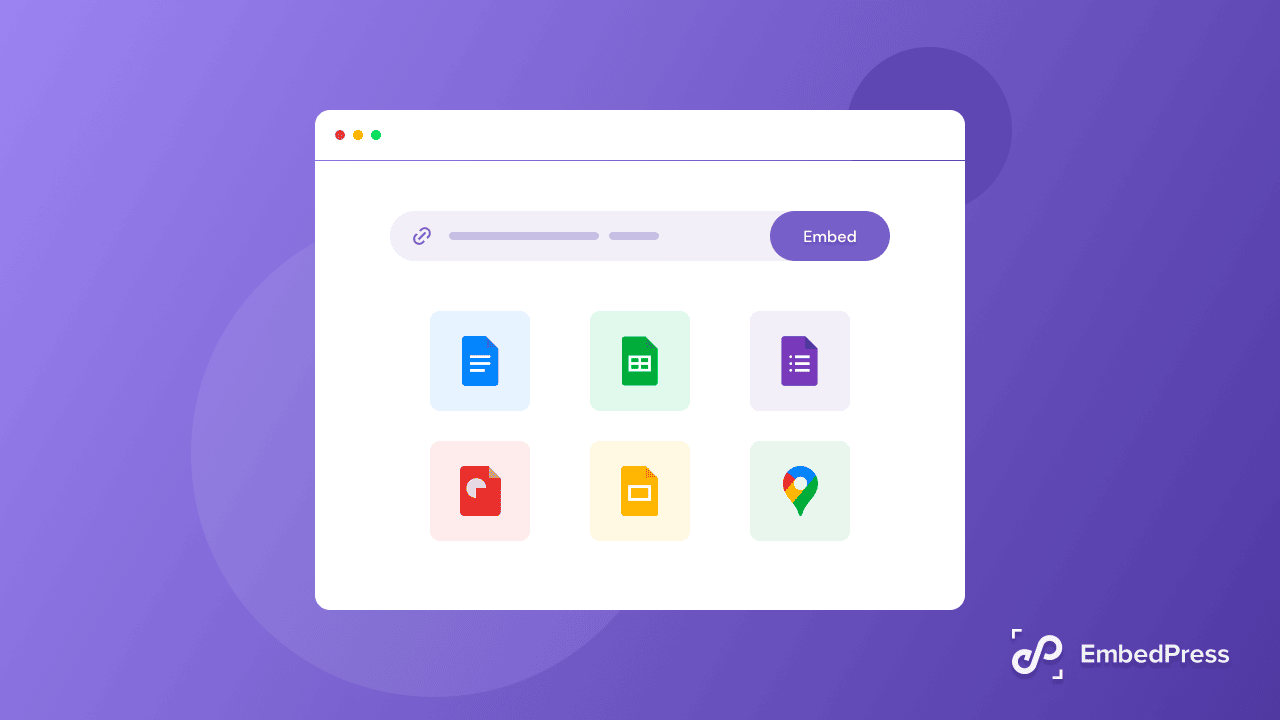 In order to enhance conversions and make them feel more invested. WordPress users can easily and without any code incorporate Google Drive content on their website using EmbedPress. All you need is just to copy the link and paste it without making any further effort.
Embed Interactive Video Content In Gutenberg Editor
EmbedPress is constantly giving efforts to improve and elevate your WordPress storytelling experience, which will boost website interaction. It allows you to embed any kind of video content in Gutenberg. One of the most popular social media sites and the most widely used video-sharing platform in the world is YouTube. Using EmbedPress you can embed YouTube videos in seconds.
EmbedPress offers the simplest and quickest way for embedding YouTube videos in WordPress. You can embed YouTube channels and playlists as well with this amazing embedding plugin. Along with YouTube, you can also embed videos from other popular platforms like Vimeo, Video Press, etc.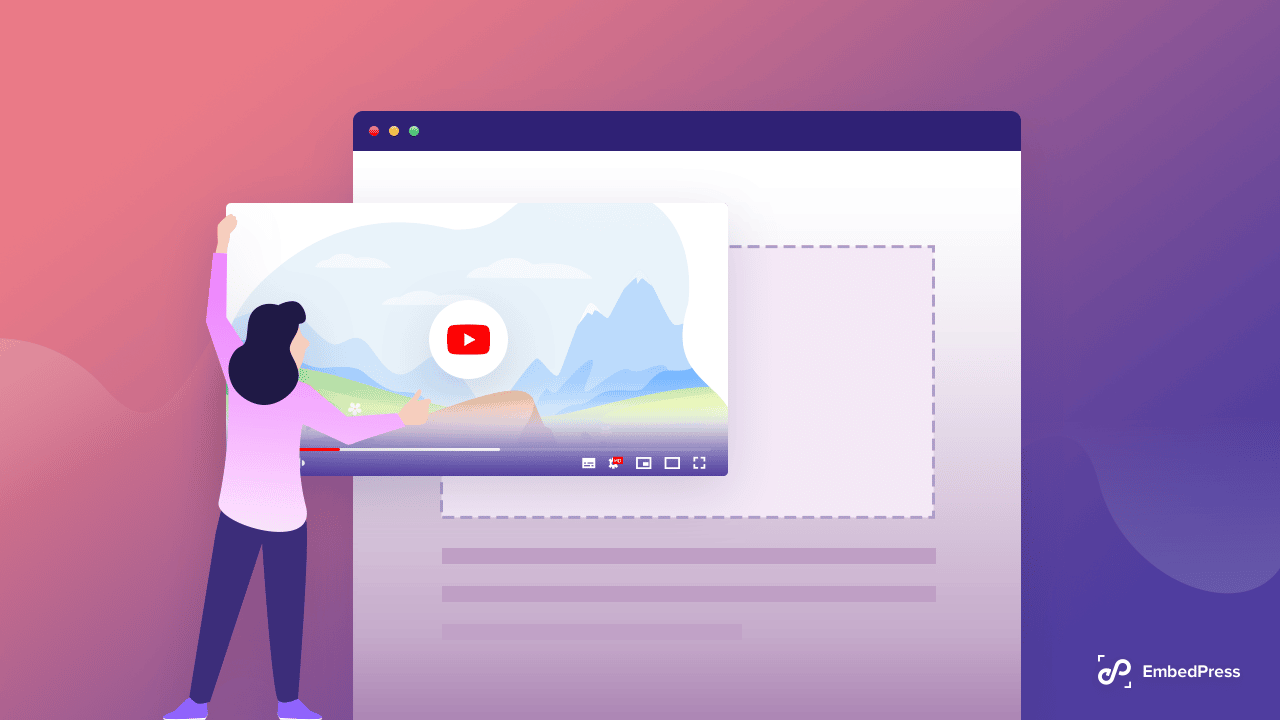 Embed Engaging Audio In Gutenberg Block Editor
To keep website visitors interested, you should consider including audio files on your WordPress site. To share music on your website, you can collect it from well-known websites like SoundCloud, Spotify, ReverbNation, etc. In addition, you can share well-known audio podcasts from IHeartRadio and other popular sources to attract more people to your website. EmbedPress allows you to embed interactive audio content to keep the audience attached to your website.
Embed Eye-Catchy Visuals Using Gutenberg
You can include impressive photos and GIFs on your website just like audio and video elements. EmbedPress lets you add perfect visuals to embed on your website, from well-known image-sharing platforms like Flickr, Imgur, etc. Additionally, you can visit Giphy GIFs to embed interesting GIFs on your website.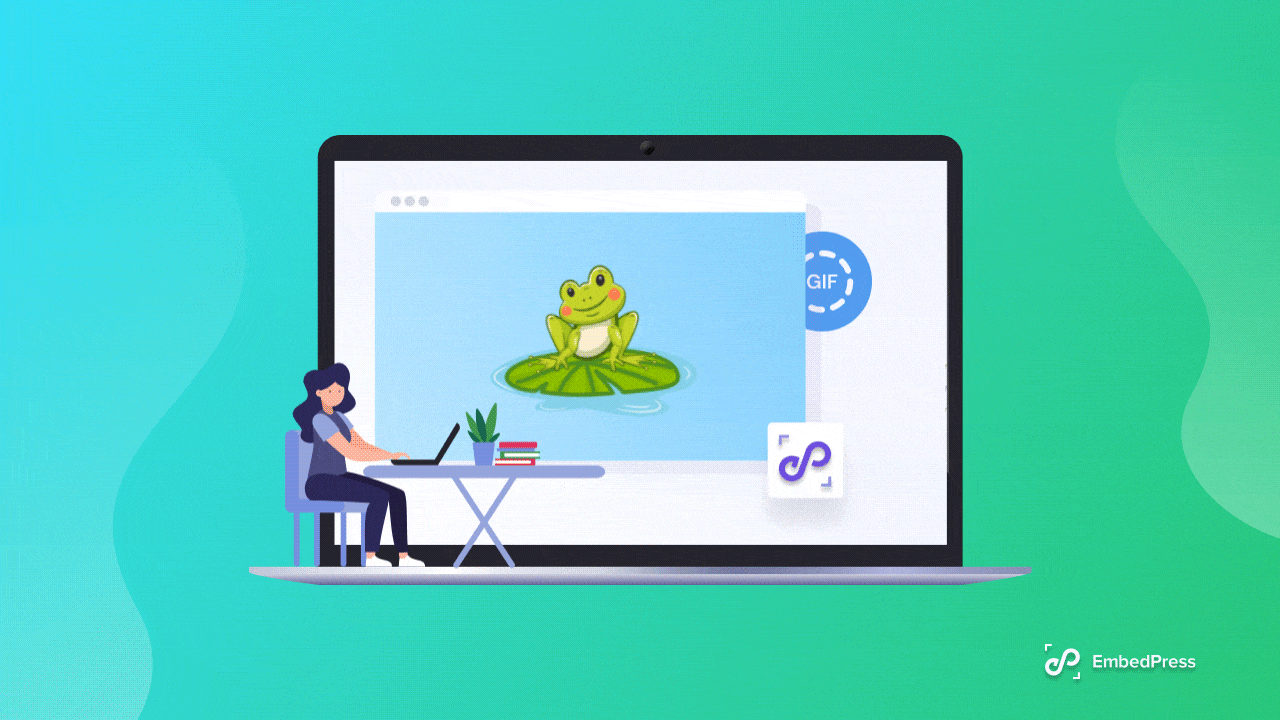 Step By Step Easy Guide To Embed Any Content In Gutenberg
There are plenty of other contents that you can embed in Gutenberg with EmbedPress. Want to learn how you can embed any content in Gutenberg? Follow the simple steps below to incorporate amazing content into WordPress website.
Step 1: Install & Activate EmbedPress Plugin
Installing EmbedPress on your WordPress website takes only a little time. Simply head over to your WordPress dashboard and look for the 'EmbedPress' plugin. Then click the 'Install' button and then 'Activate'.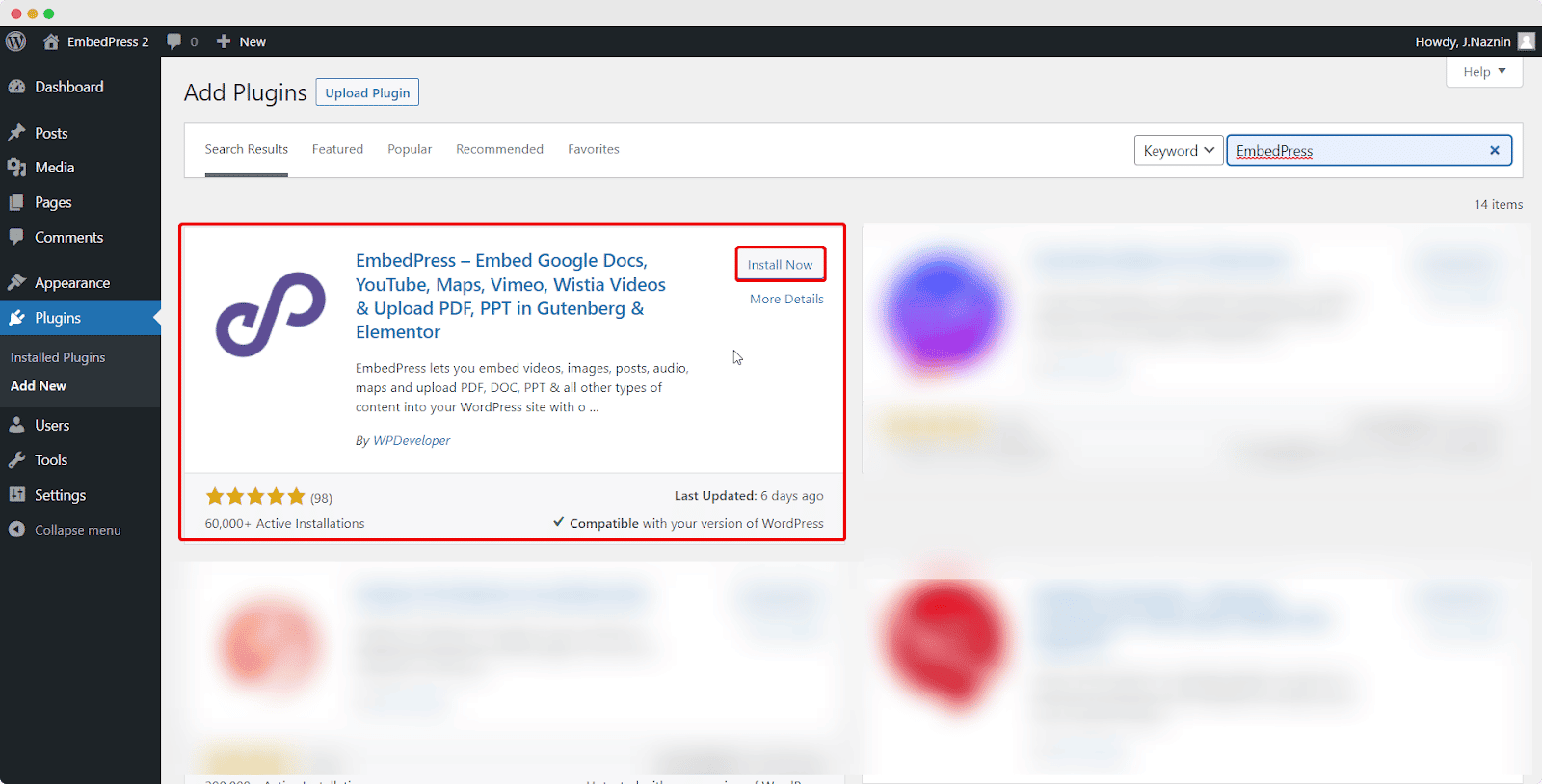 Step 2: Insert An EmbedPress Block
In the Gutenberg editor, click on the '+' symbol appearing at the left corner or from your post content area. Search EmbedPress & click on it. You will find an input area. The URL you want to include can be pasted into the plugin block's input field. To embed the desired content into your WordPress site, paste the URL of the content (video, image, GIFs, podcast, or anything) into the box. Here, in this tutorial, we are embedding a GIF.
After pasting the copied URL in the relevant field, the GIF will be automatically fetched and embedded on your page. This is how you can effortlessly embed interesting and eye-catching GIFs or any other desired content on WordPress without coding. Let's take a look at how the GIF shows up on your page.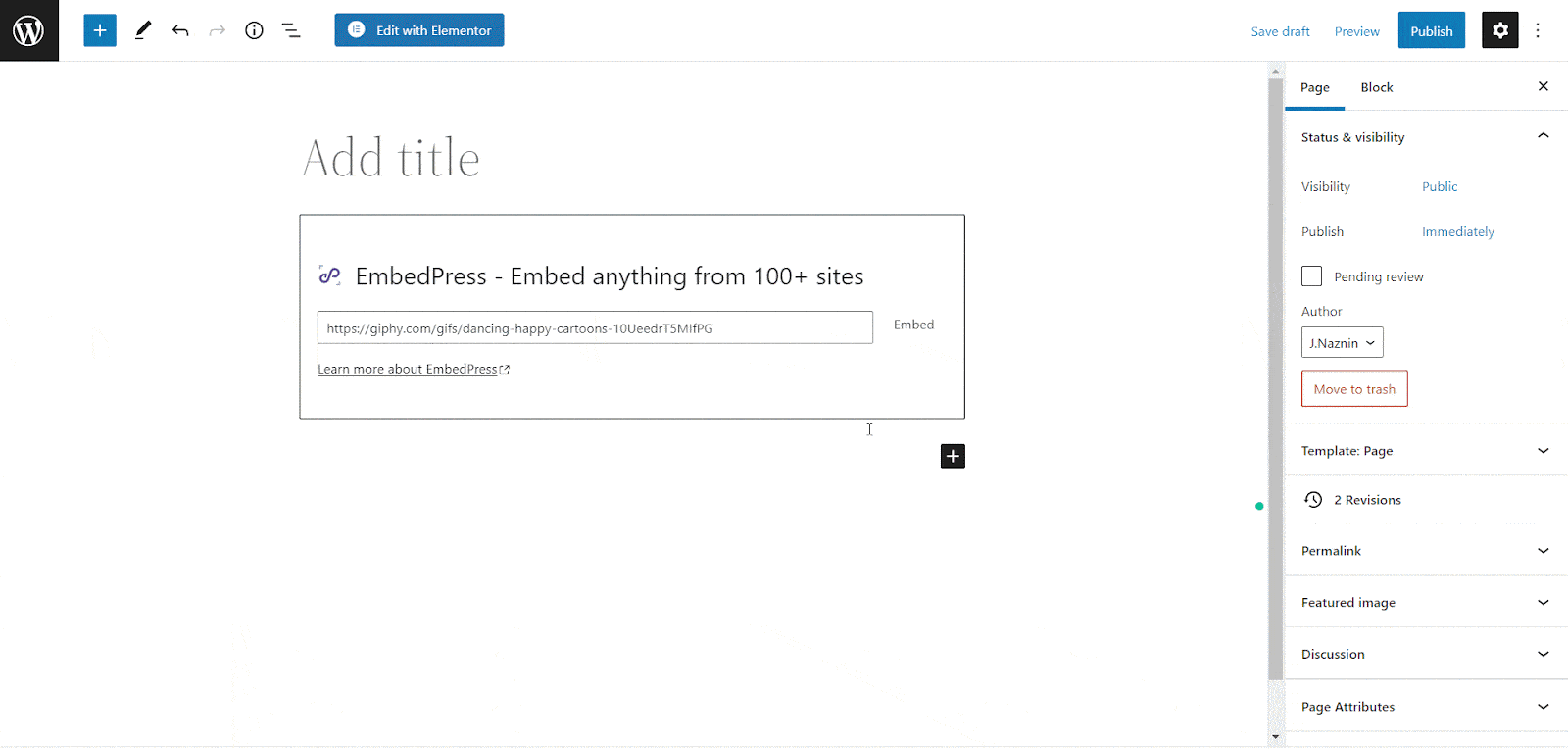 Similarly, you can embed YouTube videos, podcasts, social media feeds, and Google Drive content in Gutenberg using EmbedPress. To explore, check out our documentation page to find your desired tutorial.
Step 3: Customize The Embedded Content
You can customize your embedded content as needed in the Gutenberg editor. You can change the height, width, etc easily and give it a more personalized touch.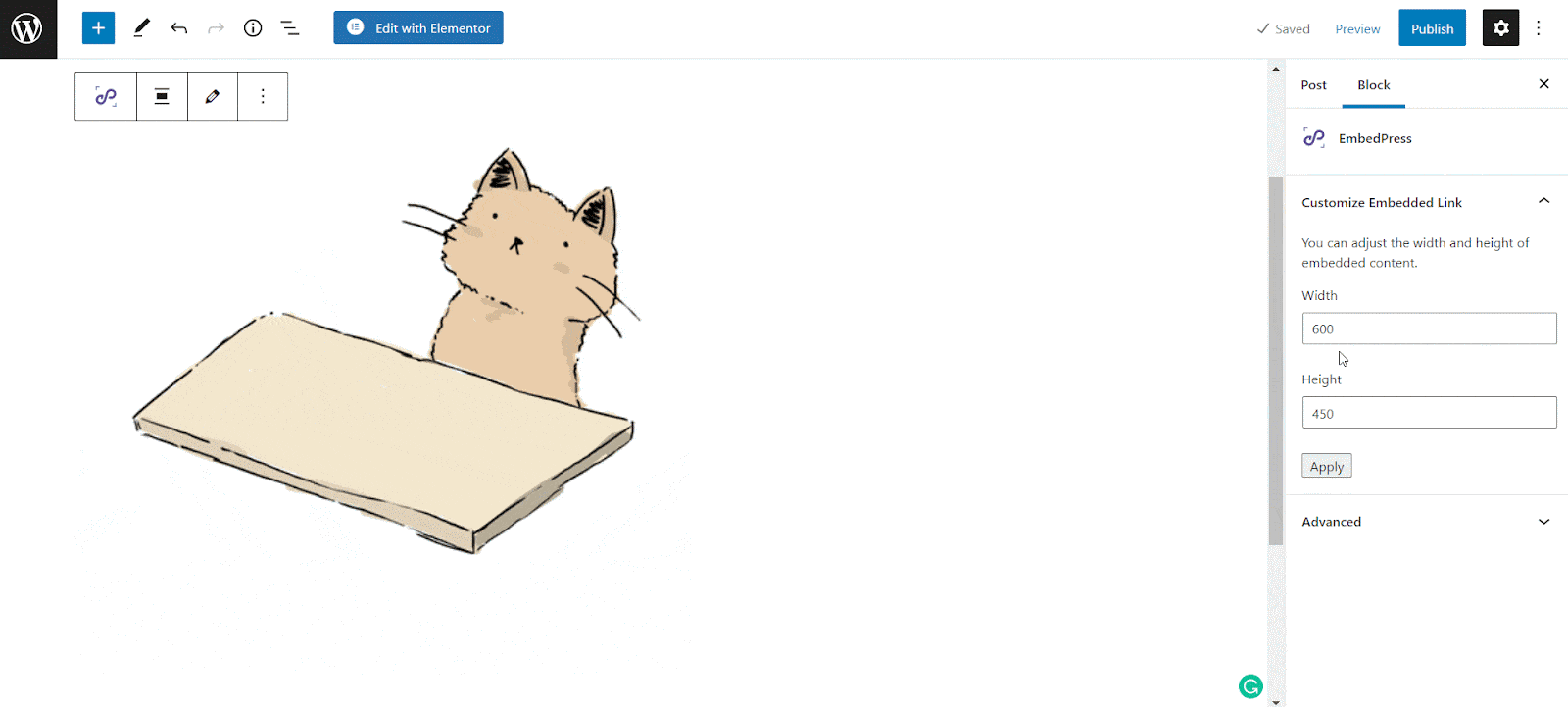 Get Started With EmbedPress To Embed Content From Over 150 Sources
To make your website interesting & engaging, EmbedPress can help you a lot. Using EmbedPress, you can make embedding on the Gutenberg editor quicker than ever and increase engagement and conversion rates as well.
So, here we end today. Did you love going through the blog? Share your experience with us as we would love to hear from you. Share your ideas or suggestions in our Facebook community and don't forget to subscribe to our blog to receive more informative tutorials, the most recent news, and updates.