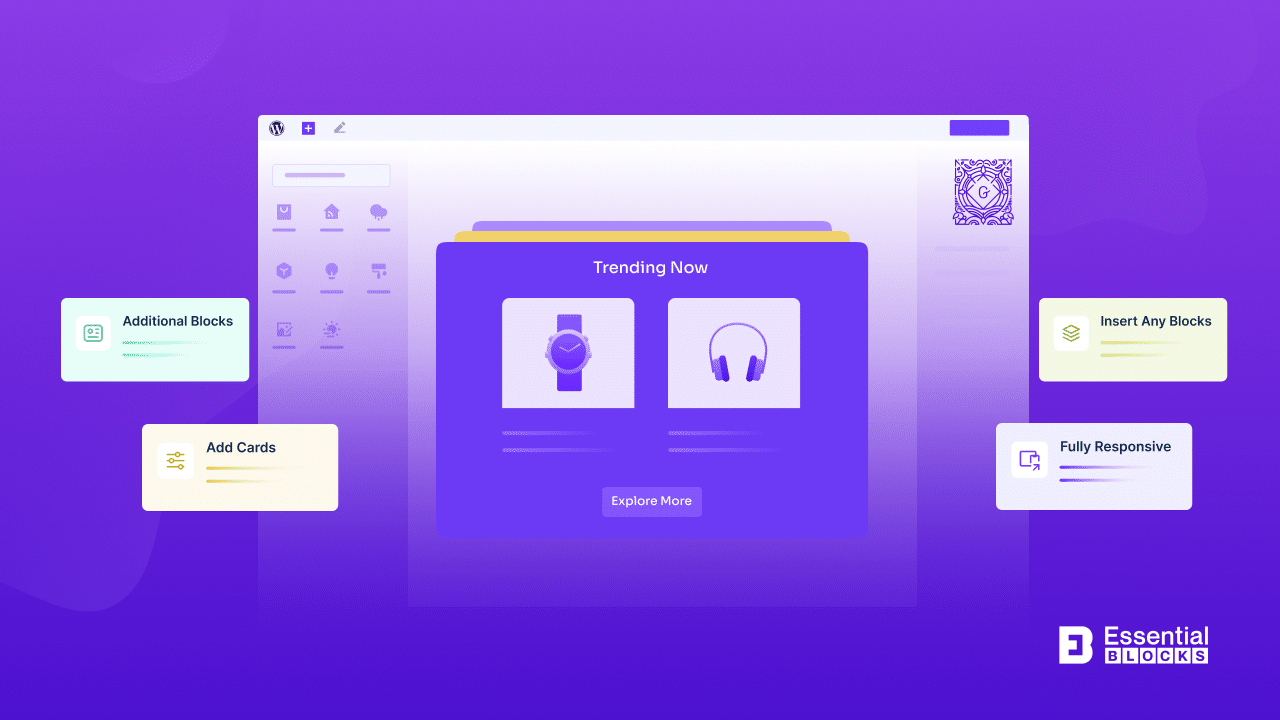 [New] Stacked Cards For Gutenberg: How To Make Web Content More Interactive?
The web design industry continues to evolve with cutting-edge features to level up the way you can design web pages. If you are designing your website in WordPress with Gutenberg editor, you have limitless options to add to your creative list. Here's one more: the ultimate blocks library, Essential Blocks has introduced Stacked Cards for Gutenberg to take your web design experience to new heights and captivate visitors to ensure an immersive experience.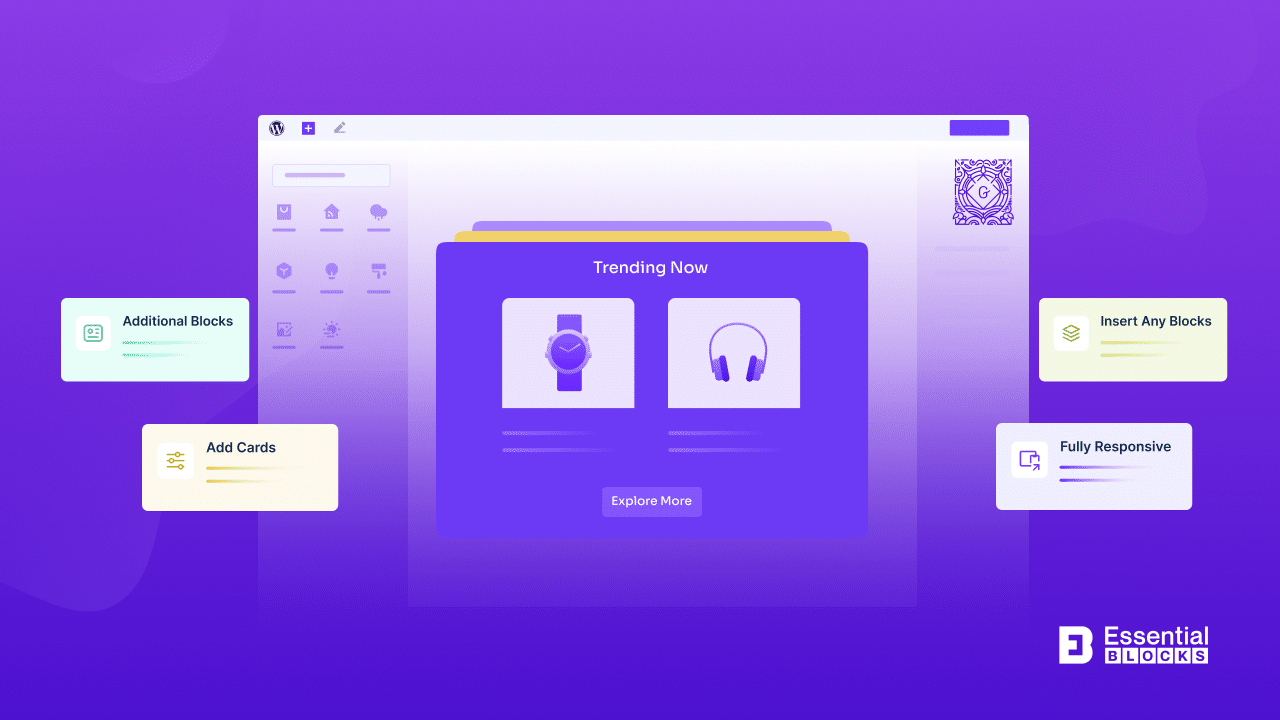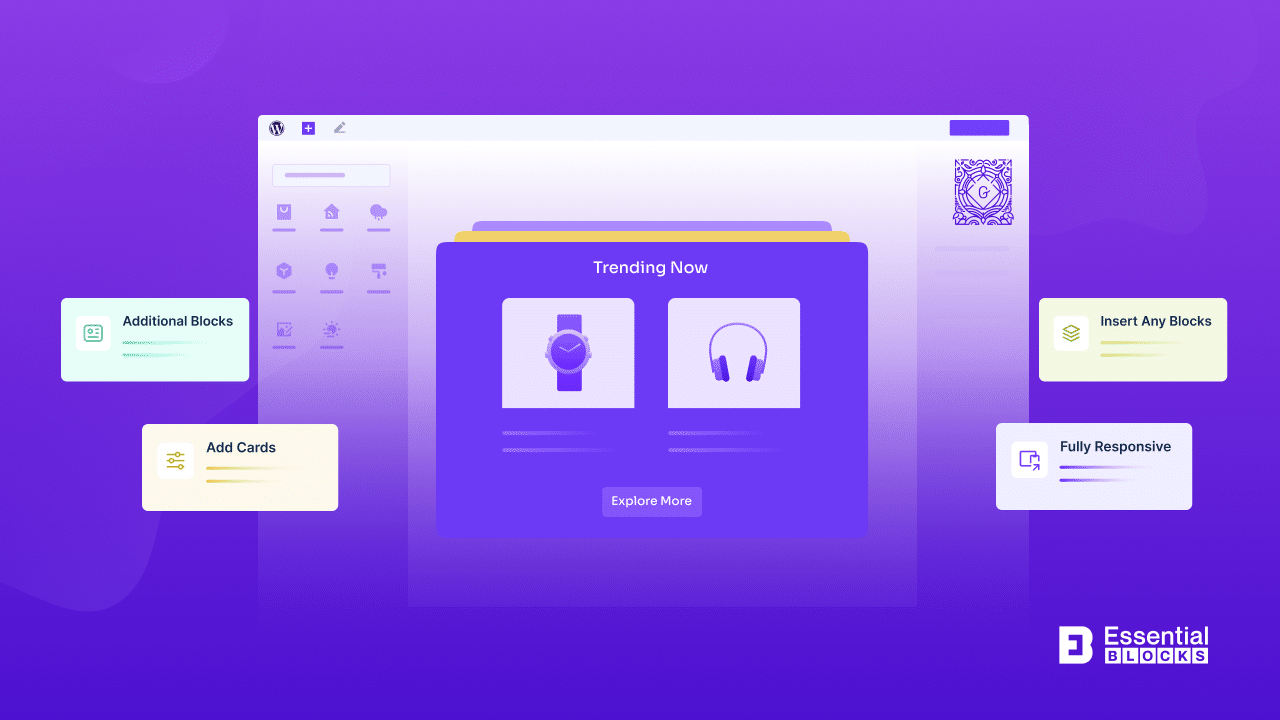 EB Stacked Cards for Gutenberg is a fine addition for WordPress block editor lovers. It lets you display product features, highlight key services, or tell interesting stories by stacking cards on top of each other and using a layered effect. Sounds interesting, right? Let's explore how you can seamlessly enhance content presentation and engagement with this Gutenberg block.
🌟 Potentials Of Stacked Cards For Gutenberg In Modern Web Design
Stacked Cards for Gutenberg provides a simple method of effectively organizing and displaying content, allowing users to showcase numerous pieces of information engagingly. Incorporating these interactive cards into your digital strategy is a cakewalk with an intuitive Gutenberg block, exclusively brought to you by Essential Blocks.
Web designers can easily craft an engaging story and lead readers through a seamless browsing experience with the help of Stacked Cards for Gutenberg. This kind of layout has various advantages for efficiently arranging and displaying content:
🗂️ Stacked style block lets you present information more simply. You can use stacked styles to represent articles, products, or user profiles, making it simpler for readers to understand and navigate the information.
🗂️ Organising your cards in a stack allows you to highlight the most crucial data at the top of the display. The cards are organized in a way that allows users to swiftly scan and focus on the information that most piques their interest.
🗂️ Each card can be clickable, expandable, or linkable, allowing viewers to learn more, see an illustration, or go to a different web page. This way, you can increase user engagement and ease navigation.
🗂️ Stacked style block makes it possible to adjust content to fit the viewing device using responsive web design. This guarantees a uniform user experience across PCs, tablets, and mobile phones.
🗂️ Web pages with stacked cards appear more appealing because they provide the impression of depth and dimension. Users are more likely to read and retain information presented on stacked cards if they are formatted with appropriate colors, typography, and artwork.
📝 Using Stacked Cards In Web Design With Essential Blocks: A Guide
EB Stacked Cards block, which works perfectly with the Gutenberg block editor, gives users a flexible way to showcase content. It has an easy-to-use interface and customization options that make it simple to change card layout, colors, alignment, spacing, and more to meet your design needs.
Following, we guide you through adding and customizing multiple stacked cards on your website using Essential Blocks for Gutenberg. As the Stacked Cards is a premium block, you need to install and activate the PRO version of this plugin on your website along with the free version to use all of the features.
Step 1: Add Stacked Card Block
Add a new page on your WordPress website or open the page or post if you already have one created where you want to add the Stacked Card. Add the 'Stacked Cards' block on your preferred page location with '+' or directly drag and drop it to the desired location.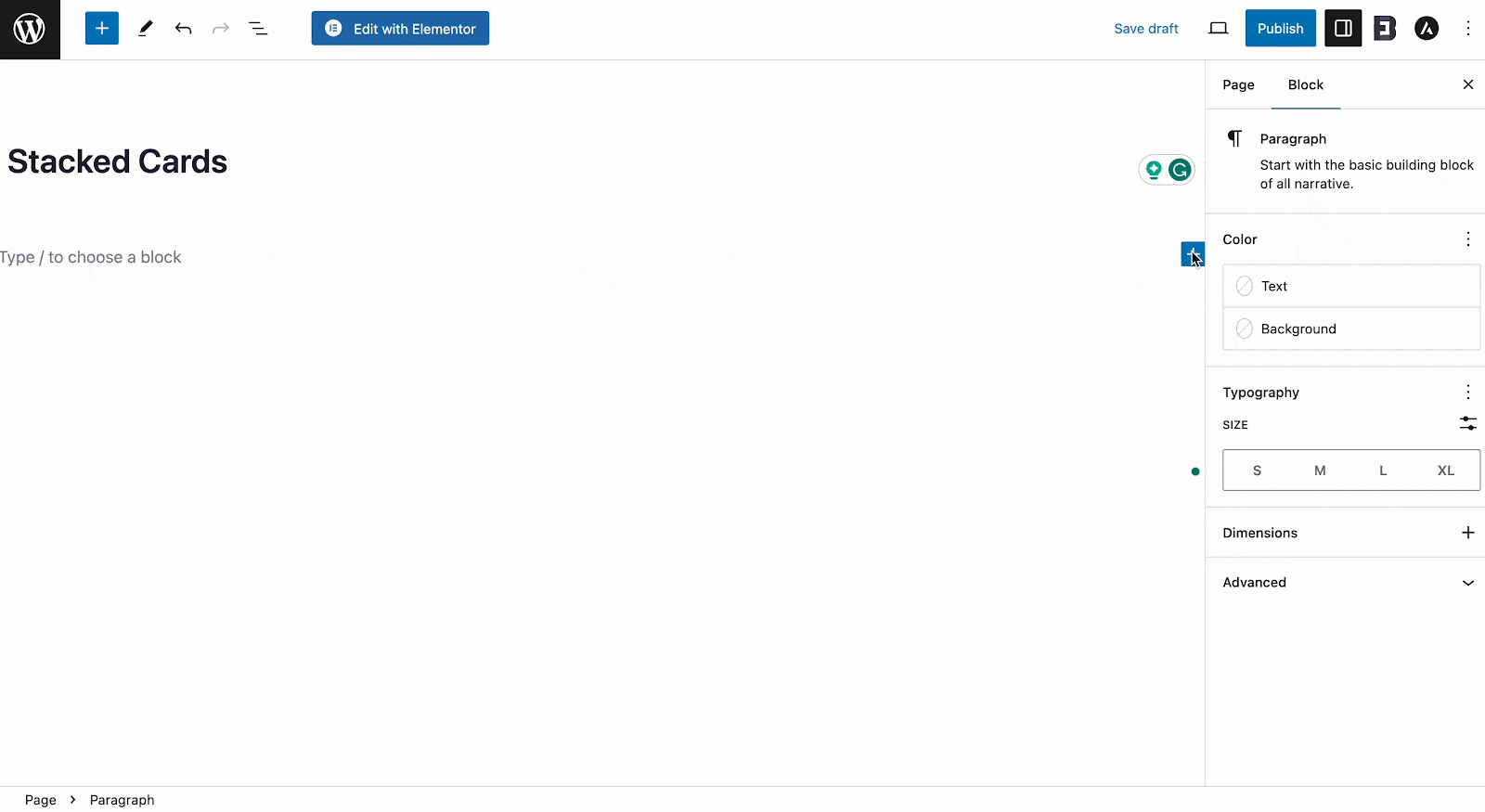 Step 2: Customize Your Stacked Cards
In the Stacked Cards block, you can add numerous blocks with a wrapper inside. In the 'General' tab you will have 3 core options to align your Stacked Cards properly. You can add multiple cards as well.
Set your values in the 'Stacked Cards Gap' to set the appropriate gap between your cards. In the 'Sticky Top Value', set any value to set a space while you are scrolling your tabs. Set your 'Card Height' in any way you want.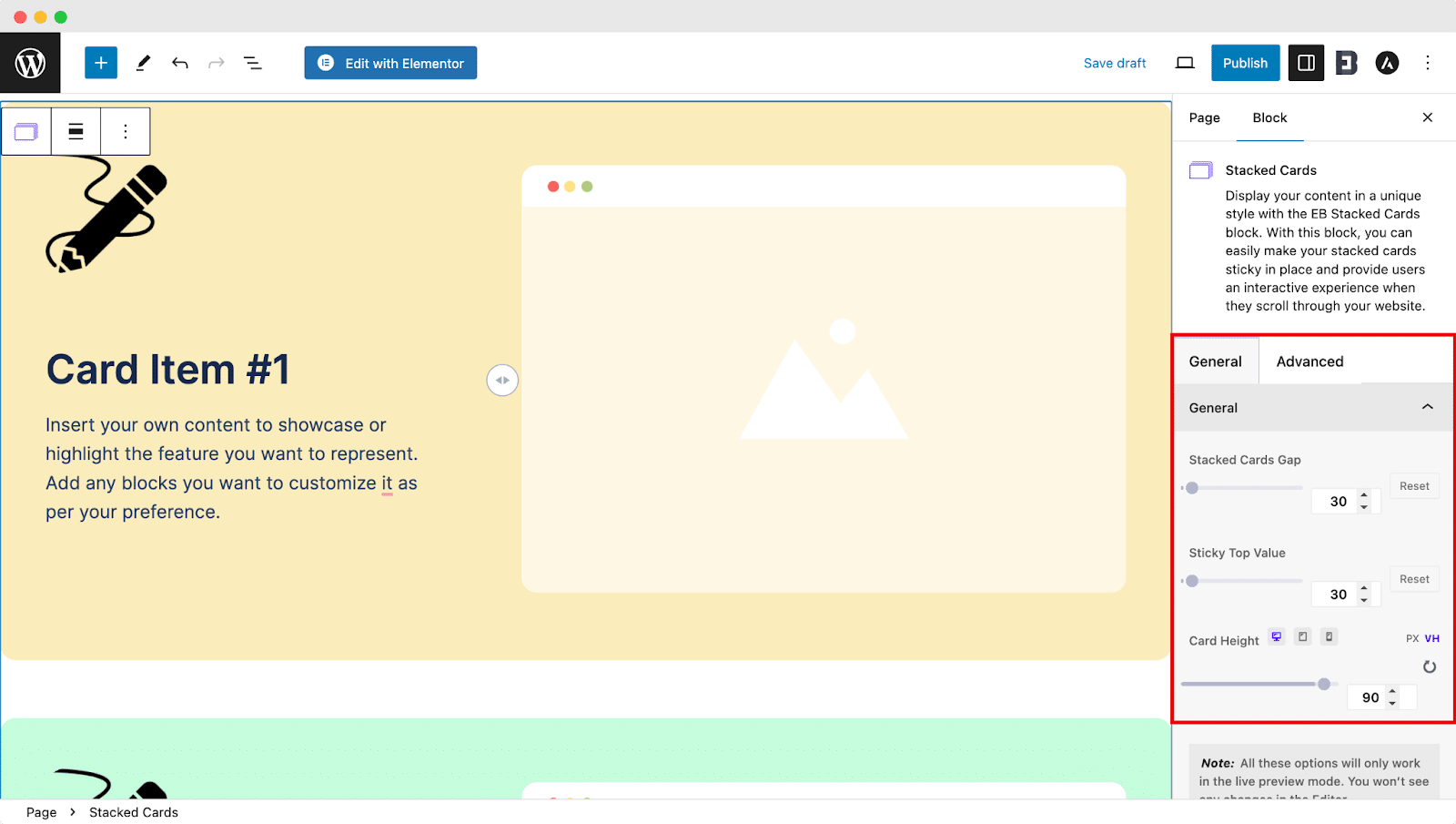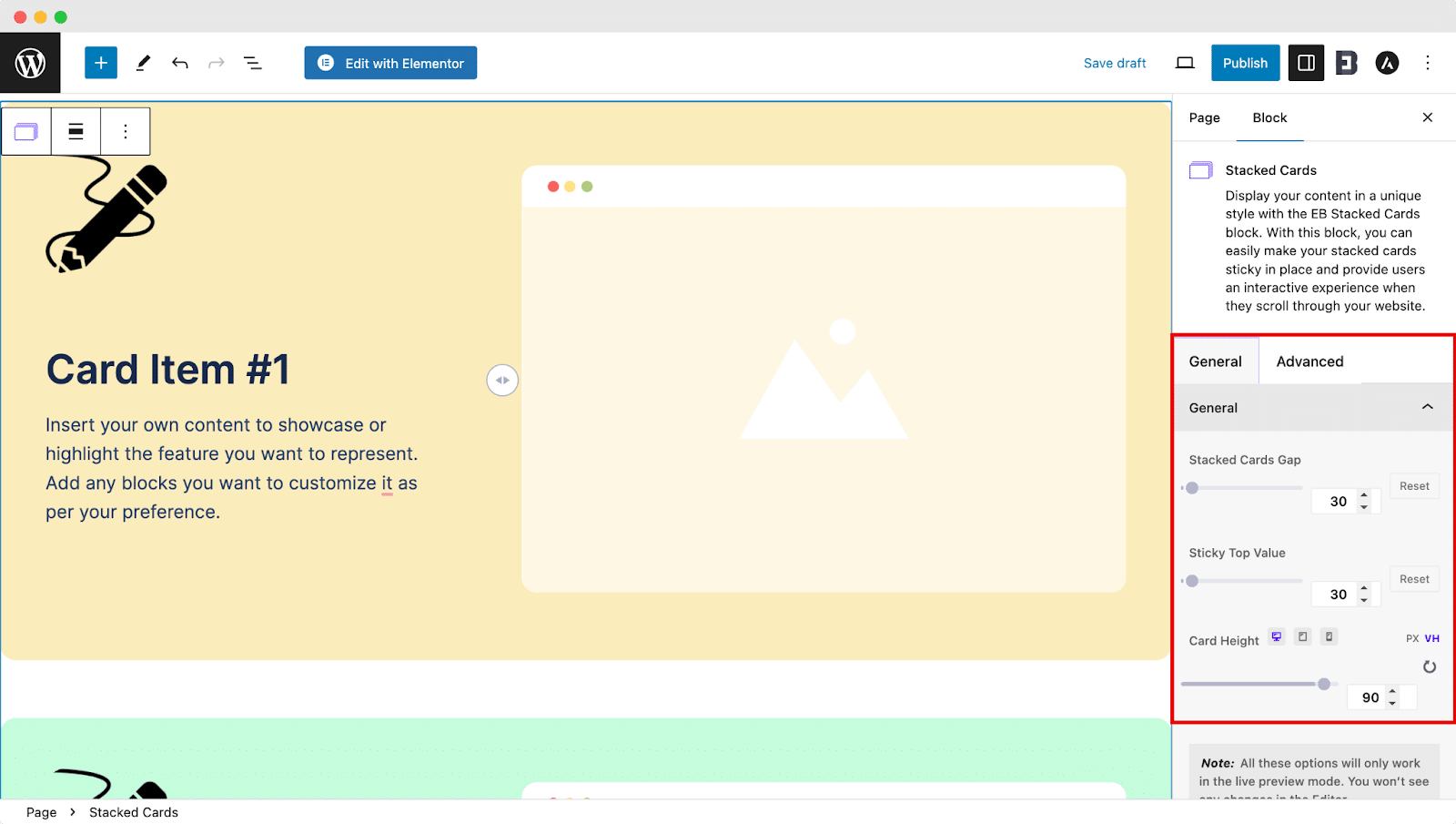 Step 3: Add More Block & Publish
As we provide an inner block 'Wrapper' to our Stacked Card block, you will have limitless possibilities to make your website more engaging. You can add any blocks from Essential Blocks and style them as you want. Here we have added the Image, Text Block, and many more customization without any complexity.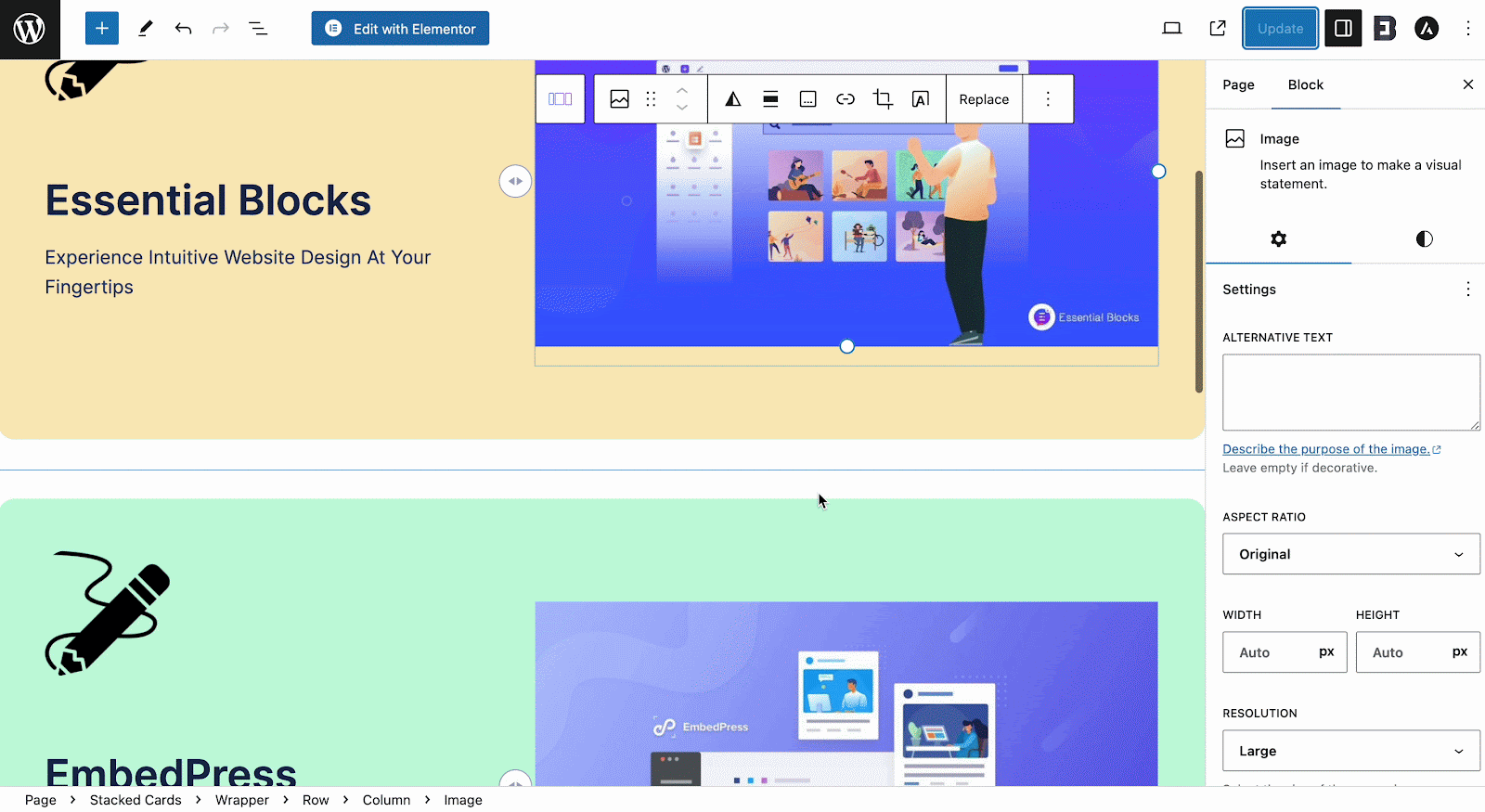 After you are done adding your preferred cards and customizing them according to your needs, publish your page or post. Thus, following the simple steps, you can quickly add and configure the Stacked Cards of Essential Blocks in Gutenberg.
🎉 Elevate Your Web Design With Essential Blocks Stacked Cards
EB Stacked Cards block can play a crucial role in creating fascinating web pages for Gutenberg block editor users. With the dynamic capabilities of Stacked Cards and the ease of use of Gutenberg's block editor, users can create stunning websites that break new ground in terms of content display and user interaction.
Essential Blocks Stacked Cards for Gutenberg is a glimpse into the future of web design, and it can do wonders for your online presence. If you have found this blog helpful, feel free to share your opinion and feedback on how you would agree or disagree with our Facebook community. You can also subscribe to our blogs for valuable tutorials, guides, knowledge, tips, and the latest WordPress updates.