Guide to Use NFT Marketplace Template For Gutenberg + FREE Access
With the ever-growing NFT industry, investing in an NFT marketplace could be a huge idea for sure. So, if you want to start today, you can use the NFT marketplace template and create your dream NFT website without any codings. In this blog, we will show you how easily you can create a marketplace for NFT in Gutenberg at ease. So, without further ado, let's dive in.
💡 The NFT Marketplace: A Basic Introduction
You may already know that NFT means Non-Fungible Tokens which refers to the blockchain-linked piece of digital content. You can consider digital artworks, texts, images, trading cards, domain names, or even game items as digital content for NFT. As all of these digital artworks are unique and you can not replace them with one another. However, you can trade them anytime.
NFT marketplaces are blockchain networks that help users to trade NFTs securely. On an NFT marketplace, users can upload their digital artwork and make sales. Also, anyone can buy an NFT from there and store it in the marketplace. However, users need to create an individual account there and integrate it with their digital wallets to make the transactions.
So, whenever an NFT is sold, the owner of the NFT gets the price while the marketplace takes a commission from the sale. As NFTs are getting more popular day by day, it could be a hugely profitable investment to set up an NFT marketplace.
🔍 Why Are NFT Marketplaces So Popular These Days?
NFT marketplace is the most secure way to make transactions of digital assets. Once you tokenize your assets in a blockchain network, your ownership is registered and no one could steal it from you. Therefore, for security purposes, people are engaging more in NFT marketplaces.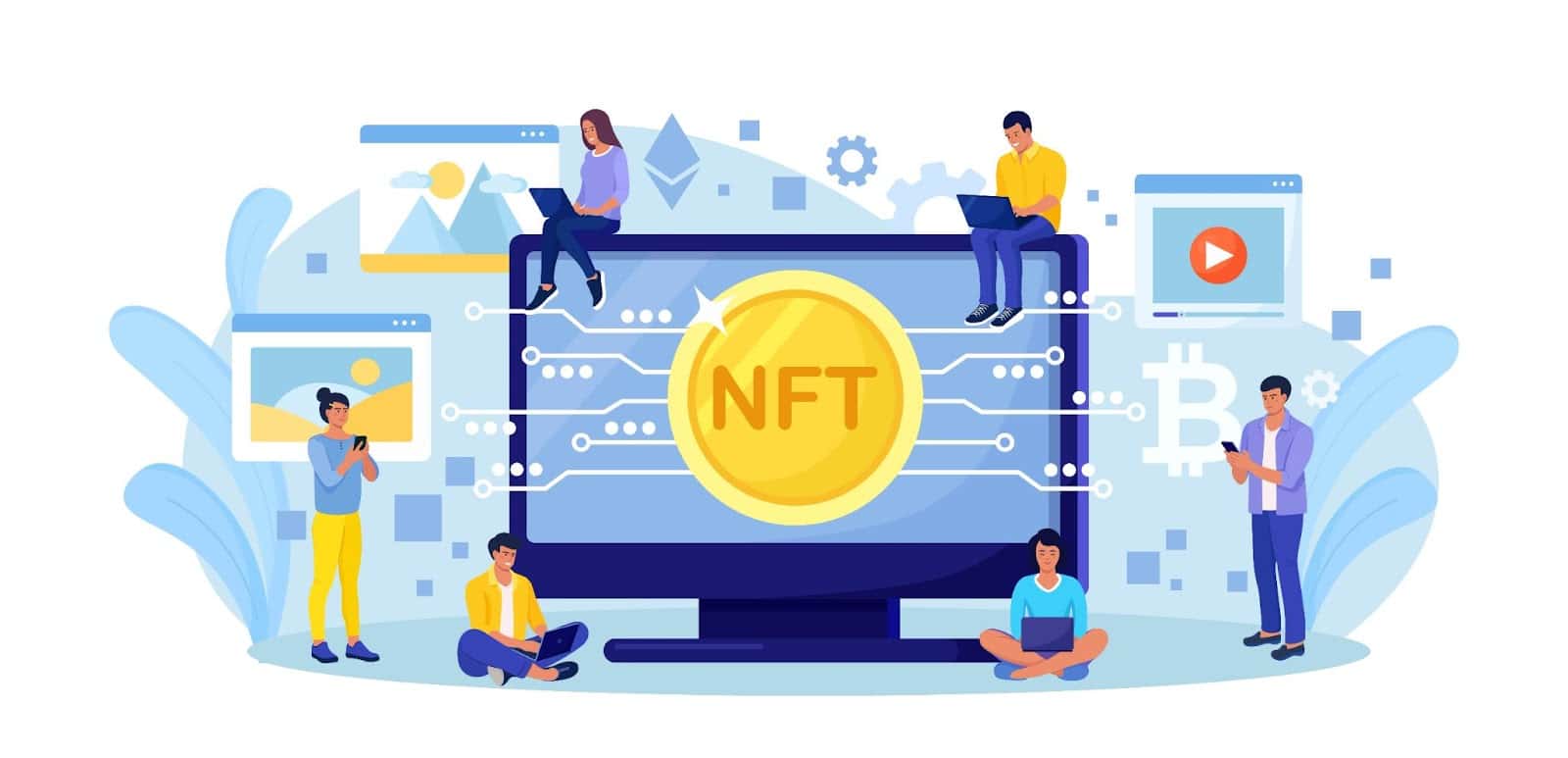 According to a report, the trade volume of the NFT market increased by four times in 2020 and surpassed $250 million in only a year. Considering the rapid growth of the NFT marketplace, many investors are showing interest in creating their own NFT Marketplace. As a result, this industry is booming with new investments and getting more popular day by day.
✨ Things You Must Need For A NFT Marketplace Website
Before learning how to use the NFT template, read this section to get to know which are the must-have pages for you. The NFT marketplaces are similar to any digital product selling marketplace. Thus, while creating an NFT marketplace website, you need the following pages on it.
⭐ Home Page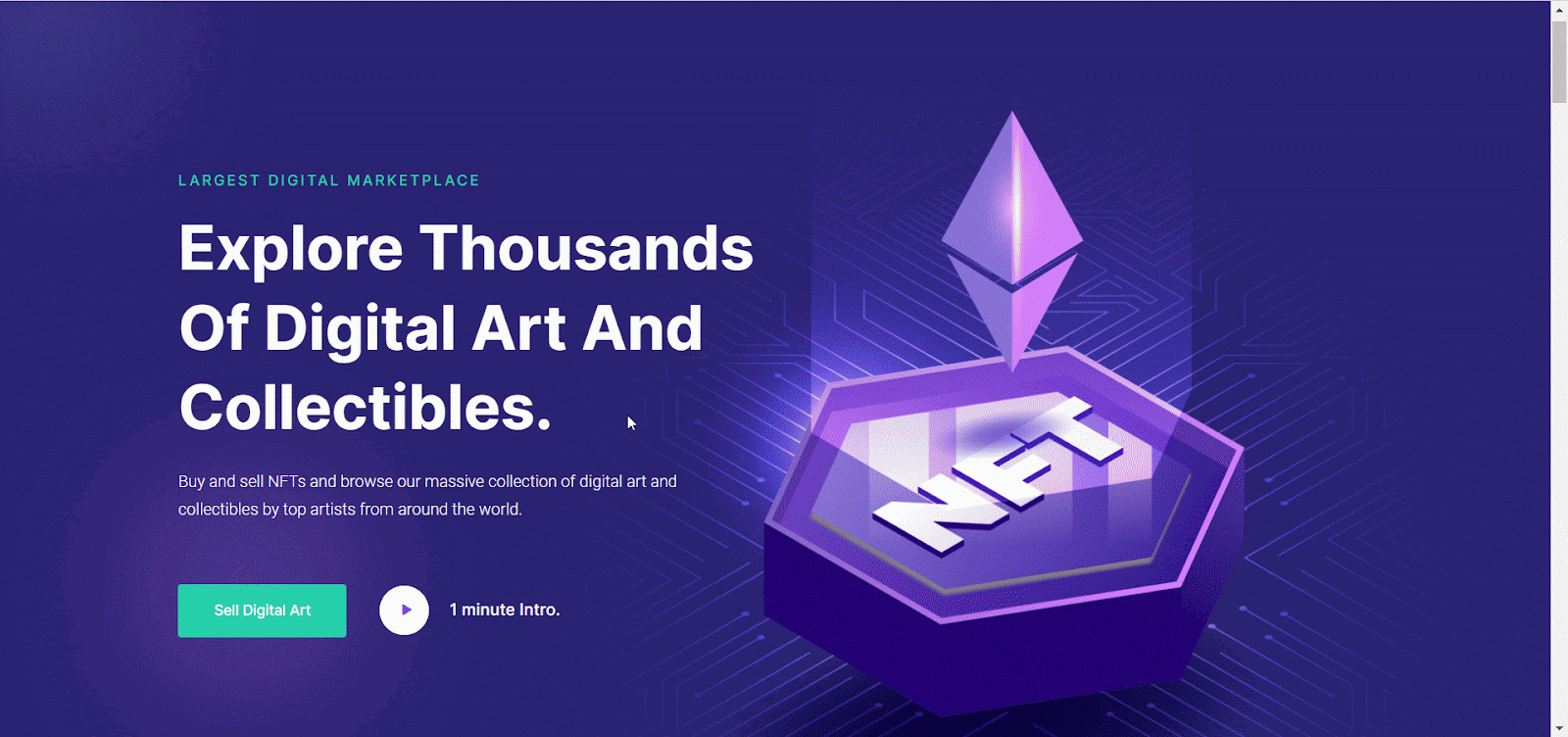 Just like any other website, you need to have a home page to create your NFT marketplace website. On this page, you can showcase your best products, and testimonials, and provide a different call-to-action button to send your visitors to the pages they should visit.
⭐ Browse Page
While creating a website for selling NFT tokens, one must add a browse page to the website to showcase all the NFT tokens. You have to make sure this page is catchy enough to keep your visitors and convert them into customers. Also, this page should be easily accessible to make the users interested in your NFT marketplace.
⭐ Activity Page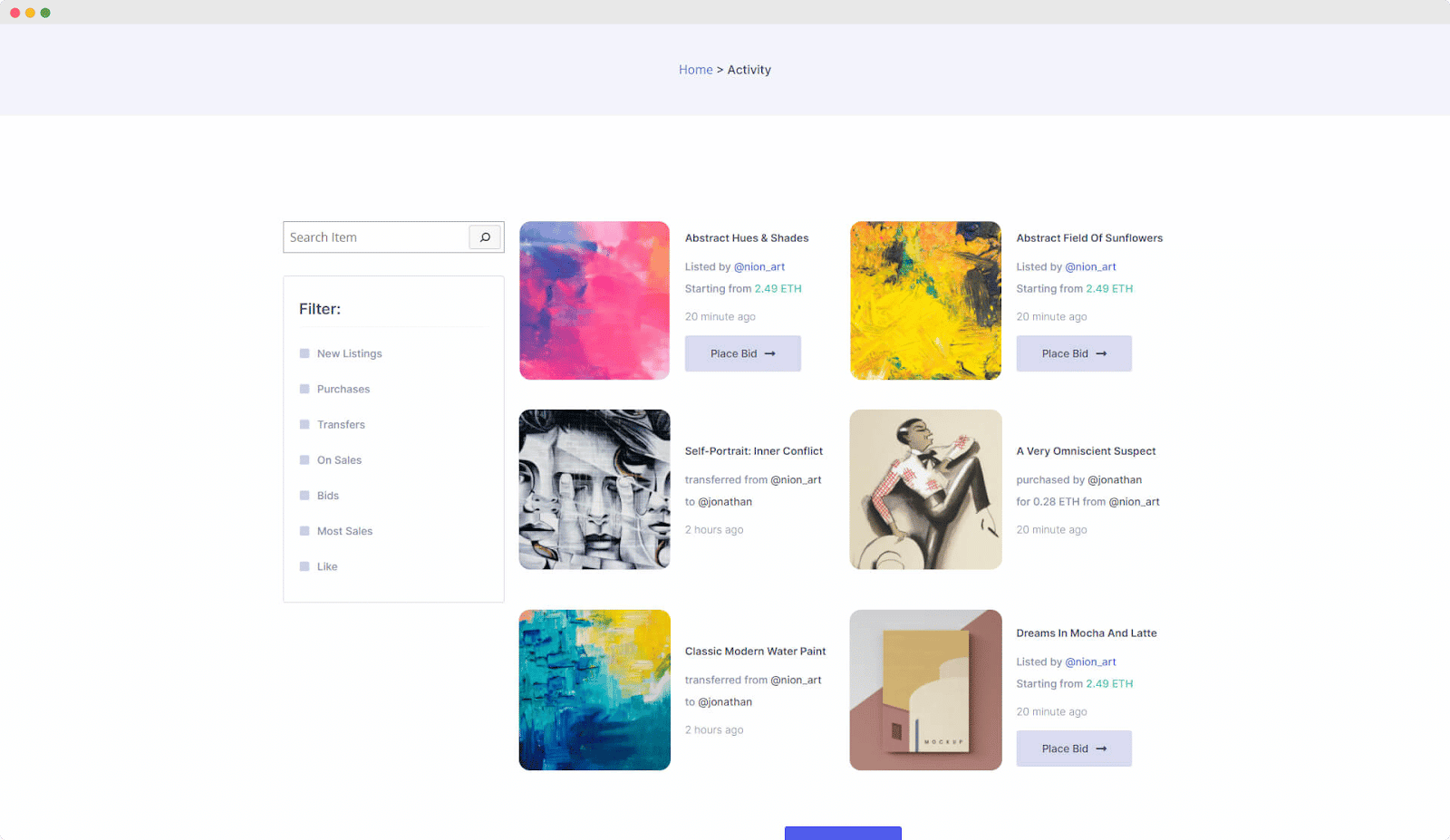 When selling NFT tokens, you need a web page where all of your customers can easily bid on the tokens they want to own. Besides, they must see the bids on their favorite tokens to be able to participate in the biddings. So, along with the other two pages, the activity page should be on your website as well.
⭐ Token Details Page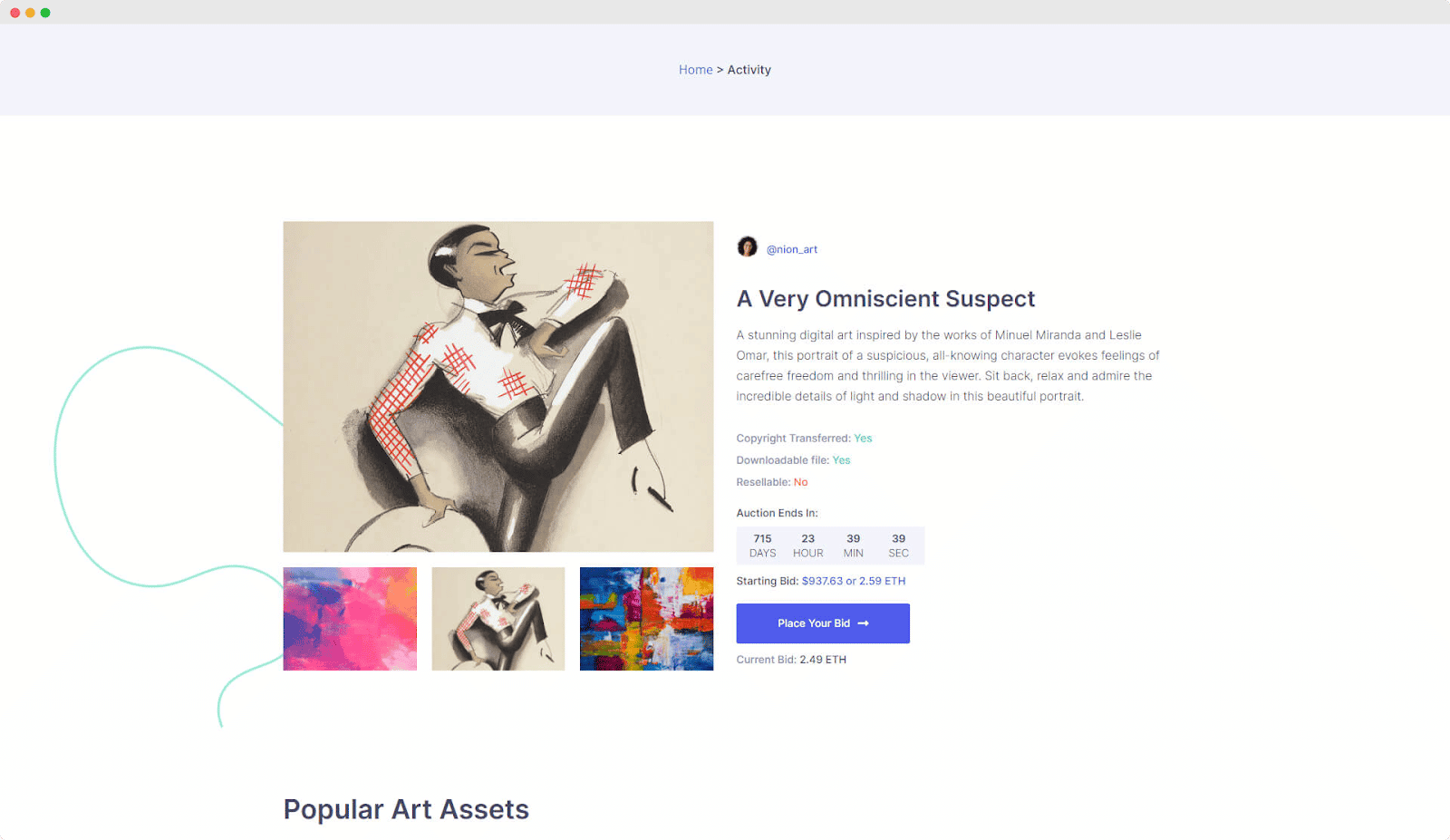 Another essential page you need for your NFT marketplace website is a token details page. Your visitors should have access to the NFT tokens that you are displaying to learn detailed information. So, by visiting this page, they can easily decide whether they should buy the token or not.
💡 Guide: How To Use NFT Marketplace Template In Gutenberg
Gutenberg editor is right now the default editor for WordPress. You can use this block editor to create amazing websites without any code. Besides, if you have a Gutenberg template, you can create your website within just a few clicks. Now, follow these easy steps to create your NFT marketplace in Gutenberg for free.
Step 1: Install & Activate Gutenberg Template Related Essential Plugins
As the Gutenberg templates have a dependency on the following plugins, you need to install them on your website to insert the NFT marketplace template.
🔵 Gutenberg: If you want to install any Gutenberg template on your website, first of all, you need to have the Gutenberg editor installed and activated on your site. Thus, before going further, install and activate Gutenberg on your website.
🟣 Templately: You can find the NFT Marketplace template for Gutenberg in Templately which comes with all the amazing templates for building websites within a few clicks. Now, install and activate Templately and open your free account there.
🔵 Essential Blocks For Gutenberg: As you want to insert the NFT marketplace template on your website, you need to install and activate Essential Block as well. This amazing Gutenberg block library comes with 30+ amazing blocks that you can use for creating stunning websites without any coding.
These 3 plugins you have to install and activate before going to the next steps.
Step 2: Insert The NFT Marketplace Template In Gutenberg
Once you have installed these plugins, now open a new page on Gutenberg from your WordPress Dashboard. Click on the 'Templately' button. It will take you to Templately where you will find the NFT marketplace template.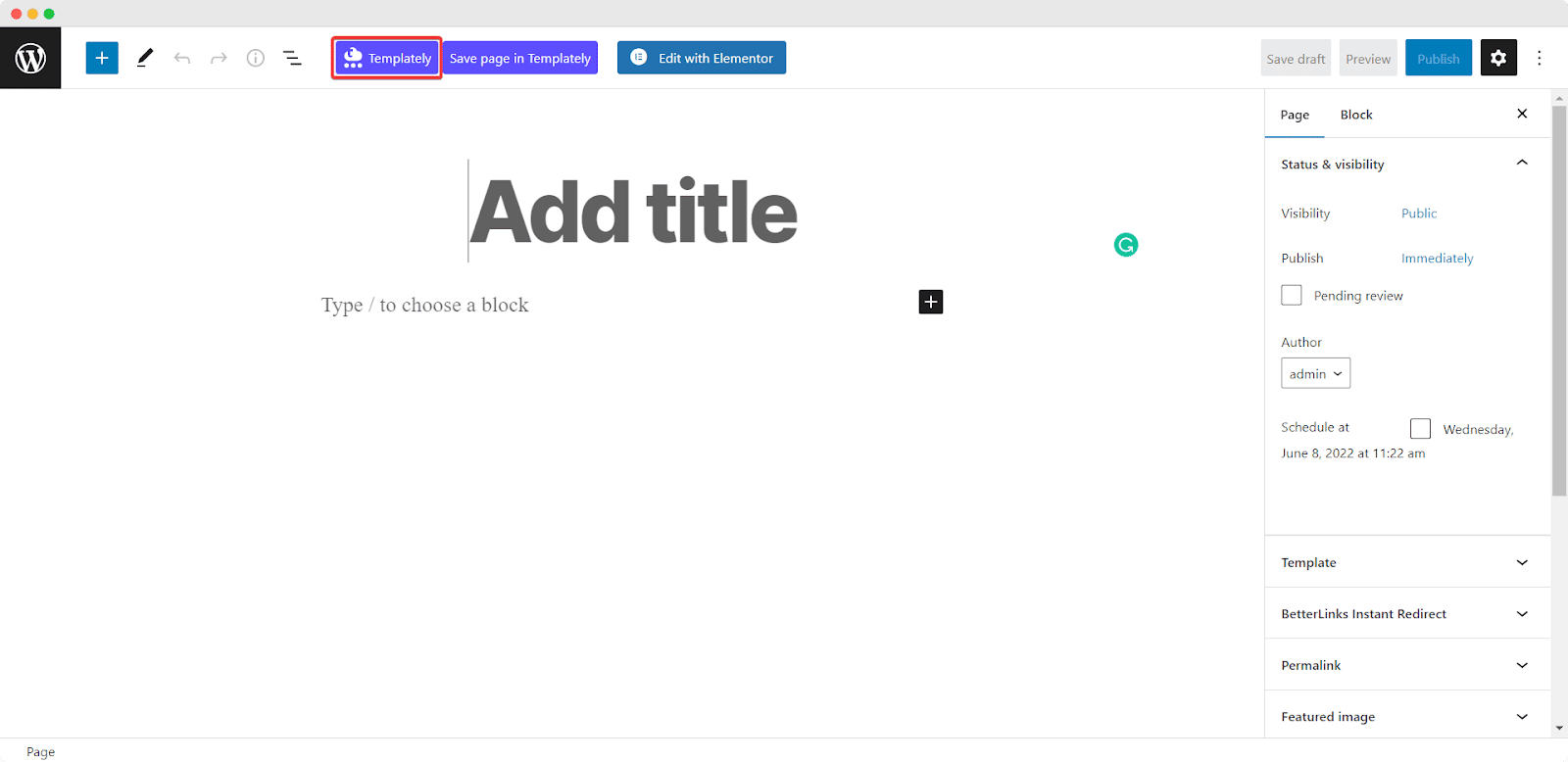 For the tutorial purpose, we have chosen the NFTGallery, which is a Gutenberg template pack you can use for free. Click on any template you want, then hit the 'Insert' button to use this template for creating your NFT marketplace website.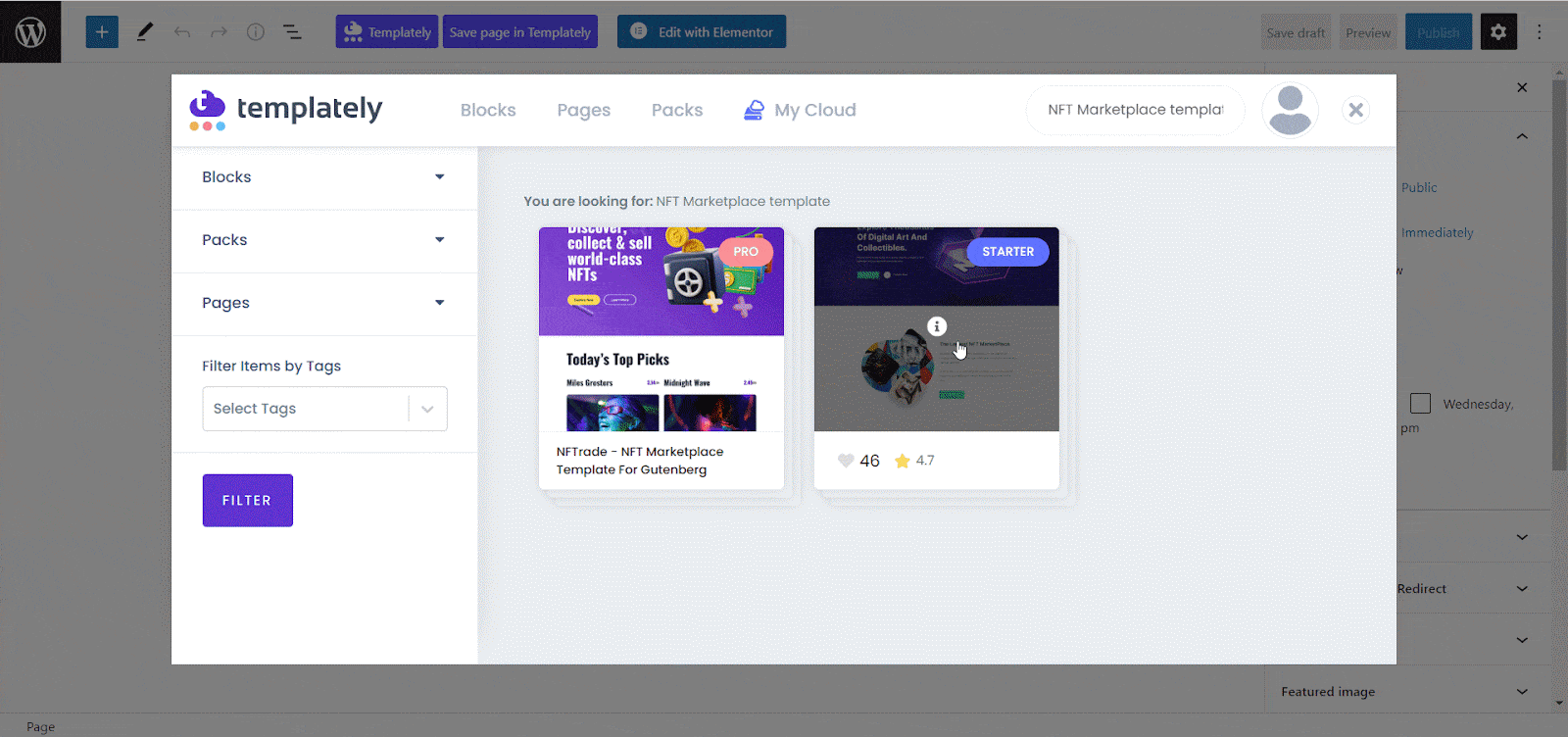 Step 3: Give Personalized Touch & Publish Your Website
Now, you can customize the template as you like. You can add your logo, images, brand name, etc. to give a personalized touch to your website. Once you have done customizing this NFT website template, hit the 'Publish' button. That's it! This is how you can easily create using the NFT marketplace template to create a website with Gutenberg editor.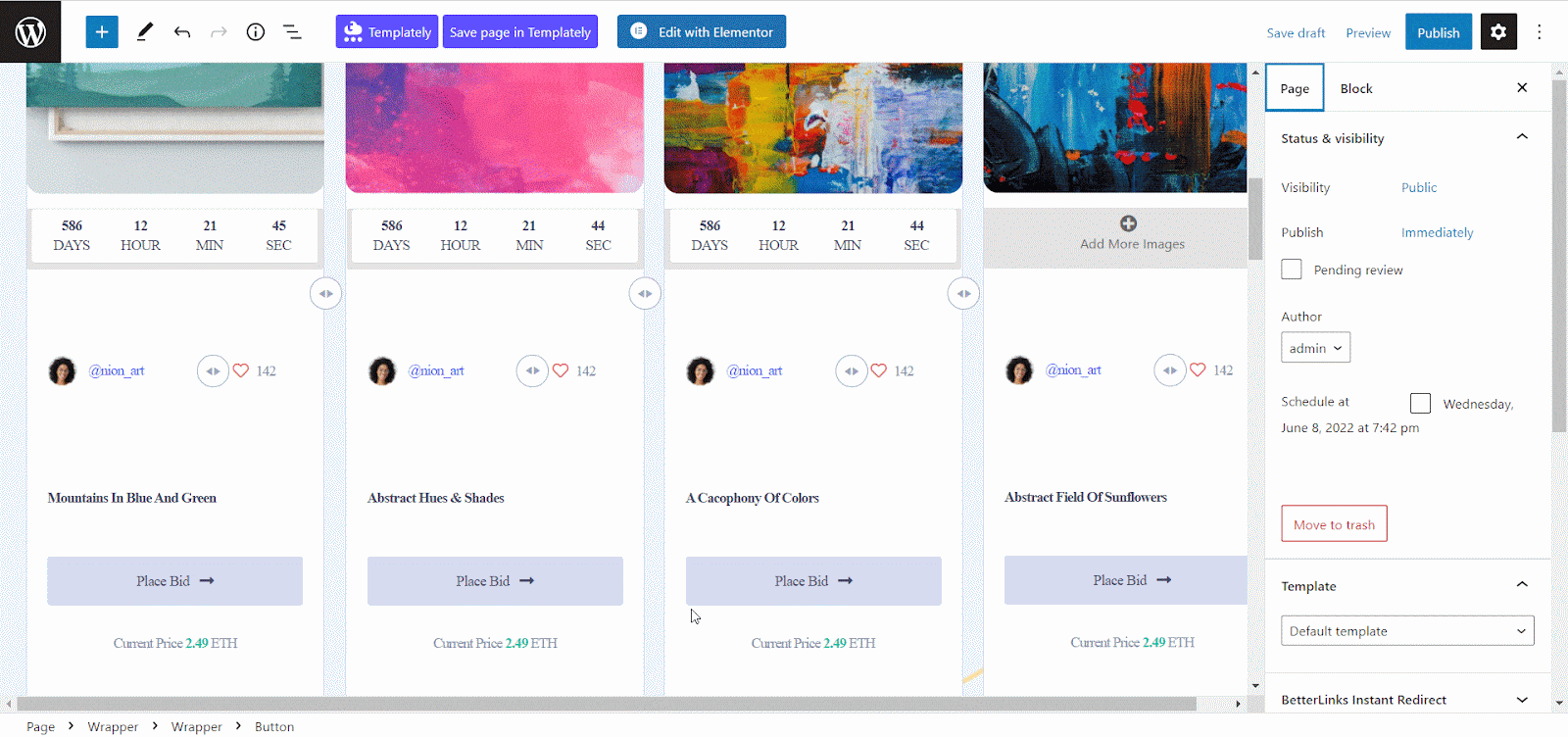 ⚡ Kickstart Your NFT Marketplace Website Today
Hopefully, now you can use the NFT Marketplace template for Gutenberg, and create your own NFT marketplace within a few minutes. If you find difficulties while using this template, you can contact the dedicated Templately support team at any moment.
Also, don't forget to share your thoughts on our Facebook community. And please subscribe to our blog to get more useful tips and tricks regularly.