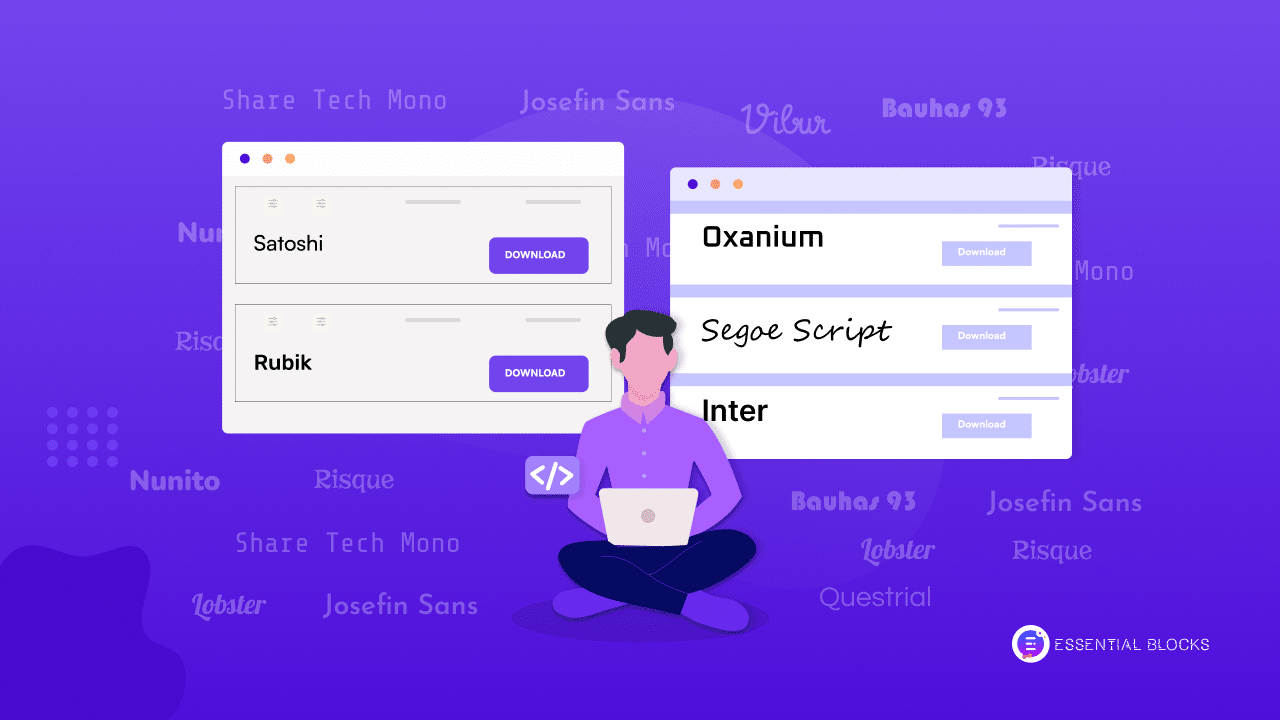 Web Design Guide: 10 Best Websites For Fonts Download [2023]
Fonts greatly impact how people get their first impression of your website. It represents a brand's or business's look, message, and influence. So, picking the right fonts that fit your website is crucial. For that, you need to know the best websites for fonts to plan a great web design project.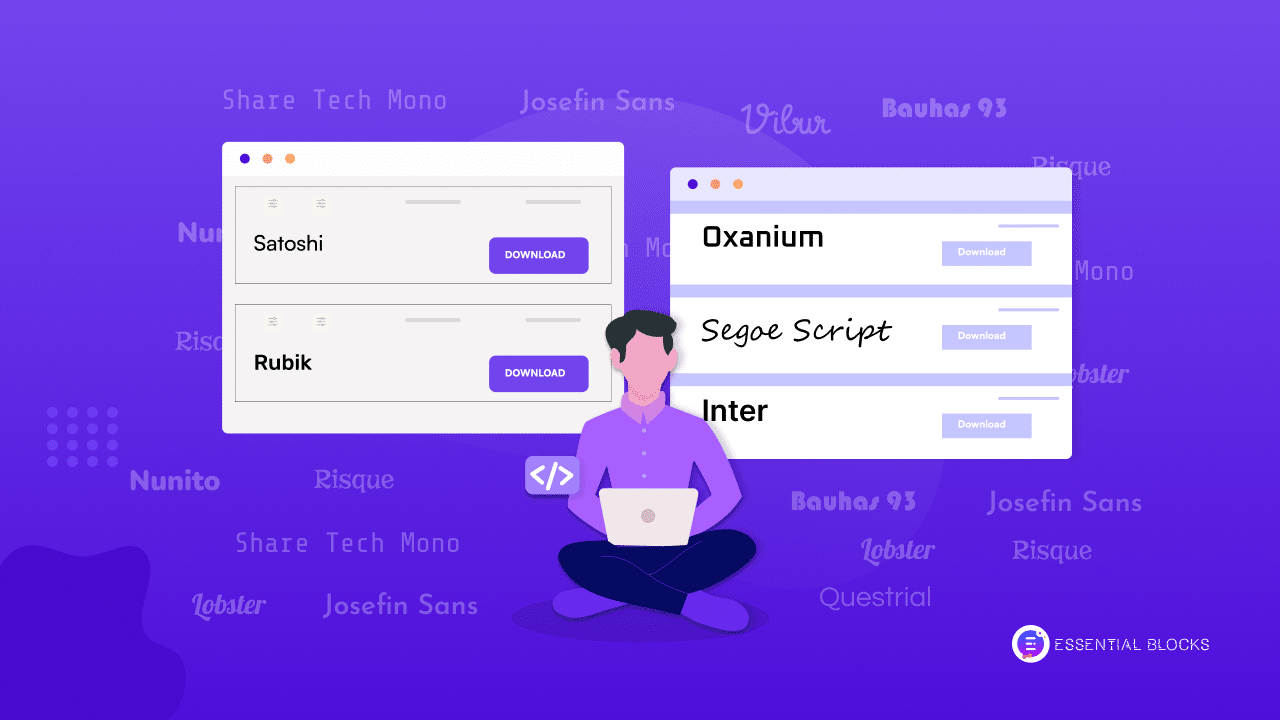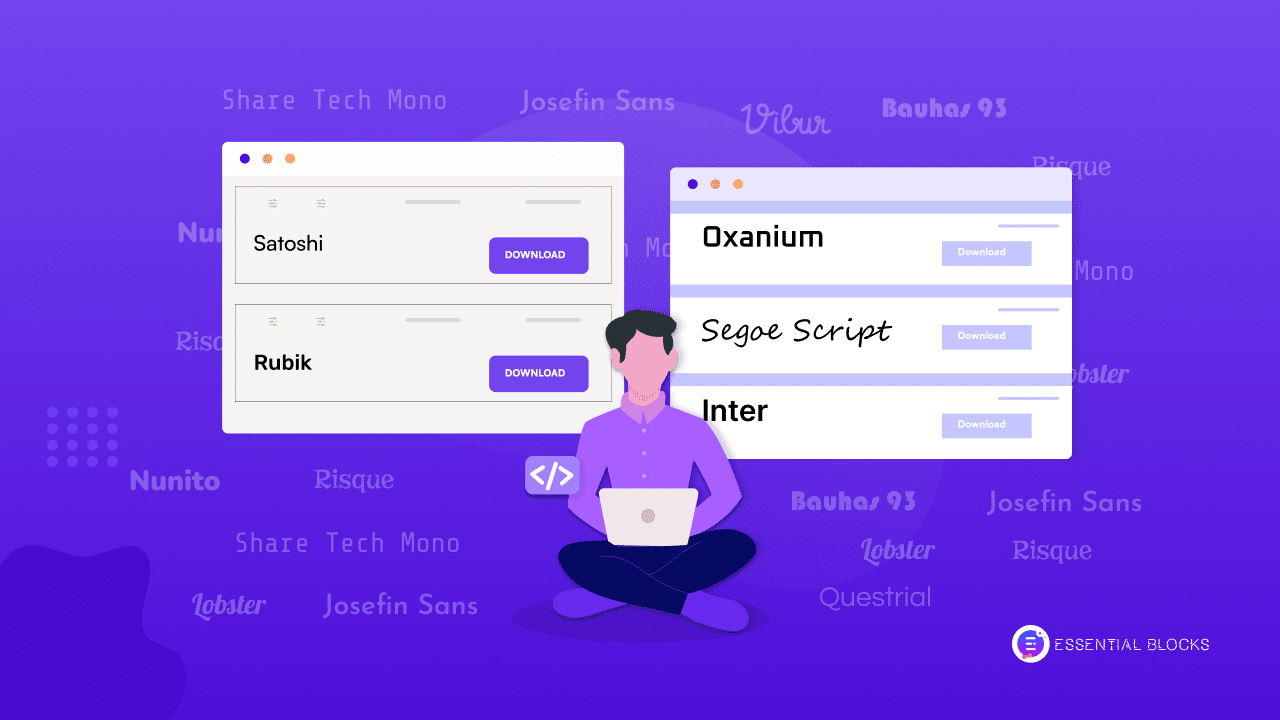 Good fonts help build a good interaction with the target audience, which helps your content authoring for SEO and monetization plan. As a result, you get great conversion rates. However, finding the best font websites can be challenging, but we are here to help.
💡 How Can Fonts Help In Good Website Design?
More than 90% of website designs contain typography and fonts. It influences how visitors read and understand the content on a web page. Several factors, including font selection, appropriate text length and size, and the typographic layout's hierarchy, help direct visitors to the website. Here's why fonts in web design are often more significant than website graphics:
🎯 Font Hierarchy Helps Establish A Message Structure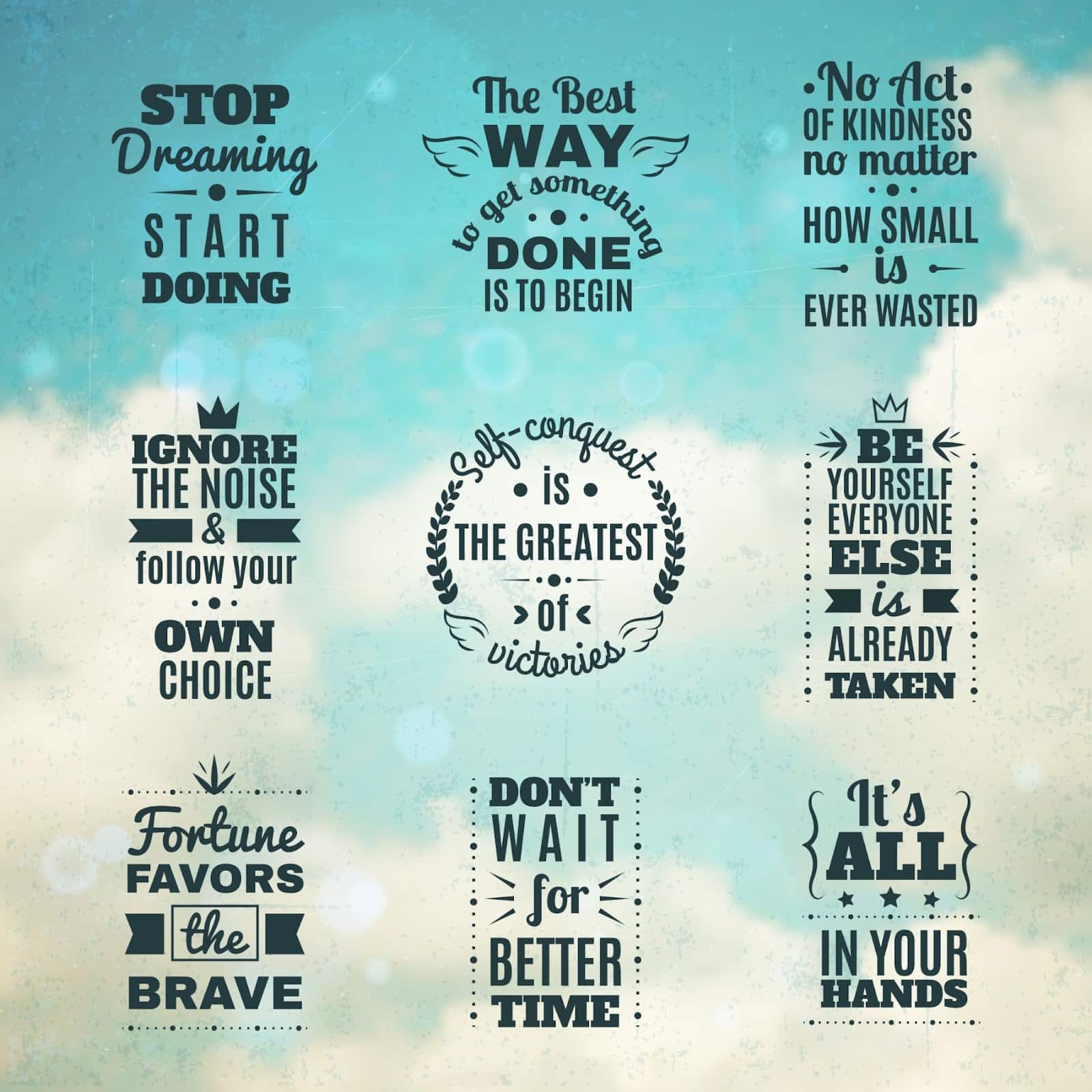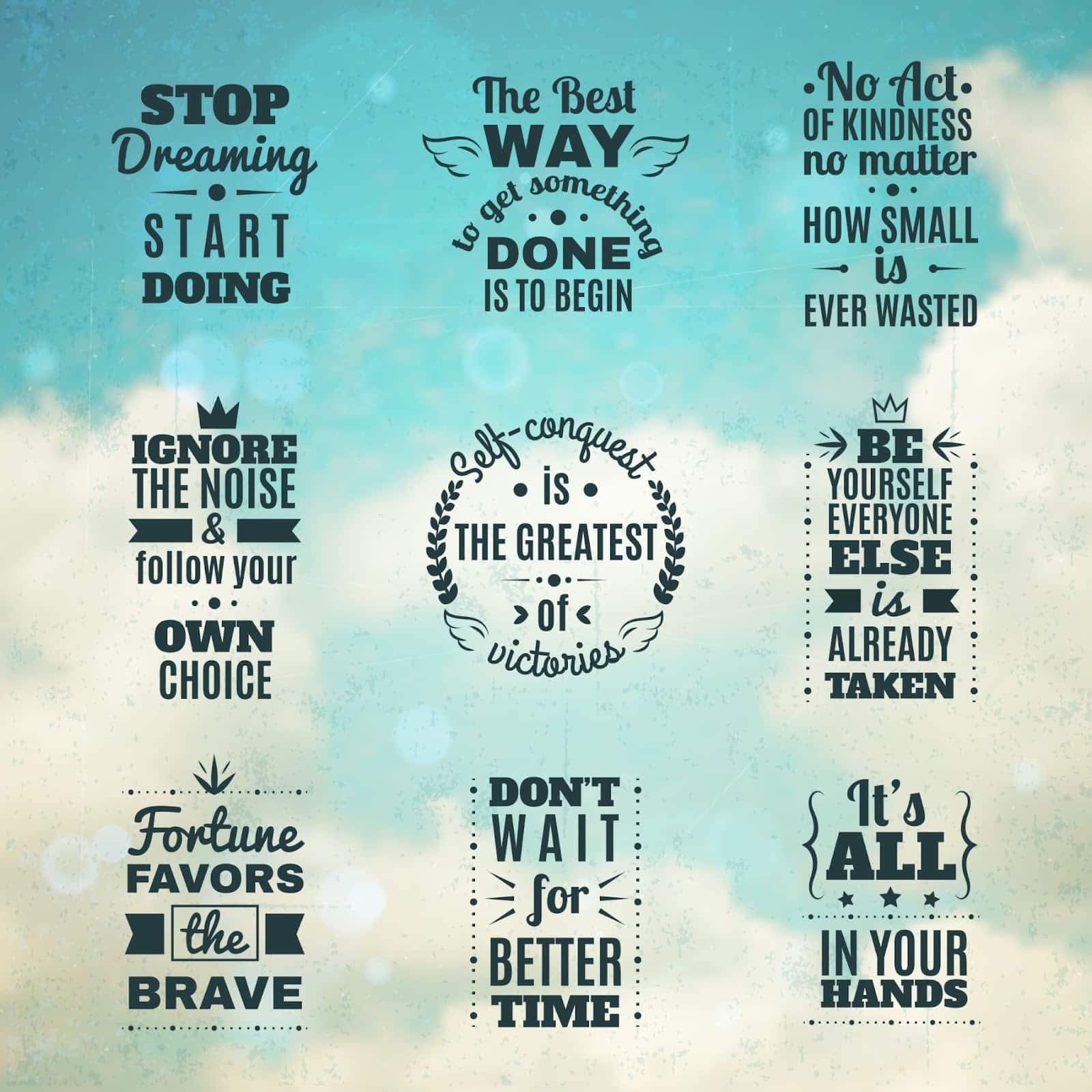 A website with fonts can benefit you in defining the message structure and context of your content in two ways: size and color. The most appealing messages, headlines, and contexts are usually expressed with the largest fonts, while the second largest fonts explain the context descriptions. So, applying various font sizes will encourage your audience to enjoy your content in the order of importance.
🎯 Using Similar Fonts Promotes Consistency
Consistency is one of the most important aspects of fonts in web design. Consistent typography keeps a site's appearance consistent, which gives it a more professional appearance.
In addition, when you keep your fonts consistent, you can avoid a complicated and unpleasant interface. So, using the same font type throughout your content is recommended to ensure your readers flexibly understand what they read.
🎯 Decent Fonts Increase Readability
Reading large quantities of text, especially on a computer monitor or smartphone screen, may cause eye strain and fatigue. In that case, excellent eye-soothing fonts will save your visitors from tiring out and promote long periods of enjoyable binge-reading.
🎯 Distinguishing Between Different Message Types
Applying multiple font styles to distinguish various information types makes your website clearer and more understandable. A website typically has three sorts of content: primary, secondary, and navigation.
Viewers can differentiate between various content messages based on the typefaces used. As a result, you must be aware of selecting the best websites for fonts before publishing content.
📥 Ten Best Websites For Fonts Download: Tried & Tested
There are numerous font websites on the internet, and most offer the ability to download from them. Free fonts might be helpful if you're on a low budget, but you might miss certain features you'd expect for your web design project.
We recommend being aware of the font download websites to discover the proper font quickly. It's simple to spend hours browsing font libraries. But to help you out, we've been there and narrowed down the best websites for fonts.
1️⃣ Google Fonts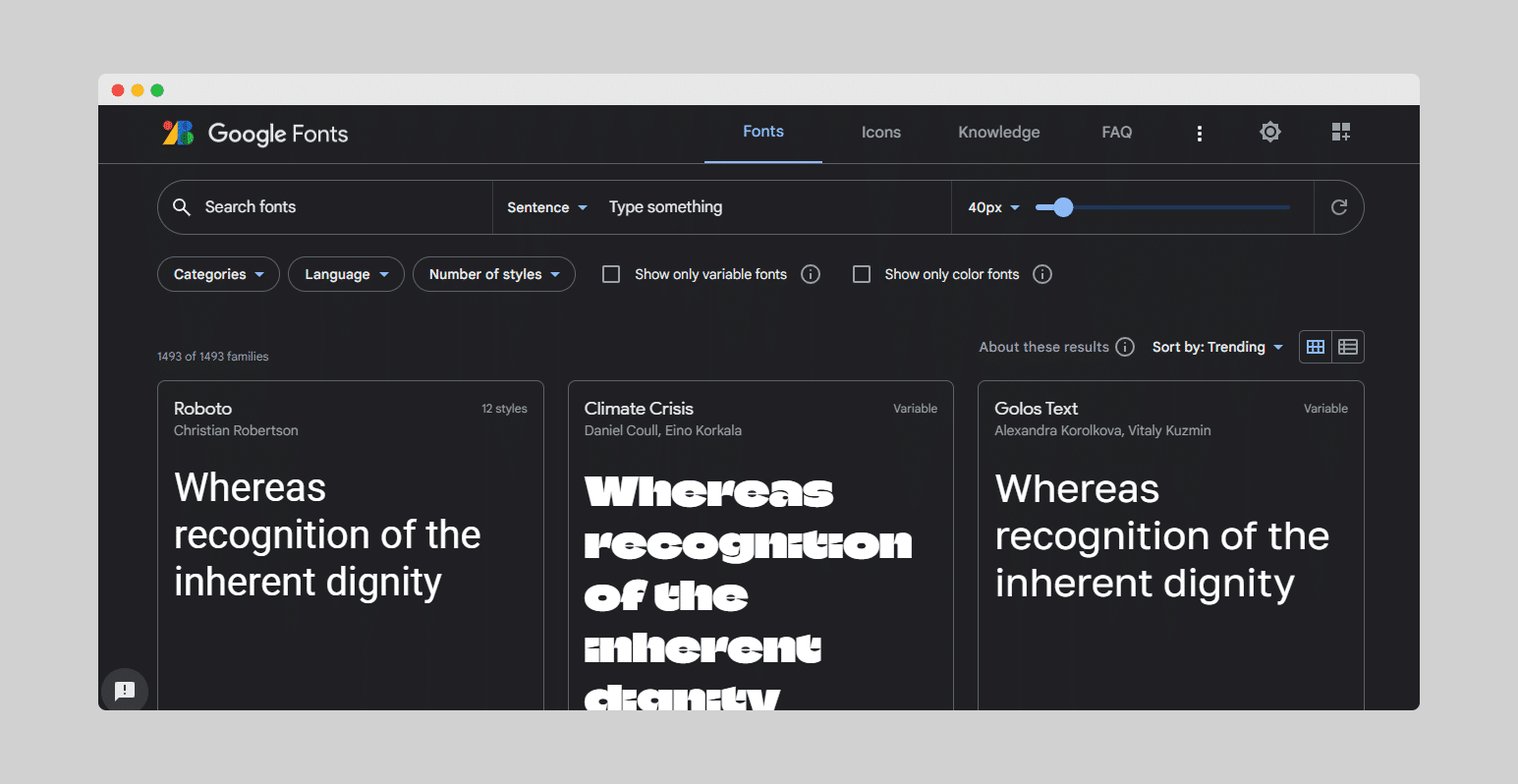 Google Fonts provides one of the most extensive collections of web-friendly fonts with 1,450 distinct font families. So, it has topped our list of the best websites for fonts. You can refine your searches by topic, language, popularity, and even parameters like thickness or breadth. Plus, Google Fonts' flexible font preview tool is one of its most remarkable features.
No matter which font you choose, you can see a section or a phrase to look extensively at before making a final decision. Plus, you can change the font size or use a different typeface version.
Google also has a section called Fonts Knowledge, which offers unique guides to the world of typography. You can, for example, learn how to create the ideal font mix there. Finally, after discovering the font you're looking for, you can save it to your computer or copy the code on your website.
2️⃣ Font Space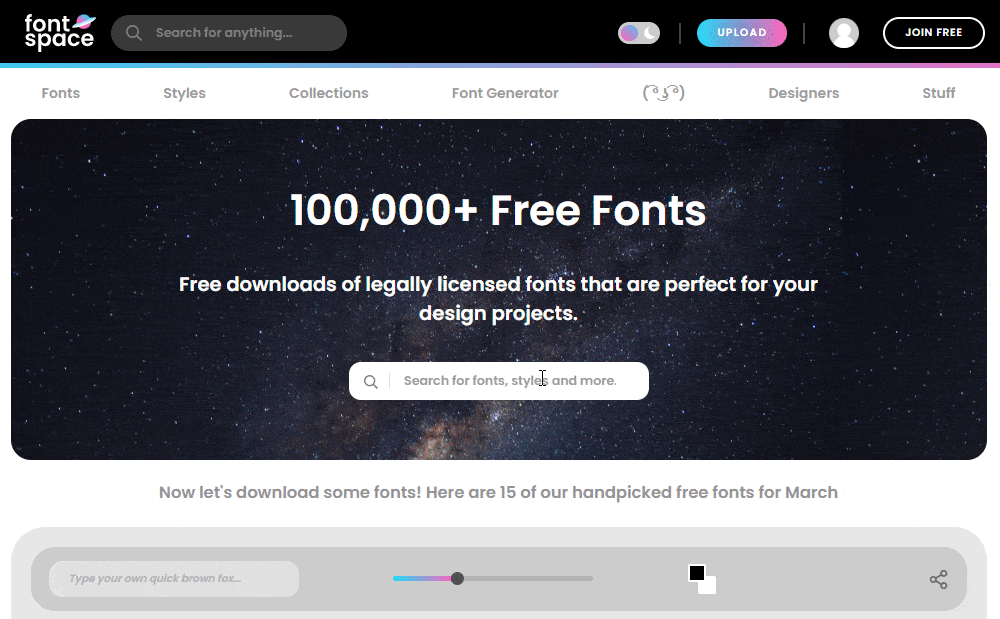 Font Space offers over 70,000 free fonts to pick from, all legally licensed. It has become our second top choice for the best websites for fonts. If you want websites for fonts free, this could be your pick.
With Font Space, you can search through many categories to locate the font that best meets your needs. On the other hand, you will find the "Popular" and "New" categories or go into the unknown by browsing the "Random" option.
There are fonts here solely meant for personal use. However, if you check the Only 100% free fonts box, Font Space will display fonts for various projects. You can also preview the information by putting words, characters, or numbers into the appropriate box.
Once you create an account, you can learn more about a typeface or leave a remark for the creator. However, you don't have to click on it or register on the website to download the font. Simply click the cloud-like symbol with the downward-pointing arrow, and your download will begin immediately.
3️⃣ Font Squirrel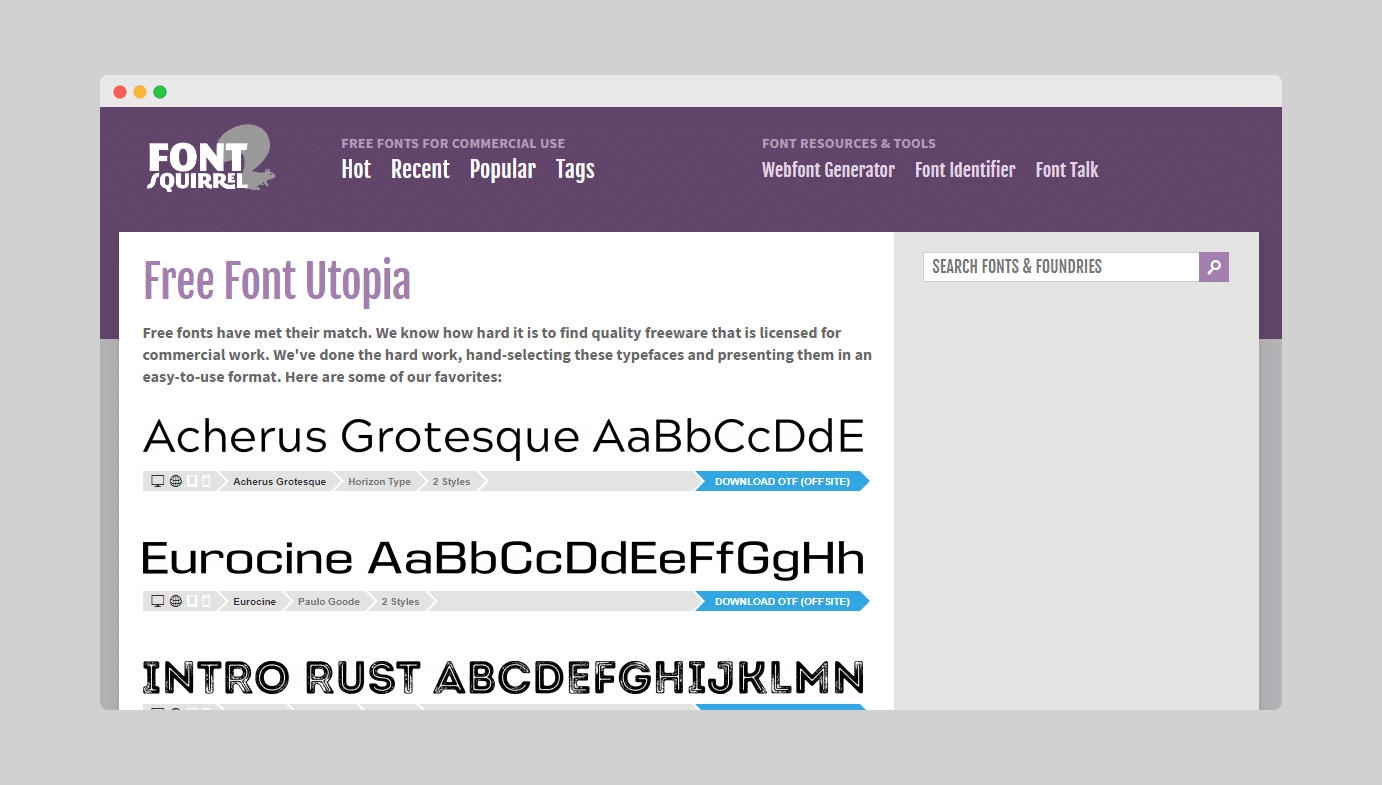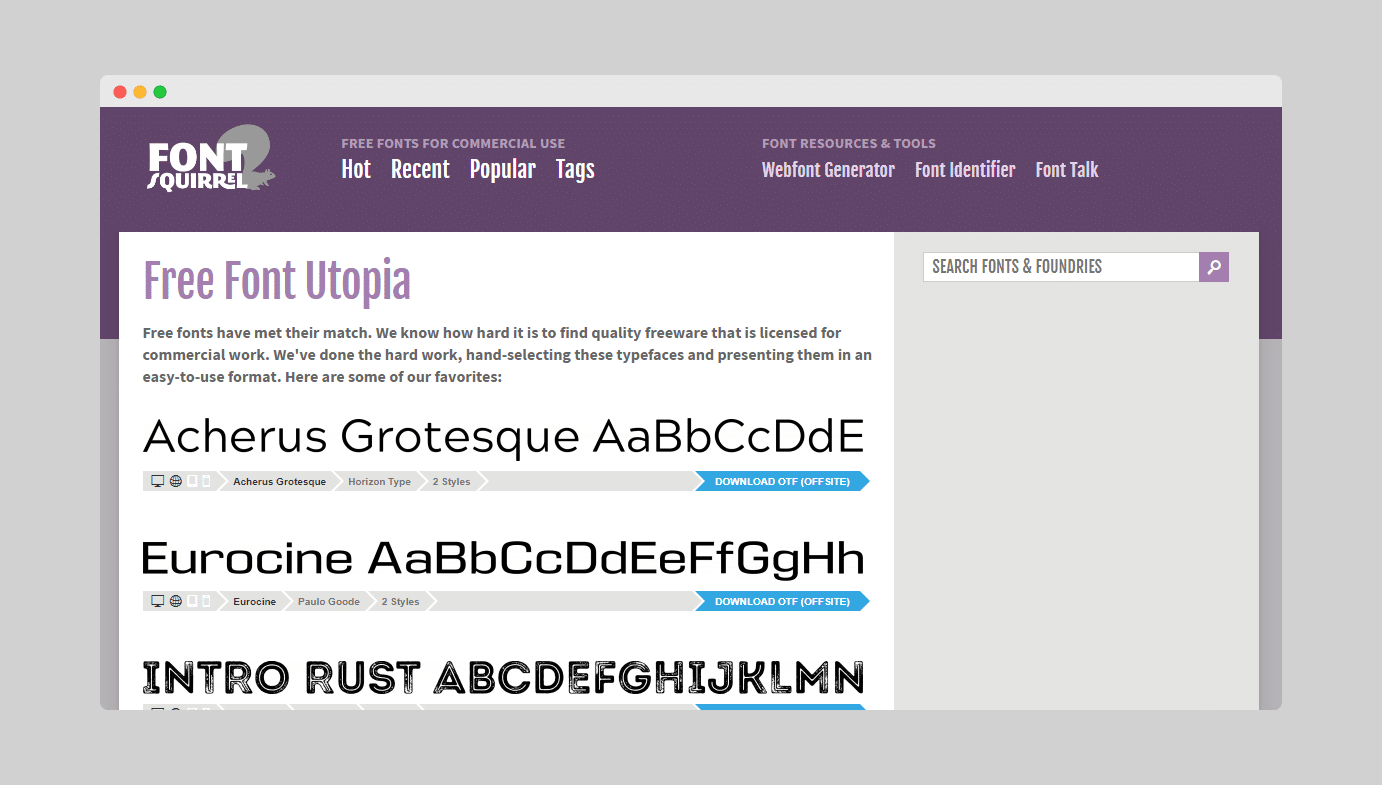 If you're searching for one of the fonts websites that offer a one-stop corner for free fonts, Font Squirrel is the place to go. They offer a handpicked collection, which includes many commercially licensed free and gorgeous fonts. It has come third on the list of the best font download websites.
Additionally, the site features powerful filters, tags, and categories to help you find precisely what you're searching for, regardless of the project. Calligraphic, hand-drawn, monospace, and stencil are some of the categories.
However, if you see a font while browsing randomly but aren't sure what it is, Font Squirrel's Matcherator tool recognizes typefaces from photographs, sparing you from taking extra steps for the matching typeface. So, if you are looking for the best websites for fonts, Font Squirrel could be one of the best bets.
4️⃣ DaFont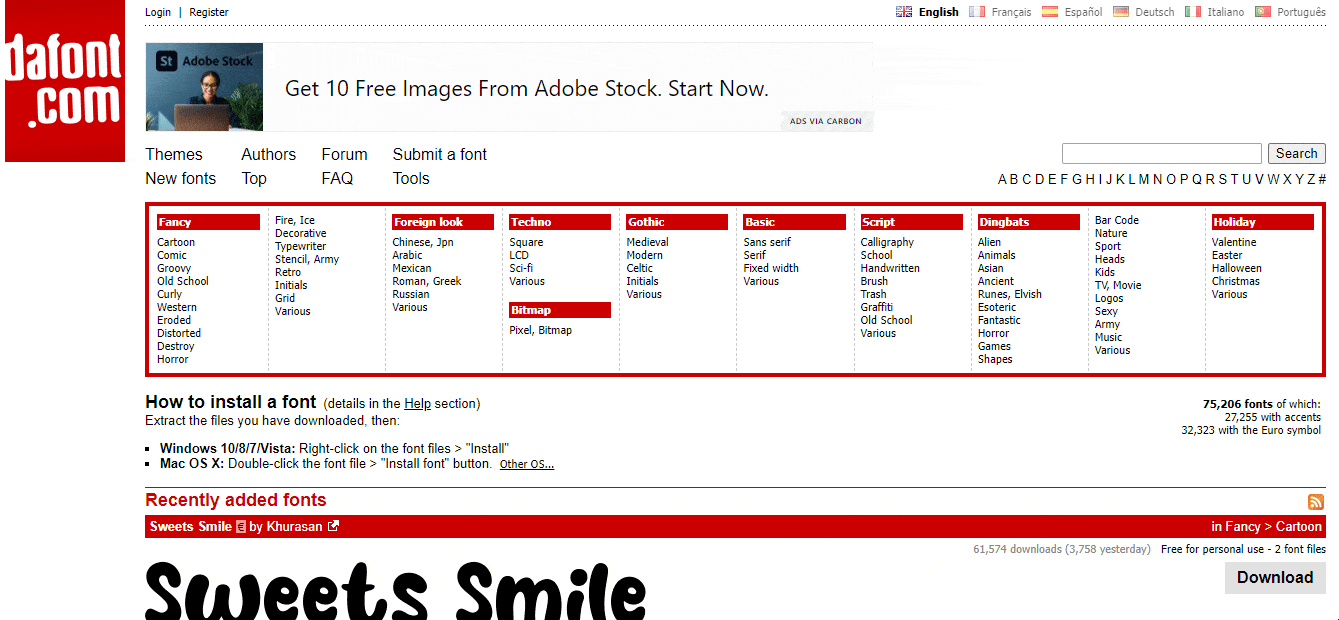 With over 50,000 fonts available for download, Dafont is among the most popular and dependable online font resources. As a result, we took no time to include this popular source in the list of the best websites for fonts.
Finding what you're looking for in this massive archive might initially seem challenging. But don't worry just yet. Dafont has a primary hierarchy of classifications. With those, this website with fonts can get your desired font quickly.
Look at the Cartoon or Handwritten subheadings. Plus, you can filter your search with themes such as Halloween, Rustic, Christmas, etc. Click "New Fonts" or "Best Sellers" to see the font previewer.
Just enter your search terms into the preview box, and the corresponding results will show below. Use the benefit of the specialized advanced search interface to drill down into specific results. On the other hand, if you want a specific font found by categories, you can download it by clicking the corresponding Download icon. You need no account for that.
5️⃣ Behance

Behance is a website where artists and designers can show off their work and get noticed. Searching for "free font" under the "Projects" section is another excellent way to discover this one of the vital websites for fonts free.
Behance can help you find unusual fonts, including abstract and sans-serif styles. One of their most vital advantages is getting project source files and working directly with the designers' original files for editing or republishing. For that, however, you need a proper license.
As a web designer, you can examine each layer in detail and make any required adjustments by opening one of these files in your preferred design program. For example, if you like the colors of a certain design but aren't fond of the fonts used, you can access the design's source file and replace it with one that does suit your tastes.

This is why Behance comes to the list of the best websites for fonts. Give it a try today!
6️⃣ 1001 Fonts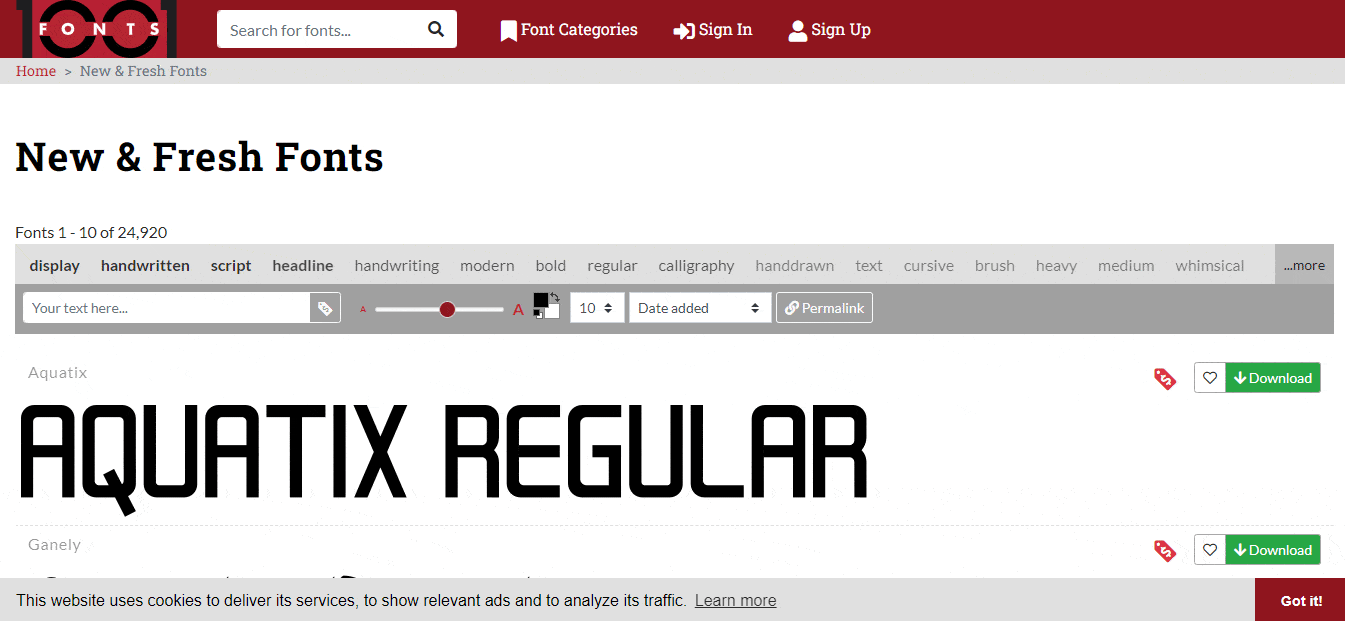 The site is not what its name implies. There are many more free fonts available in 1001 Free Fonts. You will find over 2300 pages, and every downloadable font variety is included. So, 1001 Free Fonts is one of the top picks for the best websites for fonts.
To see the text appearances of each font, you need to enter your text in the top box, change the font size and color, and then scroll down. Additionally, you can use the search bar to locate the typeface you need.
You may also explore New and Top fonts, see fonts alphabetically, or choose from various other font categories. Although most typefaces can be downloaded for free, some are restricted to personal use only and would need a commercial license if you want to use them in any paid product.
7️⃣ Be Fonts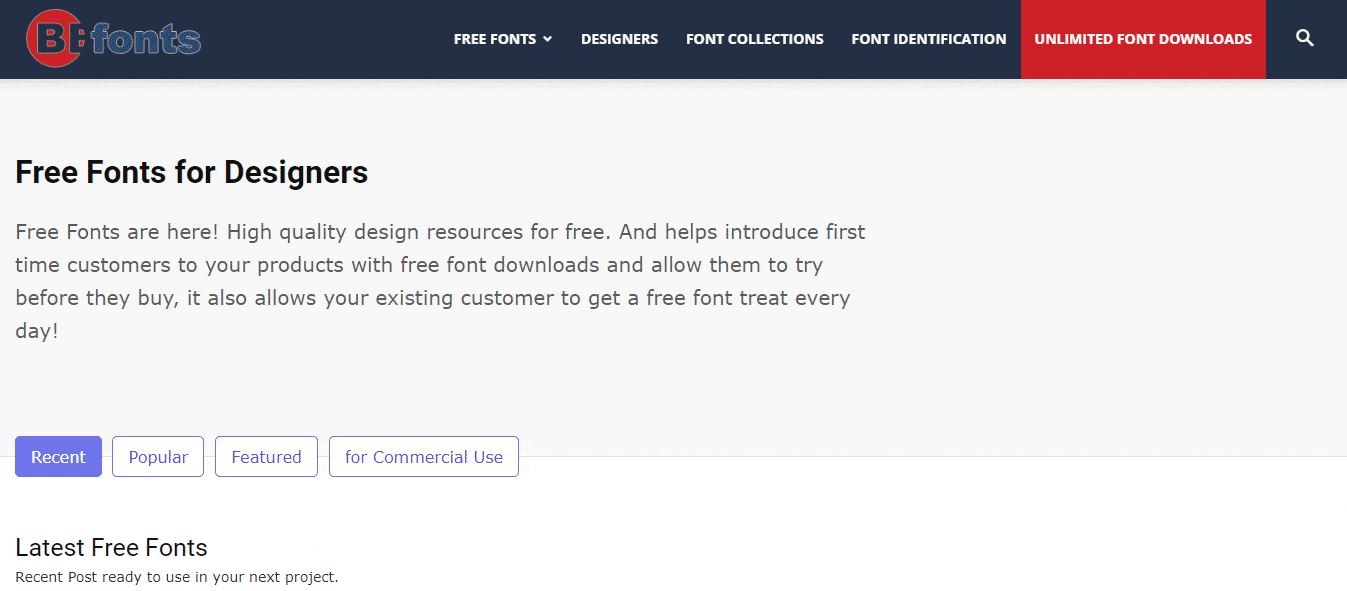 Befonts is another excellent font resource for all creatives, and we have included it on our list of the best websites for fonts. It includes various typefaces and fonts, some free for personal use and others for commercial use. You can verify the font format and licensing by clicking on a font family.
Befonts also has a preview option. Plus, it has photos of the font family in use, so you can readily imagine what type of project you can use that font for. A "Check Out More" button will lead you to the author or source website with more information about the font.
There are numerous categories to pick from in the upper right corner of the page: Basic, Display, Script, and Miscellaneous, with each category comprising multiple subcategories. On the other hand, you can also browse the fonts by keyword.
8️⃣ Abstract Fonts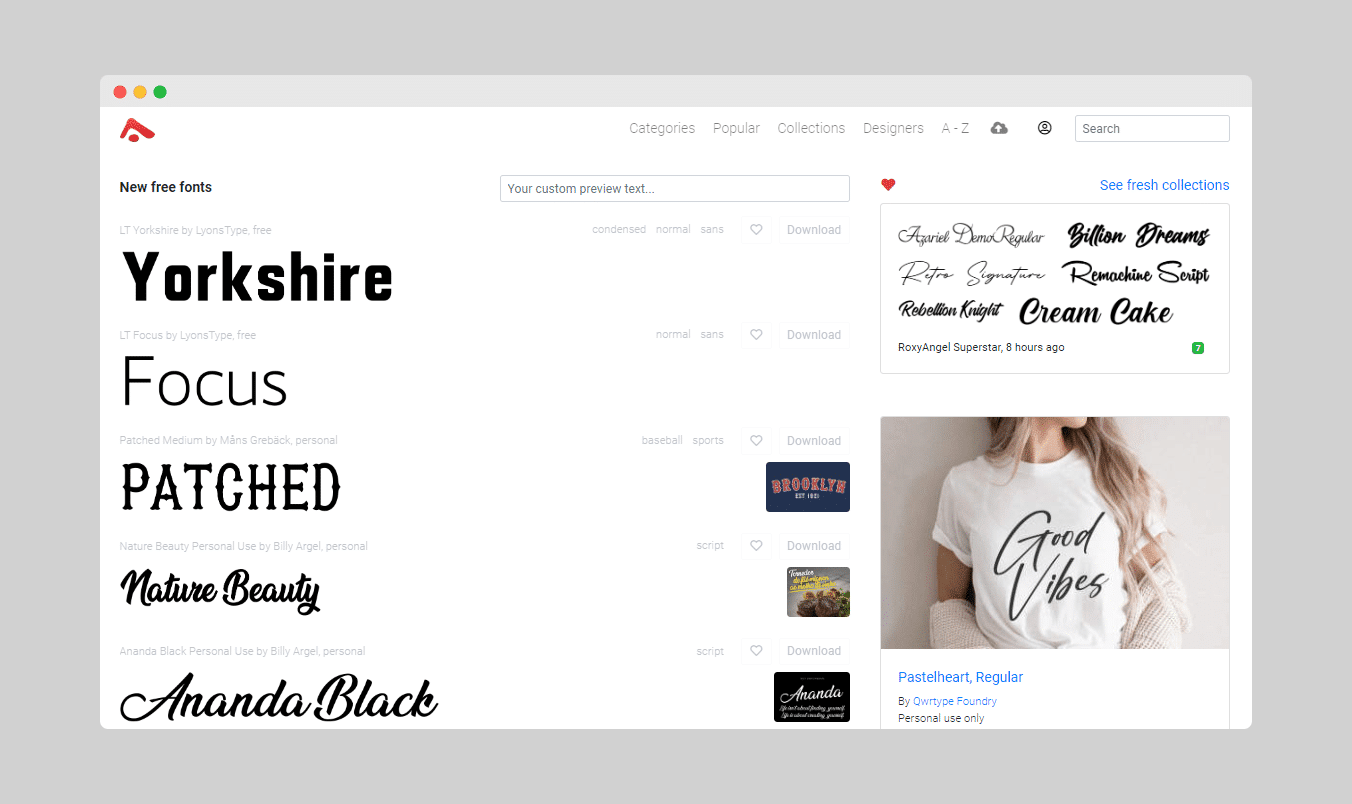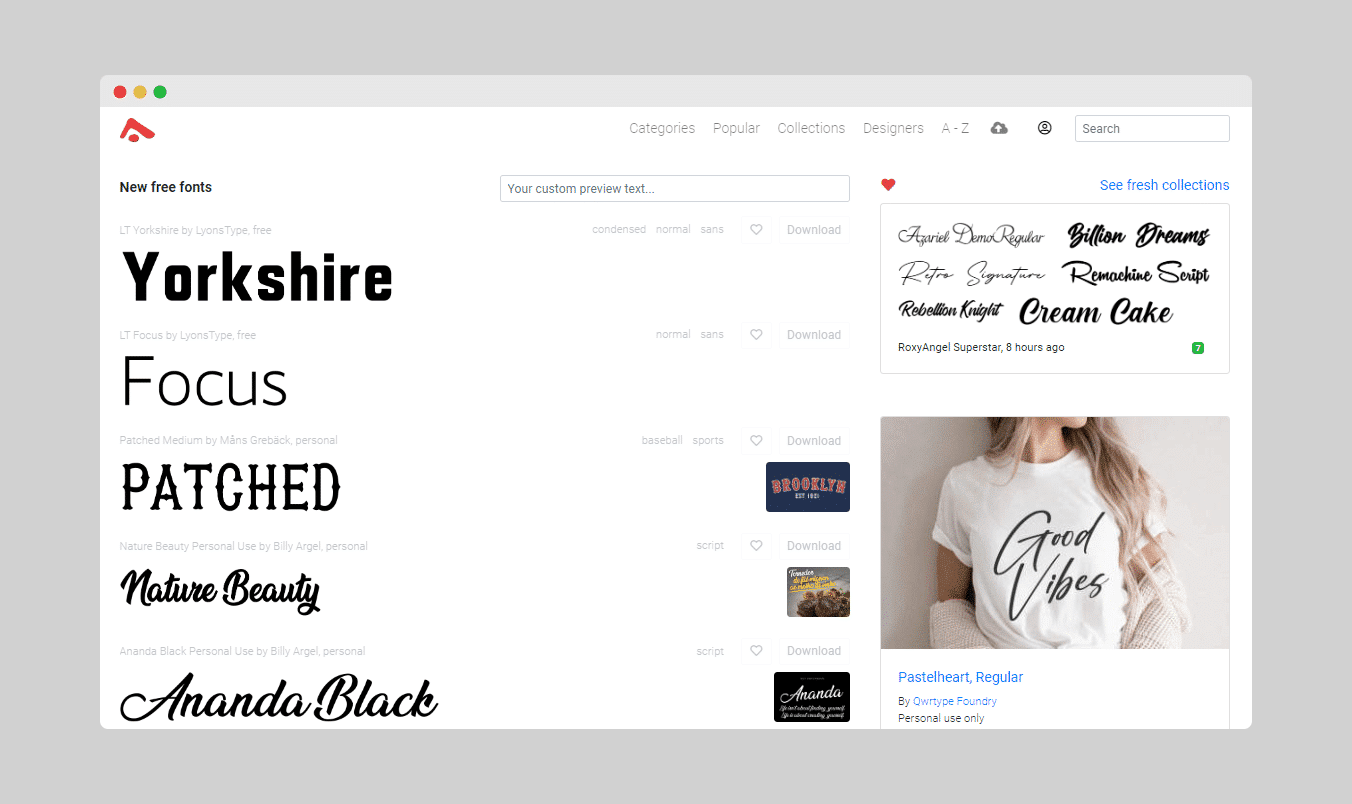 Abstract Fonts is yet another fantastic source of free fonts to be on the list of the best websites for fonts. Here, fonts are divided into 62 categories. However, you will find some uncategorized fonts. So, be sure to look them over as well.
You can browse fonts alphabetically, seek new and popular categories, or search for fonts by designer. Of course, you may utilize search if you know exactly what you're searching for. At the top of the page, there's also a custom preview option.
Some typefaces are free for personal use, while others are free for personal and commercial use. This is stated underneath the name of each font, so keep this in mind before downloading any fonts.
9️⃣ Creative Market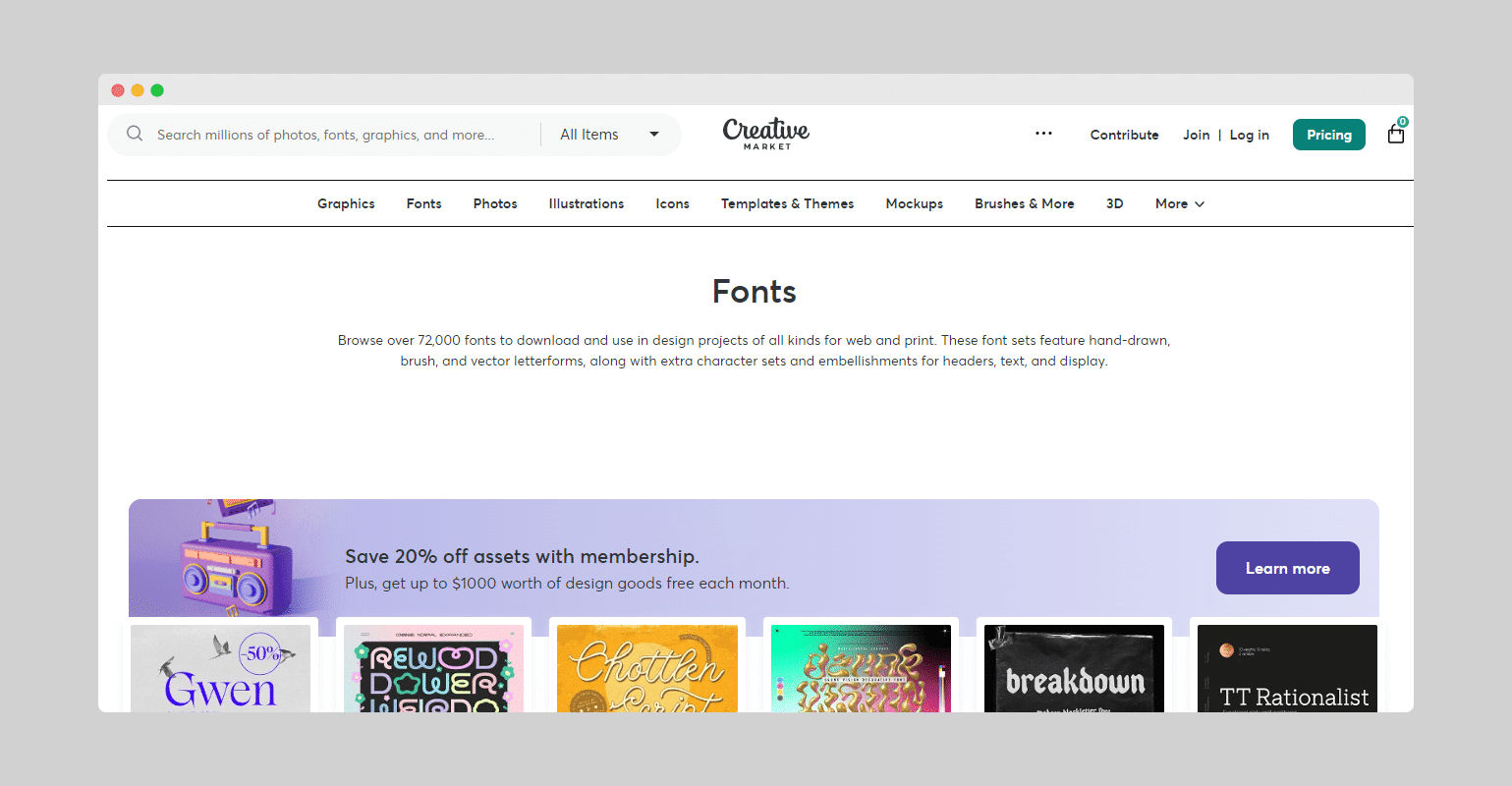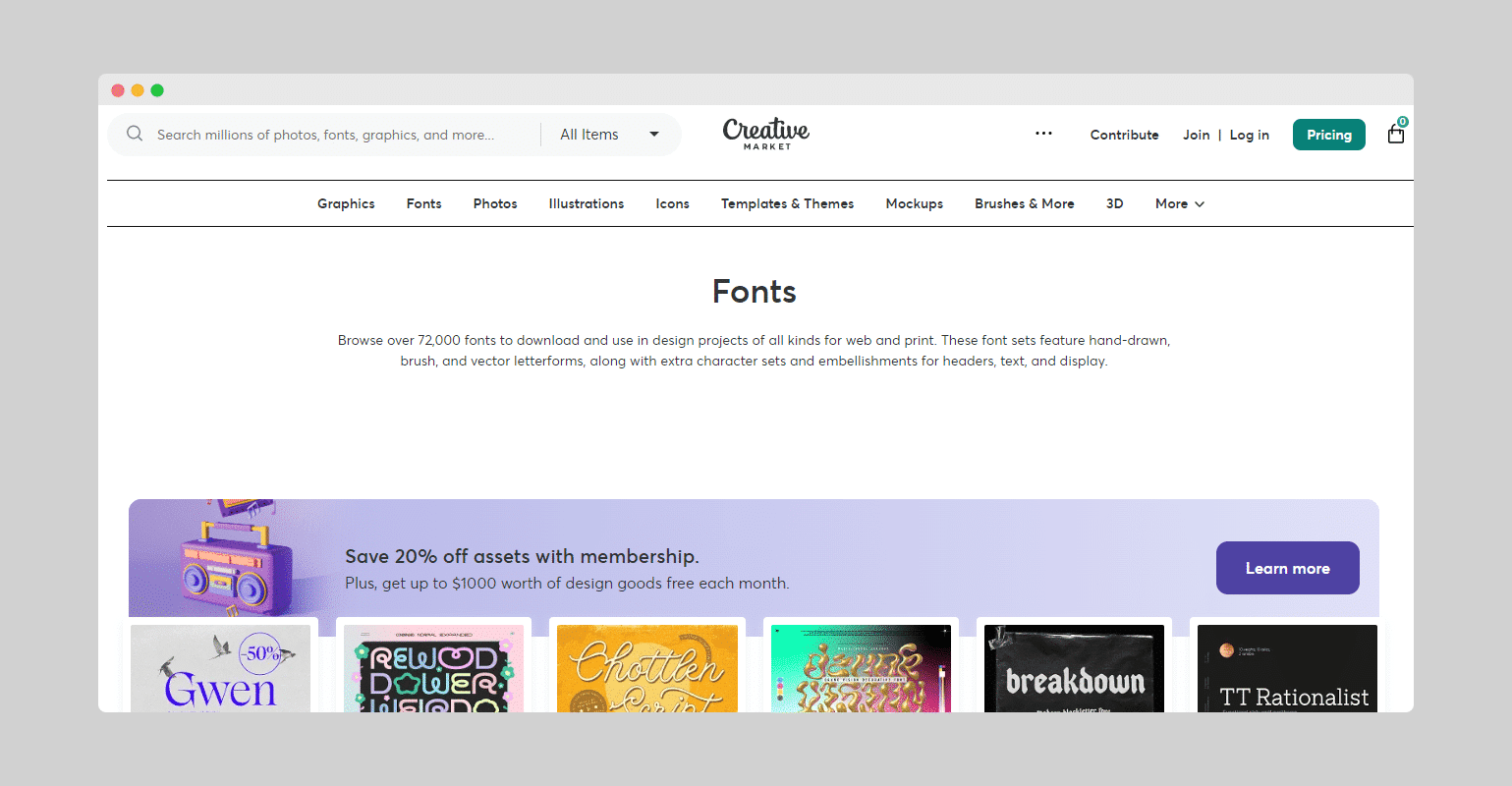 Several cheap and high-quality design materials, including fonts, can be found on Creative Market. Although some items are expensive, the platform provides four free assets each week, one of which is usually a font face. So, for designers seeking font websites, Creative Market is listed as one of the best websites for fonts.
The fonts range from blackletter to various serif styles appropriate for headers and body text. There is also a library of symbol-based typefaces to experiment with.
When it comes to premium typefaces, spending on each font may rapidly add up. If you want to add new typefaces to your design collection regularly, their subscription options are a cost-effective solution.
🔟 Urbanfonts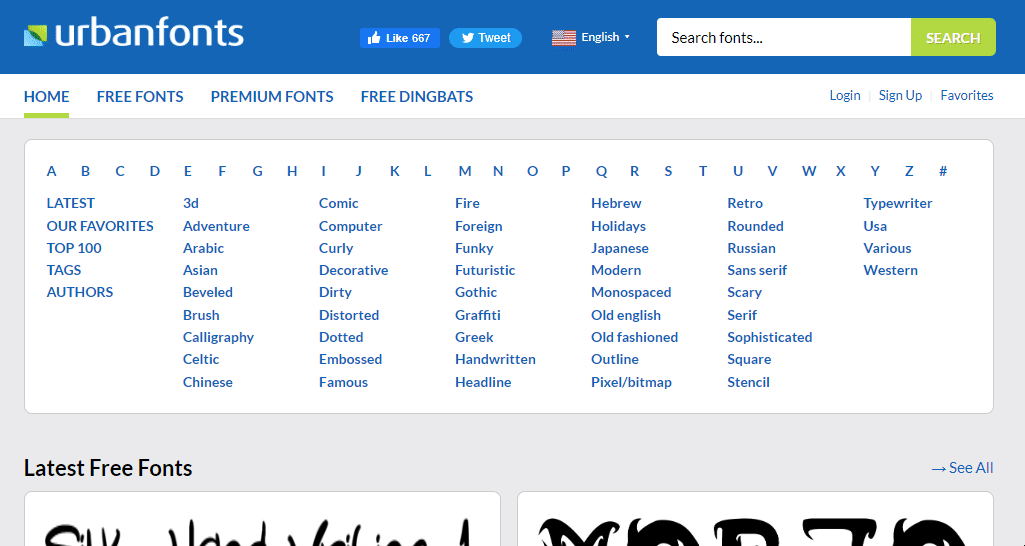 Urbanfonts resembles a clean, modernized version of Dafont and similar websites. Their website is more user-friendly and visually attractive. The core framework, however, stays the same. You can sort the fonts by category, newness, or popularity.
Urbanfont's preview function is also better than most other average fonts. To preview typefaces, it utilizes custom text on a black background. The complete alphabet displays in the preview window when you hover your cursor.
So, along with many other features with downloadable options, Urbanfonts is included in the list of the best websites for fonts.
🌟 Tips For Choosing The Best Fonts For Your Next Web Design Project
After discovering the best websites for fonts, here's how you choose your best picks:
Fonts should match brand tone: Branding requires fonts. Evaluate your font scheme against your visual brand assets. Whether your website is polished and modern or rustic and daring, your font should communicate the tone.
Prioritize typefaces: Limit your website to three typefaces. Reducing fonts on your website improves design and accessibility. Choose a primary, secondary, and optional accent font to preserve hierarchy.
Choose three typefaces according to your brand: Your header typeface represents your brand. Your website's principal font must stand out. On the other hand, your secondary typeface will be used for most website content, including paragraphs, descriptions, blog articles, and other information are included. So it should be clear and readable. Lastly, your accent typeface highlights calls-to-actions and your brand.
Know when to use which font: There are three fundamental fonts: serif, sans serif, and script fonts. You need to know when to utilize each. Serifs are tiny lines that finish strokes in letters and symbols. They are traditional and attractive. In addition, sans serif fonts are clean, contemporary, and neutral—perfect for online design. Furthermore, script fonts are illegible, so use them solely for titles.
🎉 Fonts Matter: Pick The One That Best Suits Your Website
When designing your website or someone else's, fonts play a vital role in the appearance of your content and layouts. So, you must be selective in choosing the best websites for fonts.
Here, we have made a list of the ten best fonts websites. You won't be able to leave any of these 10 websites empty-handed. These are the best resources for locating suitable fonts for private or professional use.
Also, remember that standard and overused fonts aren't your only option. Every site on this list is for fonts and typographic ideas. So, go ahead and experiment with something new.
If you have found this blog helpful, feel free to share your opinion and feedback on how you would agree or disagree with our Facebook community. You can also subscribe to our blogs for valuable tutorials, guides, knowledge, tips, and the latest WordPress updates.