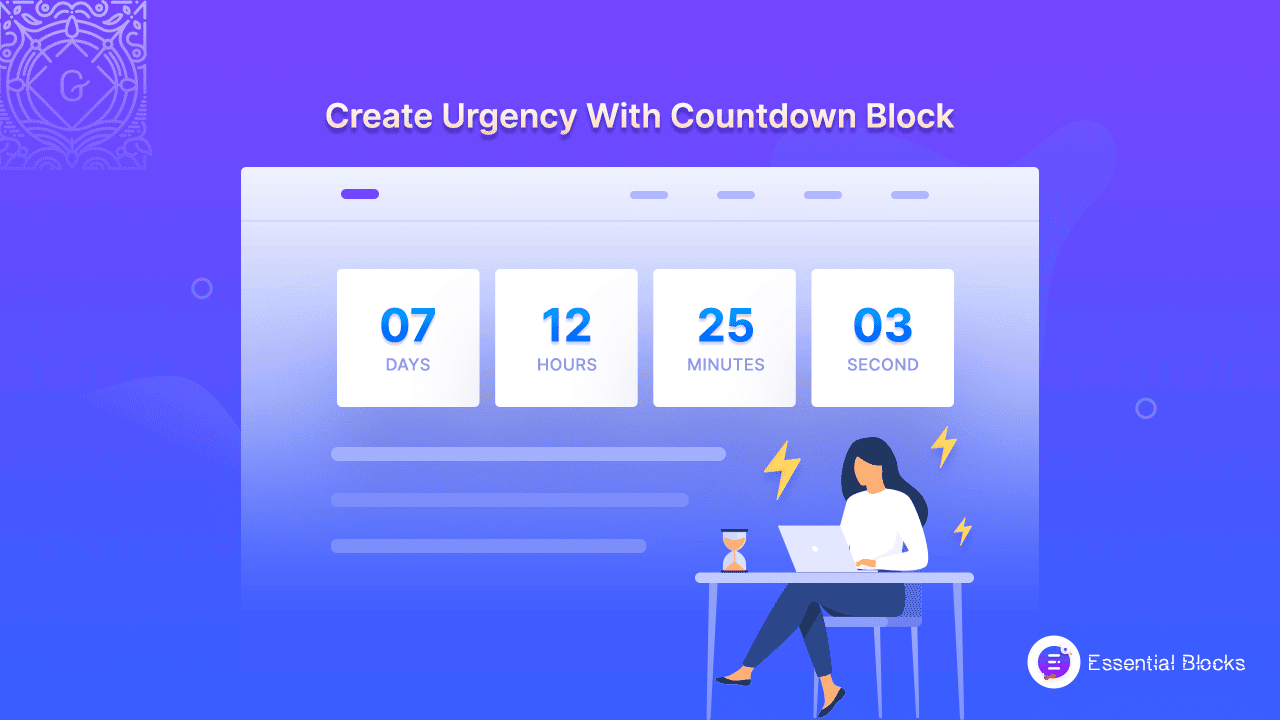 How To Create Urgency With A Countdown In Gutenberg & Boost Conversion? [2023]
Wouldn't it be wonderful if you could create a stunning countdown in Gutenberg with just one click? The countdown timer is an essential marketing tool that will easily create urgency among your visitors and bring your business to the next level. Today, we will talk about how you can create urgency with a countdown in Gutenberg and increase your sales. So, without any further ado let's dive into the no-coding tutorial.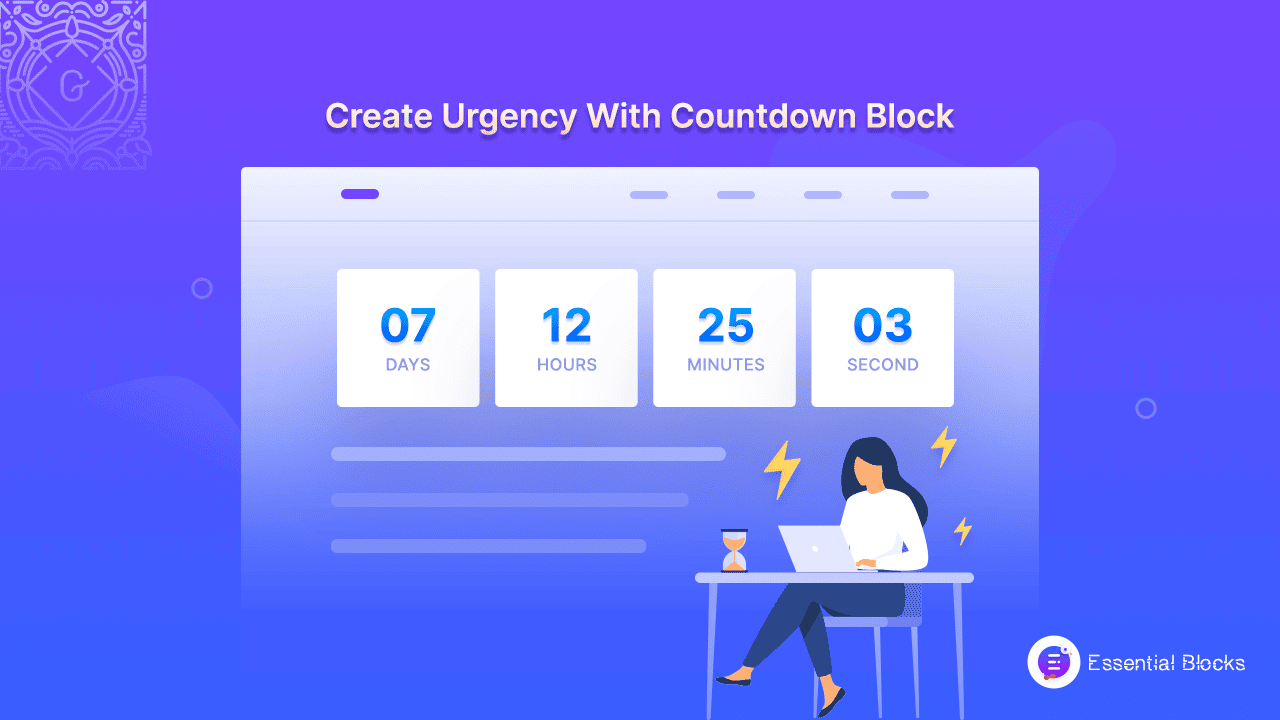 How Do Creating Urgencies In A Website Boost Conversions?
Ever wondered how creating urgencies can influence your sales? Creating urgency is an efficient marketing strategy that helps to generate more sales for the online business. Whenever a website creates some sort of urgency using any marketing tool, it triggers fear of missing out (FOMO) on potential customers. In turn, most customers respond quickly, resulting in a higher conversion rate.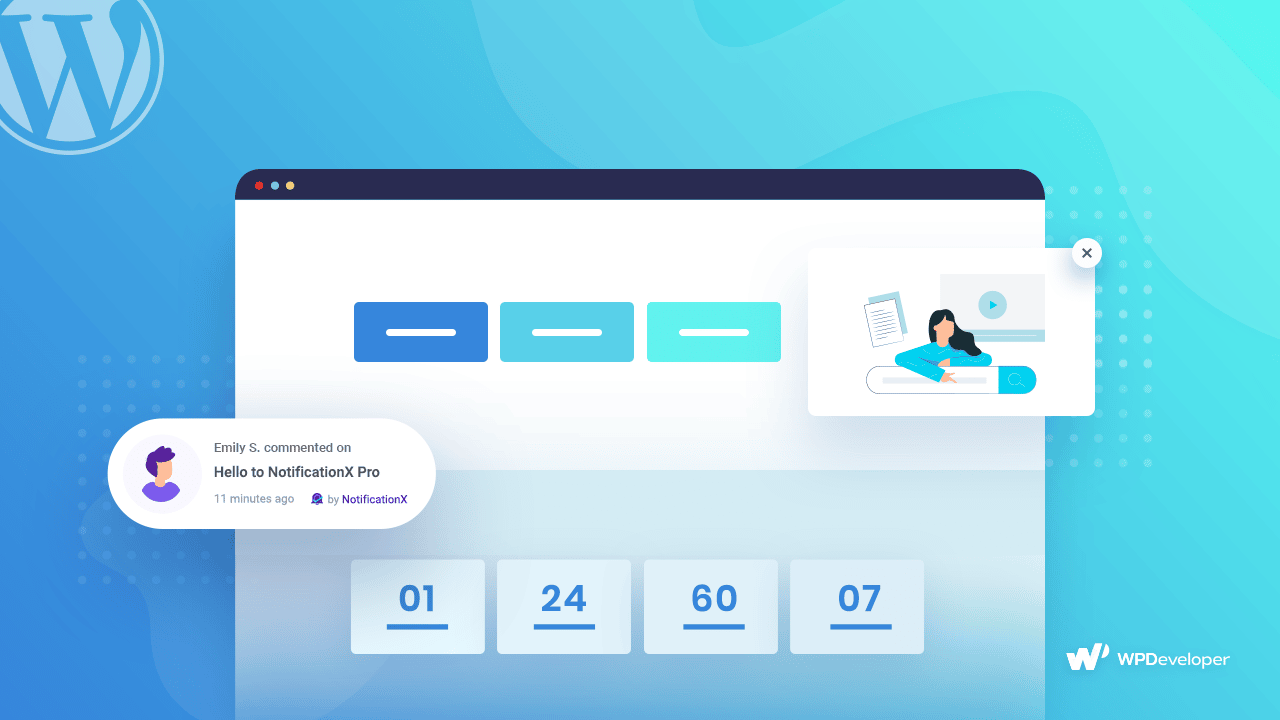 Creating urgency can add value to any product or campaign. When you present a product or a promotional campaign that is available for only a limited time, you can easily trigger urgency among your potential customers. According to an eCommerce agency that performed an A/B test using a timer on their promotional massage, they found that a timer alone can create an 8.6% lift in conversions. So, after you create scarcity on your website, your visitors will take immediate action. Thus, you will get a huge boost in your sales without breaking a sweat.
How Can A Countdown Timer Help To Create Urgency?
Every business tries to get maximum profit from their marketing campaigns. However, with so much competition on the market, it gets difficult to increase sales. Thus, marketers use strategies such as FOMO and urgency to convert visitors into customers quickly. Among other FOMO marketing tools, the countdown timer has proven turnaround results. Let's learn how a countdown timer can help you to create urgency below:
🎯 Apply FOMO Strategy On Your Website
A countdown timer can easily create FOMO (Fear Of Missing Out) among potential customers. While you place a timer on your website, it creates a psychological trick for the visitors. Your visitors will feel they are going to miss your special offer, which will create a sense of urgency among them.
🎯 Add Value To Your Product Or Campaign
You could easily highlight and add value to your product and campaign by using a timer on your website. While showcasing a promotional message with a timer, you can let your visitors plan accordingly to grab the deal. In this way, it will create urgency among your customers and they can prepare immediately rather than just scrolling for days.
🎯 Create Interest Among The Visitors
When you display your product or sale deals without a countdown block, customers might not notice or won't feel interested to take any action immediately. On the other hand, Showcasing the scarcity of any product or promotional campaign can easily create interest among the visitors. By seeing the countdown on the website, your visitors will get attracted to it instantly. So, whenever you add a countdown, it will trigger urgency and boost your conversion rates.
4 Popular Use Case OF Countdown Timers On Business Websites
Countdown timers can be used for any type of business website. Especially, if you have an eCommerce business, a timer could be a game-changer for you. Using a countdown, business websites can increase their sales and get ahead of their competition. While there are hundreds of use-cases for timers, let's learn the popular use-case below:
👉 Announcement Message: You can put a countdown in your coming soon massages. Placing a countdown timer near your announcement massage can easily attract your visitor's interest. So, they will easily get to know your deals and take action.
👉 Deal Pages: A countdown timer on your special deals or an event page can supercharge your conversion rates. Using this marketing tool on occasions like black Friday, cyber Monday, valentines day, etc. can double your sales by creating urgency among the visitors. So, while running a campaign, a countdown can be a vital tool to increase conversion rates.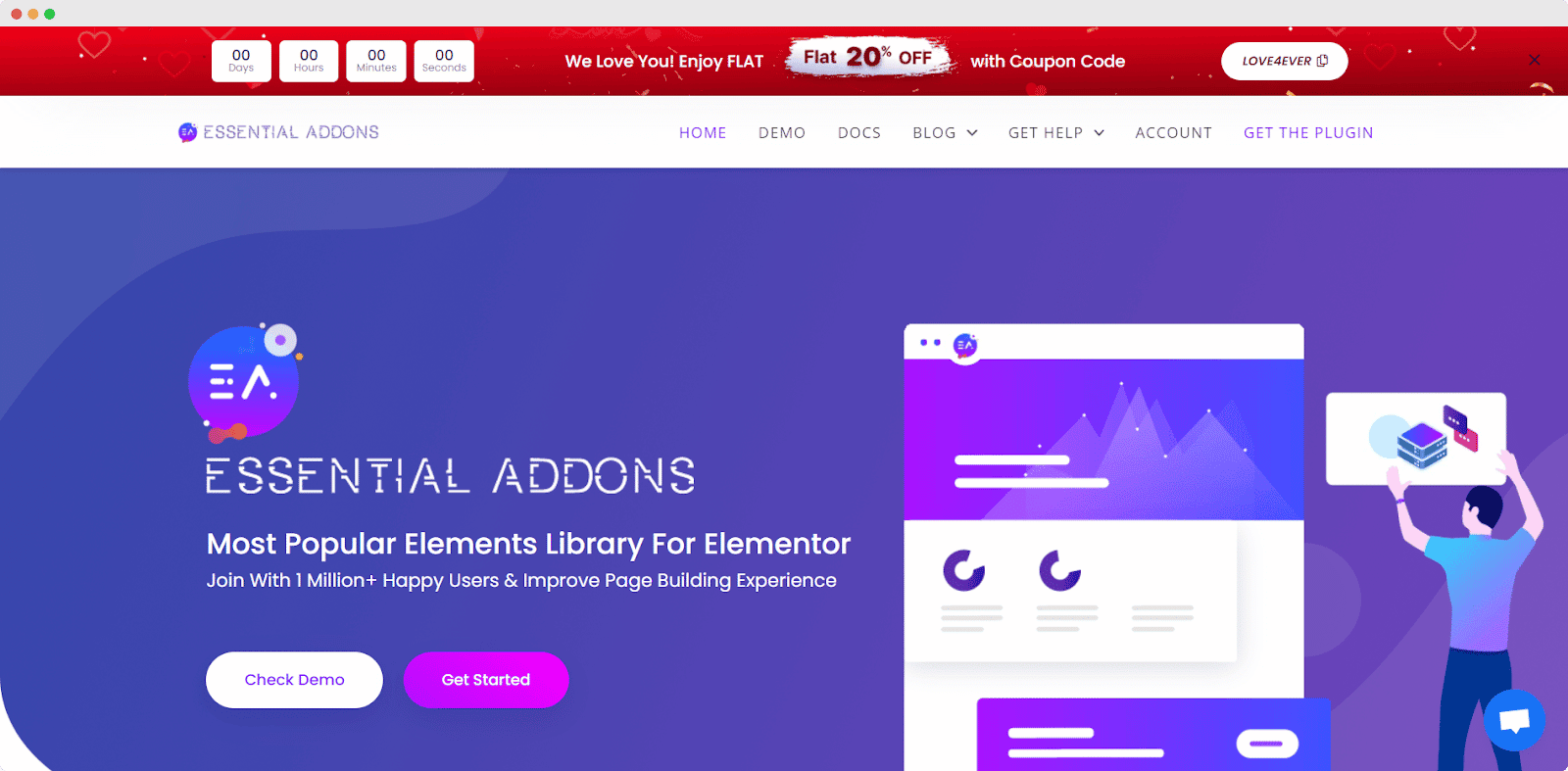 👉 Product Page: Displaying a countdown on the product page could be a great idea to increase your sales. When you have some special products with a limited count, then you can add a special section with a countdown timer to promote that product exclusively. Therefore, you will often find countdowns on popular e-commerce sites like Amazon and Shopify.
👉 Landing Pages: The landing page is also a perfect palace to add a countdown timer. While adding a countdown on the landing page you can easily redirect your visitors to your deal page or any other page.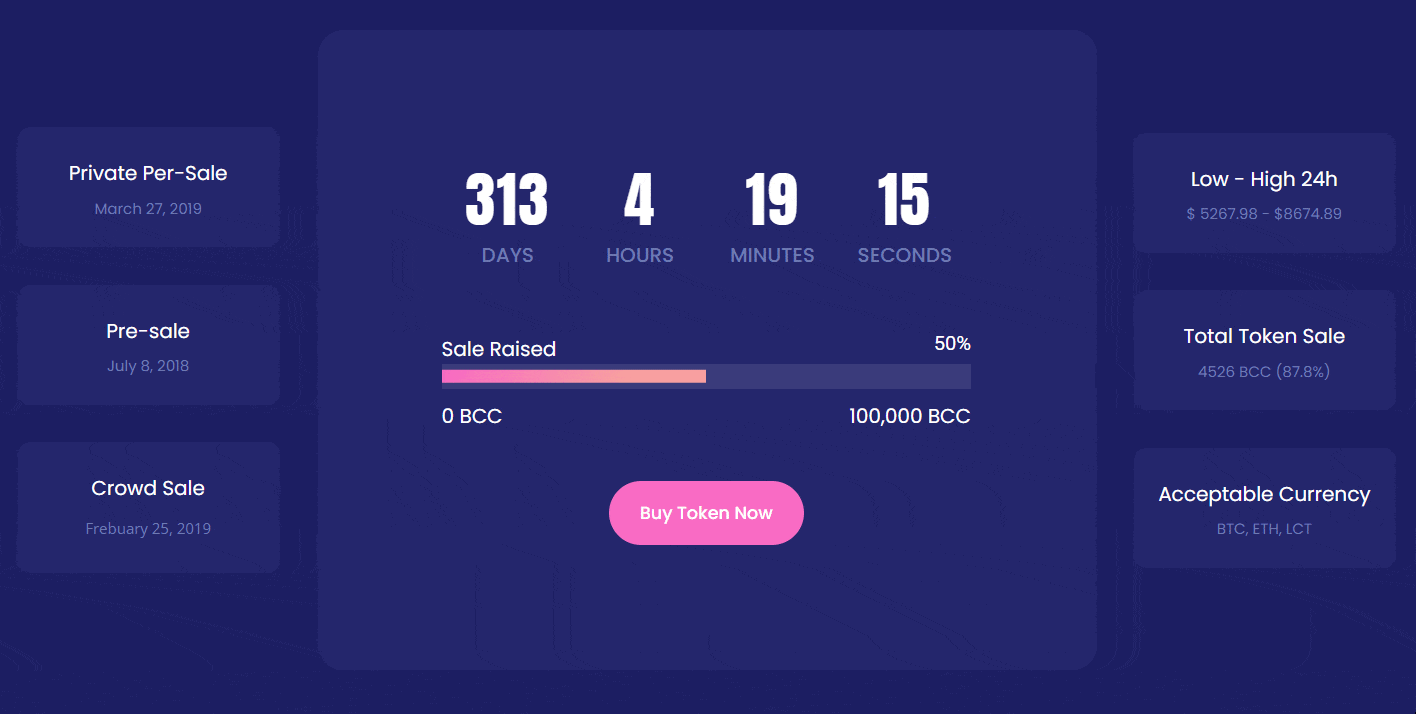 Best 3+ Ways To Add Countdown In WordPress Website
You can add a countdown timer to your WordPress website in many ways. We will discuss the best 4 ways to add a countdown to your website here. So, let's have a look at them at a glance.
✅ Create Countdown In Gutenberg For Free
Gutenberg is now the default editor for WordPress. This block editor offers the ultimate freedom to create stunning web pages & posts without any code for free. However, Gutenberg doesn't have its own block for creating a countdown timer. Using an advanced Gutenberg blocks library like Essential Blocks, you can create a countdown in Gutenberg without any hassle.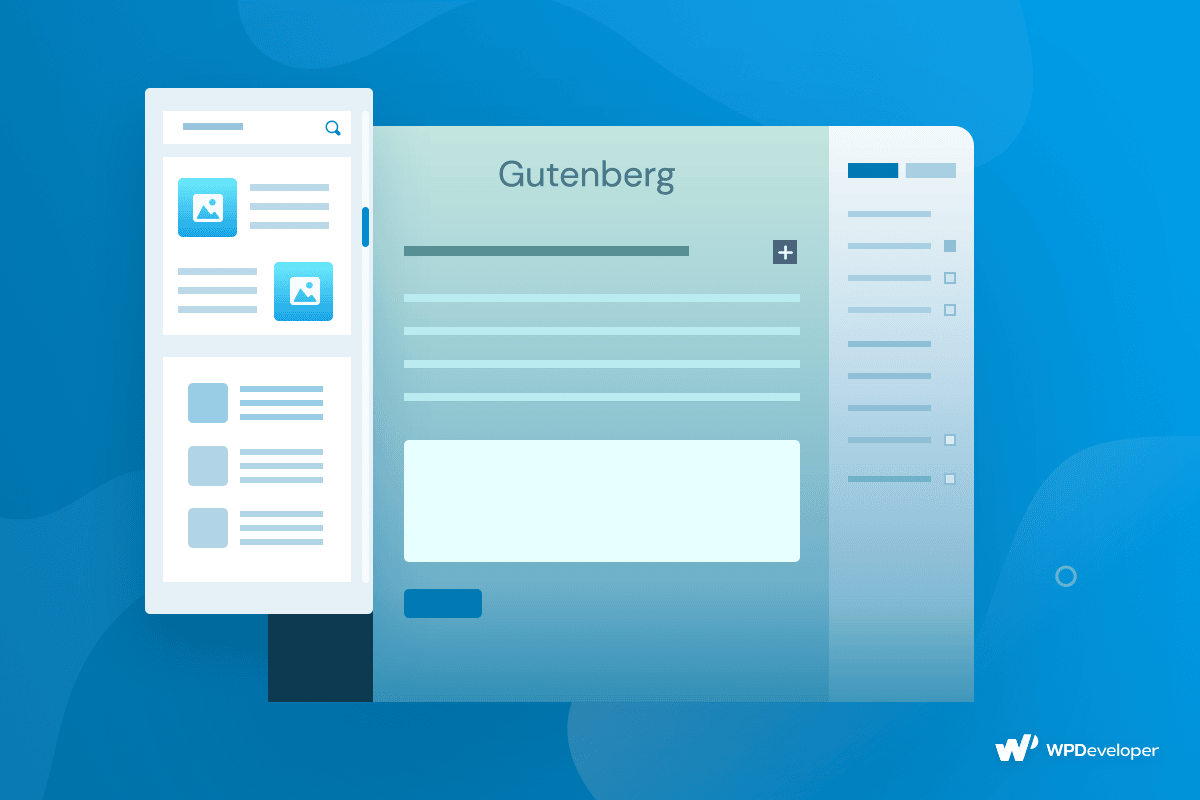 With the countdown block of Essential Blocks, you can easily add a timer to your website and create urgency among your visitors. Besides, you get amazing blocks to enhance your Gutenberg experience and build dynamic web pages at ease.
✅ Design With Popular Elementor Website Builder
The countdown feature is available in Elementor with a range of customization facilities. Using Elementor, you can create a countdown on your website easily. Besides, with the popular Elementor library, Essential Addons For Elementor, you will get a responsive countdown timer for your website. You will have the option to easily adjust the design of the timer and add animation to it. Also, with the countdown timer from Essential Addons, you can get a visually appealing countdown that will boost your click-through rates.

✅ Get FOMO Marketing Plugins For WordPress
To add a timer to your website, you can also use dedicated marketing plugins like NotificationX. Using these plugins, you can add an evergreen timer to your website without using any code. With an evergreen timer, you will get the option to display a unique time frame for each individual visitor. Simply install and active any dedicated countdown plugin, then you can place the timer on your website easily.

✅ Use Custom Codes To Design Countdown Timer
To add a timer to your WordPress website, you can use advanced codings. Using custom codes, you can put a timer anywhere on your website. However, for non-technical users, using codes could be a great challenge. In addition, you may have to hire a developer to add a countdown to your website which will cost you additional money.
How To Create A Countdown Timer In Gutenberg?
While there are different options available for you to add a timer on your website, Gutenberg offers the easiest way. For the tutorial purpose, we are sharing the way to create a countdown in Gutenberg for free. Before going to the guideline you need to install and activate the following blocks library:
⚙️ Essential Blocks For Gutenberg: Essential blocks for Gutenberg is the ultimate block library for Gutenberg editor. It comes with 30+ ready blocks to change your Gutenberg experience. This block library offers a stunning countdown block that helps you to create urgency on your website. Now, to get the countdown in Gutenberg, install and activate Essential Blocks on your WordPress website before jumping to the guideline.
Step 1: Insert EB Countdown Block In Gutenberg
First, go to the page where you want to add the countdown block then click on the '+' icon. Now, find the 'Countdown' block then insert it on your web page. Right after clicking on this block, it will be activated on your website. let's check out how you can customize the countdown in Gutenberg with Essential Blocks.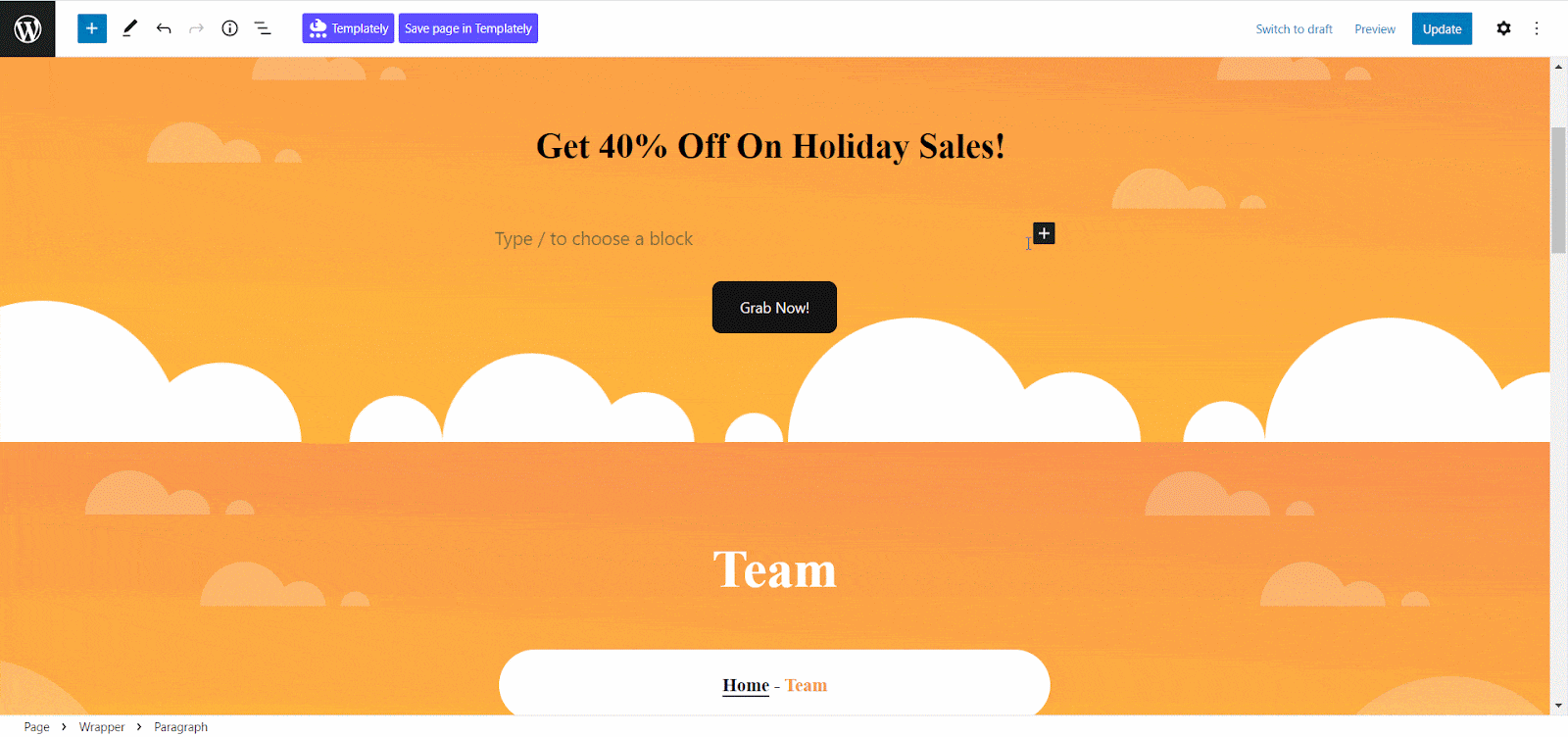 Depending on your campaign period, you should adjust the time and date from the countdown in Gutenberg settings. Besides, you will find different design presets on this Gutenberg block and adjust it with your web design.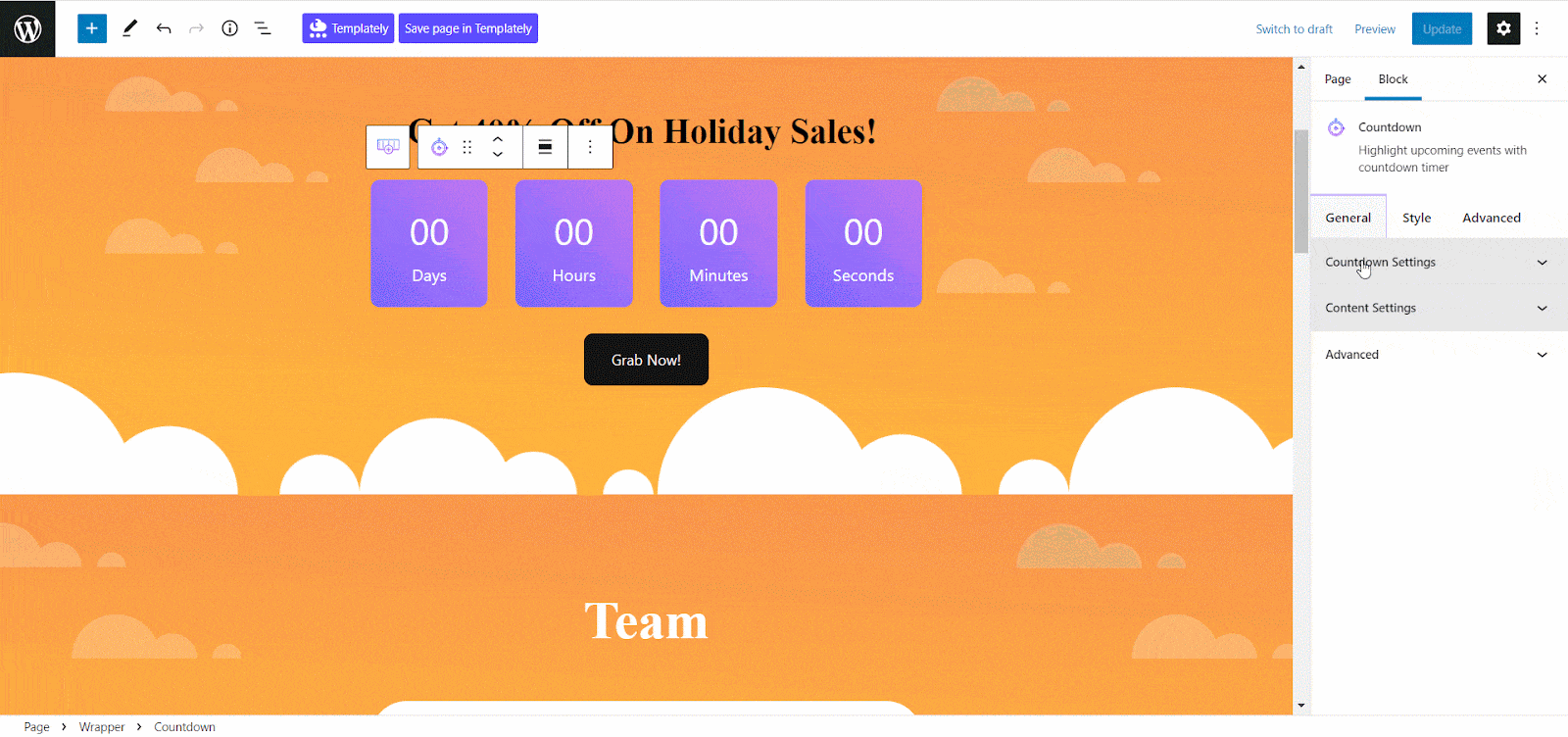 Now, To update the contents go to 'Content Settings' and adjust the level names. Additionally, you can also turn off or on displaying days, hours, minutes, or seconds from this countdown in Gutenberg.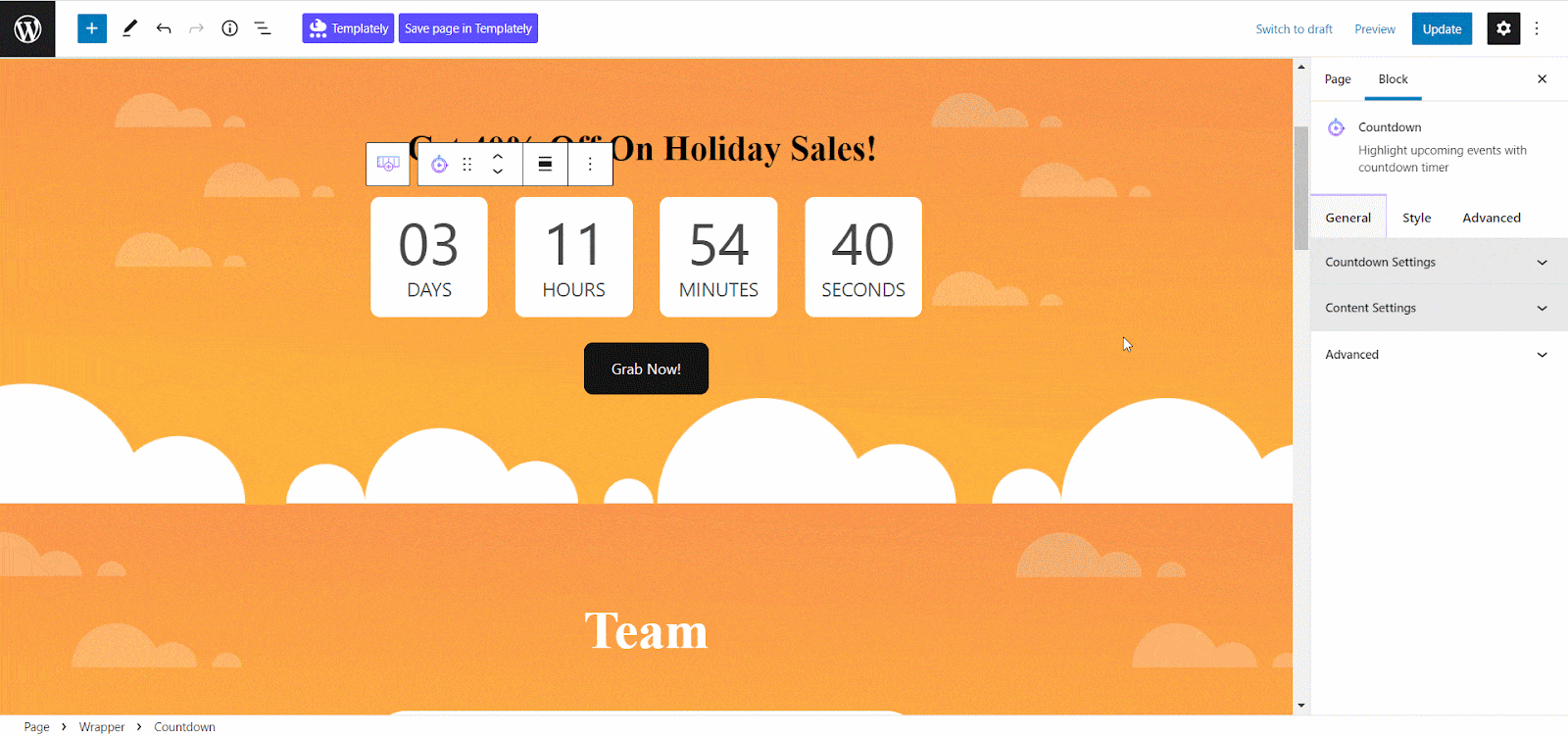 Step 2: Give A Personalized Look To The Countdown Timer Block
Once you have done setting up the content of this WordPress countdown timer, you can adjust the style and showcase this timer beautifully on your website. You will get plenty of options to customize the appearance. From the 'Box Styles' section, you can see the width and space between the boxes without any hassle. Additionally, you can tweak the column direction and make it suitable for yourself at ease with this countdown in Gutenberg block.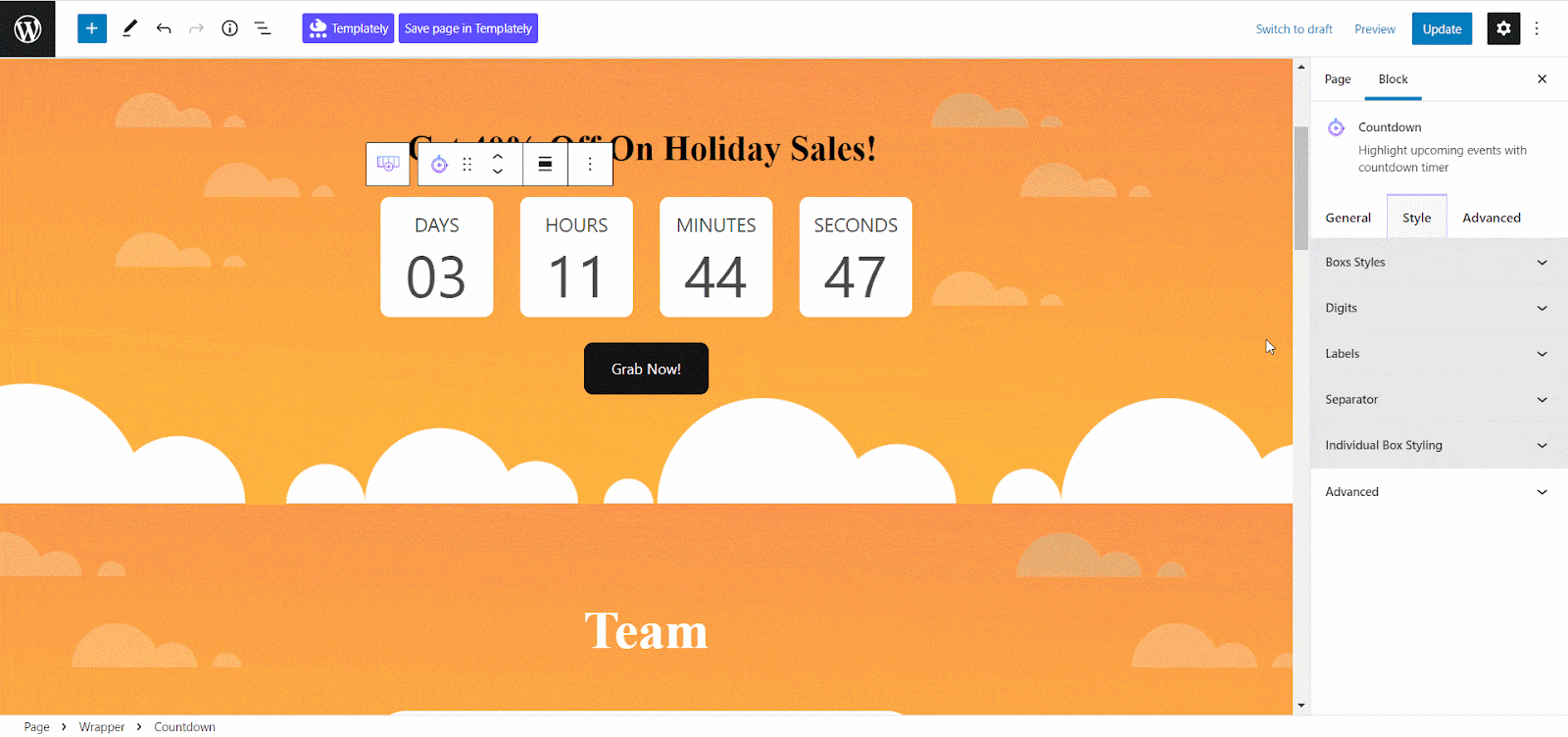 Also, using the 'Box Style' option from the countdown in Gutenberg, you can adjust the padding and border from there as well. Besides, you could even add box shadow and design a perfect countdown box for your website.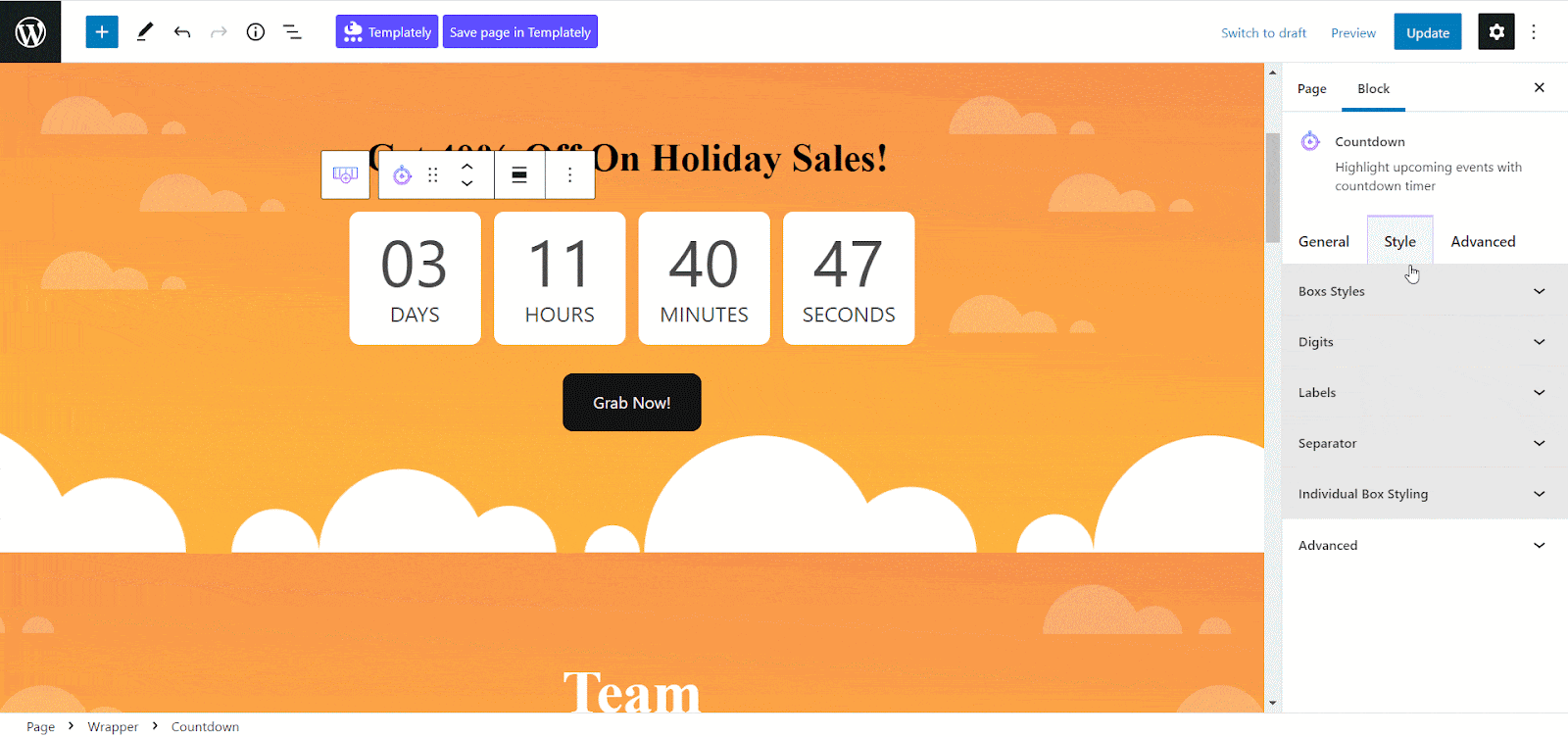 With this countdown in Gutenberg, you can adjust the Digits, Levels, and Separator from the style section at ease. From the 'Digits' option, you can change the color, typography, and padding for the numbers with no hassle. Likewise, you change the same elements for the levels as well. Moreover, this countdown in Gutenberg offers adding separators for the boxes from the 'Separator' option.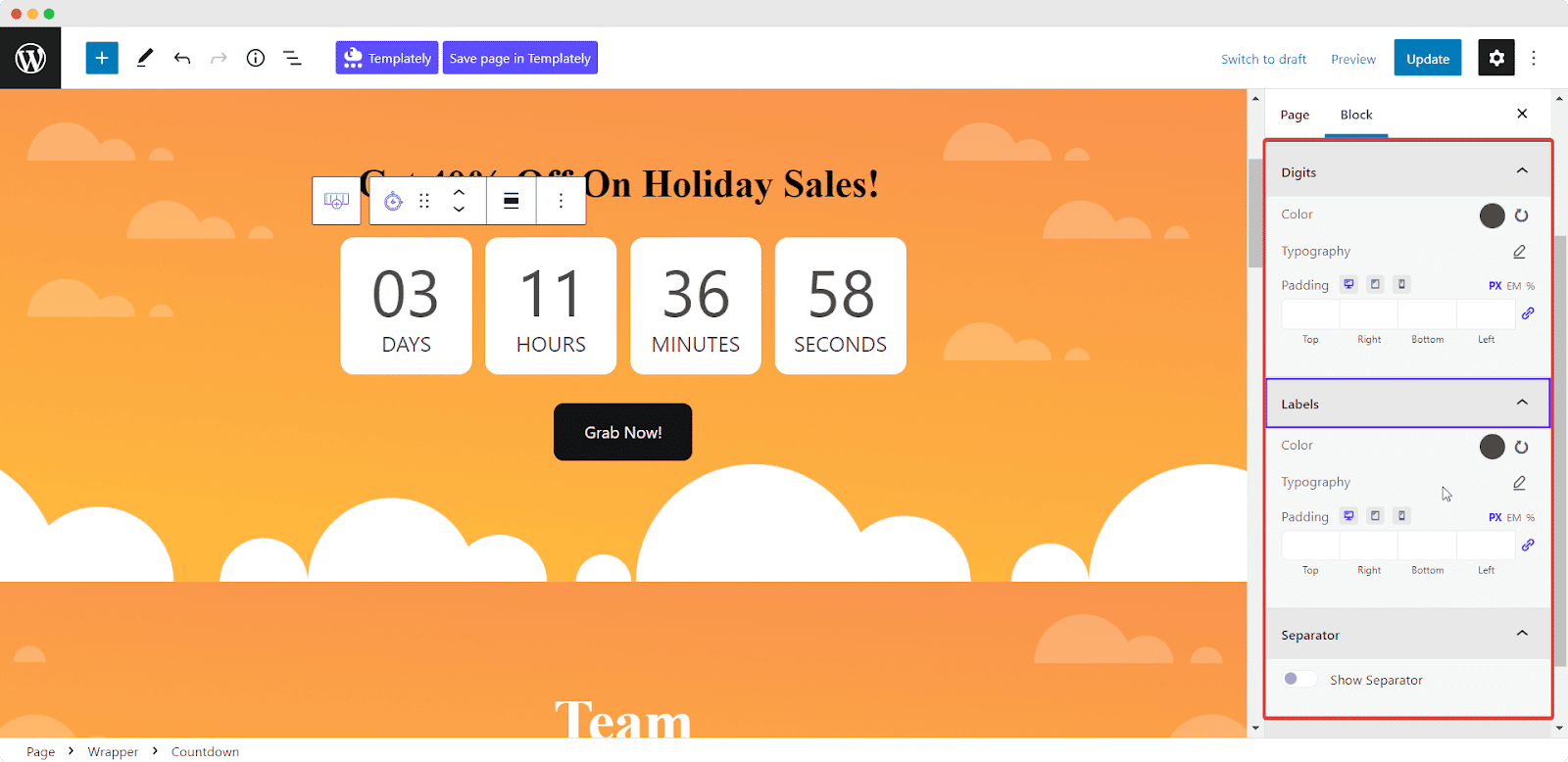 To provide you with more freedom for creating a beautiful timer on your website, Essential Blocks for Gutenberg offers more customization. They also provide the option to style the boxes separately and present them in a visually appealing manner. So, if you want to add more colors, you should go to the 'Individual Box Styling section'.
There you can adjust the box, number, level, and border colors and make your WordPress countdown timer more attractive to the visitors. You can also add a hover effect on the box from there. Similarly, you can tweak the rest of the boxes and beautifully present your timer at ease.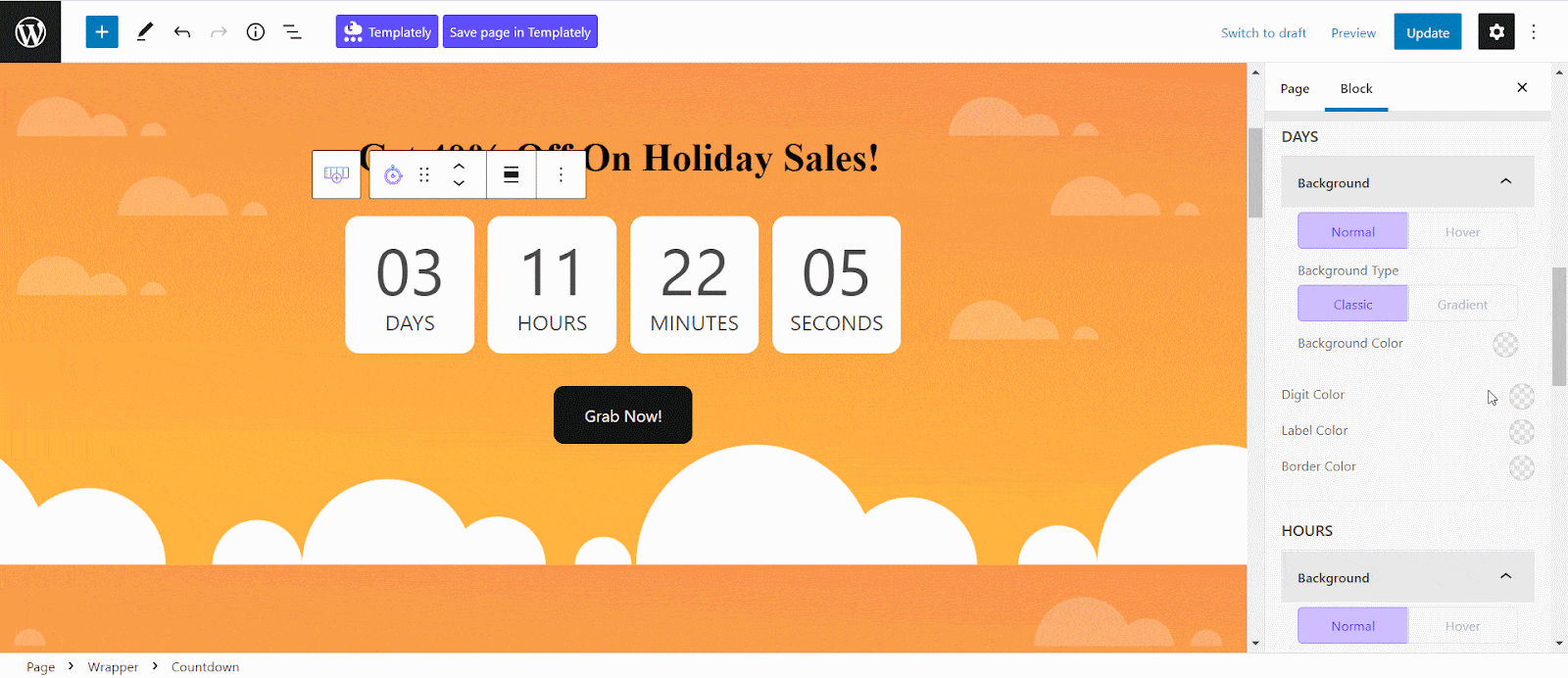 This countdown in Gutenberg also provides an 'Advanced' section for adding an extra layer of customization to the countdown block. You can easily tweak the Margin and Padding from there.
For more customization options, check out the full documentation for Essential Blocks Countdown block here.
Step 3: Time To Publish Your Stunning Countdown Timer
Once you are done with customizing your Countdown block, now it is time to publish it to your website. You can click on the 'Publish' button. That's how you can easily add a beautiful timer to your website and create urgency to boost your conversion rate. Check out the final look here.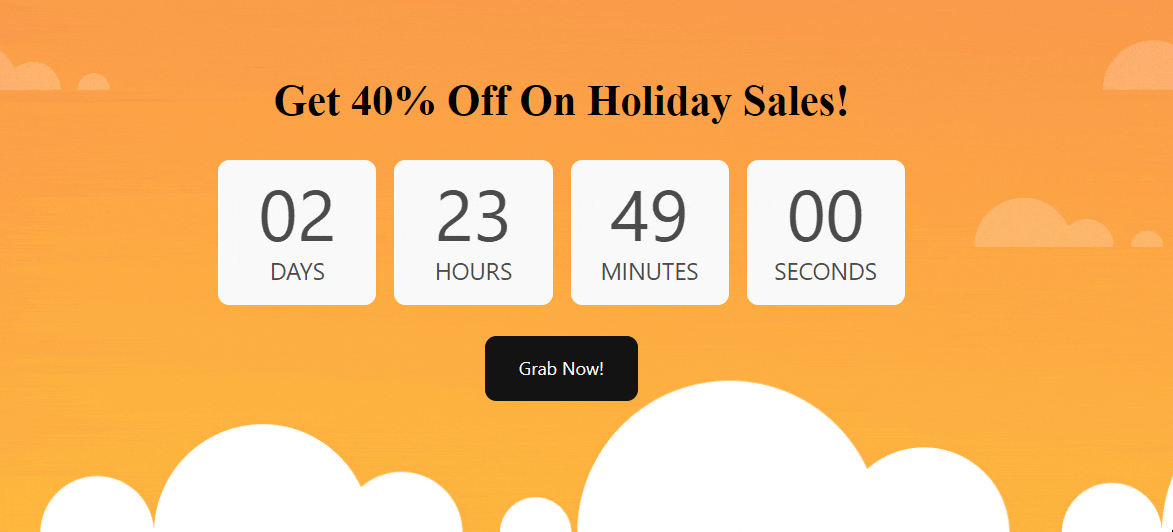 Adding a countdown timer in Guttenberg can make an enormous impact on your conversion rate. You can easily double up your sales by simply placing them near your promotional messages. So, try Essential Blocks for Gutenberg now and check out how you can use these creative advanced blocks to create high-converting web pages.
For more tutorials like these, don't forget to subscribe to our blog or join our Facebook community for the latest news and updates.