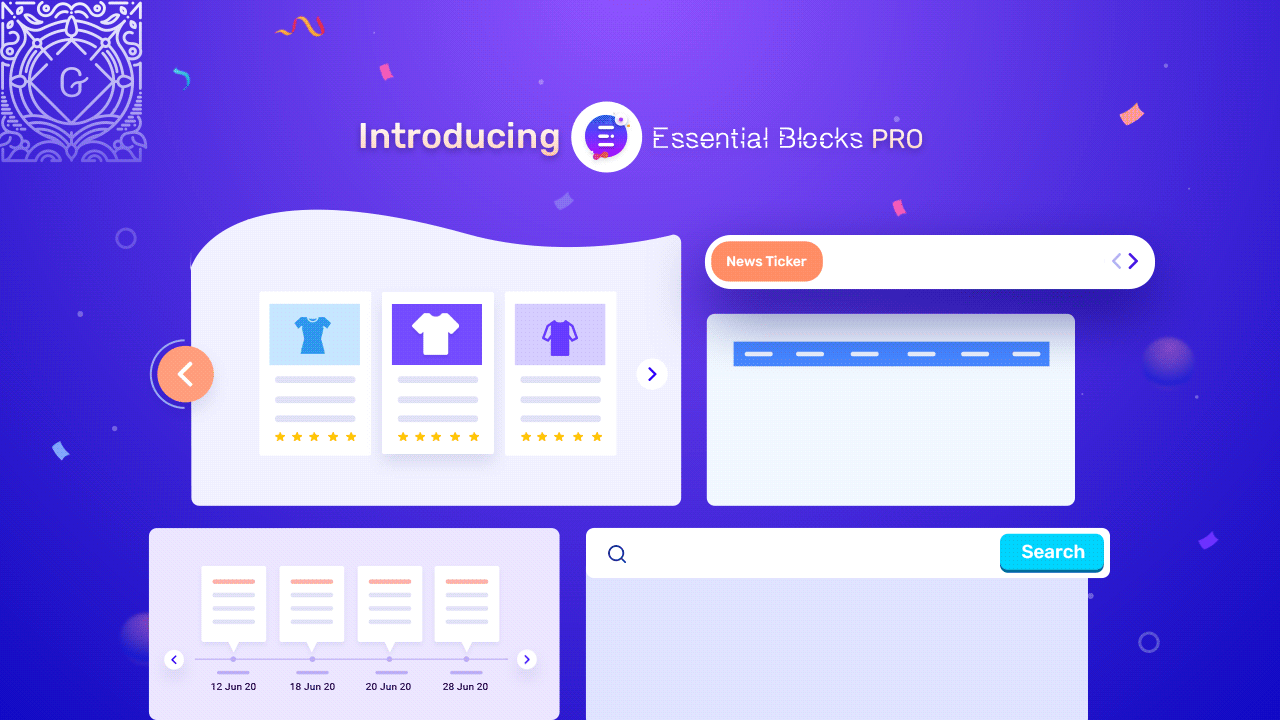 Introducing Essential Blocks For Gutenberg PRO With NEW Blocks, Improvements, And More
Essential Blocks is one of the fastest-growing WordPress plugins, committed to bringing you outstanding blocks and features to elevate your Gutenberg experience effortlessly. And now, we have some amazing news to share – introducing Essential Blocks for Gutenberg PRO, packed with exclusive new blocks, premium presets, advanced features, and more, to take your web building to the next level! 🥳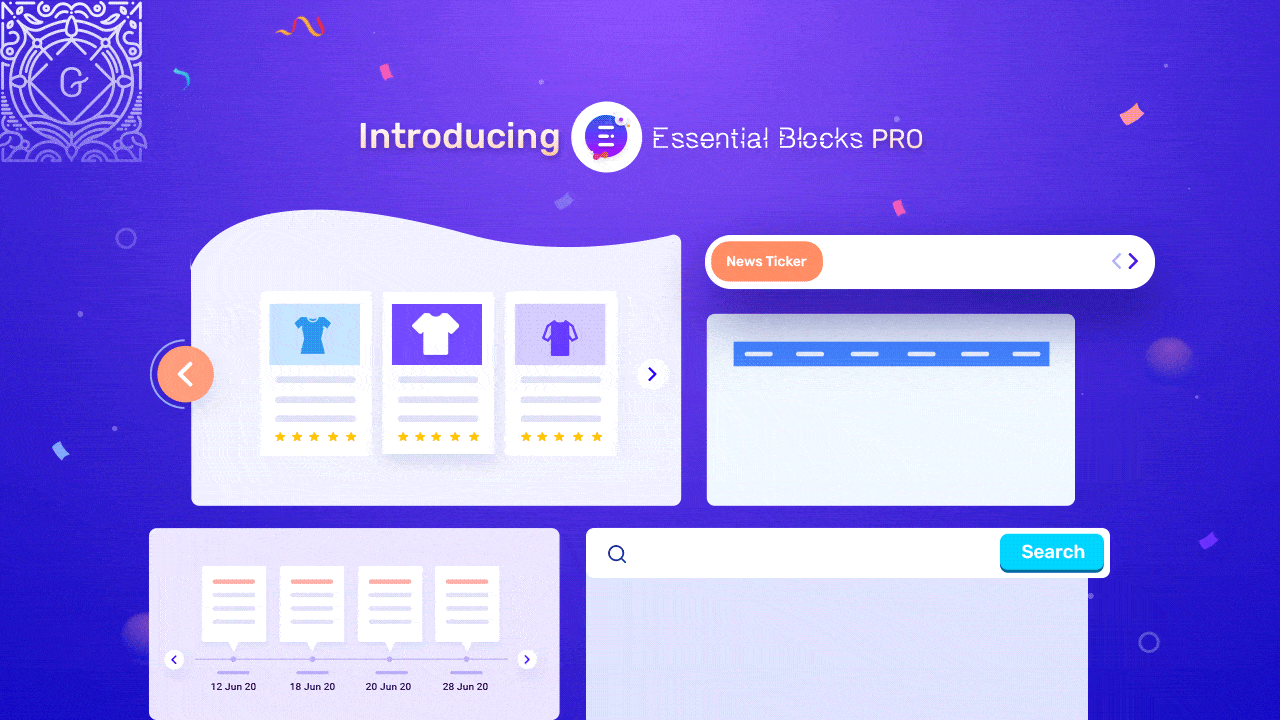 In less than four short months, this popular plugin for Gutenberg went from 50K active installations to 100,000! We're overwhelmed with the love and support from our valued, happy users. We have always been striving to give back to the community by going the extra mile to develop features and blocks that have been most requested.
And so this time, we were inspired to launch Essential Blocks for Gutenberg PRO with powerful premium blocks, presets, and features while ensuring full customization and responsiveness just the same as always. Dive right in to find out more in detail to see how you can unleash your creativity with Essential Blocks PRO.
Supercharge Your WordPress Website With Exclusive NEW Blocks For Gutenberg
Essential Blocks has always been known for its wide range of advanced Gutenberg blocks for all your needs. And we are always trying to continue bringing you more blocks and features. So with this latest release, we're set to add to this list with some new exclusive blocks for Gutenberg – both FREE and PRO:
Drive Engagement To Your WooCommerce With Product Carousel Block
If you want to attract customers to your online store and showcase your products in a way that drives engagement, adding a product carousel on your WooCommerce website can boost your conversions and sales effortlessly. And this is exactly what the latest Woo Product Carousel from Essential Blocks PRO comes right in to assist you.
With the Woo Product Carousel block, adding a visually stunning and interactive product carousel to your WordPress website takes only a few clicks just the way we did above. This exclusive WooCommerce block for Gutenberg from Essential Blocks PRO comes with 4 unique presets to help make your product carousel stand out.
You can add detailed information about each product, such as price, sales badge, star ratings, and even include an 'Add To Cart' button with the Woo Product Carousel block.
Add An Advanced Search To Your Website And Improve User Experience
Improving navigation on your website is crucial if you want to give your visitors an unparalleled user experience. And to help you do just that, Essential Blocks for Gutenberg PRO now comes with an Advanced Search block for Gutenberg!
With the Advanced Search Block for Gutenberg, you can allow site visitors to search your entire website content and quickly find the information they are looking for. And more importantly, you have the flexibility to choose how your site visitors will be allowed to search through your website content. For example, you can configure the Advanced Search block for Gutenberg from Essential Blocks PRO to 'Show Filter By Taxonomy' so visitors can search by categories, post types, and much more.
The customization possibilities are endless and we have tried the 'Modern' preset with the search type 'Post' in the Advanced Search block right above. Why don't you type in 'Essential Blocks' in the search field and see for yourself how outstanding this new premium block is?
Highlight Your Content With A Stunning, Visual Timeline Slider In Gutenberg
When it comes to web design trends, sliders are a popular method for beautifully showcasing your content in a visual timeline. To help you do just that, Essential Blocks for Gutenberg PRO comes with a unique Timeline Slider with which you can showcase important milestones, announcements and other highlighted information in a horizontal, dynamic timeline that is sure to grab the attention of viewers.
Essential Blocks gained 10K happy users, growing faster than ever!
Essential Blocks became favorite Gutenberg tool for 50K users.
In a blink, Essential Blocks reached 80K installations from happy
MILESTONE: Reached 100,000 Active Installations!
Moreover, the Essential Blocks Timeline Slider comes with 3 different presets and even allows you to add interactive hover animation and 'Read More' links, as shown below. Above, we have marked our team's major achievements in the timeline slider with 'Custom Content' and highlighted our rise to 100,000 active installations in the quickest time possible with 'Star' icons in the style preset 1.
Display The Latest Content & Posts With An Attractive News Ticker Block
LATEST NEWS
MILESTONE ACHIEVED: We have reached 100K happy users!
Essential Blocks PRO is released with exclusive blocks
If you want your site visitors to check out your latest content, important announcements, breaking news, etc., you will need to showcase them in an eye-catching manner to grab their attention immediately. With the News Ticker block from Essential Blocks for Gutenberg PRO, you can effortlessly highlight any content or post on your website. To make them stand out on your page, you can add beautiful animations and even display multiple contents with the News Ticker block one after another.
Create An Advanced Data Table For WordPress In Gutenberg Editor
Have you always wanted to create a data table in WordPress but found it a little too difficult to customize it the way you want in Gutenberg editor?
Then you'll be delighted to know that with Essential Blocks PRO, you get an advanced Data Table block for Gutenberg that lets you create easy-to-configure, customize and beautifully showcase all of your important data using in a unique layout. You can even add the option for users to search through your data table and present huge amounts of information neatly by adding pagination to your data table with Essential Blocks PRO.
Unlock Exclusive Shapes And Styles With The Shape Divider Block
And finally, we have the EB Shape Divider block – to help you stay on top of the latest web design trends. Unlike the others mentioned above, this is a freemium block with both free and exclusive premium presets or layouts.
The shape dividers provide a sense of beauty and originality to the overall design by acting as separators between sections on web pages. Shape dividers can be strategically positioned on a website to improve navigation, user experience, and aesthetic appeal of the website.
There are 9 different styles that you can choose from, with 5 of them being premium or exclusive. But with each style preset, you will get full customization options to change colors, width, height, alignment, and more. And therefore, with the all-new Shape Divider block, you can give your websites a completely new look while also adhering to your brand identity.
Add Creativity To More Blocks With New Premium Styles & Presets
But are these new blocks all you're getting with the latest version of Essential Blocks for Gutenberg? The answer is nope. You're also getting new improvements and style presets for the already-loved and popular Gutenberg blocks, such as Post Grid and Countdown Timer.
Find New Ways To Display Your Website Posts With The EB Post Grid
The EB Post Grid is one of the more popular Gutenberg blocks that we have introduced free with this plugin. But with Essential Blocks PRO, we decided to bring you 3 more premium, unique design presets to help you display your website posts in a more stunning layout. Customize your preferred style and unleash the utmost flexibility in customizing.
Build-On The Urgency With Eye-Catching Layouts For Countdown
An essential marketing tool, the countdown timer will quickly instill a sense of urgency in your visitors and take your company to the next level. While Essential Blocks Countdown brings you many free presets, the release of Essential Blocks PRO has also brought you some new premium-style presets that you can use to boost urgency elegantly.
Get Dynamic Tags & ACF Support For Gutenberg Blocks
Essential Blocks now offers two premium features: Dynamic Tags and ACF Plugin support for Gutenberg. Dynamic Tags simplify content management, saving time and improving user experience. Advanced Custom Field (ACF) support allows for highly customized websites with advanced fields, enabling dynamic and interactive content creation. These new features provide WordPress users with a precise and efficient solution for website development.
Experience Unparalleled Web Designing With Essential Blocks For Gutenberg PRO
These are just some of the latest blocks and features that you can get with Essential Blocks PRO, and we are working hard to bring you more. Thank you for your continued support and love. Stay tuned for the latest updates by subscribing to our blog, as there are many more features to come! So, be the first to join us and get your hands on the ultimate Gutenberg blocks library today.