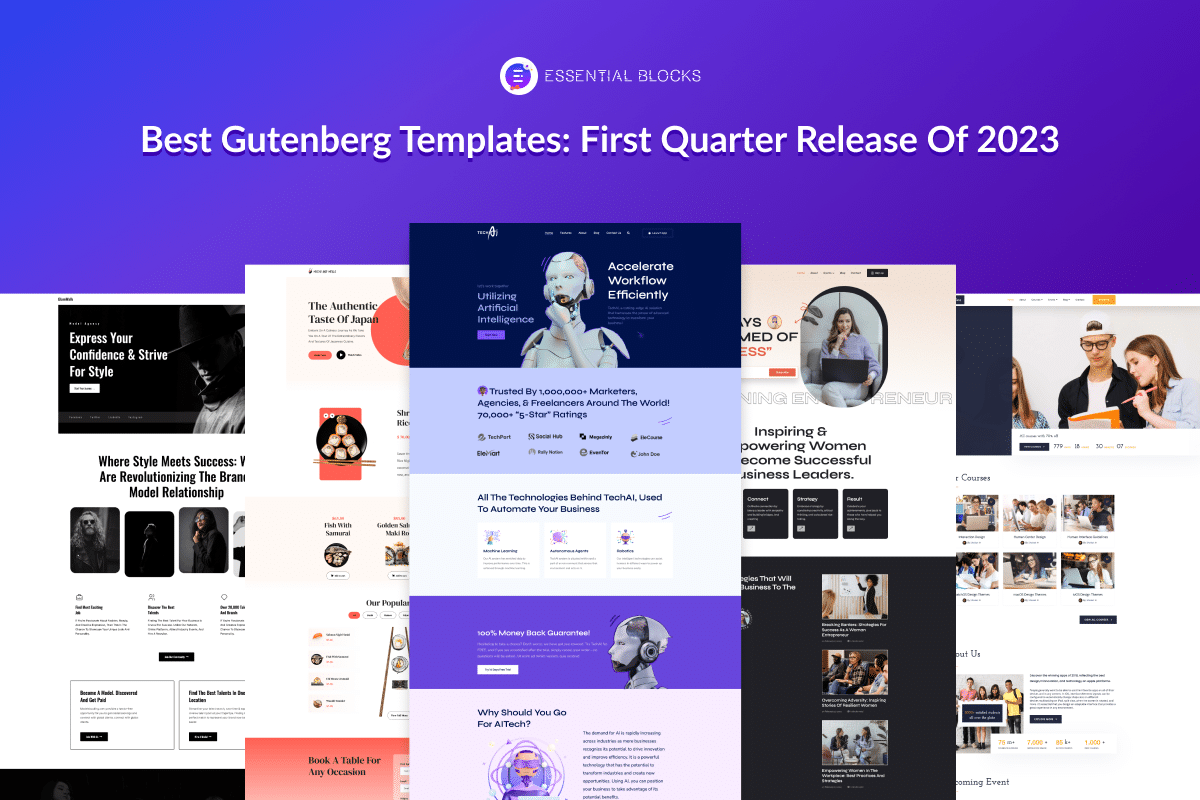 Best Gutenberg Templates Collection From 2023 First Quarter
The first quarter of 2023 went by in a breeze. And within this very short time, the ultimate WordPress templates cloud, Templately, has already introduced tonnes of new designs in its wide range of Gutenberg templates collection for every nice. And with this comprehensive blog, we have brought you a list of our top picks. So, if you're planning to create a new WordPress website or revamp an existing one, check the pre-made Gutenberg template designs listed below and enjoy the best web-building experience on Gutenberg.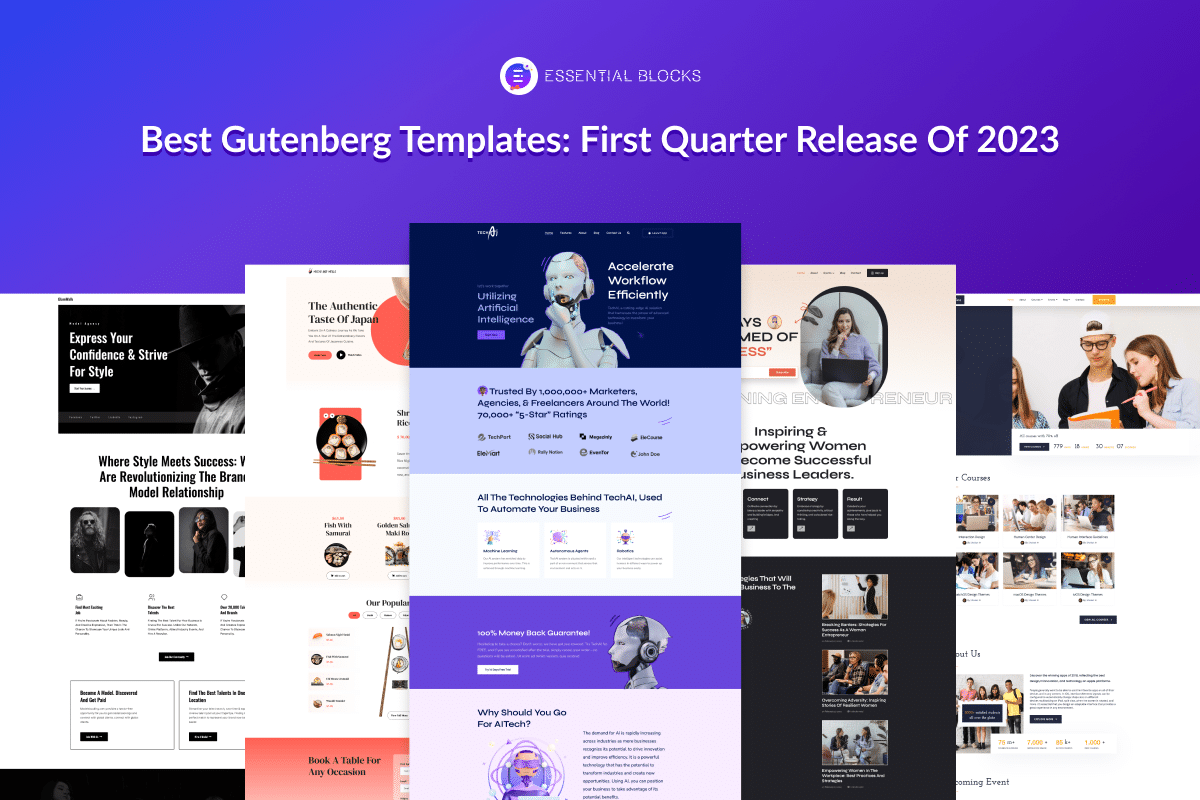 Why spend time coding your website from scratch or hiring an expert when you can easily use Templately's ready-to-use templates? Templately offers around 1000 customizable Gutenberg template packs that seamlessly integrate with WordPress, allowing you to customize your website with ease and without any coding knowledge.
Check out our latest blog to learn more about these fantastic Gutenberg templates collection and how they can help you fuel up your web-building skills with complete ease.
MatchMaker: Gutenberg Template Pack For Dating Websites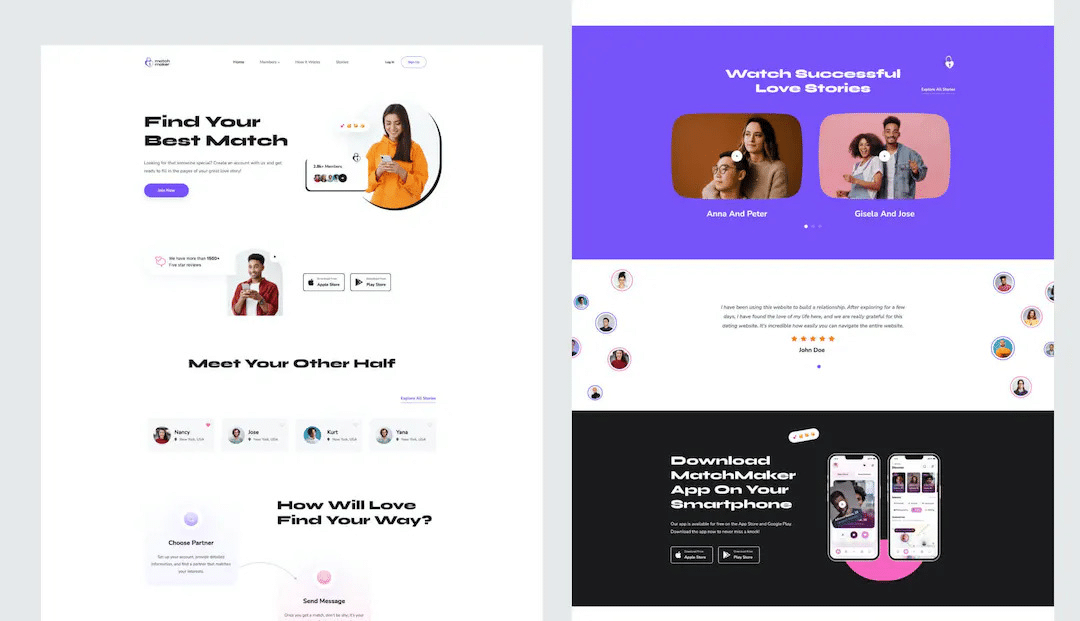 MatchMaker is one of the latest addition to Templately's ready Gutenberg templates collection of 2023 to create your dating website quickly and easily. With a single click, you can have a fully functional dating website up and running without any coding required. The pack comes with seven beautifully designed web pages.
The design is minimalistic but attractive, with eye-catching call-to-action buttons, engaging motion effects, and testimonial sections to add credibility to your site. You can customize the pages as much or as little as you want using the Gutenberg editor, and the template is fully responsive across all devices.
Overall, the MatchMaker Gutenberg template pack is a great option for anyone looking to create a professional, user-friendly dating website.
EduBee: Education Website Template For Gutenberg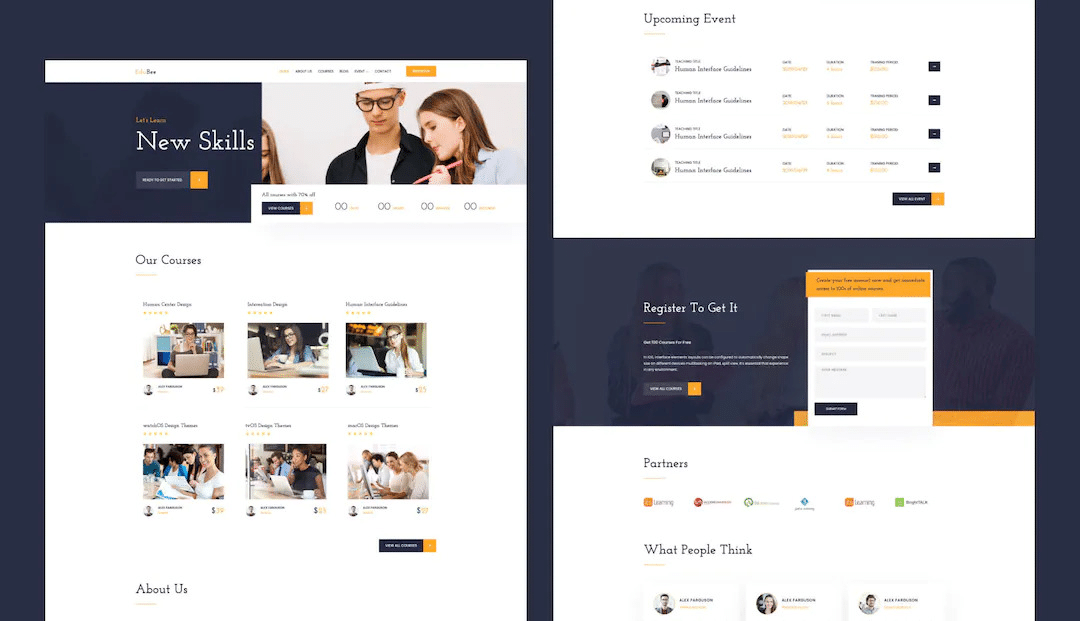 Let's assume, you're an education provider who wants to create a website that stands out from the rest. You probably want something that looks beautiful, is easy to navigate, and effectively showcases your courses and events. That's where EduBee comes in.
EduBee is a stunning Gutenberg website template pack designed specifically for the education industry. It's perfect for online learning institutes, education providers, trainers, and educators alike. With eight premade pages, including a home page, course page, event page, and more, EduBee is completely customizable and responsive.
Trivver: Travel Magazine Template For Gutenberg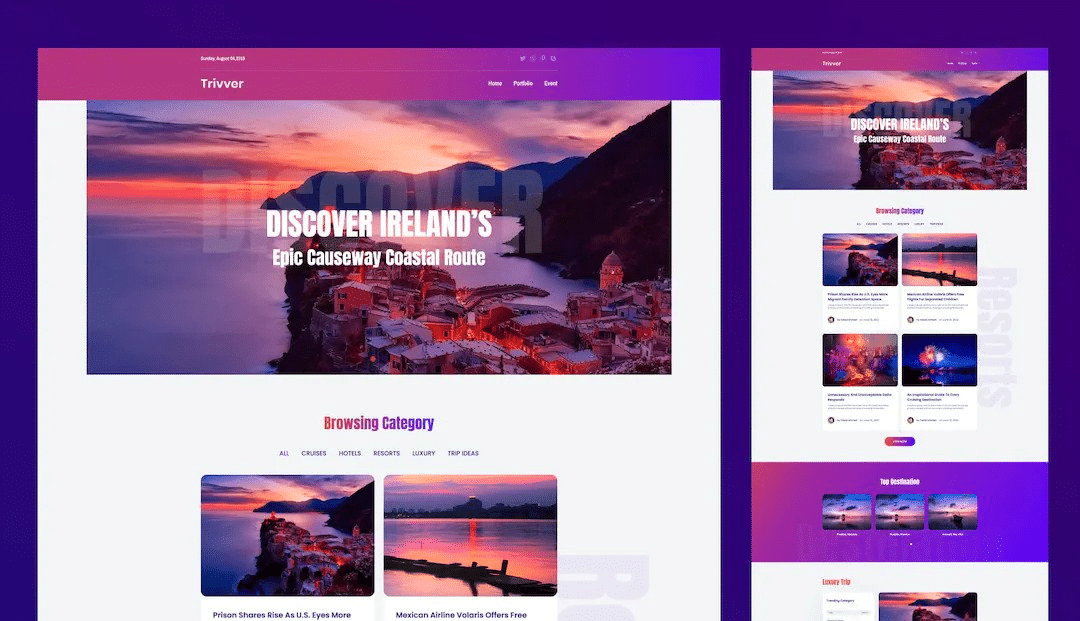 Are you a traveler, travel blogger, or travel journalist looking to create an online presence? Look no further than the Trivver– landing page template pack for WordPress. With its attractive and interactive design, this Gutenberg template pack is sure to capture your audience's attention.
The Trivver template pack is developed using the website builder Gutenberg and the blocks library Essential Blocks, giving you complete control over the customization of each section. Whether you're sharing stories from your travels or creating online tour guides, Trivver makes it easy to showcase your experiences and destinations.
But what sets Trivver apart is its responsiveness and adaptability to any device or screen size. Whether your readers are viewing your site on a phone, tablet, or desktop, they will have a seamless experience.
So why settle for a basic travel website when you can have a visually stunning and customizable one? Choose Trivver and let your travels take center stage.
SheNetwork: Women Empowerment Template Pack For Gutenberg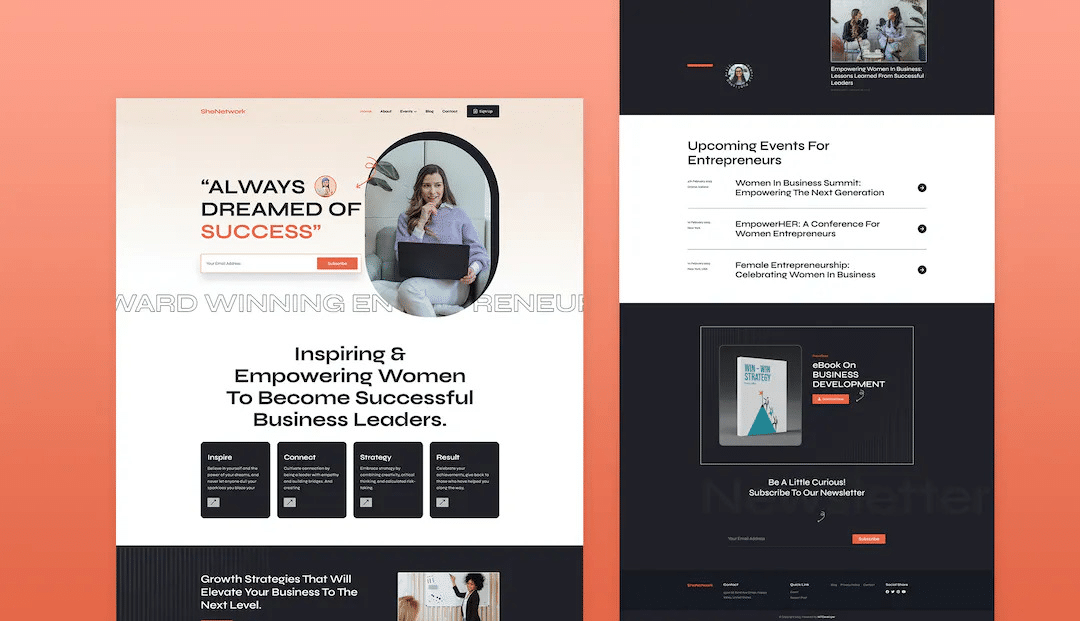 Women empowerment has been the most buzzing word over the years! And our second-picked template pack from Templately 2023 first quarter release is called SheNetwork, a perfect Gutenberg template pack for creating a stunning WordPress website focusing on women's empowerment without coding knowledge!
The pack includes 7 beautifully designed landing pages that are built with Gutenberg Block Editor and Essential Blocks, making it easy to customize your website to your unique style and brand.
Moreover, the template pack provides all the necessary features and beautiful sections to establish a strong online presence for female entrepreneurs, promoting female empowerment and leadership.
Finally, the SheNetwork template pack is a great choice for those looking to create a modern and fast-loading women empowerment website effortlessly.
ExploreLy: Travel Agency Website Template Pack For Gutenberg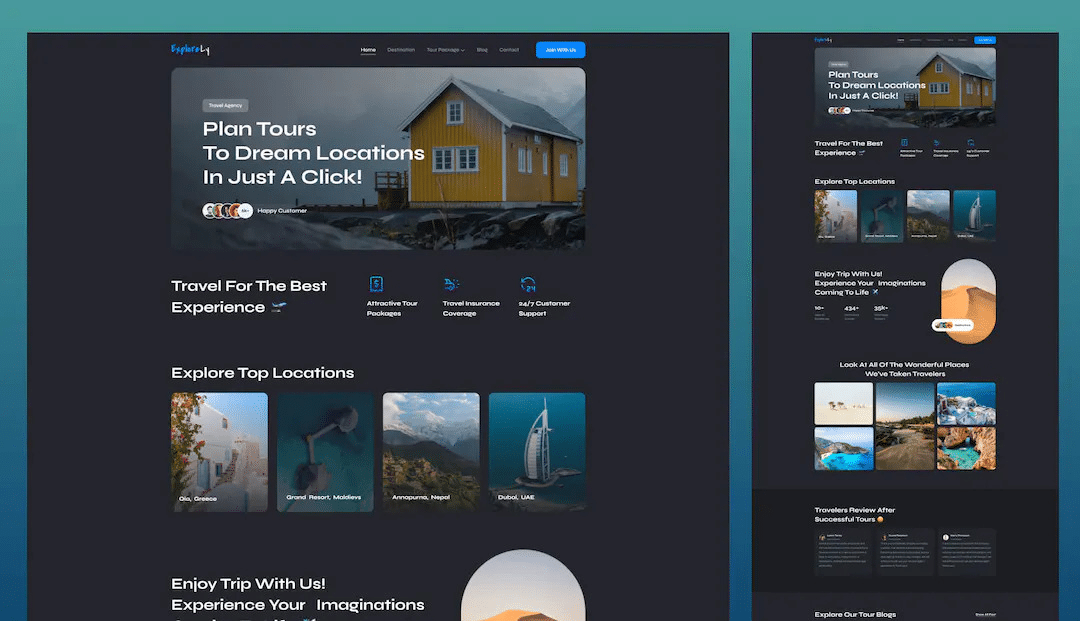 The ExploreLy template pack appears to be an excellent option for those looking to create a visually appealing and interactive travel agency website or blog. With its stylish layout and relaxing color combination, it is sure to capture the attention of viewers and create an engaging user experience.
The fact that it is built on WordPress and utilizes the block editor, Gutenberg, ensures that users have access to advanced customization options and tailored content. The inclusion of seven landing pages, and provides a comprehensive set of options for building out your website.
Eventually, the ExploreLy template pack seems like an excellent choice for those looking to build a standout travel website or blog.
Upsole: Gutenberg WooCommerce Template For Shoe Store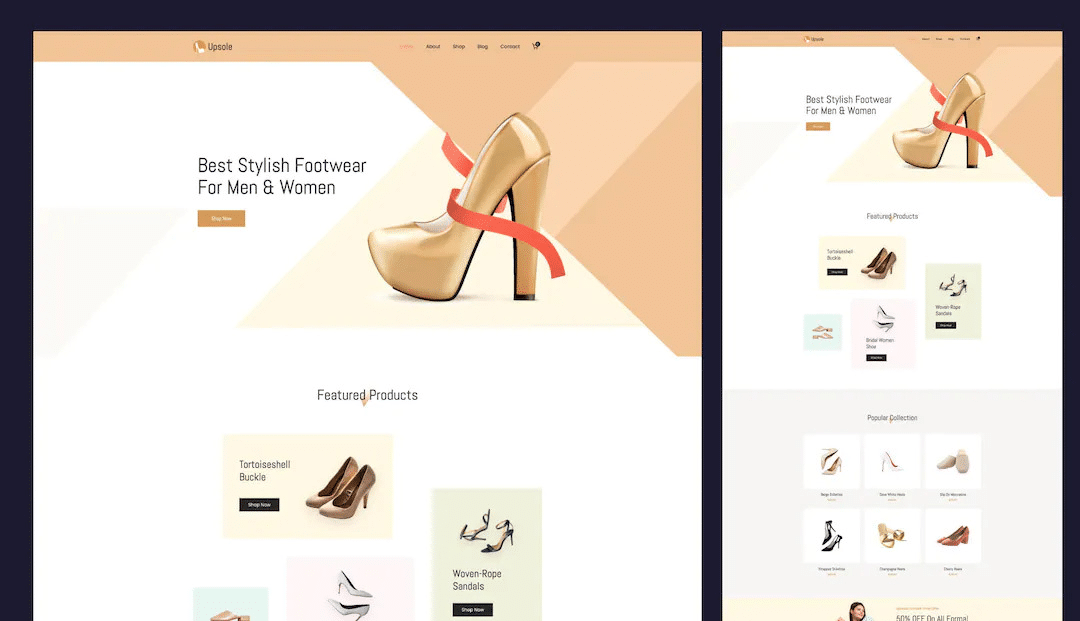 Step into the world of online shoe sales with Upsole, the ultimate Gutenberg template pack for WordPress shoe stores. Upsole is a modern and powerful template pack with 5 ready-to-use pages that will help you create a stunning, engaging, and user-friendly shoe store website that will attract and retain customers.
What sets Upsole apart from other template packs is its use of Gutenberg and Essential Blocks. Upsole templates are incredibly easy to use. You don't need to be a coding expert to create a beautiful, functional shoe store website. Simply choose your template, customize it to your liking, and you're ready to go.
MagazineLy: Gutenberg Template Pack For Fashion & Lifestyle Blogging Websites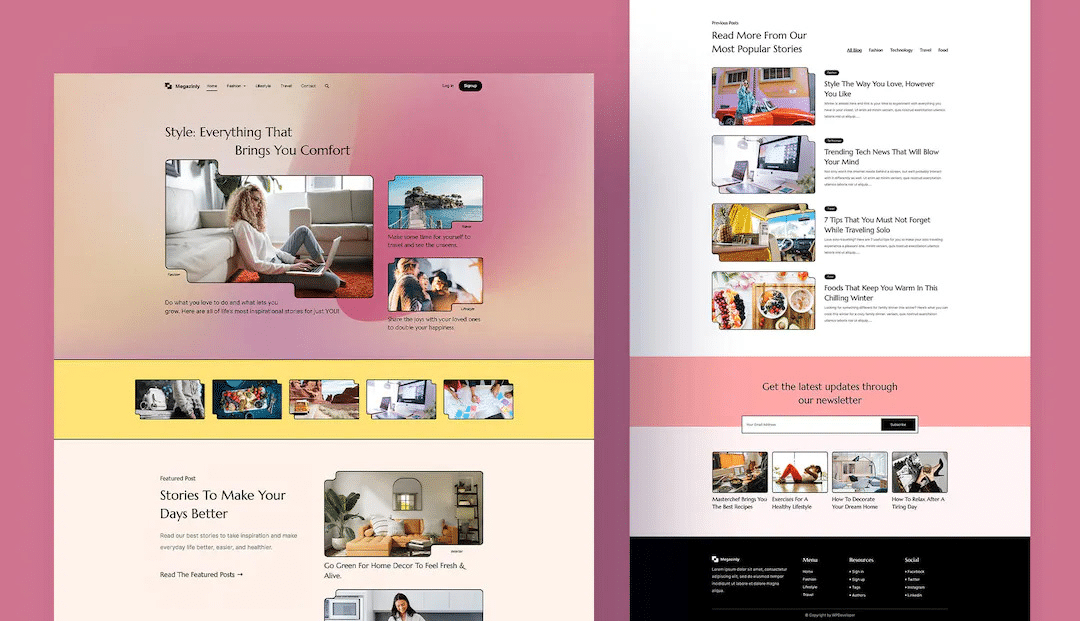 If you're looking for a Gutenberg template pack that is perfect for creating fashion & lifestyle blogging websites, Magazinely is the perfect template for you. It appears to be an impressive and versatile template pack that can help users create a trendy and visually appealing blog website without needing to write any code.
The pack includes six pre-designed pages. The use of Essential Blocks and Gutenberg makes the template pack highly customizable and fully responsive, enabling users to create a personalized website that is optimized for any device.
Finally, its ease of use, attractive design, and customizable features make it an appealing option for those seeking a stylish and modern online presence.
NextLearn: eLearning Websites Template Pack For Gutenberg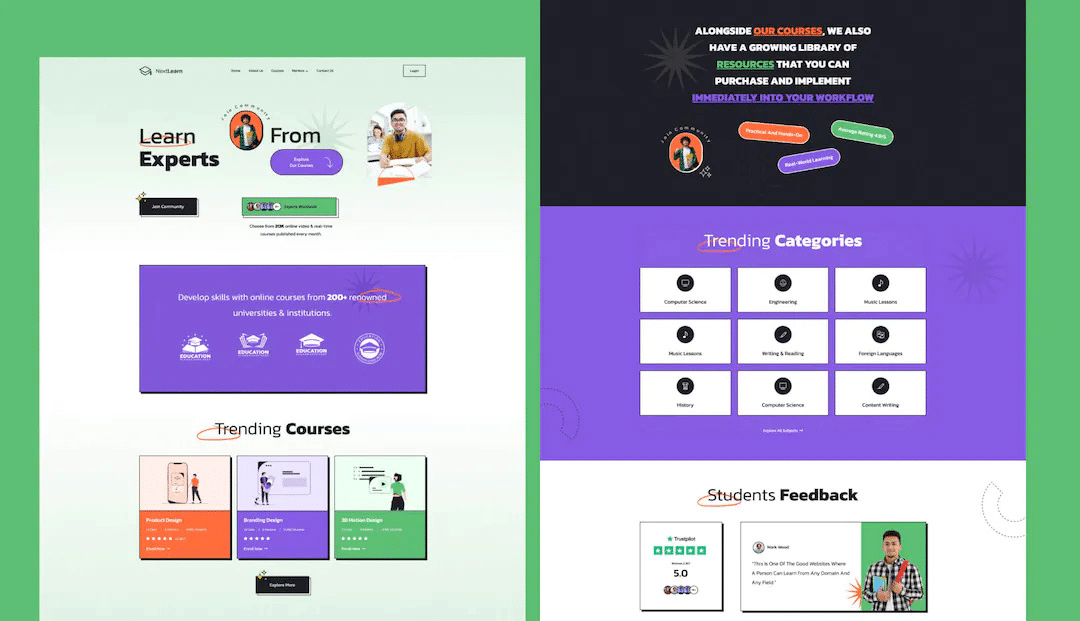 Nowadays, eLearning is the talk of the town. People all over the world preparing and selling courses online on thousands of topics. But having a proper website to sell these online courses is needed. That's where NextLearn makes an entry into this list. This template pack could be a great option for anyone who wants to create a website for selling courses.
With a focus on creating a pleasant, lively, and dynamic website, this template set is suitable for eLearning institutions, training providers, and anyone involved in the education sector. With ready-to-use 7 web pages, users have a variety of options to create a fully functional eLearning website.
So, the NextLearn eLearning template pack appears to be a solid option for anyone looking to create an online education website.
GlamWalk: Fashion Portfolio Gutenberg Template Pack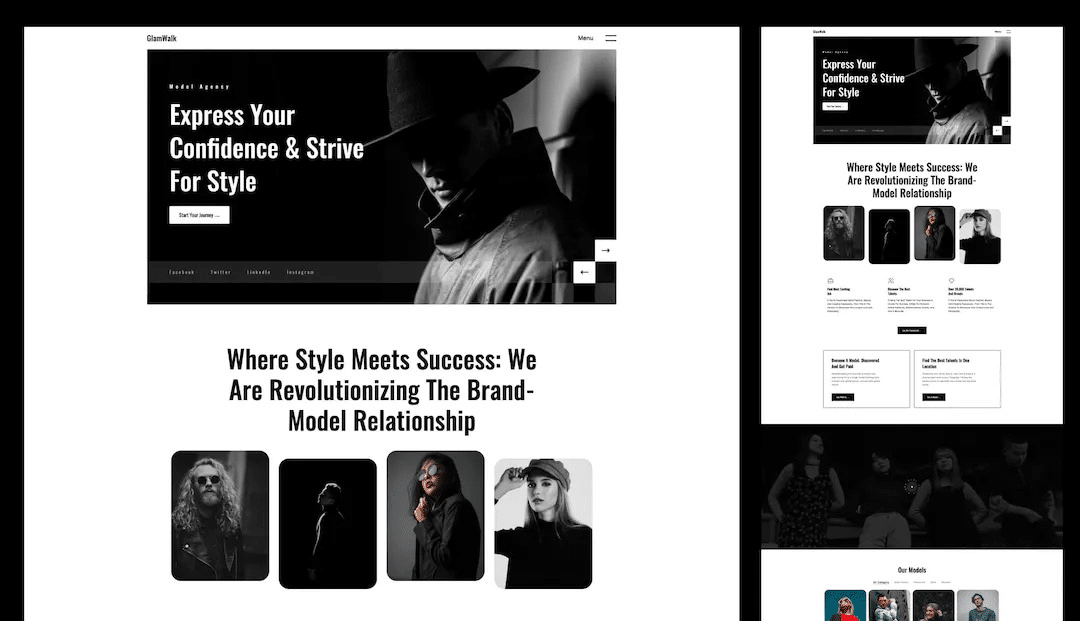 Be in the fashion with Gutenberg's best customizable template pack, GlamWalk! The GlamWalk fashion portfolio template pack is an excellent choice for fashion professionals looking to create a modern and sleek website using the Gutenberg website builder.
With 7 customizable templates and a variety of interactive features, this pack is specifically tailored to showcase the work and talent of fashion designers, models, photographers, makeup artists, stylists, and agencies. All the templates are completely responsive and will load seamlessly on any device and screen size.
Quorum: Gutenberg Template Pack For Community/Forum Websites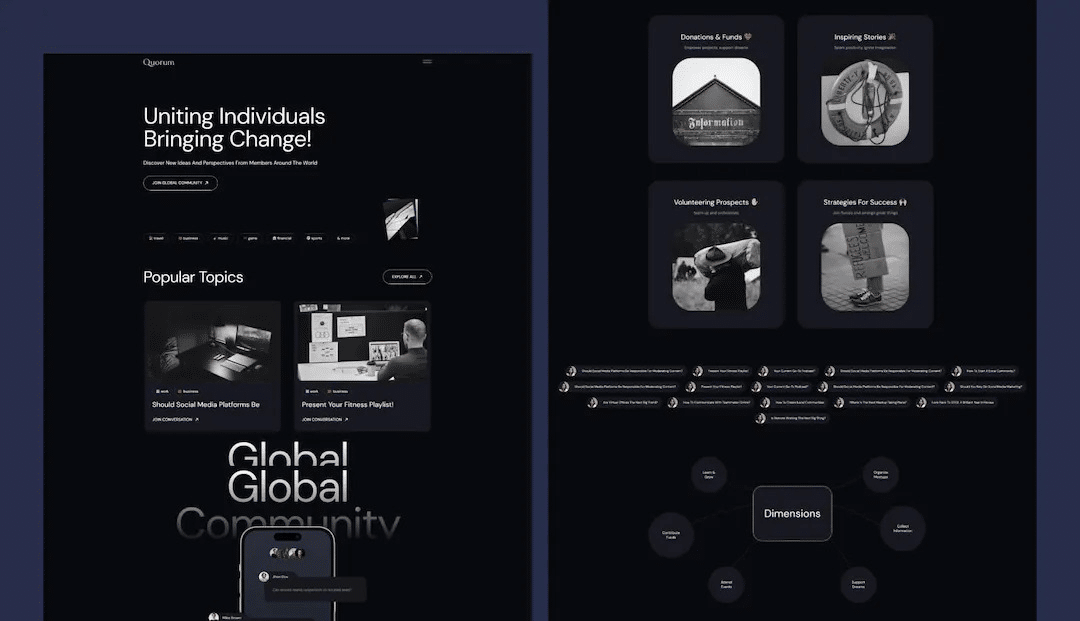 Are you an entrepreneur with a passion for bringing people together? Have you always dreamt of creating a powerful and engaging online community, but you're not quite sure where to start? That's where Quorum comes in.
From the moment you lay eyes on the sleek and professionally built community or forum template pack, you know you've found exactly what you're looking for. The stunning look, striking color palette, and dynamic designs are enough to make your heart race with excitement.
And the best part? Quorum is built with Gutenberg, the website builder that makes customization a breeze. With the largest widgets library, Essential Blocks, at your disposal, you can create a website that's truly one-of-a-kind.
The template pack comes with 5 ready landing page templates that you can effortlessly mold to your liking. In short, Quorum is the template pack you've been searching for. With its exclusive design and customizable features, you'll be able to create a forum or community website with global reach.
TechAI: Technology Website Template For Gutenberg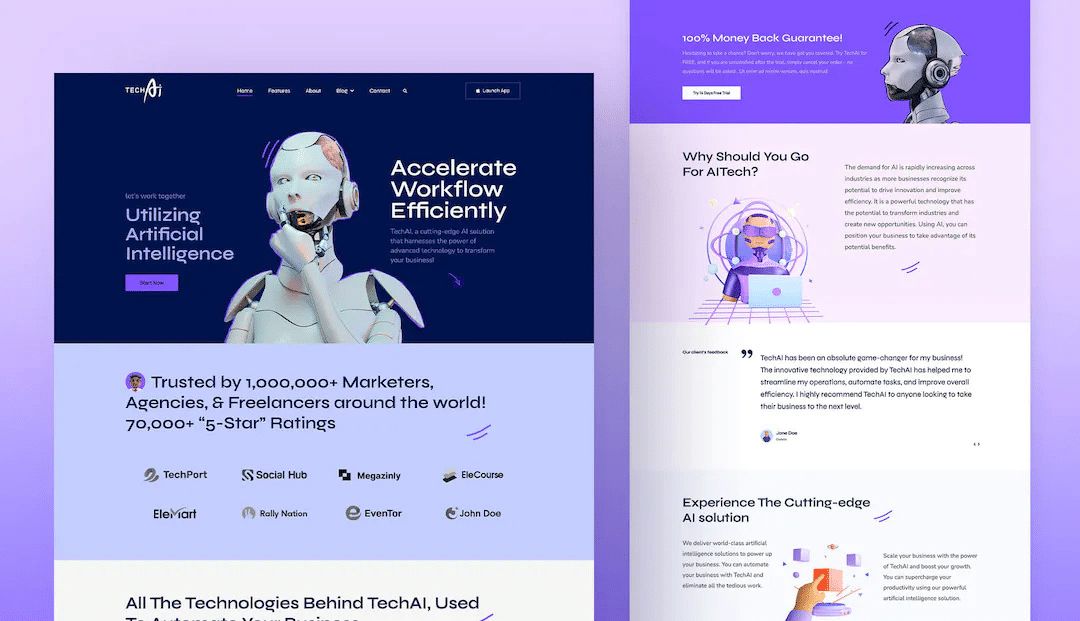 The world of technology is constantly evolving, and for those who want to showcase their AI innovation or sell their AI services, having an impressive online presence is crucial. But creating a website from scratch can be a daunting task, especially if you don't have any coding experience. That's where TechAI comes in – a complete WordPress template pack that enables you to create a technology website without any coding whatsoever.
The TechAI template pack includes 5 fully customizable web pages that are fully responsive and adaptable to all devices and screens. With its customizable design, innovative illustrations, and eye-catching color combinations, TechAI is the perfect way to showcase your AI innovation and sell your AI services to the world.
BizRise: Gutenberg Template Pack For Multipurpose Agency Websites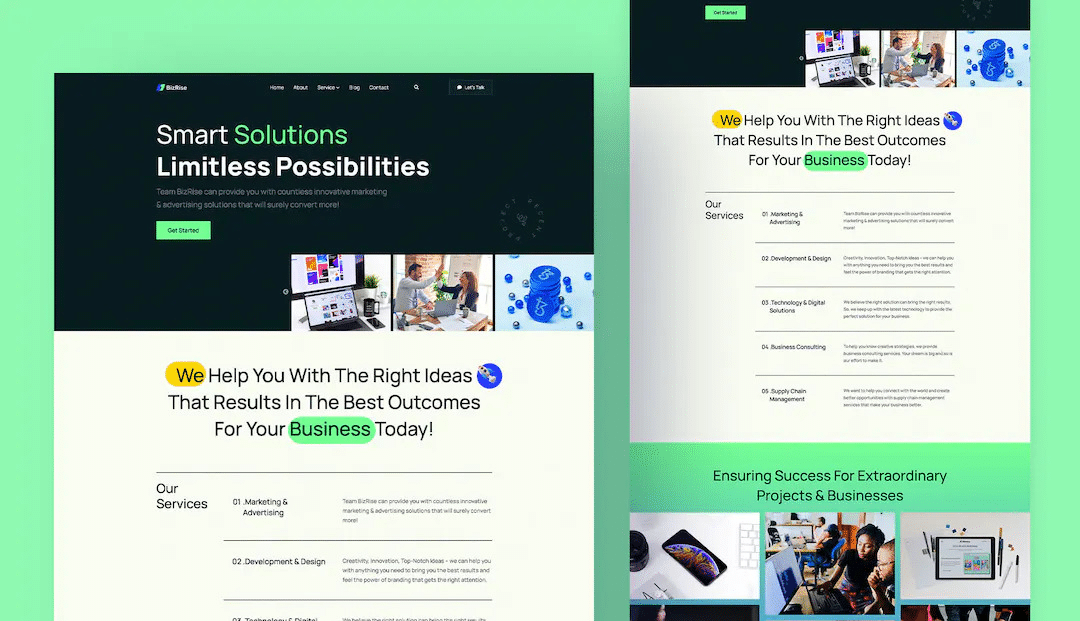 Have you been struggling to create a modern and professional website for your business or agency on WordPress? Look no further than BizRise, the multipurpose Gutenberg template pack from Templately, designed to help you create a stunning website in no time. With its stylish and impressive design, BizRise will give you full customization options & compatibility across all devices.
With six beautiful pages, you'll have everything you need to create a full-fledged website. So, whether you're just starting out or looking to revamp your existing website, BizRise is the perfect choice for any business or agency looking for a sleek and modern online presence. With this template pack, you'll be able to create a website that stands out and drives results.
techCRUSH: Tech Startup Websites Template For Gutenberg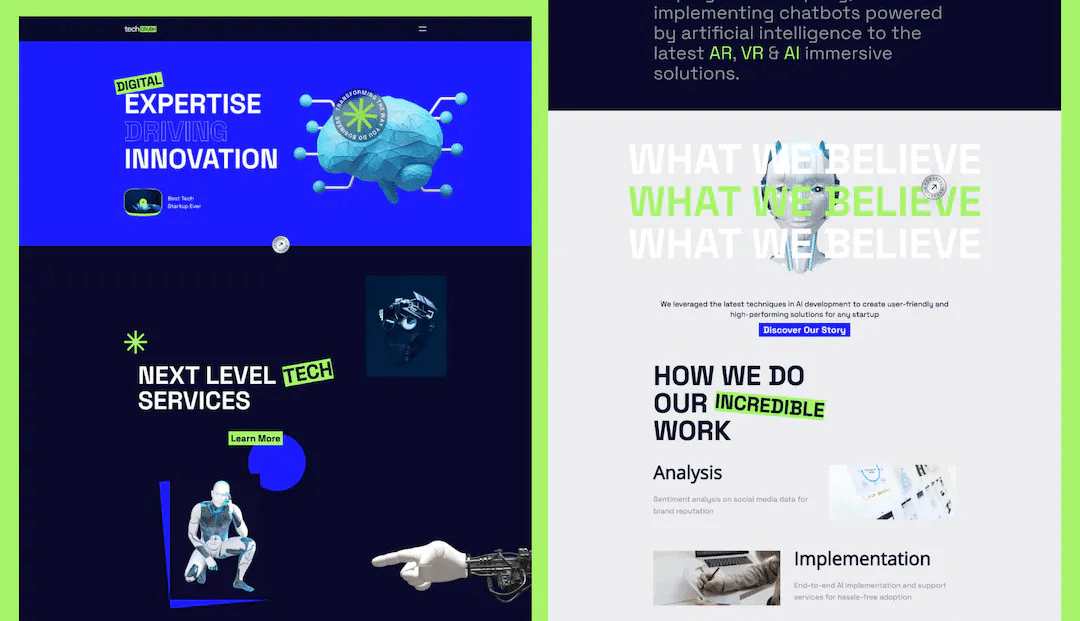 Do you want to kickstart your tech startup and make a great impression on your potential customers? techCRUSH, the complete WordPress template pack for Gutenberg is for you. This sleek and dynamic template pack has been designed and developed to help you create a stunning website for your tech or AI startup with ease and no coding required.
With techCRUSH, you can specialize in crafting websites that focus on machine learning, deep learning, computer vision, and artificial intelligence companies in no time at all. The templates feature innovative designs, mesmerizing illustrations, captivating color combinations, dynamic motion effects, and irresistible call-to-action buttons that are sure to leave your visitors astonished.
The template pack comes with six stunning landing pages. Whether you're eager to flaunt your AI innovations or eager to market your tech services, techCRUSH has got you covered.
FestiveLy: Gutenberg Template Pack For Carnival Websites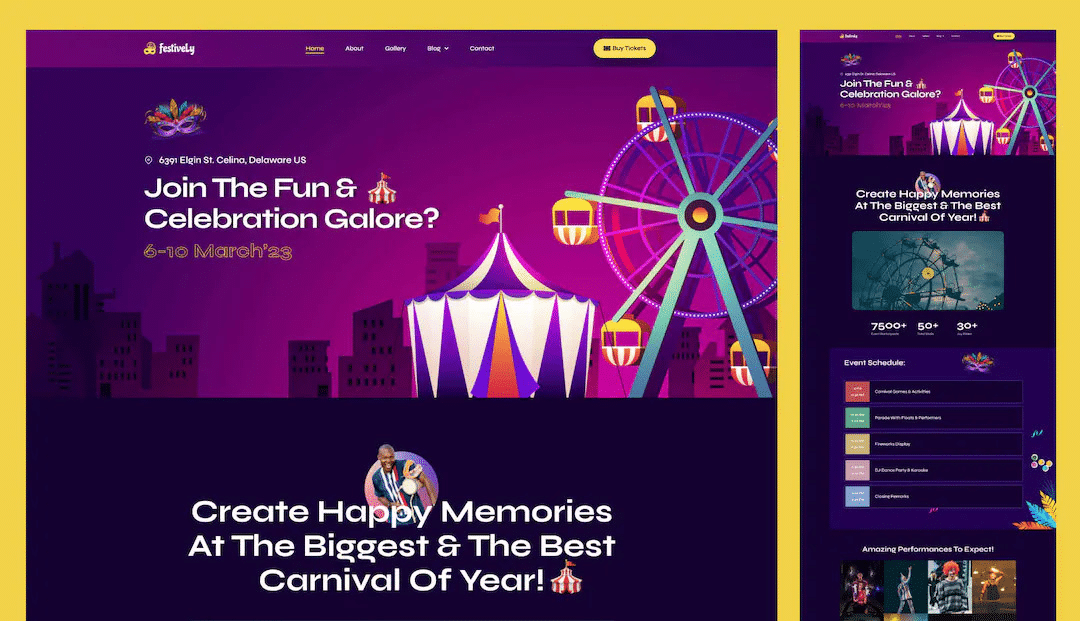 The festive season is fast approaching and you want your website to stand out from the crowd. That's where FestiveLy comes in – a fun and colorful WordPress template pack that is designed to help you create a website that captures the spirit of the season. With its vibrant dark-colored theme, FestiveLy is perfect for carnival websites, parties, fairs, and other festive events.
What's more, this template pack is built with Gutenberg and Essential Blocks, making it fully customizable without having to write any code. You'll have access to 5 ready-to-go pages that are fully responsive to all screen sizes.
So, if you want to make your website as festive as possible this season, FestiveLy is the perfect template pack to help you achieve that. Give your website the extra sparkle it needs to stand out from the rest and attract visitors with ease.
Mochi And Meals: Japanese Restaurant Template For Gutenberg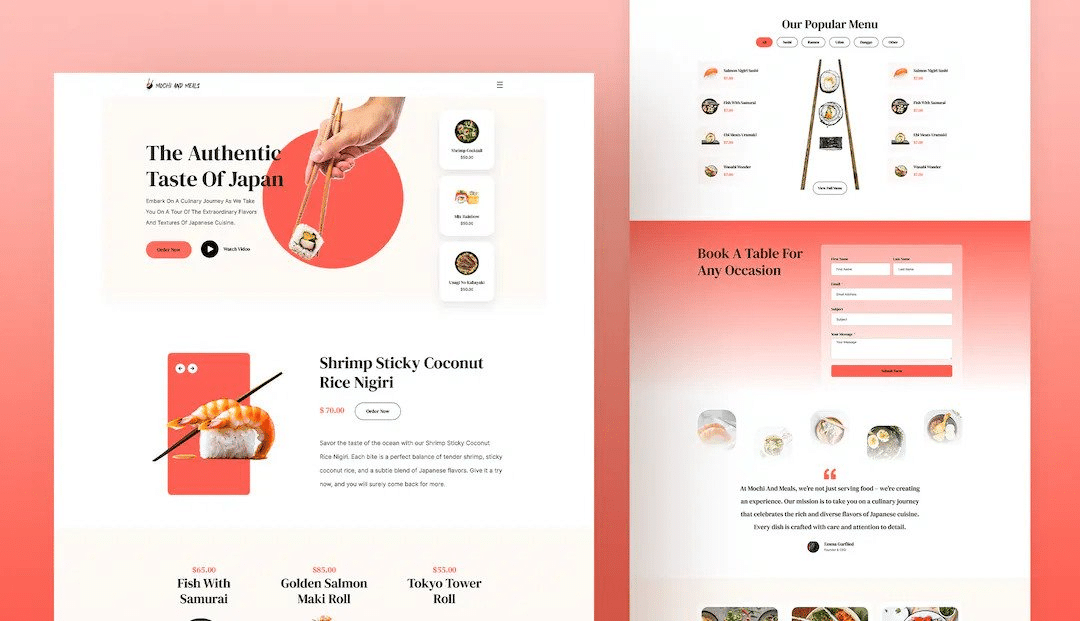 Imagine yourself walking down a busy street in Japan, with the aroma of delicious, mouth-watering food wafting through the air. You come across a beautiful restaurant, with traditional Japanese architecture and charming decor that instantly draws you in. This is the kind of experience that the Mochi And Meals WordPress Gutenberg website template pack aims to recreate for your online visitors.
With its stunning design, backed up by Templately, this template pack is perfect for Japanese restaurants, diners, and similar establishments. The pack includes 6 fully customizable and responsive pages, each crafted to showcase your restaurant's food, culture, and ambiance in the best possible way.
This template pack is designed to offer a seamless and immersive experience for your visitors on any device they use. With Mochi And Meals, you can establish a polished and stunning digital presence for your restaurant, creating an unforgettable experience for every online visitor.
Wattson Sparks: Gutenberg Template For Electrician Websites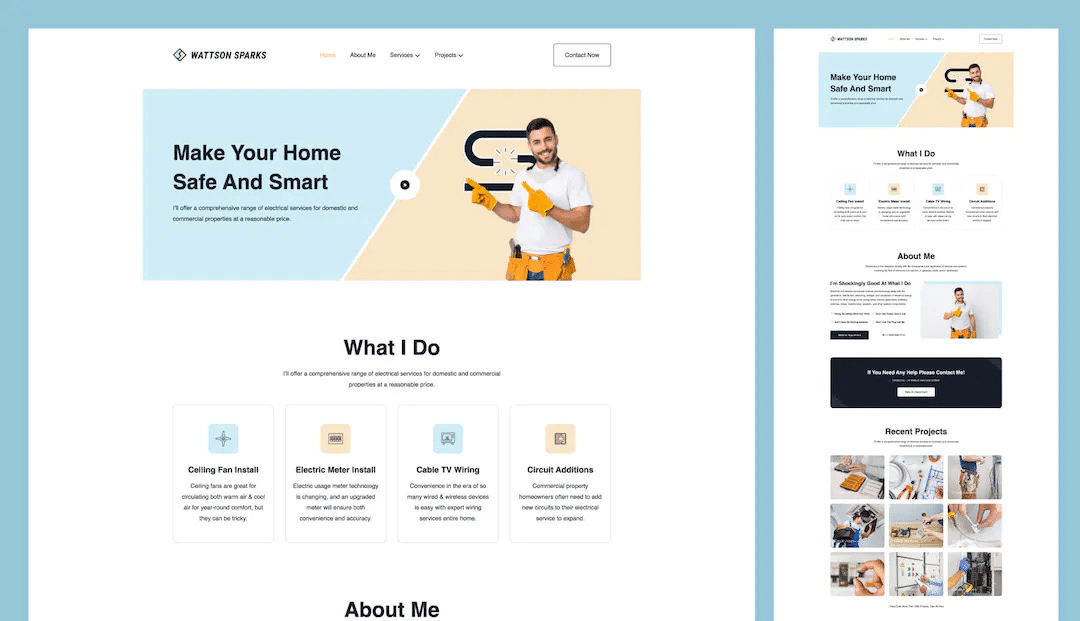 Imagine having an online presence that instantly captivates your target audience and leaves a lasting impression. With Wattson Sparks, that dream is now a reality. Designed with electrician websites, electricity service websites, and electric company websites in mind, this template pack is a game-changer.
Wattson Sparks offers a responsive and dynamic design that looks great on any device. With 7 different ready pages to choose from, your website will be the talk of the town.
Whether you're showcasing your services or highlighting your recent projects, Wattson Sparks has got you covered. So, transform your website into a powerful marketing tool and watch your business grow.
BeautyBuy: Gutenberg Template For Beauty & Cosmetic Store Websites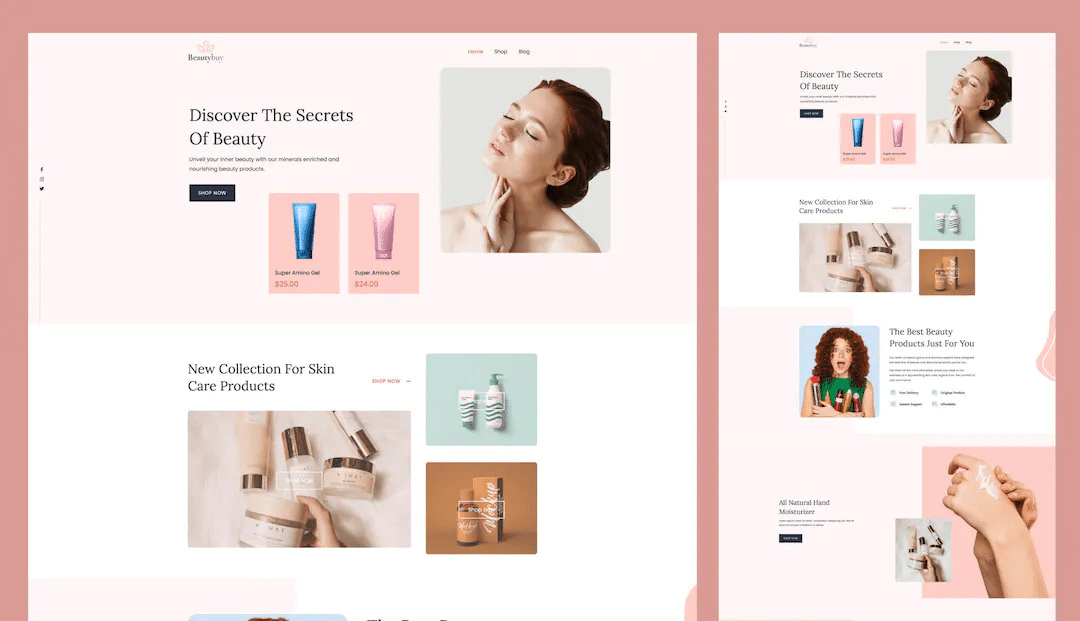 Imagine your dream WooCommerce beauty business – a serene oasis of calming colors, the perfect balance of tranquility and excitement, with a touch of sophistication. That's exactly what the BeautyBuy template pack offers for businesses looking to create a captivating website.
With its soft, soothing color scheme, this WooCommerce template pack is specifically designed to cater to beauty parlors, salons, and stores, as well as cosmetics and hair care products. It's the perfect combination of stunning visuals and practical features that ensure a great user experience.
BeautyBuy is built on the powerful Gutenberg block editor, along with the Essential Blocks plugin, offering a seamless website-building experience. The three customizable pages included in the pack offer a variety of options for businesses to showcase their services and products.
But that's not all – BeautyBuy also promises a fully responsive website that adapts to any device, ensuring that customers have an equally immersive experience whether they're browsing on a laptop, tablet, or smartphone.
Join & Get Access To Best Gutenberg Templates Now
We are excited to share that in 2023, our ultimate templates library achieved a major milestone with 200K active users who are creating amazing websites using our unique templates.
If you haven't already, sign up for Templately today to gain access to our vast collection of Gutenberg templates, with more releases coming soon. Stay updated on our monthly releases by subscribing to our blog.
We value your feedback and suggestions, so feel free to share them with us in the comments below. Don't forget to subscribe to our blog or join our Facebook community for new templates, updates, and tutorials.