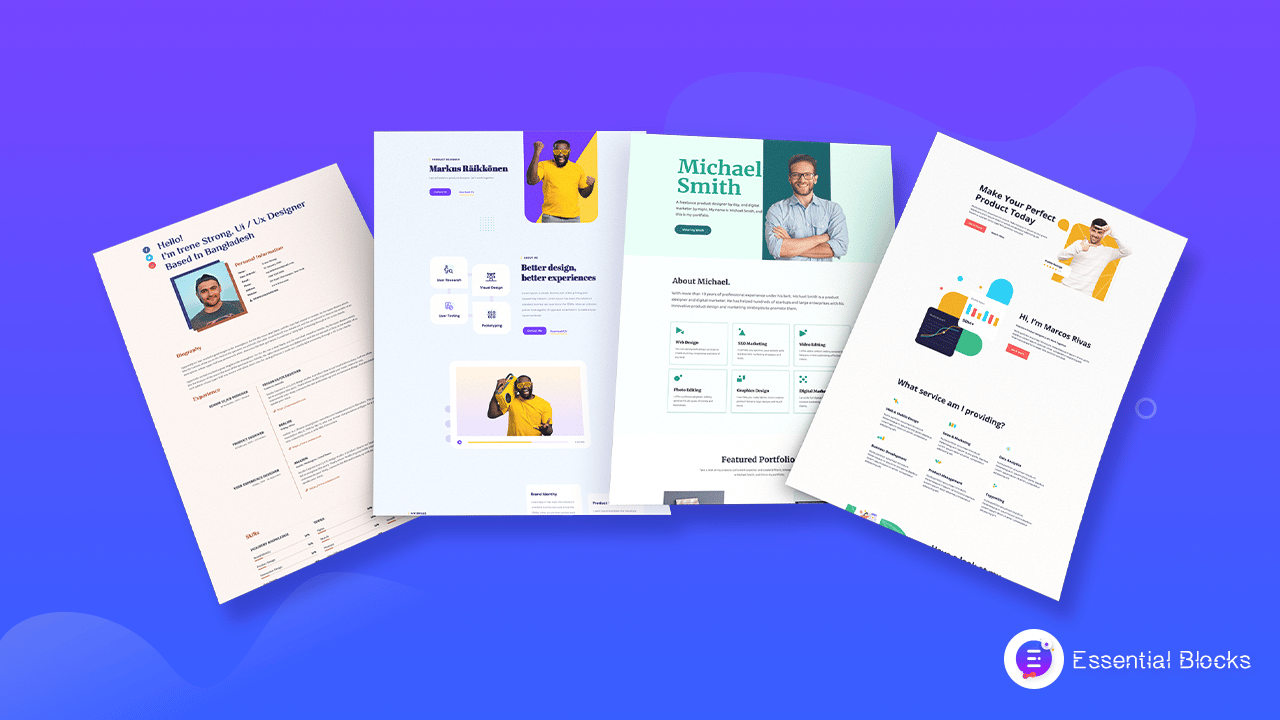 How To Create Personal Portfolio Website With Gutenberg Templates [Get FREE Access]
If you are looking to create your portfolio website with Gutenberg, then this blog is only for you. A portfolio website is essential to display your creative works, experiences, and all details beautifully to attract clients or employers. In the latest trend, digital evidence of your own work creates great value among your target audience. Freelance or personal portfolio websites help you build your own brand value beautifully.
Many people struggle when it comes to designing their own portfolio website in Gutenberg. As Gutenberg is all about adding and managing blocks, you have to be very tactical. Don't worry; here in this blog, you are going to get the best possible ready portfolio website templates to create personal portfolio websites without coding and for free. Excited? Take a deep dive into this blog to know all the details!  
Why Should You Create A Personal Portfolio Website?
If you are already in the pace or you are planning to create your personal portfolio website with Gutenberg templates, let's first know the major benefits you can enjoy having a portfolio website and what not. Get all details below:
Help You Build Strong Brand Value
Creating your portfolio website can help your presence in the digital world. People can find you through their searches and check out all your creative works in one place. This makes your professional ability more credible among your target audiences. A portfolio builds one brand value and identity with proof.
Drag Customers' Attention With Ease
The way you represent your creative works, skills, your present customer's opinion, and all can help you draw potential customers or employers' attention with ease. You don't have to do any extra affront after designing an informative, detailed, and interactive portfolio website.
Top Rank On Search Engines & Boost Traffic
Last but not least, you should focus on your website content, link, design, and overall promotion to make your portfolio website rank top on search engines. This will help you make your portfolio on your target audience's fingertip and level up your traffic effortlessly.
Best Ways To Create Your Personal Portfolio Website In Gutenberg
As you know why you should focus on creating a personal portfolio website, now check out all the best ways to build your portfolio website in Gutenberg. Check out all details below:
Design A Stunning Landing Page
A stunning portfolio website is all about making your landing page impressive no matter what. You should develop interactive taglines, engaging visuals, text content, and graphics to make a standout landing page. This will help you increase your website engagement and conversion right away.  
Showcase Your Expertise Beautifully
Another important part is you have to display your expertise beautifully and in detail on your personal portfolio website. It should be highlighted on the landing page, and a separate page can be managed to showcase all your unique works to grab your customer's attention. 
SEO-Friendly & Responsive Design
You can quickly get ready, SEO-friendly, and responsive templates to make your personal portfolio website available to your target audience finger-tip on different search engines like Google, Bing, etc. This can only happen with fast speed, lightweight, keyword-rich content, including high volume internal-external links with others to create a search engine-friendly website right away.
How To Create A Personal Portfolio Website With Gutenberg Templates
Now that you have known about the importance of creating a portfolio website, the best ways, and all. Let's now figure out how to create a personal portfolio website with Gutenberg templates and without coding.
Best Portfolio Website Templates Pack For Gutenberg
To make your WordPress website creation smooth, Templately  – the best templates cloud for WordPress has come with 2000+ ready templates collection for Gutenberg and Elementor users. Not only a portfolio, but you can also get a variety of templates to design any type of website. And to create a portfolio website, there are several portfolio templates are highlighted below:      
Technophile – Tech Freelancer Portfolio Template For Gutenberg
Technophile is a responsive, SEO-friendly, lightweight website templates pack for WordPress. This portfolio template pack with Gutenberg is specially built for freelancers in the IT sector or tech business. Expect this; you can create portfolios for IT freelancers, web developers, product designers, UI/UX designers, and others. It comes with five ready pages and offers a complete customization option.  
EleFolio – Portfolio Website Template
EleFolio is considered one of the stunning portfolio website designs. That offers versatility and eye-catching portfolio templates to highlight your product designs, app developments, web designs, music, photography, and more. It comes with six attractive ready landing pages and offers complete customization options.
Michael – Gutenberg Minimalist Portfolio Template
Michael is another unique portfolio website template with the latest minimalist landing page design. You can easily customize and style it in advance. It helps you create freelance portfolio websites for product design, app development, marketing, or other types. 
CV Yoda – Modern Resume Template For Gutenberg
CV Yoda lets you design a modern, appealing and responsive CV website template with Gutenberg. It helps you create a stunning resume landing page to showcase your portfolio in Gutenberg without coding. This is a fast-loading CV or portfolio website template to impressively showcase your skills, experience, and all information. 
Learn More: Top 10 Best WordPress Portfolio Themes To Start Your Personal Website In 2022 [FREE]
If you want to create a portfolio website with Templately-ready templates, you need to install and activate some necessary plugins on your site. So here are the plugins that you need for your CV or portfolio website.
👉 Templately
Templately is the ultimate template cloud with 200,000+ active users. For this tutorial, we've picked Technophile, a stunning ready portfolio website templates pack to design an attractive personal portfolio website without coding.
👉Essential Blocks For Gutenberg
Essential Blocks for Gutenberg is a powerful WordPress plugin that comes up with 30+ ready functional blocks to create and design a stunning website in Gutenberg.
Once you install and activate all the plugins, you are all set to start designing your personal portfolio website.
How To Create a Stunning personal portfolio Website Using Ready Gutenberg Templates
After you have installed and activated the plugins mentioned above, it's time to start working on creating and designing the website now. To make the website, follow the step-by-step guide below.
Step 1: Create A New Page On Your WordPress Website
To design a personal portfolio website, you must first create a new page from your WordPress dashboard. Log in to your WordPress dashboard and navigate to the Pages → Add New. You will find yourself in the default Gutenberg editing panel of WordPress. 
Step 2: Insert A Template For Your Portfolio Website
You will find the 'Templately' blue icon on the page. Click on it to get access to the Templately template library.
In the tutorial, we have chosen 'Technophile' to create your portfolio website. From the search bar, search "Technophile" and you will find a stunning ready personal portfolio template pack for your website. Insert it into your page by clicking on the 'Insert' icon. 
Step 3: Customize The Template To Design Your Website
Click on the home page template, you want to customize, and the editing panel will be opened instantly. Now make all the necessary changes and give your website the desired look.
Step 4: Store Your Customized Designs In Templately MyCloud
Templately has an amazing feature for storing your customized templates in Templately cloud storage "My Cloud". You can store the template there for further use. A handy feature that allows you to store templates in a cloud storage place that no other Template Libraries offer. 
If you want to use your customized page for other purposes, you can save those easily. Right-click on the section you want to save and then click on the 'Save Page To Templately'.
On top of that, if you want to share your saved items with others, then you can use Templately's other exclusive and super helpful feature 'WorkSpace'. This unique and compelling feature lets you directly collaborate with others and save a lot of time.
Congratulations, Your Personal Website Is Ready To Launch!
After making all the changes, your CV or portfolio website is ready to launch. Just click on the 'Publish' button and check out all the changes you have made in your Gutenberg Editor.
So now make your website building plan by Signing up to Templately and getting access to Templately's stunning ready template collections. Let us know your experience by commenting below. Other than this, if you face any problem or need instant help, you can feel free to contact our support team anytime you want or join our friendly Facebook Community.