How To Add Social Icons On Your WordPress Website & Boost Engagement?
Adding social icons on the WordPress site will assist your business in reaching out to a wide range of audiences, increasing brand recognition, engaging potential and existing consumers, and generating new leads using social networking sites like Facebook, Twitter, and Instagram, among others. Today in this blog we will talk about how to easily add social icons to your website.
3 Ways Social Icons Can Improve Your Site Engagement
In modern times social media platforms became the aggressor in increasing profit margins for any business. As most of them are free, it is very easy and beneficial for anyone to take full use of these platforms. Let's see some cases where adding various social media icons to your website can be a driving force for your business.
Communicate With Your Target Audience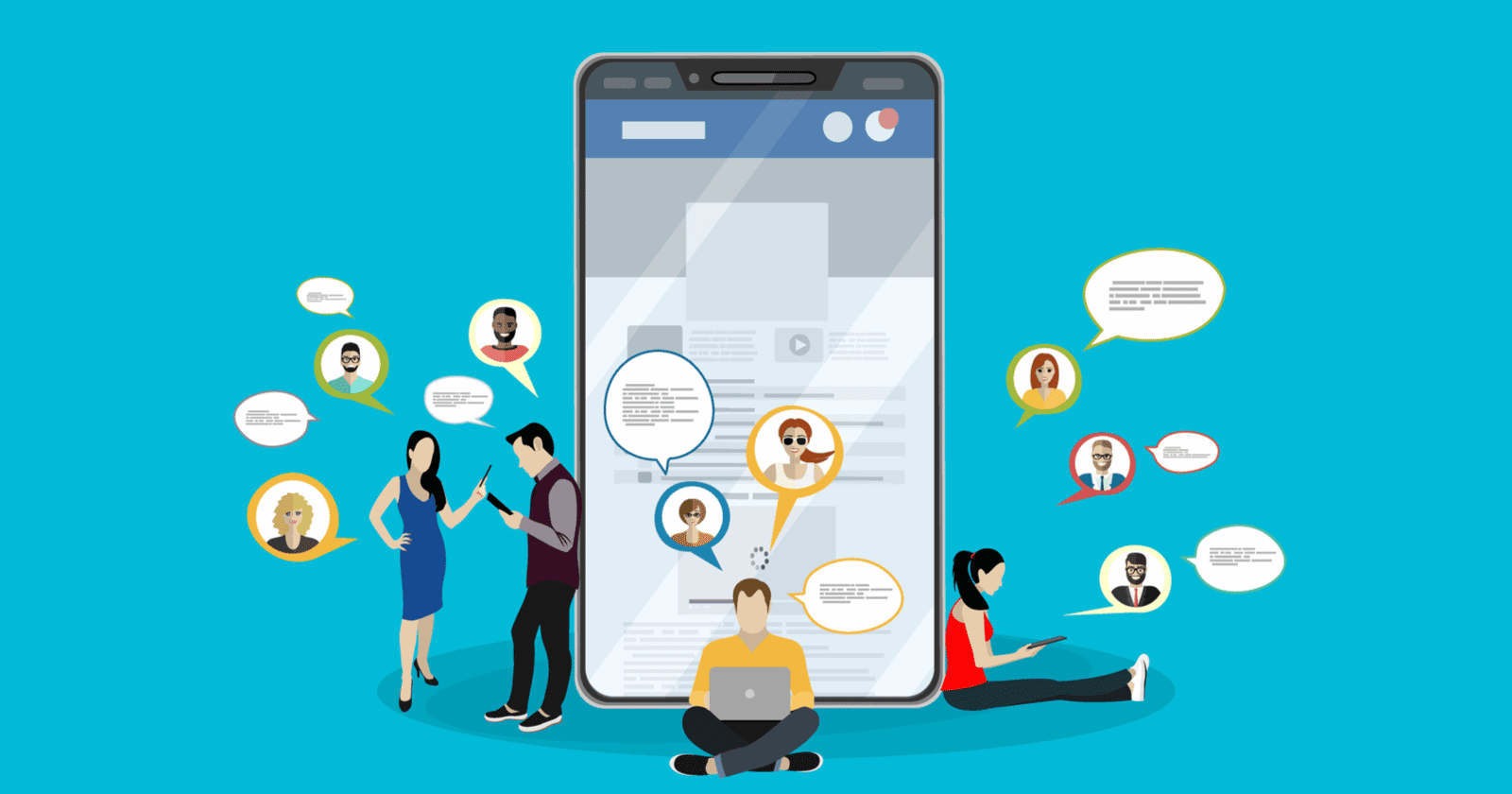 Social media is one of the few digital marketing channels that allow you to communicate immediately with your potential customers. You know who is intrigued by your company and have the opportunities to study more about them.
Learning about your customers is one of the social media benefits your company will reap if you engage in this strategy. Monitoring your WordPress site with social media icons is a fantastic method to check how your audience sees your brand. Whether it's favorable or negative criticism, you'll discover what your audience loves, dislikes, or wants to see develop with your business, which may help you increase the impact of social media.
Accelerate Brand Recognition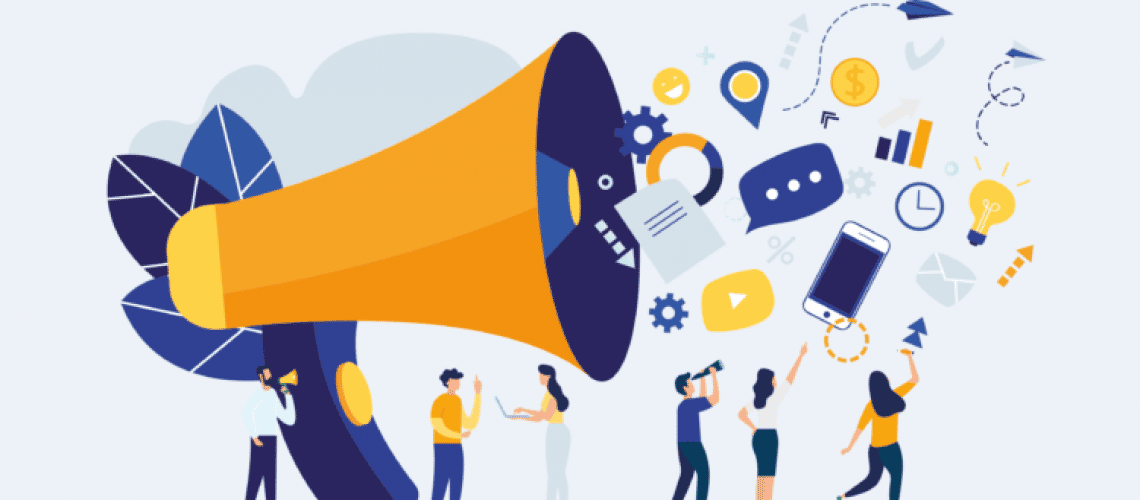 Brand awareness is essential to business success, and it is one of the most important ways social media can help you. You want consumers to become acquainted with your business so that they will pick it up when the time comes to convert. People are more inclined to choose brands they are familiar with, thus you want them to get associated with your company through social media icons.
To create a good campaign using social media icons on your website, you have to update content on a frequent basis. When you regularly upload content, you expose your audience to your brand. You assist them in learning more about your organization and pique their interest in it.
Build A Community & Customer Loyalty
The sorts of information contained on business websites are quite typical. People may learn about the firm, its leadership, the products or services it offers, and how to contact it. That's all important information, but it's not really interesting or engaging. but social media frequently presents a very different story.
Facebook takes on the persona of your organization, allowing visitors to learn more about the individuals that make it up. Twitter may serve as a banner ad, keeping followers up to date on your company's activities. LinkedIn is where professional contacts are created, while Pinterest brings your company's narrative to life through images and videos.
When you add your respective social icons to your site you will establish a solid connection with your users as well as your SEO score for your site.
How To Add Social Icons In Gutenberg In Less Than 2 Minutes?
Essential Blocks For Gutenberg is an advanced plugin that works as a block library for Gutenberg editors. It is completely free of use and has various responsive blocks. From the editing panel, you can easily work on the available widgets by just clicking on the blocks. Social Icons Block is an advanced block for Gutenberg where you can easily add various social icons to your site without any hassle. Let's delve deeper into the process
Step 1: Install Essential Blocks For Gutenberg
First, you need to install and activate Essential Blocks for Gutenberg on your WordPress website. To do this, simply navigate to Plugins–> Add New from your WordPress dashboard and search for 'Essential Blocks'. Next, hit the 'Install Now' button and then click 'Activate' as shown below.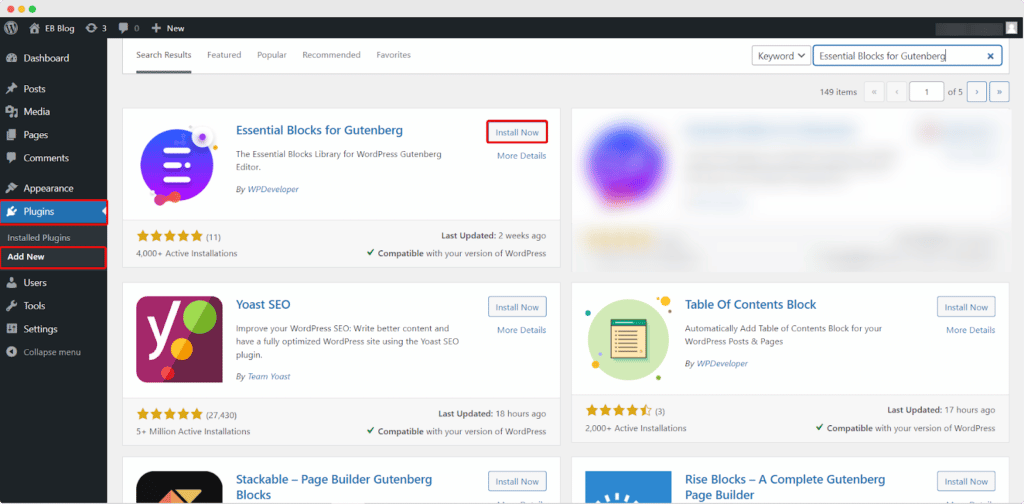 Step 2: Add & Customize Your Social Icons
If you have followed the previous steps then you will find yourself in the main Gutenberg editing panel. On the left upper corner press the "+" button, after that search for Social Icons in the search box. Just click on the block into your main page.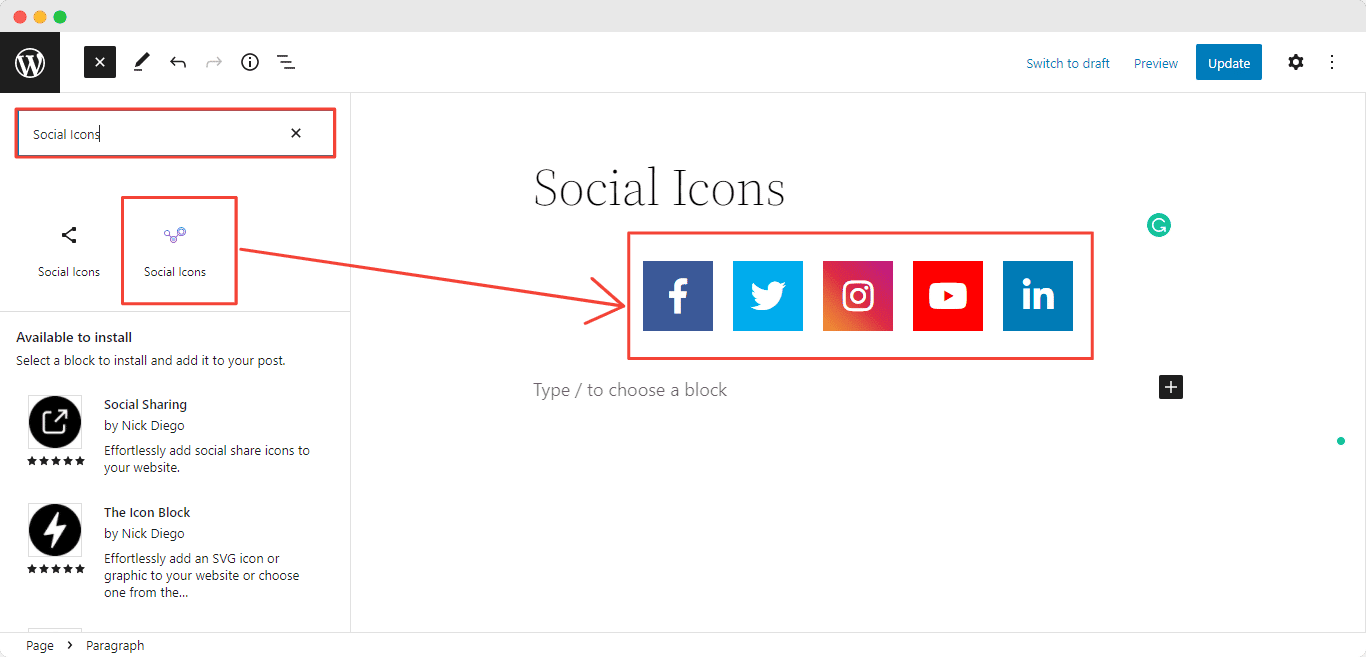 As you can see from the picture you can add five social media icons with the help of Social Icons Block. You can apply various customizations and color tweakings to the block. Under the General tab, you can paste your social media links to showcase, and for all the outer look customizations you can tweak necessary changes under the Style tab.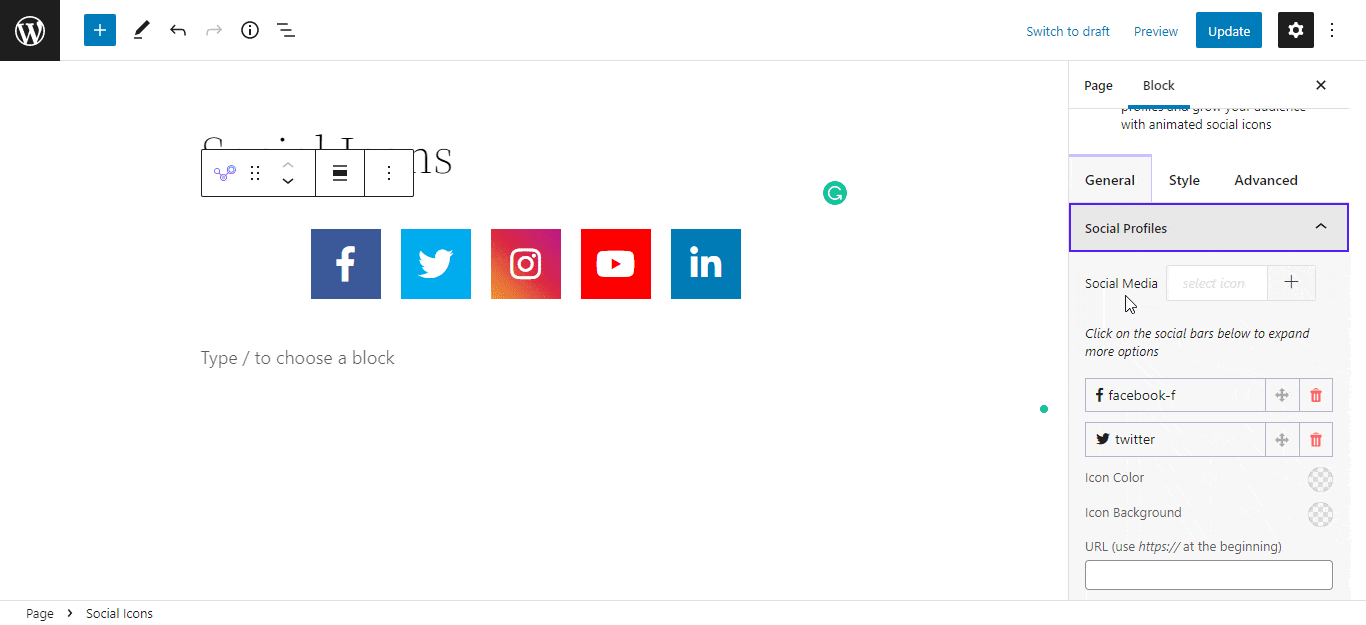 Step 3: Publish Your Page On WordPress
After you have done your preferred customization you can publish your page from the Gutenberg editing page. On the upper right of your page, press the Update button and your page will be published. Your front end will look like the following picture but keep in mind that all the editing and modifying is solely based on your preferences.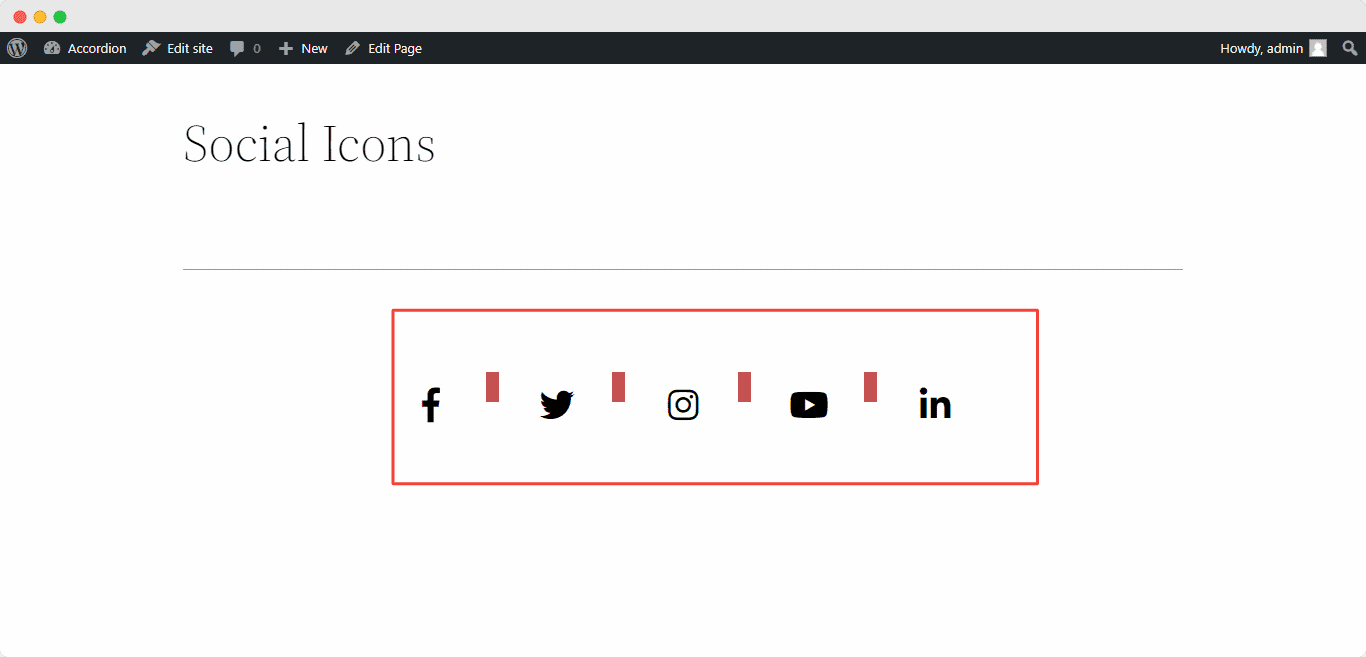 Effortlessly Grow Your Social Media Following Today
As we have come to the conclusive part of our review, you have got an idea about how important it is to add your social media icons to your WordPress site. It is a very simple process yet its impact will be rock solid for your business.
Regardless of the product you are selling or the business you are running, if you can't reach your potential through social networking sites it will be tough for your brand to flourish. With the help of Essential Blocks For Gutenberg, you can add and customize stunning Social Icons Block on your website without spending any real-world money.
If you have liked the article then subscribe to our blog for more content and join our evergreen Facebook Community to stay updated with more exciting content.