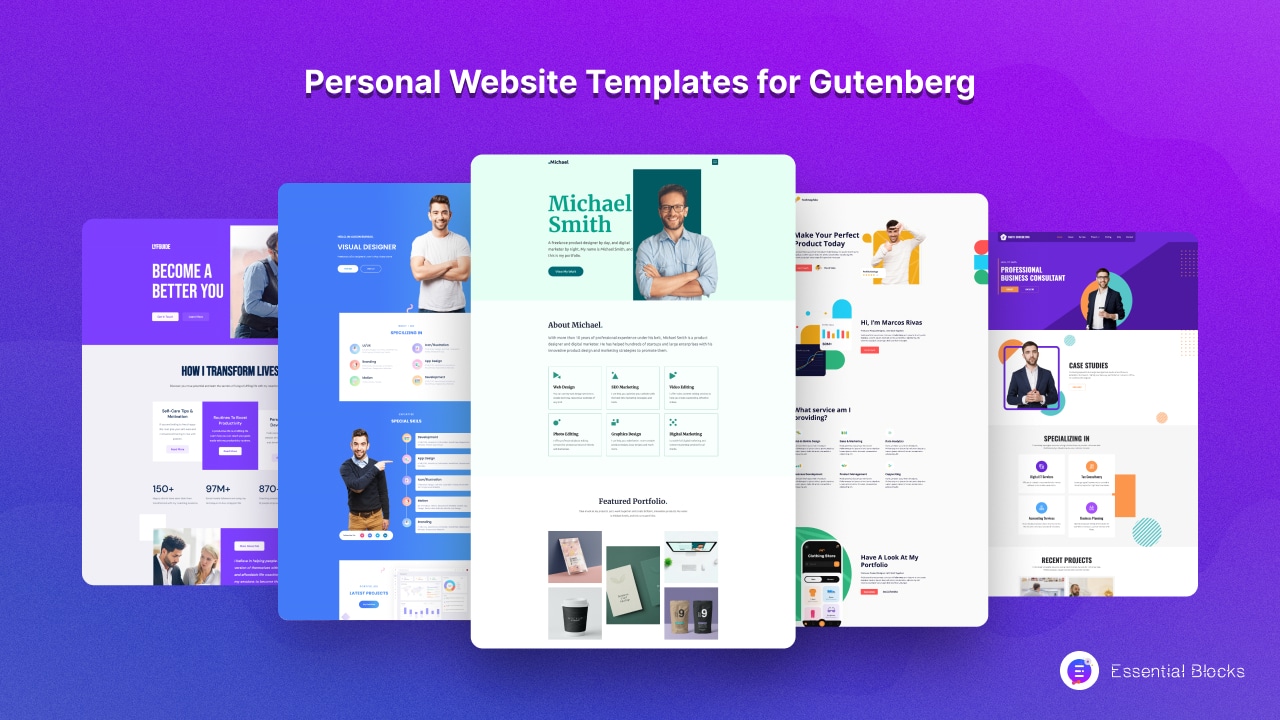 [FREE] Top 5 Ready Personal Website Templates For Gutenberg
Creating a personal website can help you in a number of ways, especially when you want to share lifestyle blogs, travel stories, etc with the whole world. Do you want to create a stunning personal website in Gutenberg? Here are the top 5 ready personal website templates for you to create a complete website in Gutenberg without any code.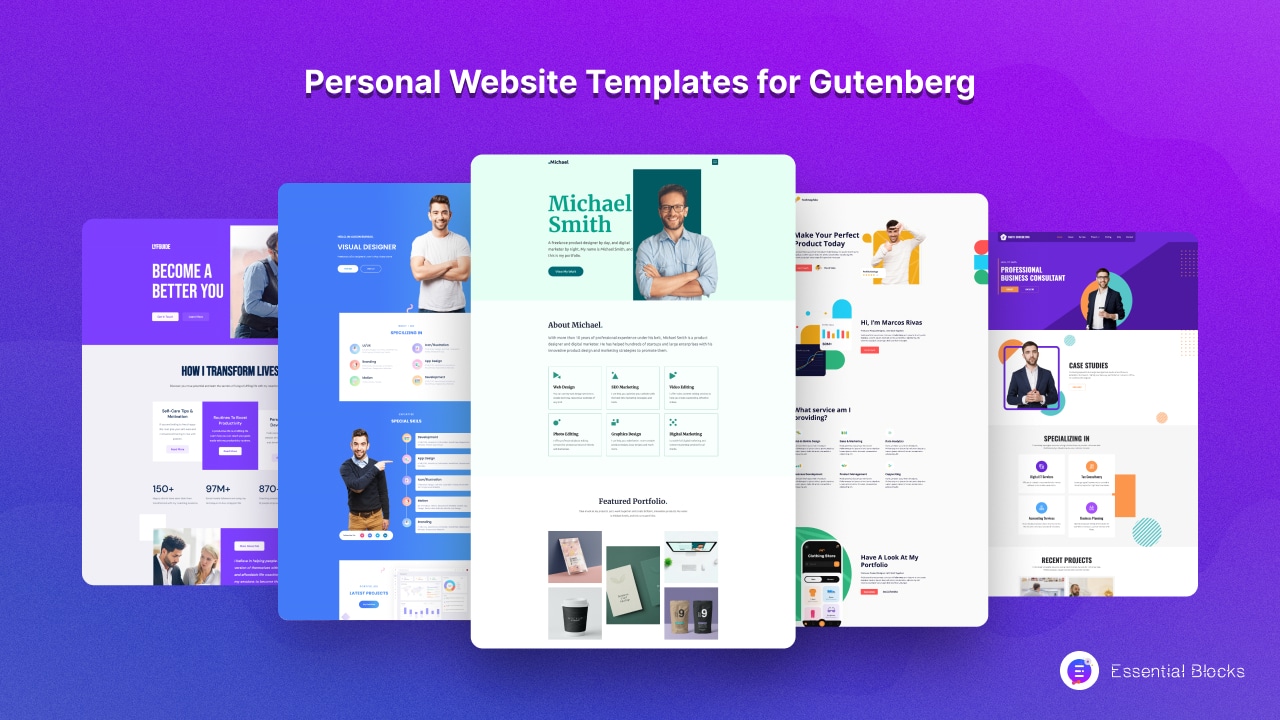 5 Reasons Why You Need To Use Ready Website Templates
Before getting into the list of personal website templates, let's first know how ready templates can change your experience in creating websites. There are many benefits of using readymade templates to create your own website.
Saves A Huge Amount Of Time
Instead of making a website from scratch, you are getting everything ready with templates. No need to spend extra time in the development phase, you only need a small amount of time to select the perfect website template for you and made the necessary customizations. So, going with the website template would save both your time and energy.
Reduces Cost Significantly
Using ready website templates can minimize the cost of creating websites from scratch. Despite the fact that premade templates make web building easier for you, they are not much expensive. You can even find free website templates in the market. Indeed professional-looking website templates are not free, you have to buy them but as explained they won't need you to spend much on them.
Provides Access To Regular Support
While working with website templates, you might face problems. But don't worry, you will find immediate help from your template provider. This could be in any form. Some company provides tutorials and documentation, some prefer helping their clients over live chat, and so on.
Gives In-built SEO Features
Many people don't have enough knowledge to make their site SEO-friendly. But good for them, nowadays they can find many website templates with built-in SEO features. Using these types of website templates will increase the possibility of getting better engagement for your site.
Provides A Wide Range Of Choices
One fascinating thing is you can choose your preferred website template from countless options. You will have options of all colors and styles for you to choose from. You can find almost all types of website templates, and that too with various designs and color schemes. It doesn't matter whether you are searching for a personal website template or a website template for your business. You will find them all.
Templates will let you build a complete personal website within seconds! But the key is you will have to find the right website template for that. But where to get them? Let's dive deeper into the blog to find the top 5 personal website templates to create an engaging personal website.
Top 5 Ready Personal Website Templates for Gutenberg
There are many solutions or plugins where you will find ready templates for your personal website. Among them, Templately is one of the most popular ones with 3500+ ready and stunning templates. In Templately, you will find many beautifully designed templates to create amazing personal websites as well. And to make it easier for you to find the right template for your personal website, we are here with a list of the top 5 popular personal website templates from Templately.
1. Smith Consulting – Gutenberg Business Consultancy Template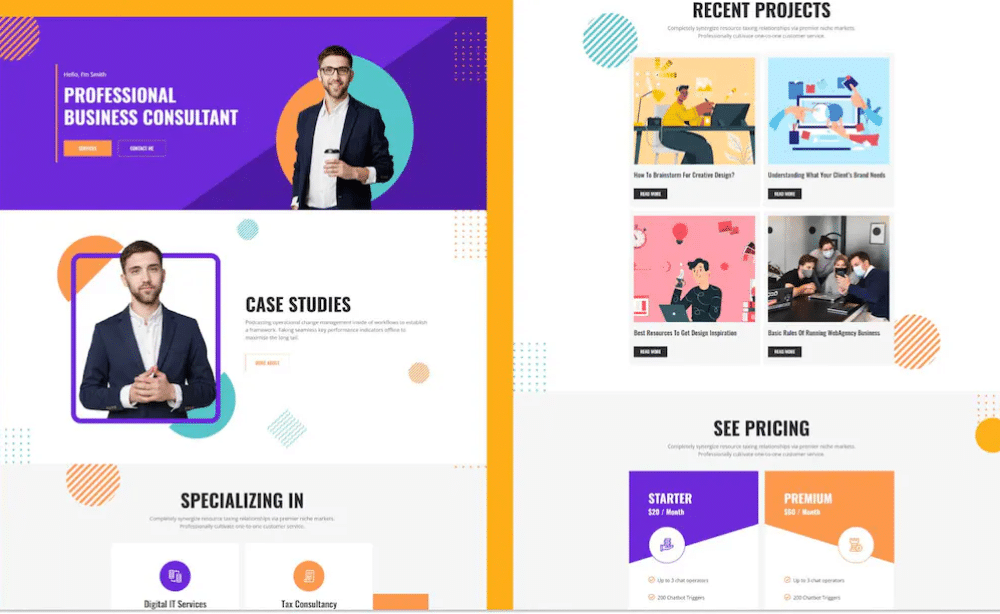 Smith Consulting is a modern, trendy, and fully customizable template pack for Gutenberg and Essential Blocks. This template pack is specially crafted for creating any personal website for business consultants, business mentors, business advisors, business agencies, financial consultants, or anyone in this specific business field.
Smith Consulting is a personal website template pack, especially for business consultants, business mentors, business advisors, business agencies, financial consultants, or anyone in this specific business field. It is modern, trendy, and fully customizable.
You can make necessary changes in this super amazing website template in any way you want without any coding. For better results, you can use Essential Blocks which is an amazing Gutenberg plugin for website design. You can create any kind of portfolio website or freelance website easily with the Smith Consultant template pack as it offers 8 attractive ready-to-use pages for you.
Key Features:
Engaging Call To Action buttons: Influence visitors and frequent users to various actions with impressive Call To Action buttons.
Fascinating Testimonials Slider: Displaying testimonials helps you to gain credibility. This personal website template offers to display client testimonials with an engaging Testimonials widget.
Compatible with Gutenberg: This personal website template is fully compatible with Gutenberg, the WordPress Block Editor. Open your template with Gutenberg and edit it to your heart's content.
Fully Responsive: All the pages and design components are responsive across all devices. Responsiveness is one of the basic requirements for a good website design for the best user experience and reaches more traffic.
Cross-Browser Compatibility: Create a fast-loading website on all browsers like Chrome, Firefox, Opera, and more.
2. Technophile – Tech Freelancer Portfolio Template For Gutenberg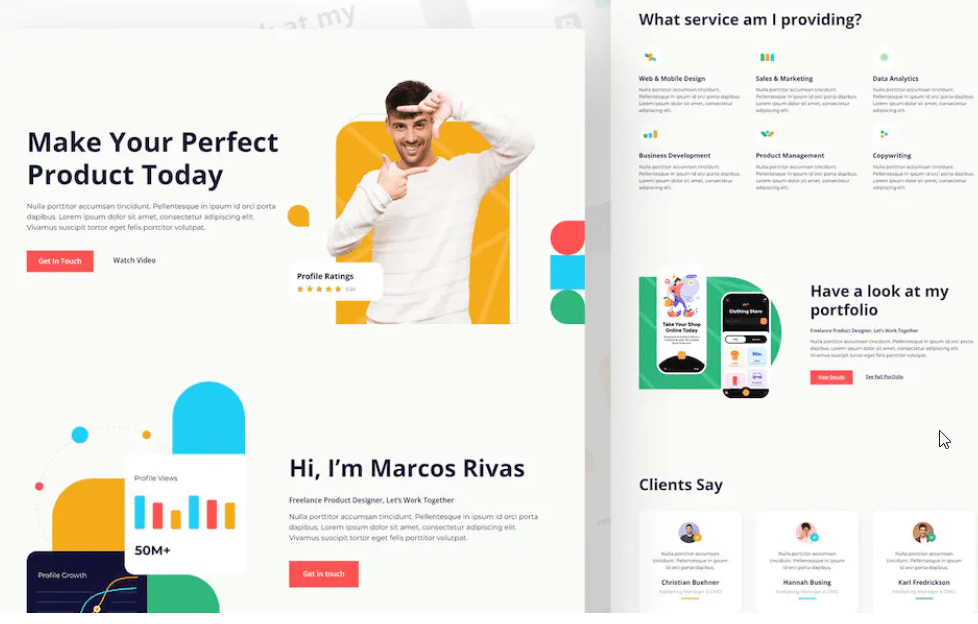 Technophile is an elegant and modern Gutenberg personal website template pack for WordPress. It is specially crafted for freelancers' portfolios working in the IT sectors or tech business. But of course, IT freelancers, web developers, product designers, UI/UX designers, and others in similar fields can also use this website template to create stunning portfolios for them.
You can customize it however you want to create your portfolio from the ground up without any coding. It will let you create a fast-loading website to enjoy a smooth and sleek user experience with the possibility of having better website traffic.
Technophile, the personal website template pack offers five stunning ready-page templates for you to have an amazing IT or Web Developer website. Besides this, exquisite Call To Action buttons, animated Carousel widgets, a gorgeous pricing table, engaging testimonial widgets, etc., are also included in this template pack.
Key Features:
Responsive Template Pack: All the pages offered by this template pack are fully responsive on all types of devices.
Engaging Call To Action Button: Use Stunning Call To Action Buttons to immediately grab your visitor's attention and influence them.
Full Compatibility With Gutenberg: Enjoy your full Gutenberg capability with this amazing personal website template. Customize it however your want with infinite flexibility.
Cross-Browser Compatibility: Websites built with this template render perfectly well and fast on popular web browsers and increase website reach.
3. Michael – Gutenberg Minimalist Portfolio Template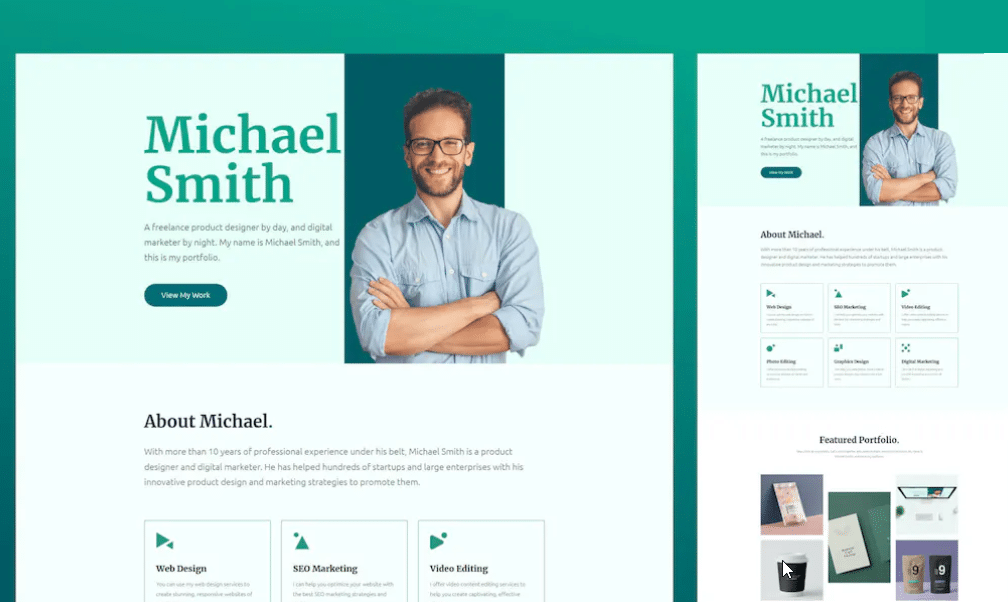 Michael is one of the most popular WordPress personal website template packs of Templately, especially for portfolios. This Gutenberg website template is fully responsive, and the design of the template pack is kept basic, beautiful, and minimalist. If you want a fully customizable freelance portfolio website for product design, app development, marketing, or any other type of freelancing service then this personal website template can be the perfect call for you. It also offers a beautiful gallery, a dynamic Testimonial carousel widget, appealing Call To Action buttons, and much more.
Key Features:
Gorgeous Ready Page Template: Offers stunningly good-looking website pages to take your visitor's breath away.
Stunning Call To Action Buttons: Use fascinating Call To Action buttons to charm site visitors to take action.
Compatible With Gutenberg Editor: Customize any part of the template with WordPress Gutenberg editor.
Fully Responsive Design Template: All the designs of this personal website template pack are 100% responsive irrespective of any device to provide a better user experience.
4. CVTemple – CV Resume Portfolio Gutenberg Template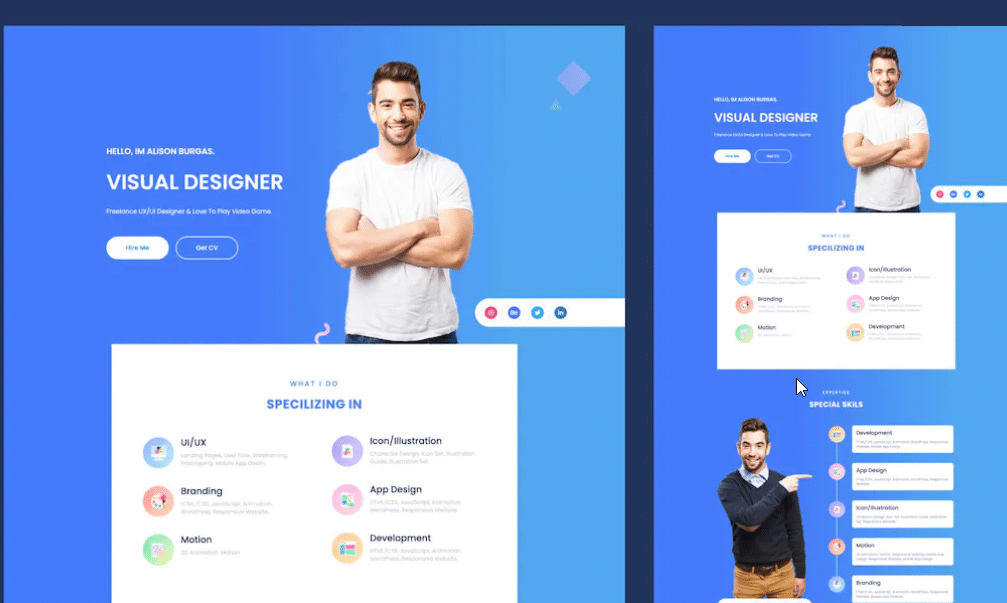 CVTemple is a Gutenberg personal website template designed focusing on CV, portfolio, or online resume. It's a sleek, smart, clean, and fully responsive template pack. It's a clever choice for freelancers, designers, technologists, developers, programmers, consultants, photographers, faculties, and other professionals to create their portfolios.
You can flaunt your skill sets gracefully and make your professional portfolio dazzling with this dynamic and stylish website template. This includes 4 beautifully designed landing page templates – a home page, about page, portfolio page, and contact page for you to give your website a complete look. Besides, it has amazing call-to-action buttons with interactive motion effects to instantly grab your visitor's attention and keep them engaged on your site.
4 Smart Landing Pages: Grab your visitor's attention with engaging, professional, and amazingly designed templates.
Stunning Call To Action Buttons: Provide prominent CTA buttons for your visitors and keep them engaged.
Delicate Motion Effects: Improve your site's user experience with incredible motion effects.
Fully Gutenberg Compatible: Customize and reorganize your site easily and efficiently anytime with the Gutenberg block editor.
Fully Responsive: Deliver the ultimate user experience with all-around screens and device compatibility for your sites.
5. LyfGuide – Life Coach Personal Template For Gutenberg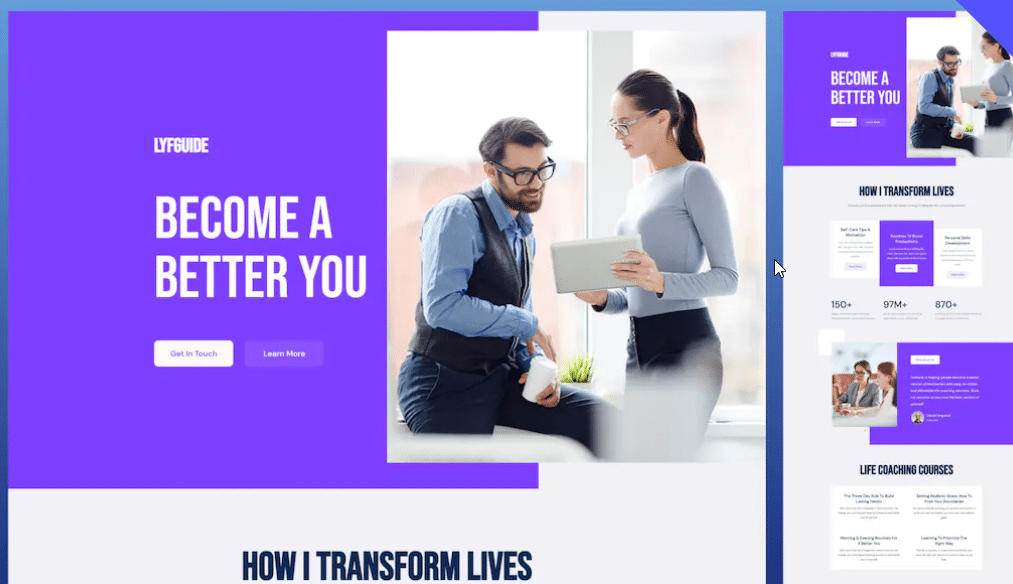 LyfGuide is a website template featuring striking colors and vibrant designs to grasp the visitor's attention. It's a beautifully designed personal website template pack to create stunning personal websites or portfolios for life coaches, personal coaches, counselors, consultants, or anyone in similar professions.
It is also suitable for therapists, trainers, psychologists, advisors, and freelancers for their portfolios. You can create an engaging website with this template pack to match your brand.
Key Features:
Beautiful Ready Template: Build an attractive website with this stunningly designed ready personal website template pack.
Interactive Call To Action Buttons: Seize your users' attention with eye-catching Call To Action Buttons and boost your site's engagement.
Abundant Customization Opportunities: Customize and play with your template however you want to create a stunning website.
100% Responsive Across All Devices: Immediately adapt to device screen size and orientation for the best user experience.
Multiple Browser Compatibility: Design a website with quick response time on multiple web browsers like Chrome, Firefox, and Opera.
Enhance Your Gutenberg Website Templates With Essential Blocks
Templately is truly an amazing place to land if you are designing a new website or want to revamp an existing one. It is a smart choice for anyone who wants to create beautiful websites without any knowledge of coding and that too in the shortest possible time. It has seamless compatibility with Elementor and Gutenberg. So you can select your template, easily edit it with Elementor or Gutenberg, and modify them with just a few clicks.
In this blog, we have focused on Gutenberg templates, which means the templates are made of Gutenberg blocks and you can make necessary changes to them in the Gutenberg editor.
While we are talking about creating websites in Gutenberg, we thought why not introduce you to an advanced WordPress plugin, Essential blocks for Gutenberg? It will give you an amazing web-building experience using the Gutenberg editor.

Essential Blocks for Gutenberg offers 40+ advanced, feature-rich, and fully customizable Gutenberg blocks, to create a stunning website from scratch. Some of these blocks are to enhance the default blocks, and some of them are with absolutely new and unique features.
And the most amazing part it gives you absolute freedom over your content. Because of its flexibility, unique, and feature-rich blocks with plenty of customization options, it's getting more popular day by day. Now it's a big family of 80,000+ happy users. So, why not explore something new and give it a try? 
Ready To Build An Eye-Catching Personal Website?
When you wish to create a personal website, you need to make sure that the design is beautiful and engaging enough. It's the design and content of your website that together helps you get the audience. So, here we end with the top 5 ready personal website templates to create amazing websites. Have you found this blog helpful? To get more useful blogs like this, subscribe to our blog and know more tips and tricks. You can also join our Facebook Community for all the latest updates.