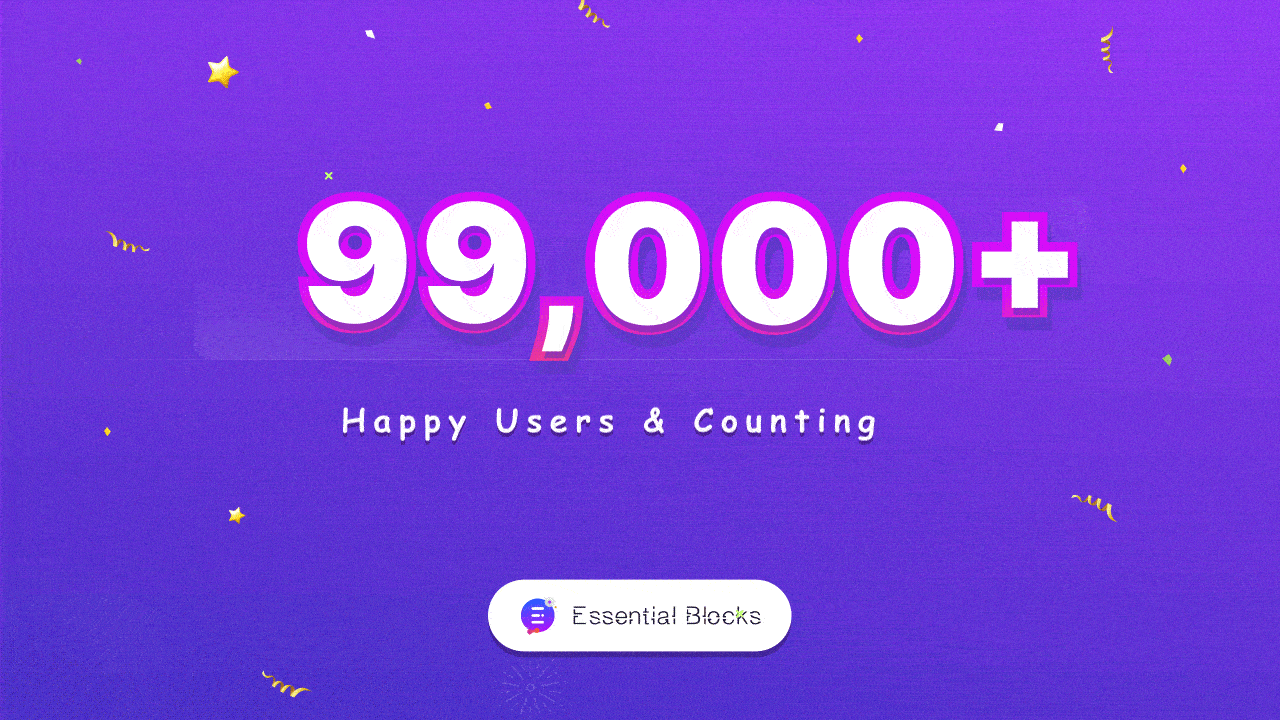 Essential Blocks For Gutenberg Hits 100k Active Installations: New Milestone Unlocked
We've reached yet another key milestone in 2023, Essential Blocks For Gutenberg hits 100k active installations – continuing its incredible year of achievements. Thanks to all of our beloved users for your support and love, which has allowed us to continue to soar in the shortest time, and helping us become one of the most popular Gutenberg blocks libraries! 🥳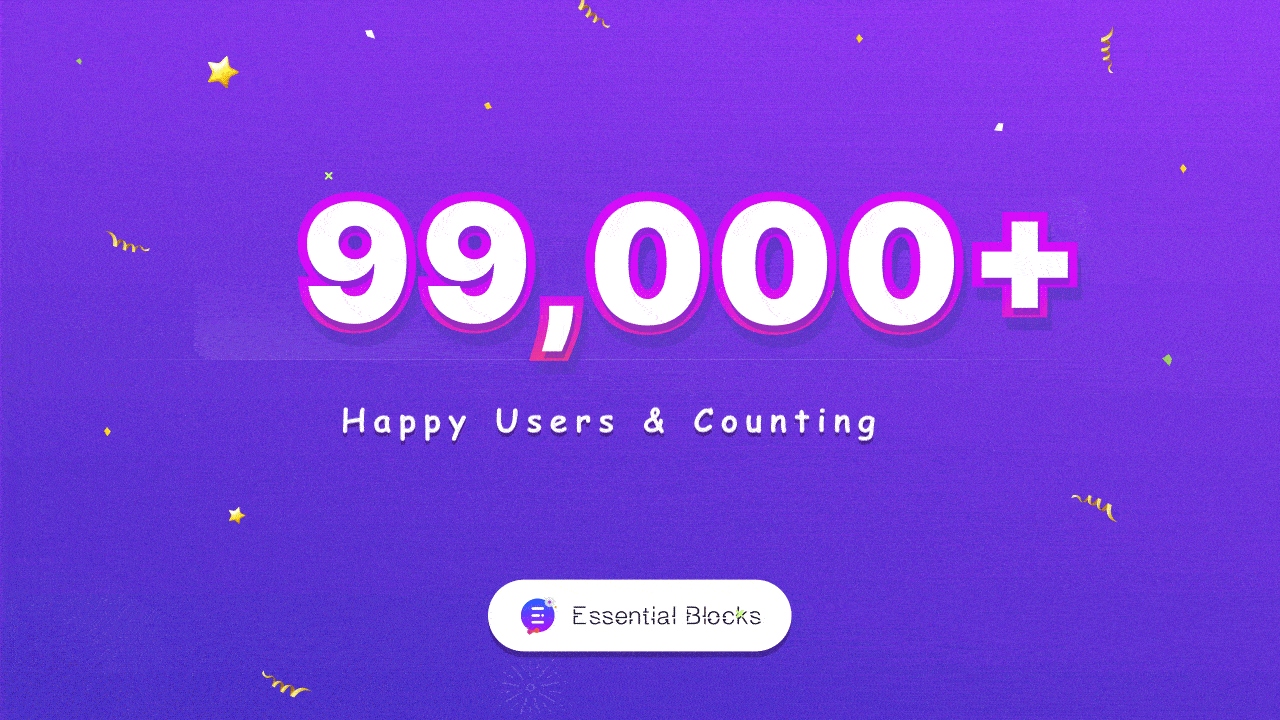 🪄 Journey Of Essential Blocks: From 0 To Powering Up 100k Gutenberg Websites
Back in December 2018, when we released the first initial version of Essential Blocks, we had a vision of helping the WordPress community power up their Gutenberg experience. We wanted to make web design easy and make it possible to build stunning websites with the default block editor without any coding.
Since then, we have tried to continuously bring you the most useful web-building features and blocks for you to make powerful websites. And today, we are proud to be helping more than 100,000 Gutenberg users around the globe and keep growing every day. By the end of February, we surpassed the milestone of 50,000 users, and within a mere three months, that number has now doubled. Take a glimpse at the key milestones we have achieved so far below.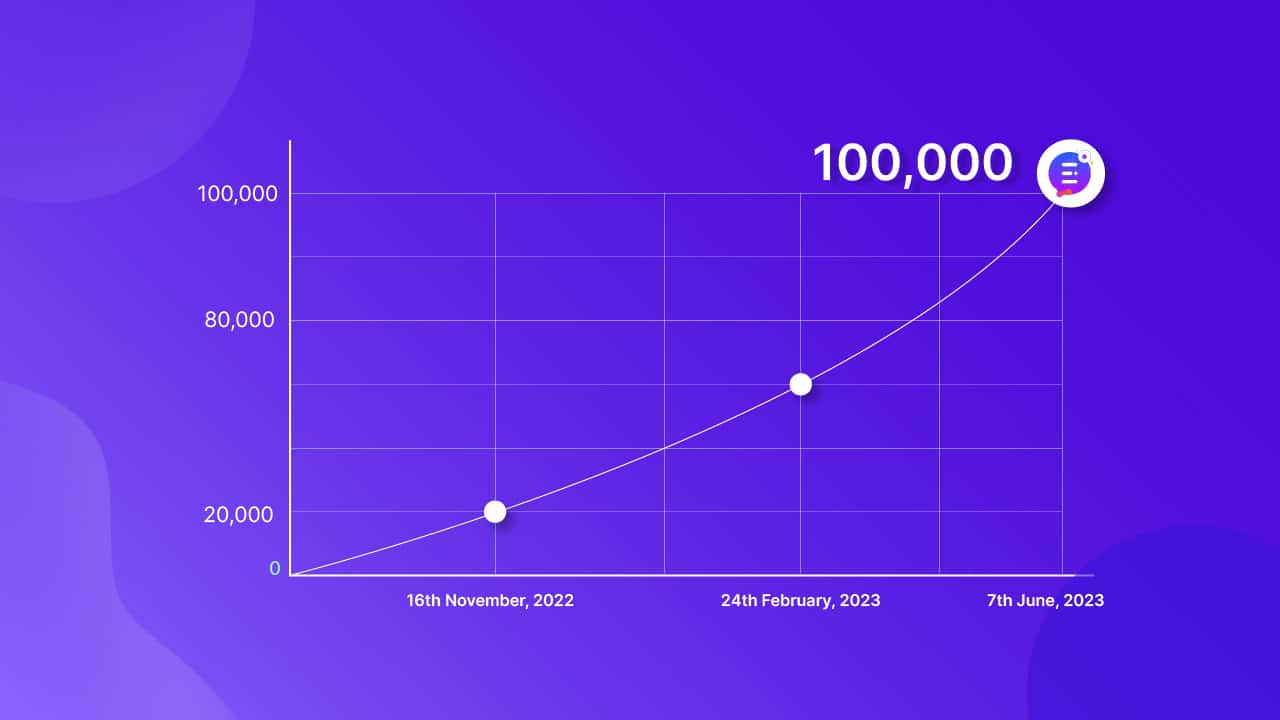 💡 Why People Love Essential Blocks As A Gutenberg Blocks Library?
We built Essential Blocks to help you build stunning websites right within the default Gutenberg editor without any codes. So far, we have developed a wide array of powerful blocks – from content blocks, creative blocks, dynamic blocks, forms blocks, and marketing blocks, to WooCommerce blocks – Essential Blocks has everything you need to build a fully functional website in Gutenberg.
And that's not only our word. Our users also believe the same; we have received a generous number of delightful comments and immense love for this Gutenberg block library on a regular basis.
In addition to that, each and every block is developed with top-class professionalism and filled with beautiful presets and customization options that enable users to make each block almost their own. With zero knowledge of web building, you will be also able to create stunning pages on Gutenberg with Essential Blocks with ease. We got you covered with detailed documentation, and video tutorials to help you out on any block from our library. Plus, our support team is always here to assist you if you run into any issues while using this block library.
I was having an unusual issue with the plugin and it was fixed in no time.
Amazing!
Thank you Loren and the team.
✨ What's New In Essential Blocks For Gutenberg?
At Essential Blocks, we are relentlessly working hard to bring more Gutenberg blocks and features to take your web-building experience to the next level. And so, just last week, we launched Essential Blocks For Gutenberg PRO, powered with exclusive blocks, presets, and functionalities. You would love to experience these premium features and add more freedom to build web pages in Gutenberg.
Exclusive web-building features like Shape Divider are now available in Gutenberg thanks to the recent release of Essential Blocks. From now, you can add beautiful shapes to the section divider and add more creativity to your design. In addition to that, a News Ticker block is introduced to showcase all trending topics just the way you want on your website.
Moreover, the most useful feature of a fully functional website, Advanced Search, was also brought to you by Essential Blocks recently. Added stunning presets and ultimate customization options, this block can really complement your stunning website. Thus, this beautiful search bar block can help you to provide a better user experience to your visitors.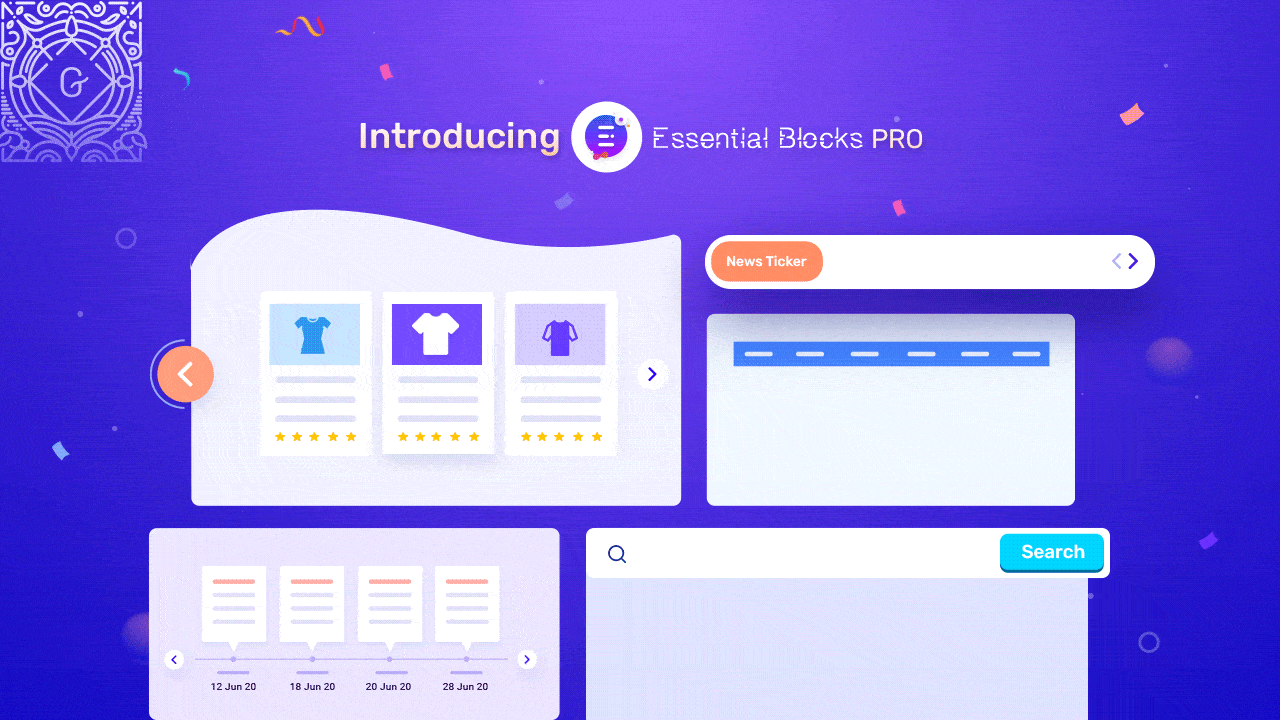 We all love to see a beautifully presented data table to attract our users right after coming to our websites. Keeping that in mind. Essential Blocks introduced an exclusive Data Table block to help you showcase your information attractively with the Gutenberg editor.
If you have a WooCommerce website, showcasing your product in a way that attracts your visitors is the ultimate challenge you can face. Thus, you have developed a feature-rich Woo Product Carousel block to enhance your web design and attract more customers. From now on, you can design your product pages enjoying the freedom of no coding web development.
Furthermore, new presets for quite a few blocks and advanced functionalities like Dynamic Tag & ACF support have been added to Essential Blocks recently. To learn more about our recent updates, you can visit this blog and check everything in full detail. With all the added features, we promise to bring more and more amazing Gutenberg web building blocks and presets for you in the upcoming days.
⚡ 1000+ Ready Templately Templates To Speed Up Your Web Building In Gutenberg
While we want you to experience the freedom of no-code web development in WordPress, we also want to help you save time with Templately ready templates. Therefore, with Essential Blocks PRO, you can unlock 1,500+ professionally crafted, ready-to-use Gutenberg templates to create your website with a single click.


Filled with versatile template categories, and next-level cloud features like My Cloud & Workspace, Templatey can make your web development journey easier than ever. You can simply use your favorite template, save your work in cloud storage, and invite your team to work together at the same time.
🙏 Thank You For Joining The Essential Blocks Family: Here's To More Success Together
As Essential Blocks for Gutenberg hits 100k active installations, we are absolutely thrilled to reach new heights with you onboard. We hope to take this epic journey to the sky, bringing new web-building features, and functionalities to Essential Blocks, and providing you with a better Gutenberg experience.
Thank you for staying with us. If you want to get regular updates on new features, discounts, updates, and the Gutenberg guide, please subscribe to our blog. Also, don't forget to join our Facebook Community to stay in touch and share your thoughts.