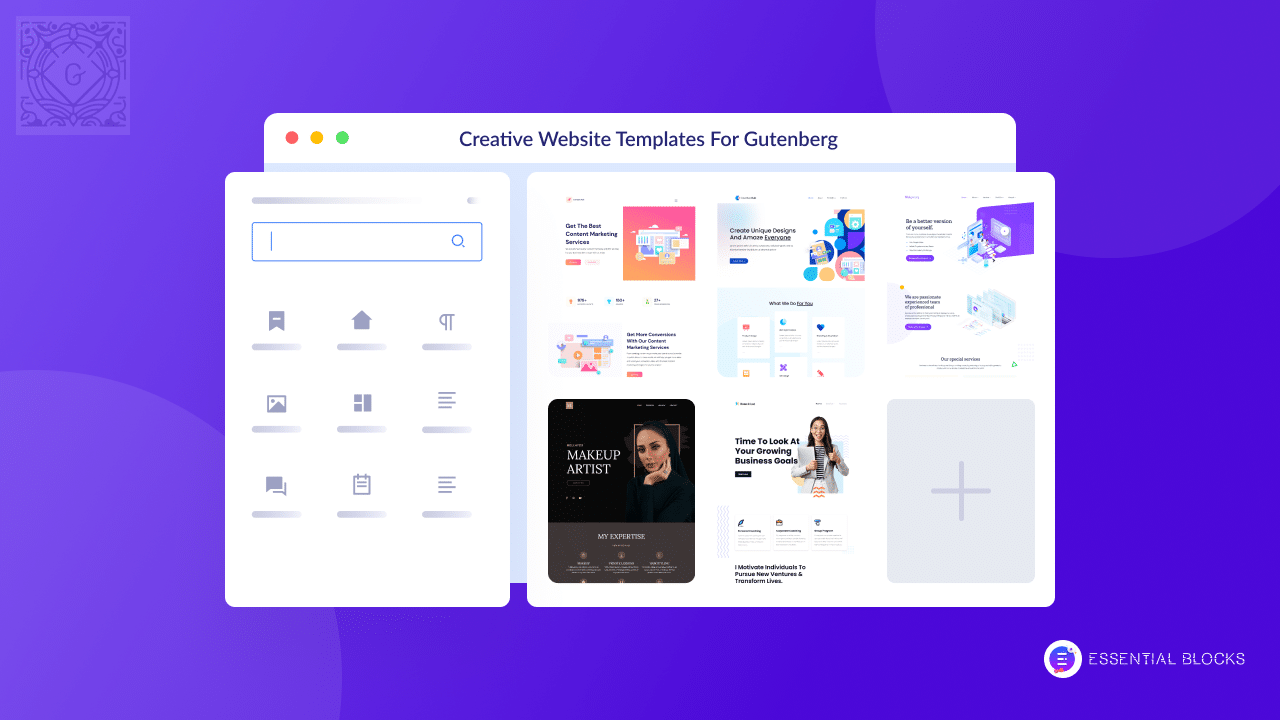 [Trending] 5 Creative Website Templates for Gutenberg – No Coding Required
It often gets difficult to create a unique website design that stands out from the crowd, whether building from scratch or redesigning an existing one. However, on WordPress block editor, it's easier than ever to build a creative website in minutes with the help of creative website templates for Gutenberg.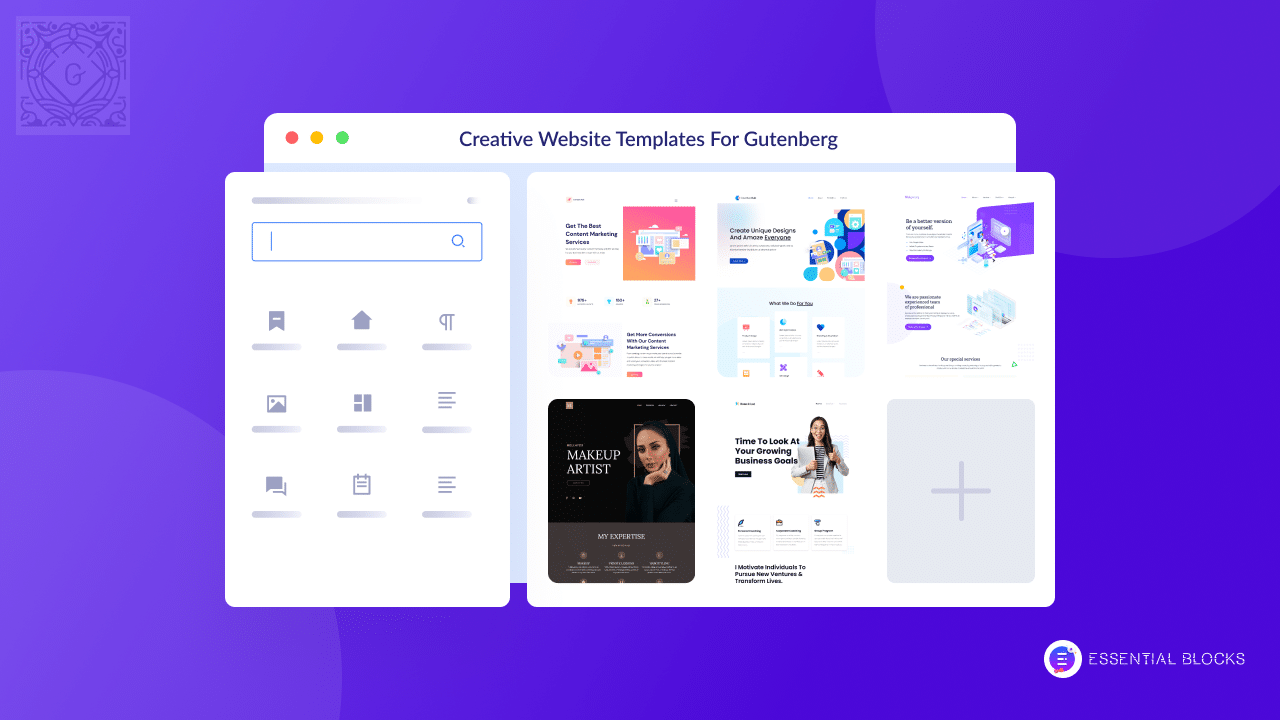 Your website is one of your first points of contact with potential clients, and it should represent the image of a professional, trustworthy, unique, and distinctive business. So, to build a website that way, you can utilize numerous WordPress block templates ready to import with a single click.
💡 Does Gutenberg Editor Help Create Website Easier?
Since WordPress 5.0, Gutenberg has revolutionized the page-building experience on the popular Content Management System. As a result, it has replaced the user experience of the classic editor and is now the best alternative to become the default editor for WordPress 5.0 and later.
Gutenberg editor has a lot of capabilities. You can quickly design any creative webpage on WordPress with creative website templates for Gutenberg to make something simple or unique.
Plus, it is effortless to work with, as you can create your new page quickly by dragging and dropping the required blocks, while it used to take much time and effort with the conventional classic editor.
Are you still wondering how Gutenberg editor helps create a website better? Check out these key takeaways:
♾️ Gutenberg Editor Offers Endless Possibilities
Once you start using Gutenberg, you will find hundreds of plugins in the plugin repository. WordPress plugins for Gutenberg work like a toolbox, enhancing the compatibility of the editor to fit your page-building requirements.
For example, if you need to use an extra functionality, you don't have to wait for the Gutenberg editor to release it in the next update. Instead, you can simply install a Gutenberg-compatible plugin that offers what you need. On top of that, there are multiple WordPress Gutenberg templates available on the market to choose from.
Whether you run an e-Commerce shop, a creative agency, or a construction material company, there is a plugin to extend the WordPress default editor's functionality and build your desired website. Plus, template marketplaces offer Gutenberg block templates to fulfill your multiple needs.
🧱 Simple Drag-And-Drop Block Editing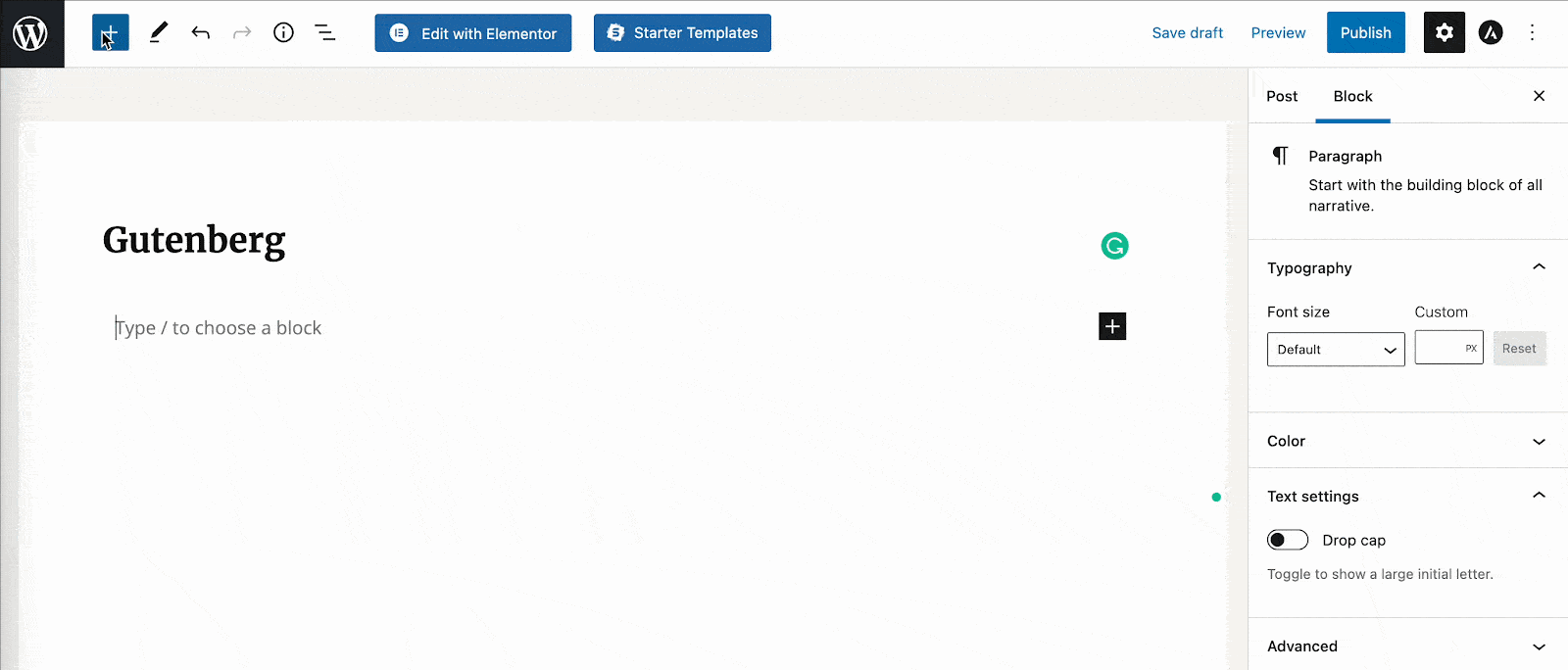 While you need to design a page from scratch in the traditional classic editor, Gutenberg offers a standard field where you can begin entering text and different blocks. It's a simple drag-and-drop builder.
Choose a block, drag it on the page, and start editing your content. Yes, it's that easy! On top of that, multiple WordPress Gutenberg templates are available to reduce your page-building process even more.
🚀 Build Ultra Fast Web Pages With Gutenberg
Page speed is important for both conversions and SEO. Plus, it is a component of Google's ranking algorithm. Gutenberg's lightweight HTML code requires no extra PHP server operations. As a result, your website will load quicker than those created by most other page builders.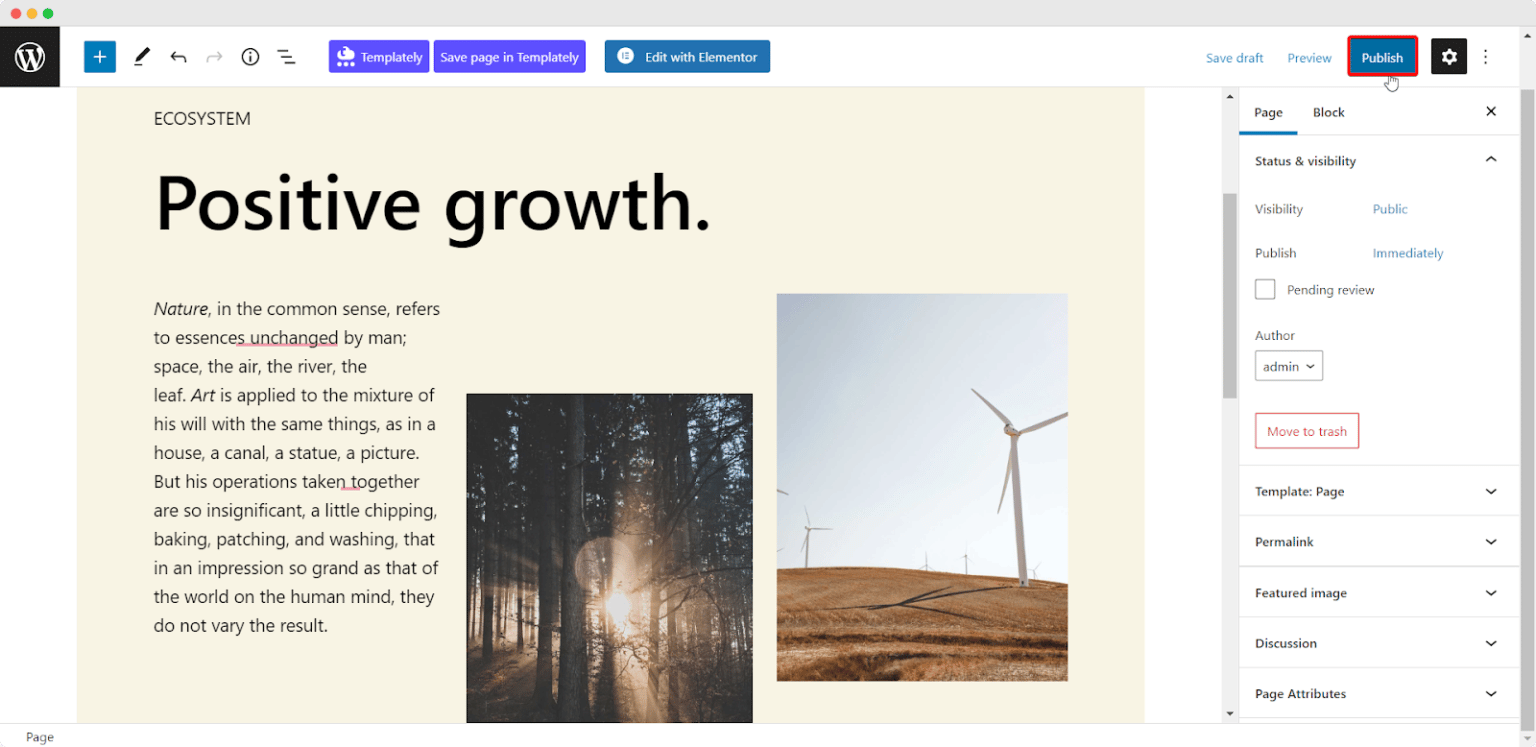 Reusable Blocks Reduce Repetitive Efforts
Using reusable blocks is one of Gutenberg's most popular features. It eliminates the need to generate the same blocks constantly.
For example, if you want to include a picture with a description on each page, create a block, save it, and utilize it as needed. This feature saves a significant amount of time and increases productivity. Additionally, you can use creative WordPress templates built with the block editor.
🎯 5 Creative Website Templates For Gutenberg By Templately
There are hundreds of Gutenberg template libraries in WordPress, but only a handful feature a user-friendly design and Gutenberg WordPress blocks. Among the few, Templately can be your destination for creative website templates to design a creative website.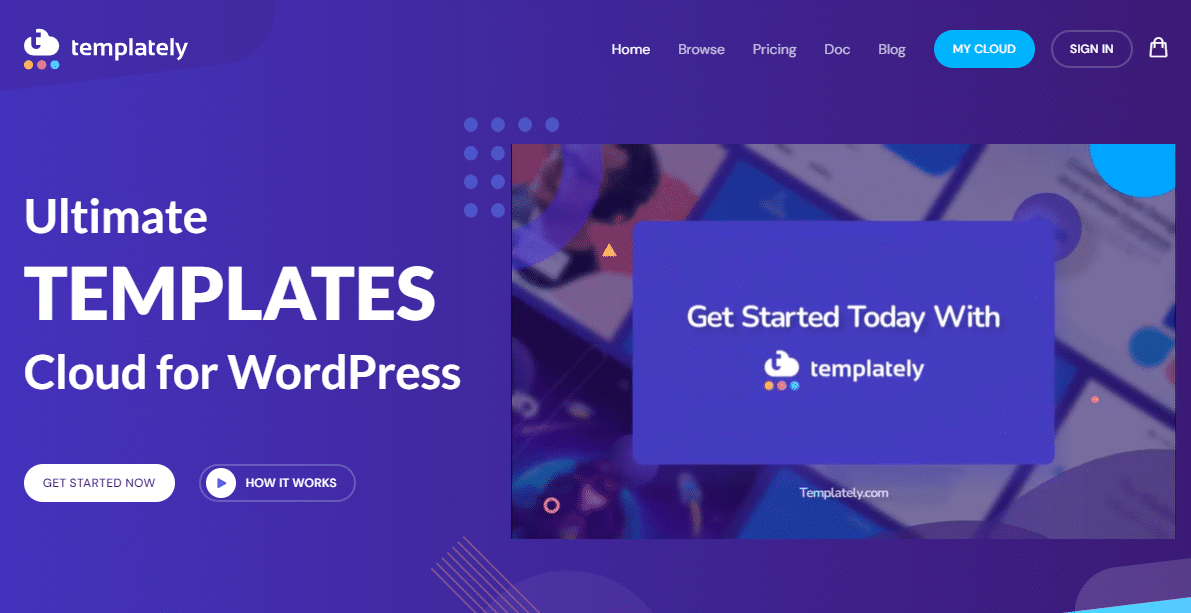 Templately is your one-stop shop for sleek, quality, eye-catching, ready-to-use WordPress block templates to help you effortlessly build creative websites with Gutenberg-friendly creative website templates, regardless of the creative website type.
Additionally, with over 200,000+ active users worldwide and over 3500+ free and PRO templates for WordPress and Gutenberg, many website builders and publishers without technical skills have trusted this template cloud as their go-to choice for creative website templates for Gutenberg.
As a result, we took the time to go through and determine the top five most popular Gutenberg block templates by Templately to help you enhance your efficiency in creating a creative website.
🎉 Creative Hub – Design Studio Template For Gutenberg For Creative Service Websites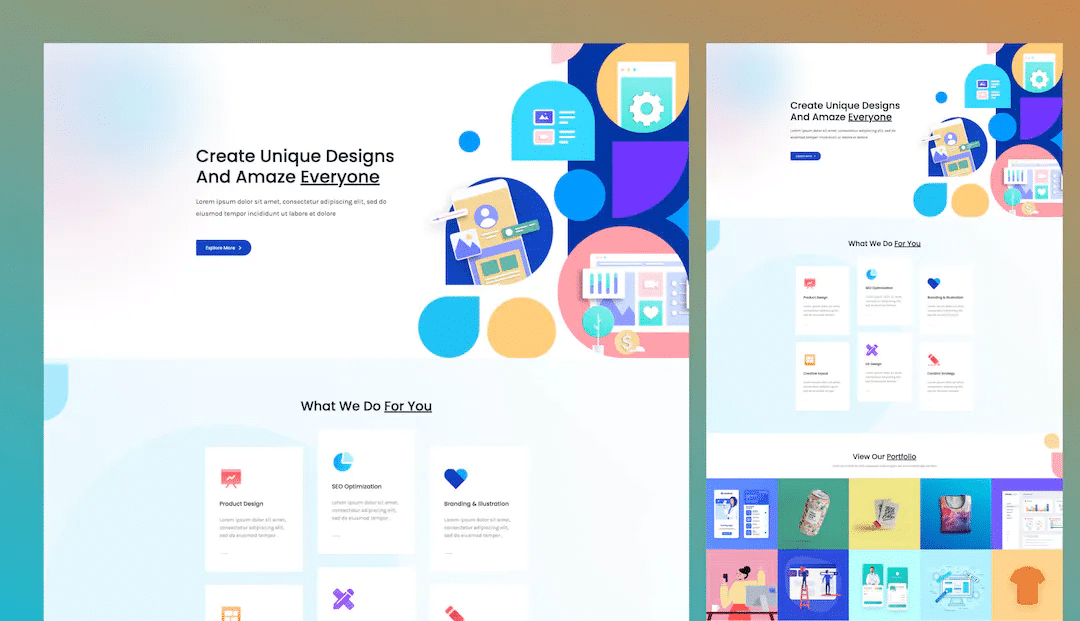 The Creative Hub WordPress template pack is a visual feast, bursting with brilliant hues and providing many customization choices with the new Gutenberg block editor. This trendy new template set will be perfect for building efficient websites for design studios and digital marketing businesses.
In addition, you can create websites for digital agencies, web design firms, creative studios, and similar services with these creative website templates. Creative Hub comes with five pre-made landing pages.
You can use these pages to develop any area of your agency's website and improve engagement with dynamic counters, interactive CTAs, and other features. Plus, these lovely WordPress block templates are completely modifiable and mobile-friendly.
Key Features:
👉 Five beautiful ready pages: You can attract new consumers with five professionally created and completely responsive ready-page templates.
👉 Attractive info boxes: Wonderfully crafted info boxes that present information in an eye-catching way.
👉 Interactive "Call To Action" Button: Use stunning CTA buttons to attract clients and increase conversion rates.
👉 Gutenberg compatible: You can easily customize using your chosen page builder with a simple click.
👉 100% availability: Complete device compatibility ensures a better client experience.
👩‍💼 Women In Lead – Gutenberg Female Business Coach Template To Customize Your Vision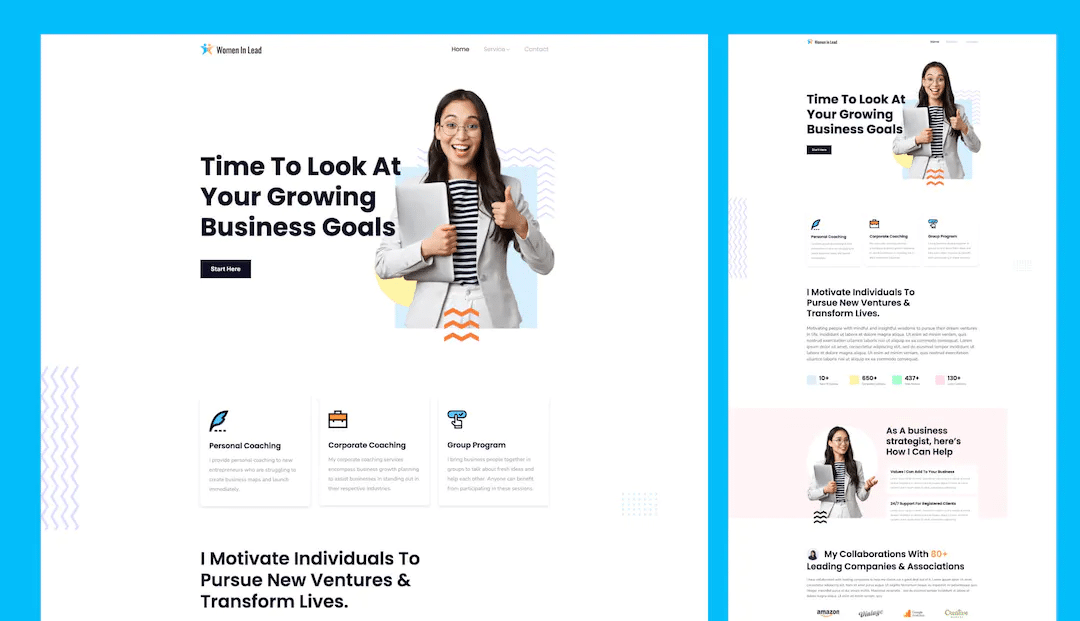 Women In Lead is one of the most resourceful creative website templates for Gutenberg block editor. This collection of Gutenberg block templates is designed specifically for female company owners, female trainers and teachers, personal coaches, corporate coaching services, and other similar enterprises.
On top of that, these creative website templates come with four nicely designed landing pages that you can customize using Gutenberg and Essential Blocks.
In a nutshell, Women In Lead is a cutting-edge, cross-browser, mobile-friendly, and lightning-fast web design template collection ideal for creating a creative website for a business coach since it has beautiful sections, soothing animations, and all the other features you'll want.
Key Features:
👉 Four visually attractive & gorgeous pages: Beautiful ready-to-use landing pages will entice your visitors.
👉 Dynamic "Call To Action" buttons: Use intriguing call-to-action buttons to convert your visitors into clients.
👉 Engaging comments: Display your customers' opinions to boost your brand's reputation.
👉 Interactive counters: Use interactive counters to entice visitors by displaying your milestones.
👉 Completely customizable with Gutenberg: Without any code, customize the whole design with your chosen website builder.
👉Completely responsive on all devices: You can provide your visitors with the best user experience possible with responsive design.
🤹 Unigency – Agency Template For Gutenberg For Running Creative Agency
Unigency is a collection of contemporary, versatile Gutenberg block templates for WordPress. These templates are full of eye-catching, mobile-friendly designs.
So, you can use these creative website templates to build various service-based websites, such as those providing travel agency services, content marketing services, and more. In addition, web design, marketing, SEO & digital marketing, startup, blog, photography, and other agency websites can also benefit from its sleek and customizable features.
Unigency is a beautiful and dynamic template bundle that will help engage your visitors from the get-go. It was created using Essential Blocks and Gutenberg's default WordPress block editor.
Moreover, the Unigecny template collection allows you to create a completely functioning and professional website for your company without ever having to write a single word of code. Each page design has interactive call-to-action buttons that gently animate.
You can immediately blow the mind of your site's visitors with animations and interactive designs. Regarding how your company operates, this collection of versatile and creative website templates for Gutenberg might be the best pick.
Key Features:
👉 Engage site visitors with dynamic, expert, and aesthetically pleasing web pages.
👉 With flashy CTA buttons, you can encourage site visitors to act immediately upon reaching your page.
👉 Show off your accomplishments and other milestones with animated counters.
👉 Clean and professional contact pages, integrated with Fluent Forms, will increase form submissions.
👉 A complete match for the Gutenberg editor: Gutenberg and Essential Blocks were used in the development so that you can change just about anything.
👉These page designs aim to provide the user with the greatest possible experience on any device.
💁 Mellafex – Makeup Artist Template Pack For Gutenberg To Boost Your Beauty Business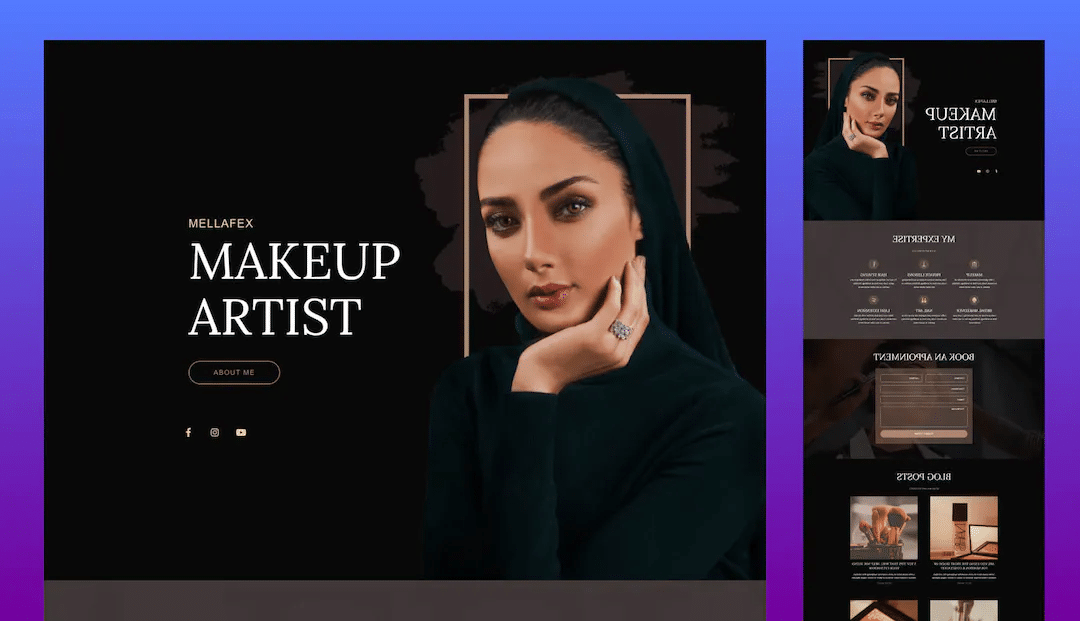 Makeup artists, beauty salons, makeover studios, hairstylists, beauty gurus, fashion stylists, beauty influencers, and anybody else in the beauty sector can make the most of Mellafex, a collection of creative website templates for Gutenberg.
Gorgeously built using Gutenberg and Essential Blocks, this template collection is sure to wow. In this manner, Mellafex is a fully responsive template collection that can be modified in any way you choose without the need for any code.
This exceptional template collection has an amazing layout, a lovely picture gallery, and other eye-catching elements.
Key Features:
👉 Amaze your site visitors with professionally created landing pages that you can use immediately.
👉 With intriguing "Calls to Action," you may entice site visitors to take the next step.
👉 You can apply your unique design to the whole page with the Gutenberg editor.
👉 The designs automatically adjust to the screen size for the greatest viewing experience.
👉 The template pack is compatible with the quickest loading times across all major browsers, including Chrome, Firefox, Opera, and more.
🧬 Content Hub – Gutenberg Content Marketing Agency Template For Multi-Purpose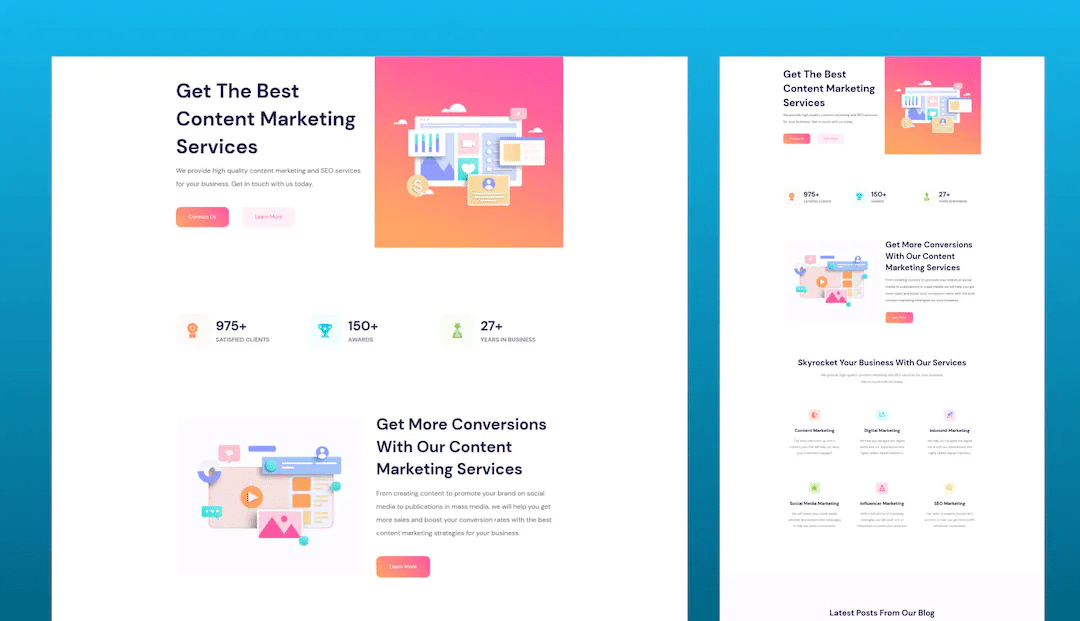 Content Hub is a set of creative website templates that are fresh, cutting-edge, and mobile-friendly. It's tailor-made for businesses offering content marketing, content marketers, content marketing services, search engine optimization, digital marketing, and similar offerings.
In addition, freelancers, bloggers, and content creators can also benefit from it. It is built with Gutenberg and Essential Blocks, allowing full customization without coding.
The templates pack includes three beautiful pre-built pages. In addition, Content Hub has a testimonials section, an engaging design, and enticing "Call To Action" buttons.
Key Features:
👉 Get customers' attention with attractive ready-to-use pages.
👉 Increase engagement by using eye-catching "Call To Action" buttons.
👉 Showcase customer comments using a Testimonials box to highlight favorable customer feedback.
👉 It is completely customizable with Gutenberg. So, using WordPress's default block editor, you can completely customize each page.
🧑‍💻 Build Your Creative Website Today With Gutenberg Templates!
No matter how user-friendly and flexible a builder is, designing a creative website yourself from scrap might be tiring. Luckily, for WordPress Gutenberg users, building an entire page from creative website templates takes less effort.
What could be your cup of tea as a Gutenberg user? Ready to use creative website templates for Gutenberg! You can design a website and craft an impressive online presence of your creativity using WordPress Gutenberg templates in minutes.
If you have found this blog helpful, feel free to share your opinion and feedback on how you would agree or disagree with our Facebook community. You can also choose to subscribe to our blogs for valuable tutorials, guides, knowledge, tips, and the latest WordPress updates.