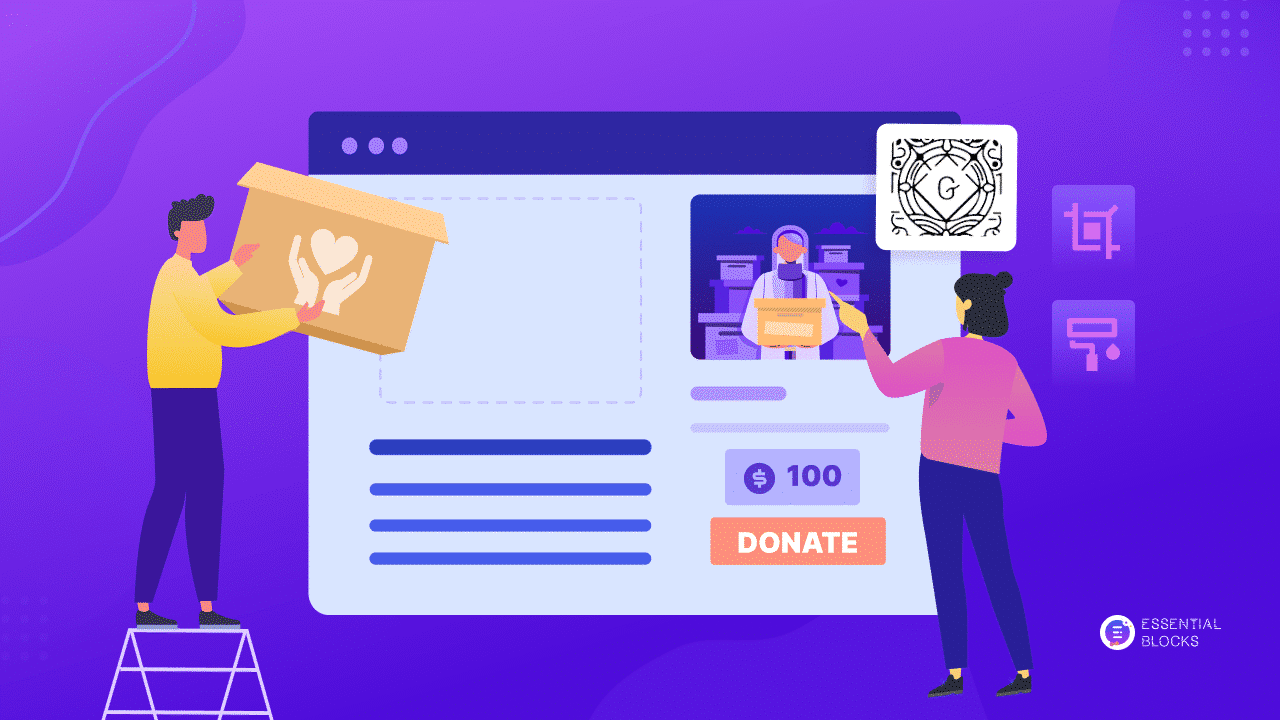 How To Design A Donation Website In Gutenberg: 5-Minute Tutorial
There is no better way to share your charitable activities with the rest of the world and than by creating a donation website. If you are planning to create a website in WordPress, then you have tons of options to start with. Wouldn't it be nice if you could make a donation website using Gutenberg, the default WordPress editor? If you intend to do so, then you have come to the right place. You can create a beautiful donation website in Gutenberg if you follow this tutorial step by step. Let's get started.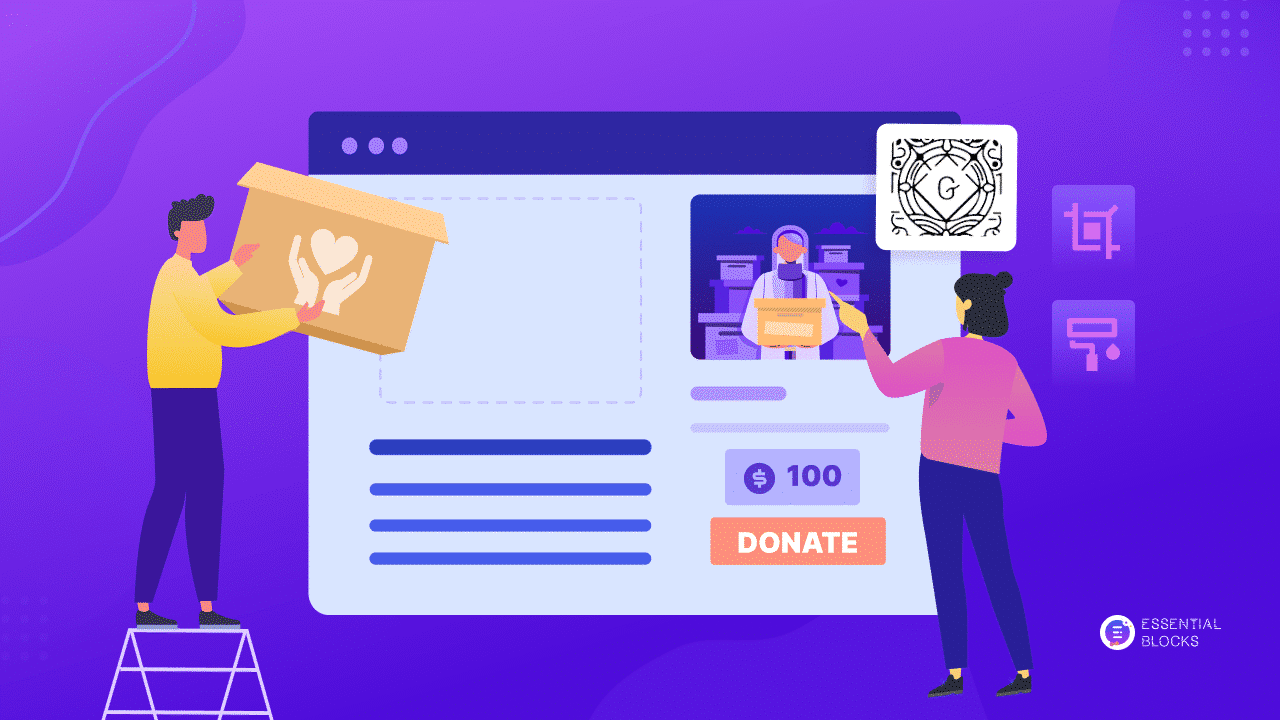 What Makes Gutenberg Great For Creating Donation Websites
Suppose you are using WordPress for creating websites. Then you have already heard about Gutenberg, the default WordPress editor. Gutenberg Editor started its journey as a simple block editor, and with time, it has introduced so many functionalities, addons, Full Site Editing, etc. that now you can create an entire website with it. Let's take a look at why we are encouraging you to create a donation website in Gutenberg.
⚡ Gutenberg is the default WordPress editor, so when you use it for creating a website, a lot of your site space will be saved as you are not installing any additional page builders.
⚡ Gutenberg has introduced lazy loading by default. You won't have to worry about site loading speed issues. They will all be taken care of by your chosen editor, Gutenberg.
⚡ Gutenberg editor is structured in such a way that you don't have to use codes to customize a section or page. All the blocks come with lots of customization options that are perfectly suitable for creating an entire website without coding.
⚡There are now so many Gutenberg template libraries available from where you can get templates for your donation website and create websites in one click.
Introducing Powerful Gutenberg Template Library at Templately
As we already know, the easiest and most efficient way to create a donation website in Gutenberg is by using the stunning Gutenberg templates. But which template library will be the most suitable one? If you are planning to get versatile Gutenberg templates with an eye-catching design appearance, then the best place to start is Templately, the ultimate WordPress template cloud.
Here you will get 4000+ templates, which almost cover all categories of templates. Moreover, you can save your customized sections in MyCloud and share them with other team members for collaboration via My WorkSpace. Explore Templately templates and pick the best one for your donation website.


5 Minute Tutorial: Design A Donation Website In Gutenberg
Now that you're convinced to use Gutenberg to create your donation website. And that you found the best website template library, Templately, to get stunning Gutenberg themes for your donation website. What's next?
Just spare 5 minutes and start following this step-by-step guideline. By the end of the tutorial, you will have your donation website ready to share with everyone. Let's get started.
Step 1: Select A Beautiful Gutenberg Charity Template- TrustAid
If you explore Templately templates, then you will find lots of beautiful templates for charity, donation, and crowdfunding purposes. Among them, we're picking TrustAid, a charity template for Gutenberg. Let's have a glance at why this Gutenberg template is the best pick:
A gorgeous new paid template pack for the WordPress Gutenberg editor is called TrustAid. It's the ideal template for building websites for nonprofits, charities, contribution pages, or fundraising pages. The templates are highly responsive, load quickly, and allow for complete customization as you like. With this complete template pack, you will also get:
Home page
About page
Gallery page
Contact page
TrustAid donation template includes a Testimonial Slider to proudly display donors' reviews, a Logo Carousel widget to showcase affiliated organizations, an interactive Team Member Carousel with a slider, a great Progress Bar, and an animated Counter block feature. It also has attractive call-to-action buttons to persuade website visitors to take action.
Activate All dependent Plugins For the Charity Website Template
Before getting started with the TrustAid Gutenberg template, you need to install and activate all the dependent plugins to make the donation website template functional. Here is the list of plugins that you should get for your donation website:
🟪 Templately Pro: TrustAid is a premium charity Gutenberg template. And to get it inserted with one click, you need to install and activate Templately Pro on your WordPress website.
🟪 Essential Blocks For Gutenberg: Most of the section of the donation website template is created with Essential Blocks. So install and activate the plugin in your dashboard.
🟪 Fluent Forms: To collect donations and manage contact with donors, you will need a contact form. So install and activate Fluent Forms in your dashboard.
After making all the above setups, the next step is to insert the template. Open a new page on your dashboard. Then click on the 'Templately' blue icon to insert the template. Now search for the TrustAid template, and explore the whole template's appearance. And then click on the 'Insert' button. Within a minute, the entire template will be loaded on your page.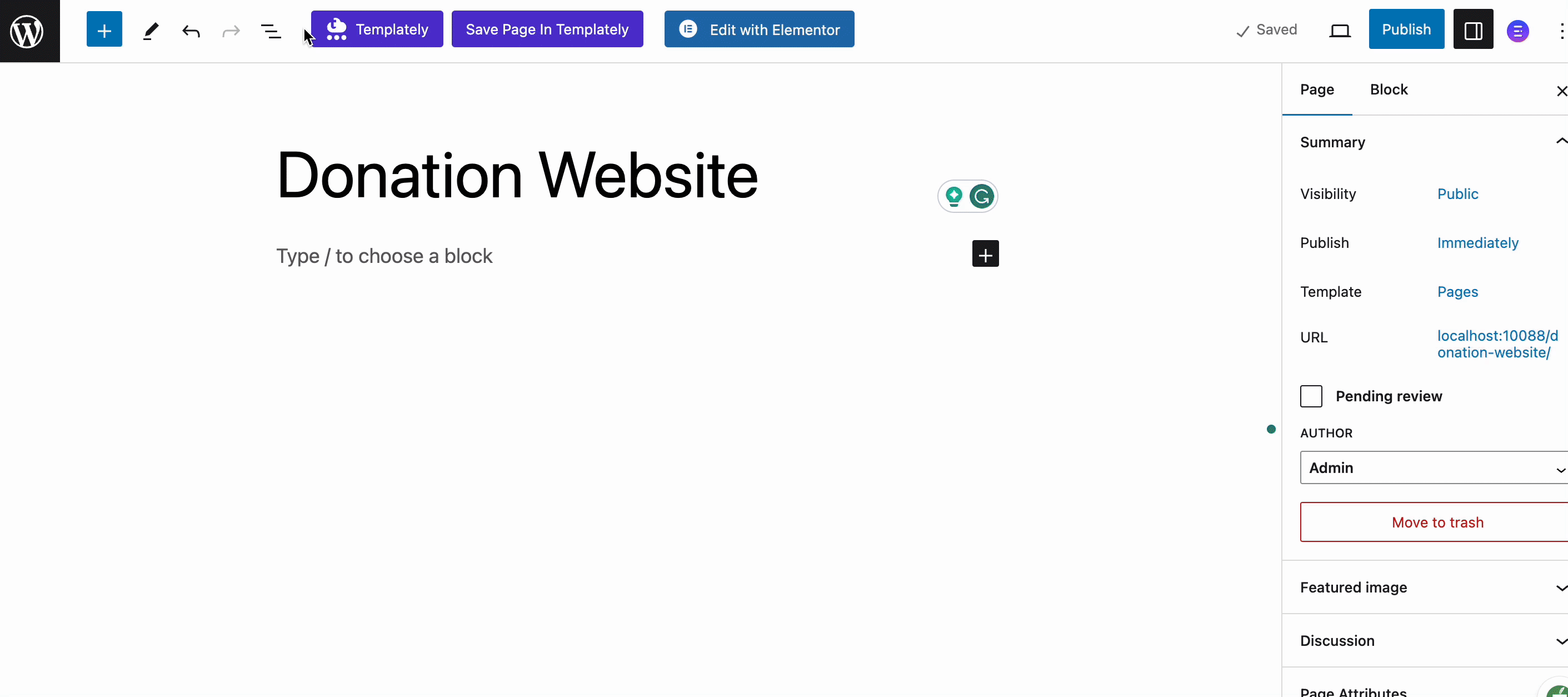 Step 2: Personalize Your Donation Website Appearance
All the Templately templates are built in such a way that you can easily use the ready content and stock images directly for your donation website. But to give it a personalized look, you need to customize the template color, fonts, and sections according to your company's brand color, used theme, and so on.
To customize a single section of the donation website, click on the area where you want to make changes, Instantly, on the right bar, the customization panel will be opened. From there, you can easily update the color, background, margin, padding, fonts, etc.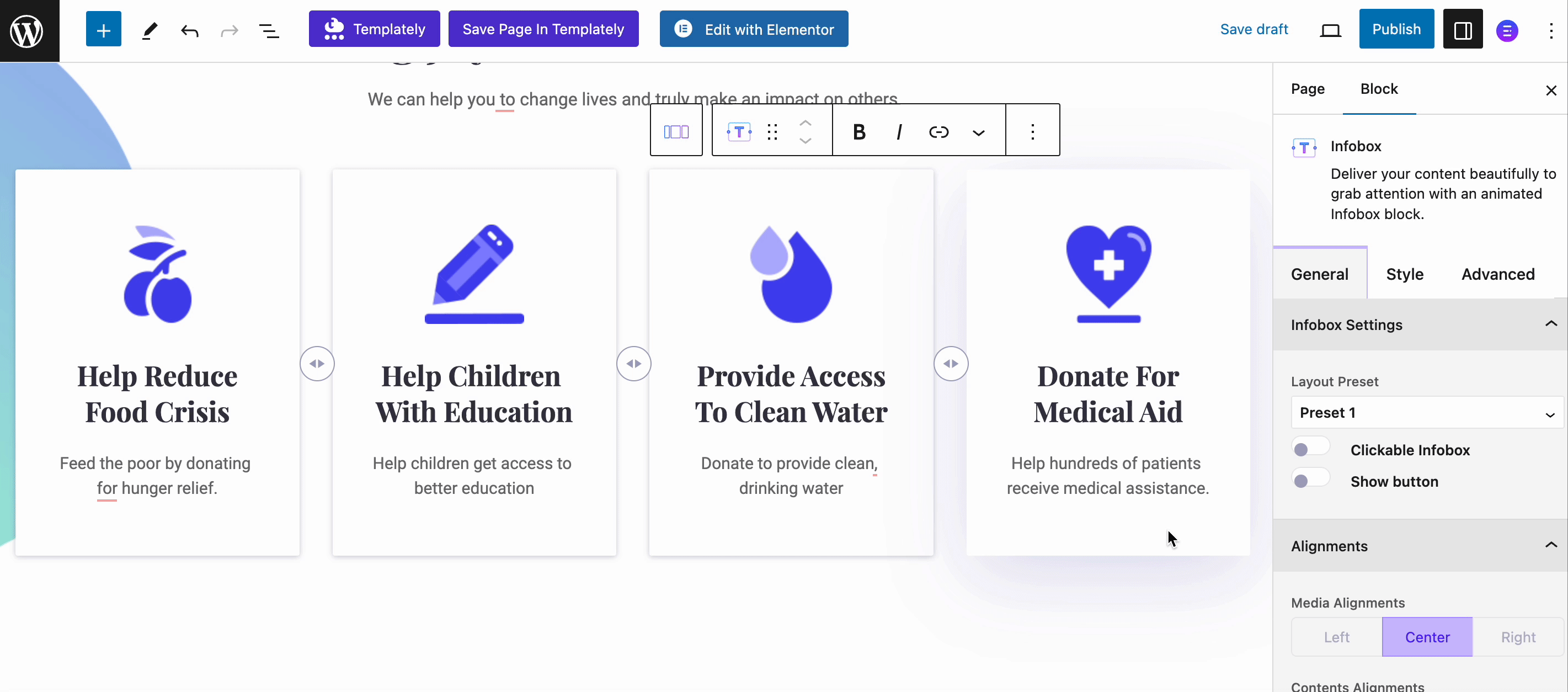 Step 3: Make Your Donation Website Live 🎉
After making all the customizations, if you are happy with the appearance, it is time to make your website live. Give it a final check, and then click on the 'Publish' button. Congratulations! 🎉You have made your own donation website live. This is how your website will look.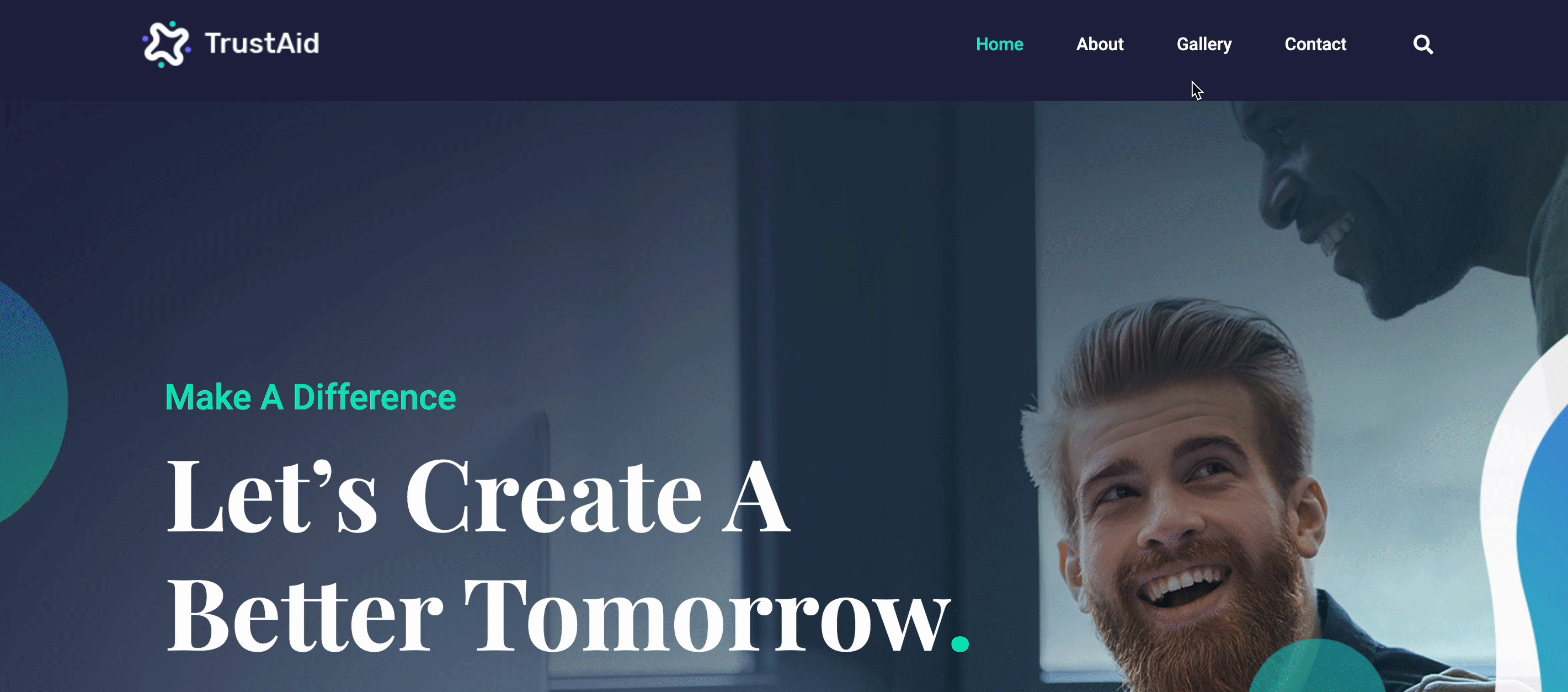 Take Your Donation Activities Online
Using Templately's Gutenberg templates has reduced our workload and made creating donation websites a 5-minute task. Hopefully, you can expand your charity activity widely with the newly created donation website.
Have you found this donation website tutorial helpful? Then share with others in need. Also, subscribe to our blogs and get connected with other Templately users.