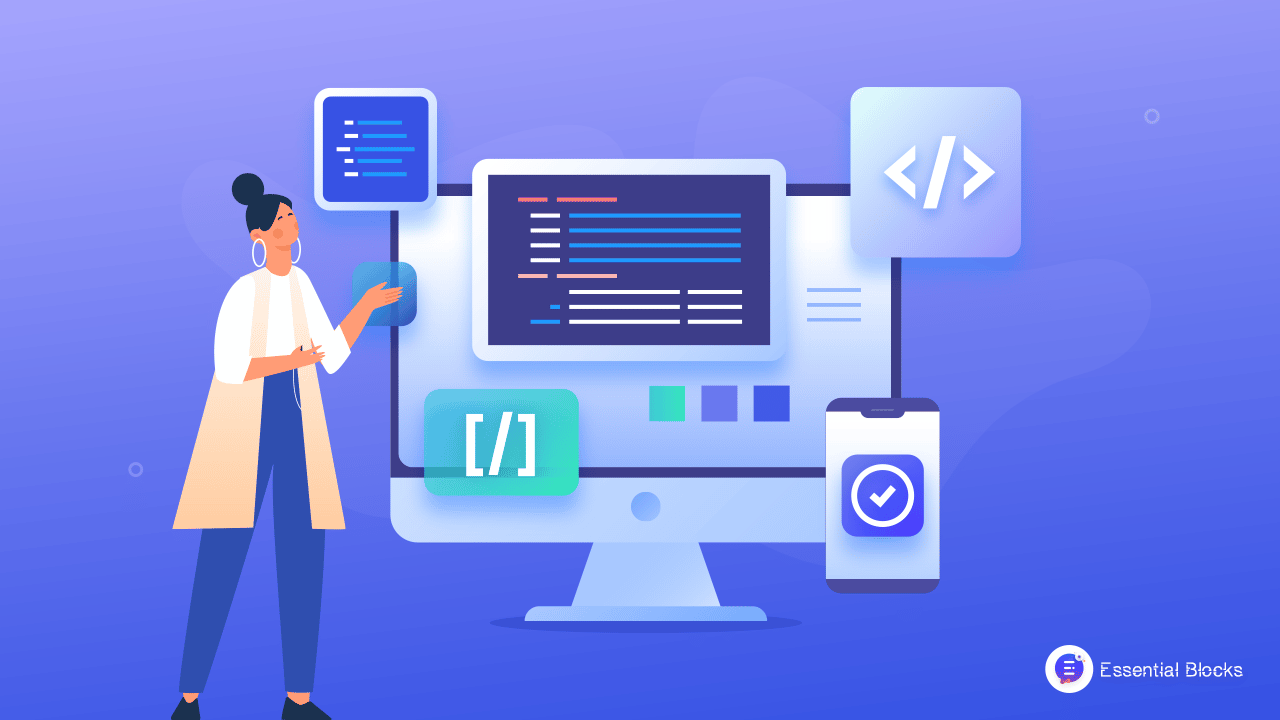 Top 3 WordPress Shortcode Plugins For Gutenberg Websites
WordPress shortcodes are a savior when you are planning to customize your posts or pages in an advanced way but don't know how to code fully. Yes, you heard it right! you won't need to learn codes to use WordPress shortcodes. And today we are going to share the top shortcode plugins that are gonna help you customize Gutenberg websites.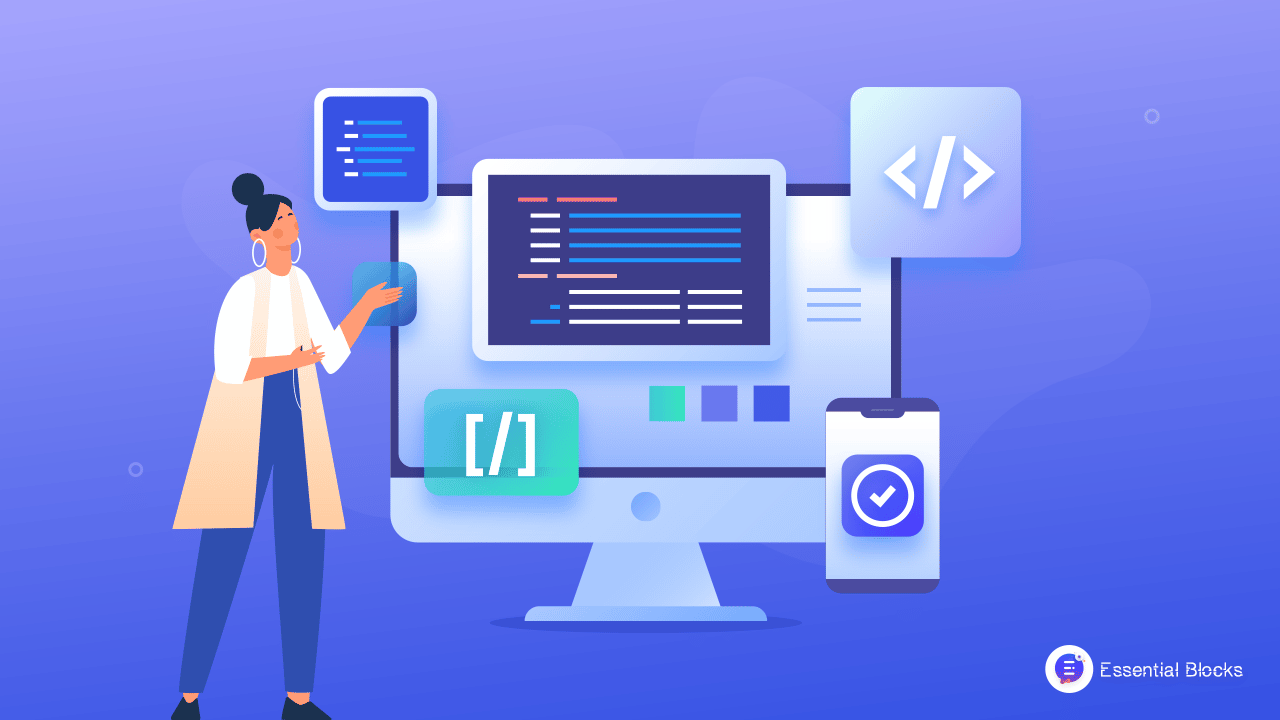 Though it has 'code' in its name, it's not actually coding. WordPress shortcodes are markups of instructions that help you to preview certain sections or elements. Such as, you can add a customized button, an extra column, or a call to action section using WordPress shortcodes.
While block editing may be making WordPress shortcodes less popular, they still have a place in the administrator's toolkit. Without them, it can be challenging to build a page exactly how you want it, and some admins may simply prefer the shortcodes method in general.
In either case, a shortcode WordPress plugin can increase capability with little effort and little expertise. Additionally, if you ever decide to change your WordPress theme, you'll save time and work. when you will choose a WordPress plugin, these additional hassles will be instantly taken care of.
Why Should You Get A Shortcode Plugin For Your Website?
It's not that you can only get access to shortcodes through plugins, there are some WordPress themes that have built-in shortcode features. But what keeps the WordPress shortcode plugins above all? Let's check out the undeniable benefits of using shortcode plugins.
📌 If you decide to switch themes, there can be problems in sections created with WordPress shortcodes. Because you won't have access to your old theme's shortcodes, which could cause your sites to malfunction.
📌 On the other hand, you may add new shortcodes with the help of these WordPress shortcode plugins, and they won't vanish when you switch themes.
📌 Moreover, the majority of shortcode plugins are also cost-free, and easy to activate and use.
📌 Using the WordPress shortcodes provided by the plugin, you may create your website without writing a single line of HTML.
Top 3 WordPress Shortcode Plugins For Gutenberg Websites
Gutenberg editor is one of the most popular ones yet the newest in the WordPress repository. That's why all age-old plugins haven't been updated and gained Gutenberg compatibility. The same is for WordPress shortcode plugins. Today sharing the list of the top 3 WordPress shortcode plugins which are Gutenberg compatible.
Meks Flexible Shortcodes By Meks
Shortcodes Ultimate By Vladimir Anokhin
Shortcoder By Aakash Chakravarthy
Time check out these WordPress shortcode plugins in detail so that you can choose the best suitable one for your Gutenberg websites.
1. Meks Flexible Shortcodes By Meks
The plugin Meks Shortcodes is for people who want to include some attractive components in their posts or page content. By using the user interface shortcode generator panel, you can rapidly input each one. For each shortcode tag, there are a number of clever design possibilities available. These shortcodes can fit any style and design, whether your theme is yellow, white, or green.
The majority of WordPress themes are compatible with Meks Shortcodes, and you can override the default style settings using your theme's style sheets or custom CSS. Notably, admins have the option to modify the default padding to provide additional space for content.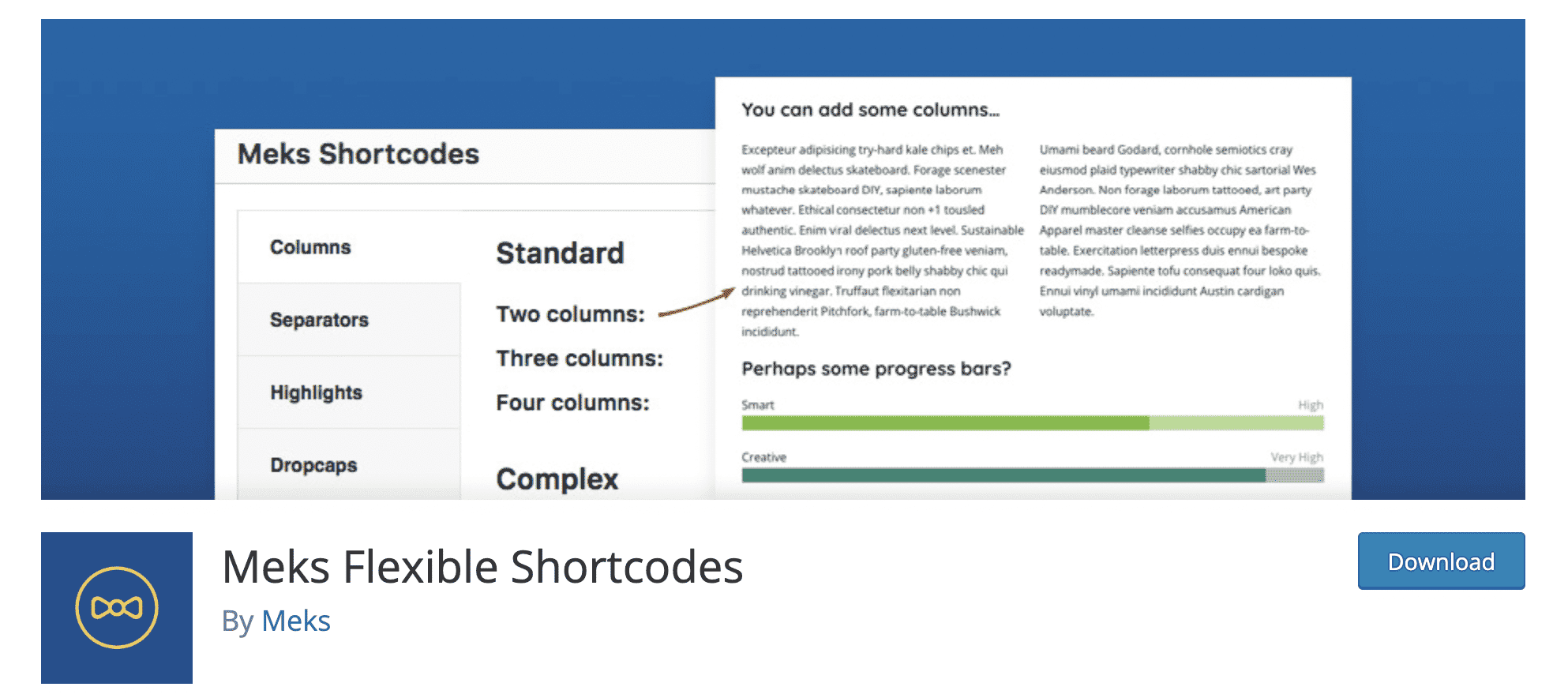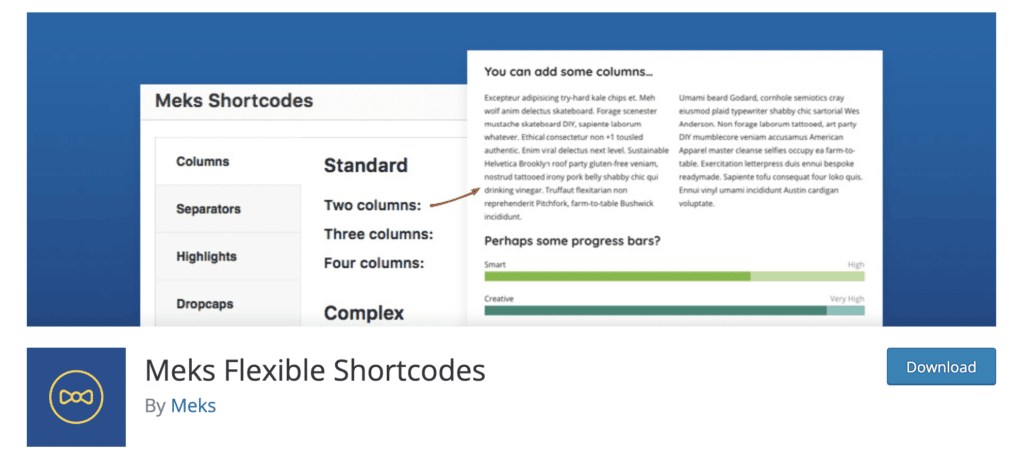 | | |
| --- | --- |
| Price: $0 | Active Users: 30,000+ |
2. Shortcodes Ultimate By Vladimir Anokhin
Users who want a lot of options and want them all to be accessible will find WordPress Shortcodes Ultimate to be a useful free plugin. For practically every page element you'll need, including columns, accordions, carousels, sliders, and tables, it includes a collection of 50 shortcodes.
Finding the desired shortcode in its sorted menu and inserting it into your pages and posts is simple with Shortcodes Ultimate's ability to alter shortcode properties. The Gutenberg blocks editor and all themes are compatible with this plugin.
| | |
| --- | --- |
| Price: $0 | Active Users: 700,000+ |
3. Shortcoder By Aakash Chakravarthy
WordPress administrators can create unique shortcodes with HTML, CSS, and JavaScript using Shortcoder. Place your new shortcode anywhere on a page or post after pasting your code and giving it a memorable name.
For inserting embedded material, such as films and display advertisements, Shortcoder is fantastic. With it installed, you can now build shortcodes for each embed item and paste them into the content editor instead of being restricted to using embed code in widgets. Additionally, you can use Shortcoder to disable a certain custom shortcode on your entire website or to restrict how it appears on desktop or mobile browsers.
| | |
| --- | --- |
| Price: $0 | Active Users: 100,000+ |
💡 Bonus: Plugins With Shortcode Features To Support You For Versatile Purposes
Above mentioned WordPress shortcode plugins are for general purposes. What if you want to display marketing campaigns, and one-page documentation on your WordPress website? To provide you full independence in customizing WordPress websites, mention some powerful plugins with shortcode features. Let's see how you can benefit.
EmbedPress For Embedding Sources With Shortcode
At present EmbedPress is one of the popular embedding solutions which supports 150+ sources. Still, there are sources, which can't be displayed on the website directly by entering the URL in all editors or page builders. In these kinds of cases, EmbedPress shortcodes will help you to generate shortcodes for multiple sources. Thus without custom coding, you can embed any sources on any page builder or editor seamlessly.
NotificationX Provides Shortcodes To Display Social Proofs
There is no doubt that you need a strong marketing strategy to skyrocket your sales through websites. And NotificationX is one of those trusted names which is providing you with all essential tools like social proofs, growth alerts, and many more. NotificationX shortcodes provide another level of flexibility to your website. Let's have a glance at it:
🌟 You can add social proof popups anywhere on your website without custom coding.
🌟Display Growth Alerts for WooCommerce, Easy Digital Downloads, LearnDash, and Tutor LMS platform using shortcodes.
🌟You can create and display any kind of notification alert using NotificationX shortcode.

BetterDocs For Displaying Documentation Using Shortcodes
With 30k+ active users, BetterDocs is the most popular Knowledge base plugin. With this WordPress plugin, you can easily create documents and manage them smoothly. You can easily preview documents on a different platform, preview category-wise, etc with BetterDocs shortcodes.
To experience the stunning shortcodes and make your website more interactive, you need to get started with a WordPress shortcode plugin. This in-depth comparison article should have given you a better idea of which shortcode plugin to use for your Gutenberg website.
If you want to keep getting these kinds of helpful articles, then do subscribe to our blog or join our friendly Facebook community.