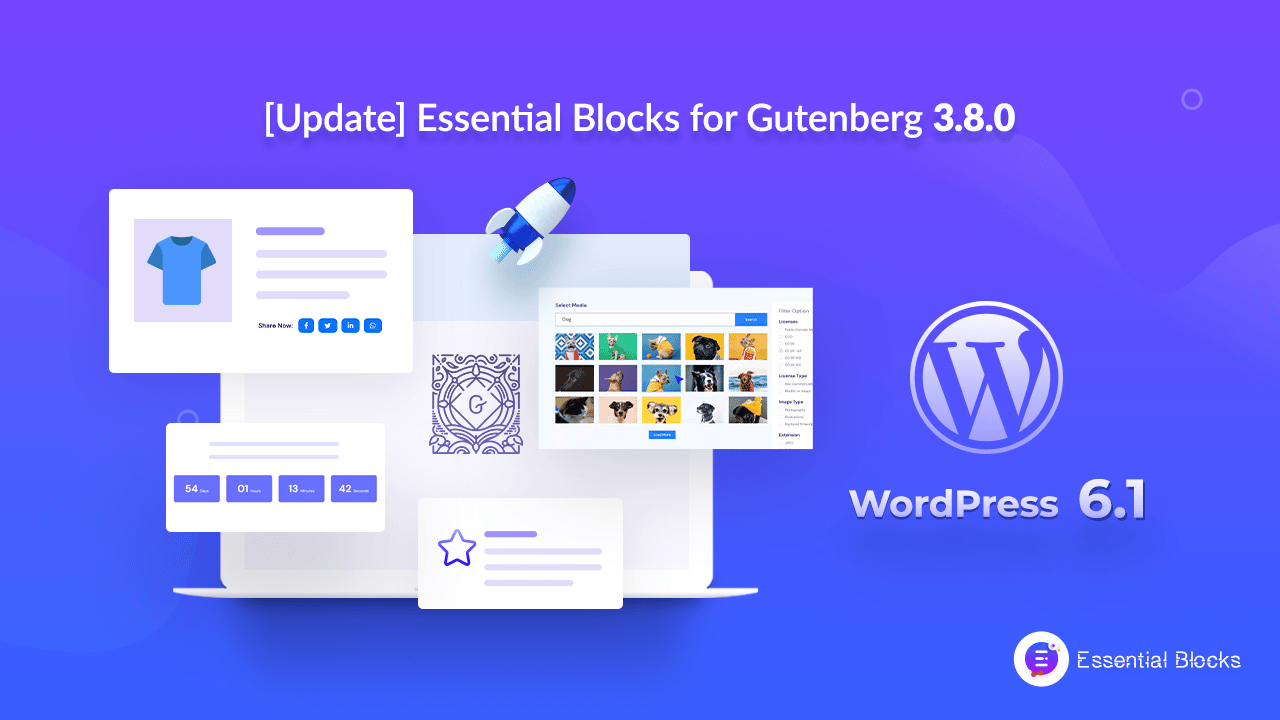 [Update] Essential Blocks for Gutenberg 3.8.0 & WordPress 6.1: What's New?
The much-anticipated WordPress 6.1 is finally here and following right up, we bring you our latest release – Essential Blocks for Gutenberg 3.8.0. Wondering what's coming with the newest updates? This time, we have come up with some exciting new blocks to help you unleash new website-building possibilities that are fully compatible with WordPress 6.1, 'Misha'. Excited to know more in detail? Dive right into this article as we discuss all the latest releases.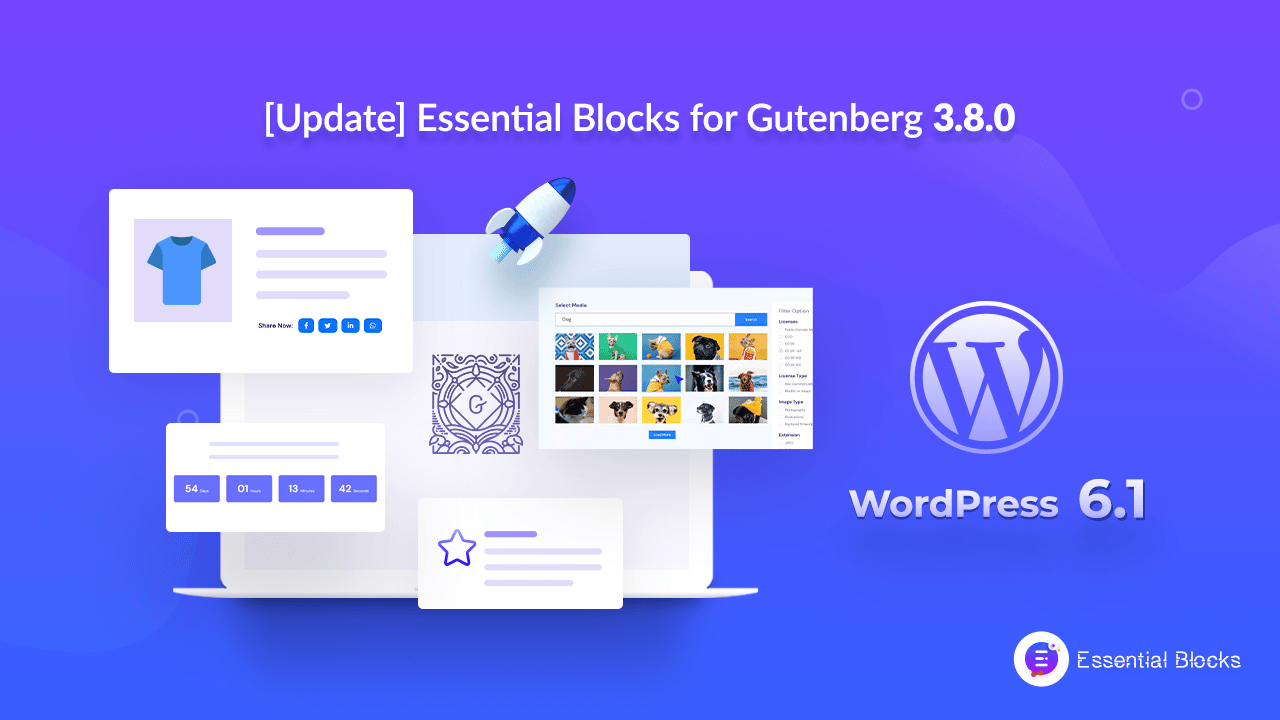 💡 What's New With Essential Blocks for Gutenberg 3.8.0
Here at team Essential Blocks, we are working relentlessly to enhance your Gutenberg website-building experience by consistently adding new blocks, features, and controls. With each update, we try to introduce tonnes of ready features that can help to make building pages in the default WordPress block editor much easier and smoother.
We work hard to unlock new possibilities for our users – by now, we have introduced 40+ unique blocks. And this time we have some brand new, big ones to share with you. Continue reading to find out more.
🌐 Access WordPress Openverse Library With New Openverse Block
WordPress has an open-source media library with 600 million royalty-free creatives that you can collect and use on your website, without worrying about any legal problems. We wanted to make sure you get easy access to and full compatibility with this outstanding library when working on your Gutenberg page builder. So, with Essential Blocks 3.8.0, we have delivered exactly that.
With the updated version of the Essential Blocks plugin, you can now access the Openverse library directly from your WordPress block editor with our Openverse block. You don't have to browse the library separately to collect the creatives to insert on your website, anymore. You can get any creative media you want with just a few clicks while updating your own blog or website.
In addition, Essential Blocks will help you to add beautiful styles to the Openverse creatives by allowing you to personalize them without using a single line of code. You can add different animations to the creatives and make exciting web layouts with ease. Check out this step-by-step guide on using this feature and instantly engaging website visitors.
🔗 Let Your Audience Share Your Content With Social Share Block
Social media channels are now a great source of traffic for the website. You can easily drive more audience to your website or business simply by sharing your content on different social media platforms. Therefore, we have come up with a new Gutenberg block from Essential Blocks, Social Share, to enable direct post- or page-sharing options from your website.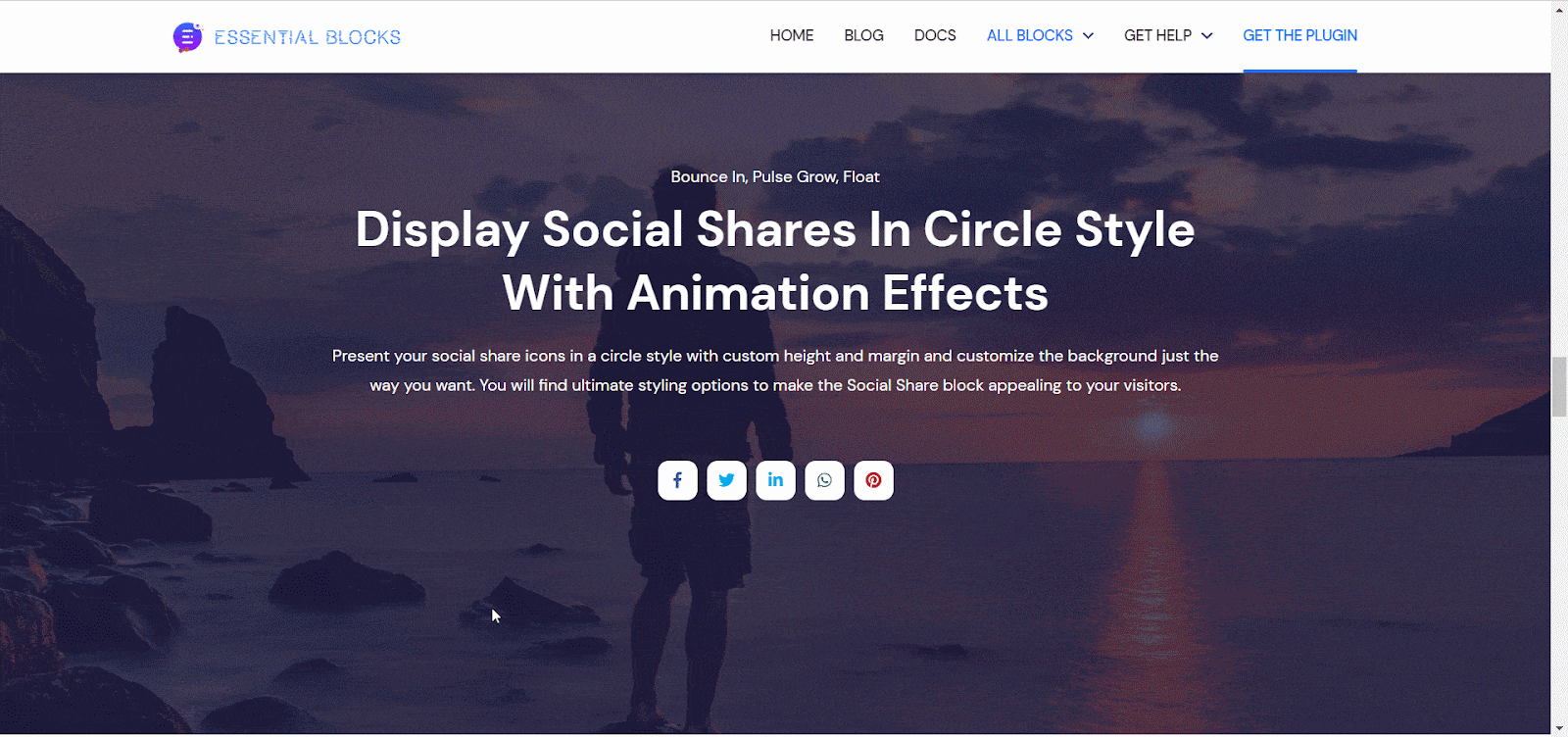 You can share a published blog post to any of your preferred social media platforms to boost conversions. But the main attraction of this new block is that the block allows website readers to share the content in a single click too. That way, not only will you be able to reach a greater audience but also, make the best use of social proof from website visitors who liked your content and shared it with their friends and family.
You can also customize the appearance of your Social Share block with beautiful animations, and styles and adjust the color as you need. So, from now on, you can add a social share button anywhere on your web page and let your visitors share them on popular social media channels which will boost your traffic at ease. Check out this step-by-step guide on how to use this feature.
⏰ Improvement In Countdown Block With Auto Repeater Feature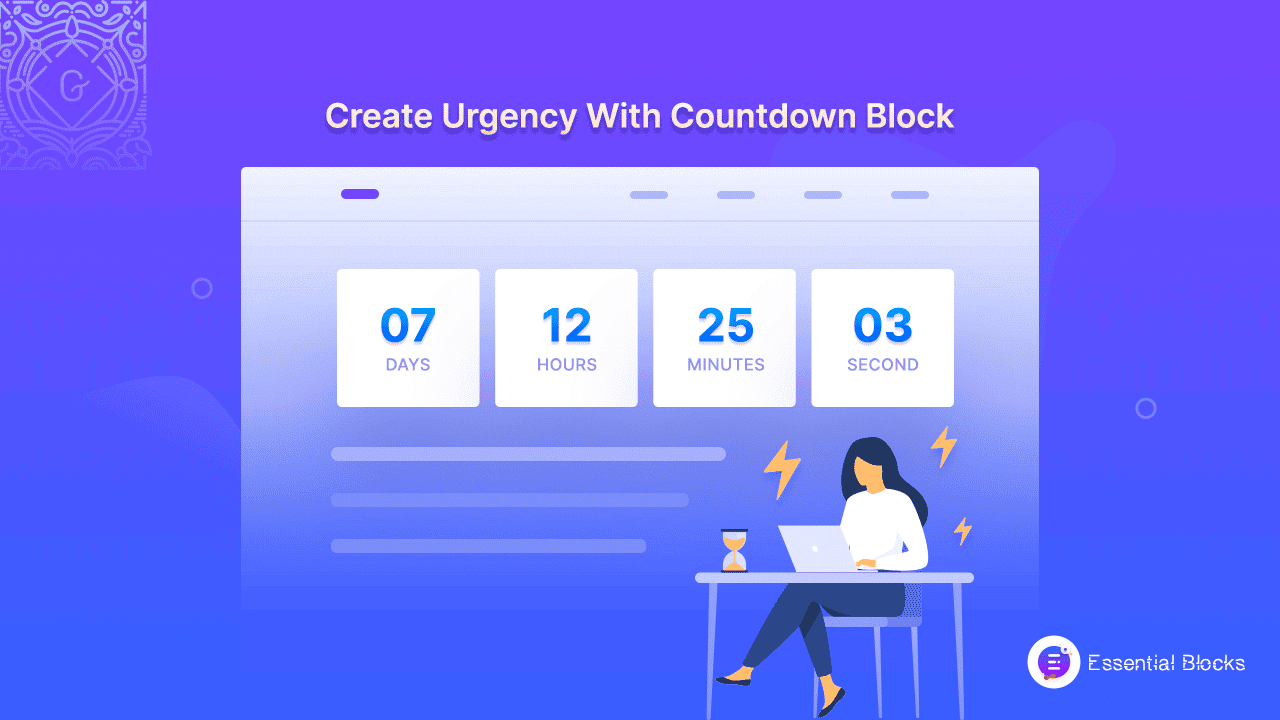 Essential Blocks comes with a Countdown block for the WordPress default block editor. Using this amazing block, you can easily add a countdown timer to your website and create urgency among your visitors to instantly lead them into action.
With the Essential Blocks for Gutenberg 3.8.0 update, you can now add an evergreen timer on your website using the Countdown block. So, from now on, you can supercharge your marketing campaigns in Gutenberg using Countdown with absolute ease using the FOMO marketing tactic perfectly.
✨ Advanced Updates In Flipbox Block With Text Formatting Options
To help make content more interactive and engaging on your WordPress website, we had previously introduced the Flipbox block, With the newly released Essential Blocks, you can now customize the block with more functionality than ever before.
We had a request from our beloved user to add a text formatting option on the Flipbox block and we didn't wait long to implement this feature on your favorite Gutenberg block library. From now on, you can have the access to format the text on the Flipbox block and create a more exciting layout on your website.
⚙️ Minor Bug Fixes & Revamped Compatibility With WordPress 6.1
In addition to these newly added features and blocks, Essential Blocks for Gutenberg 3.8.0 update comes with minor bug fixes to smoothen your Gutenberg experience. From now, you can smoothly duplicate the Feature List block and add it anywhere on your web page. Besides, we have tested this plugin with WordPress 6.1 'Misha' and made it fully compatible with the new release. So, won't face any issues while using this best block library.
💡 New Features You'll Get With The Latest WordPress 6.1
And following that, we also have some exciting updates to share for the latest WordPress version 6.1. It is named WordPress Misha and added outstanding features to smoothen your experience creating websites on the platform. Now, let's have a quick look at the features that come with the newly released 'Misha' below:
Exciting Template Editor feature to create stunning layouts for your website.
Amazing ready Patterns to create your website with ease.
Apply Global Styles on your website with a minimalistic styles variations panel, web font, typography, and more.
Improve your user experience with new Blocks and Design Tools
Brand new Twenty Twenty Three theme with more features
These are the major updates that you will get on the latest WordPress version. Check out our detailed blog on WordPress 6.1 to explore more on the latest release.
🔓 Unlock Endless Possibilities With New Essential Blocks 3.8 & WordPress 6.1
Essential Blocks for Gutenberg 3.8.0 updates come with 2 new exclusive and super handy blocks. It also comes with new features on the previous blocks while ensuring the compatibility with WordPress 6.1 update. So, now is the time to explore these features on your own and get Essential Blocks on your website.


Have you found this blog useful? If you do, then please subscribe to our blog, and share your thoughts on our Facebook community.