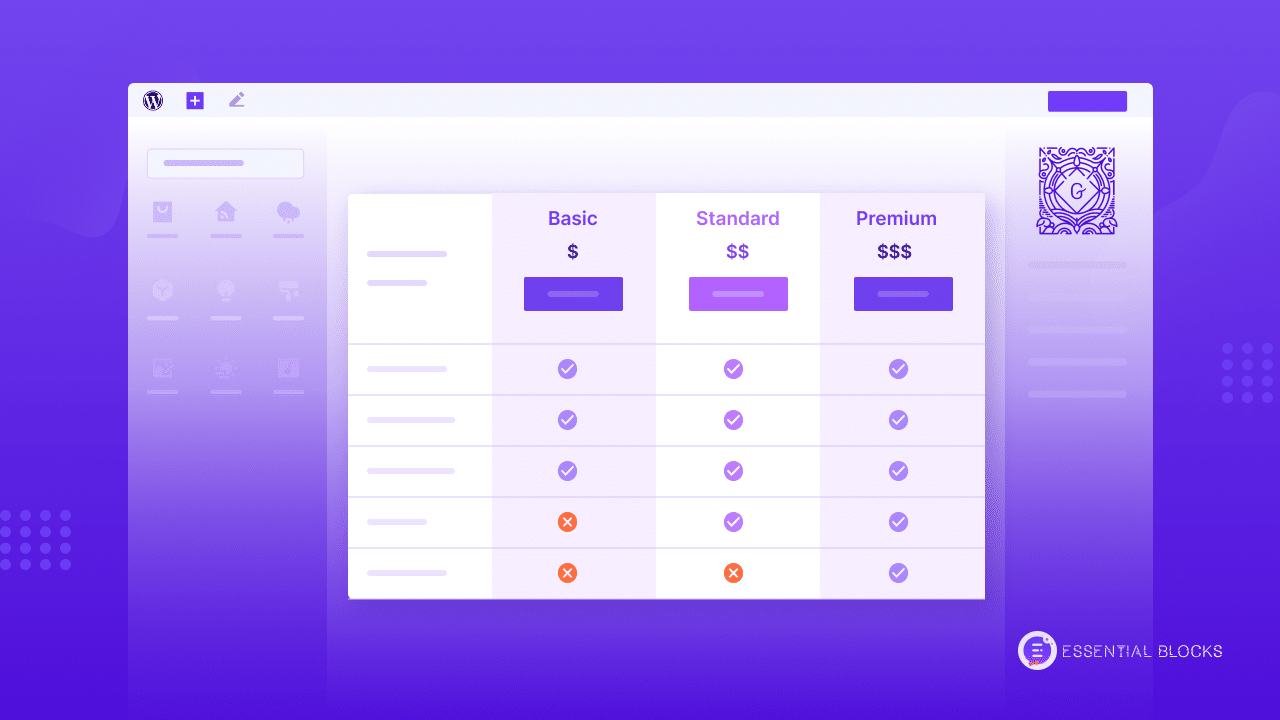 [New Block] How To Add Pricing Charts Creatively With The Multicolumn Pricing Table In Gutenberg
In the ever-evolving world of web design, staying ahead of the curve is crucial to creating captivating and engaging websites. Introducing the Multicolumn Pricing Table block by Essential Blocks, a game-changer block in Gutenberg that promises to revolutionize how we present pricing information for products or services on our websites. In this blog, we'll explore what this unique Gutenberg block is, how it can enhance your website's design, and why it's a must-have addition for any web designer with a quick 3 step guide.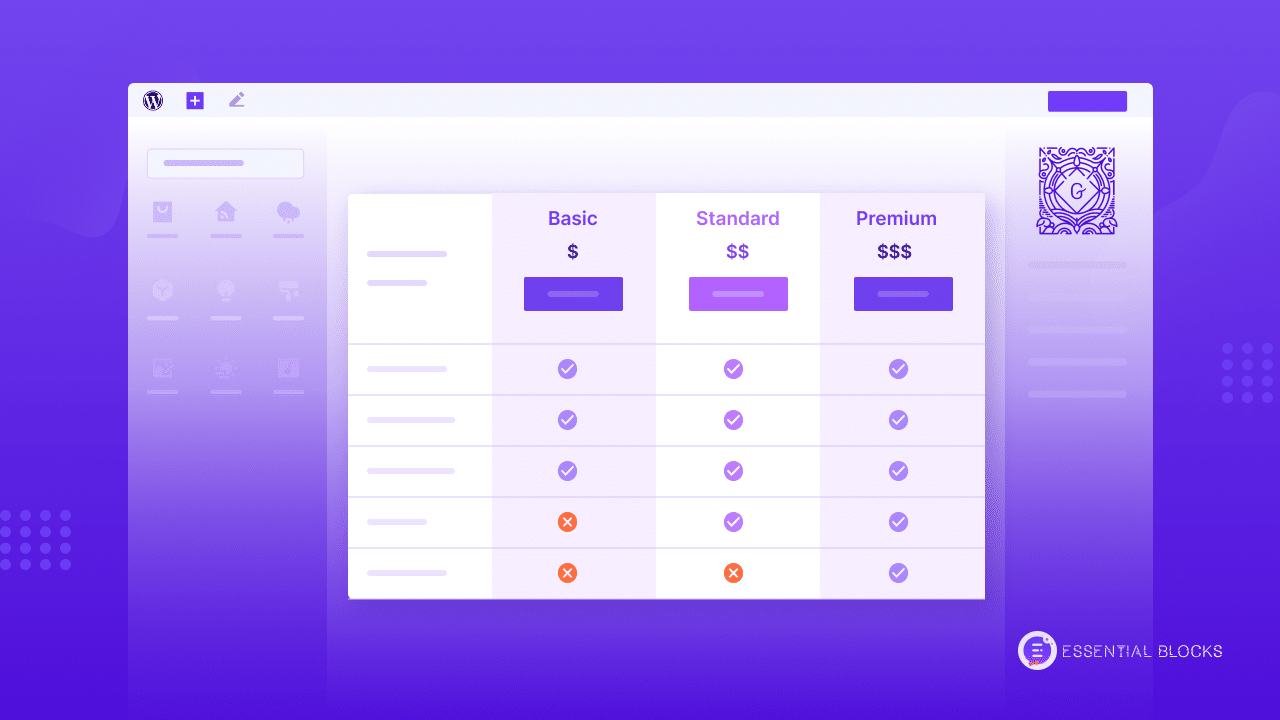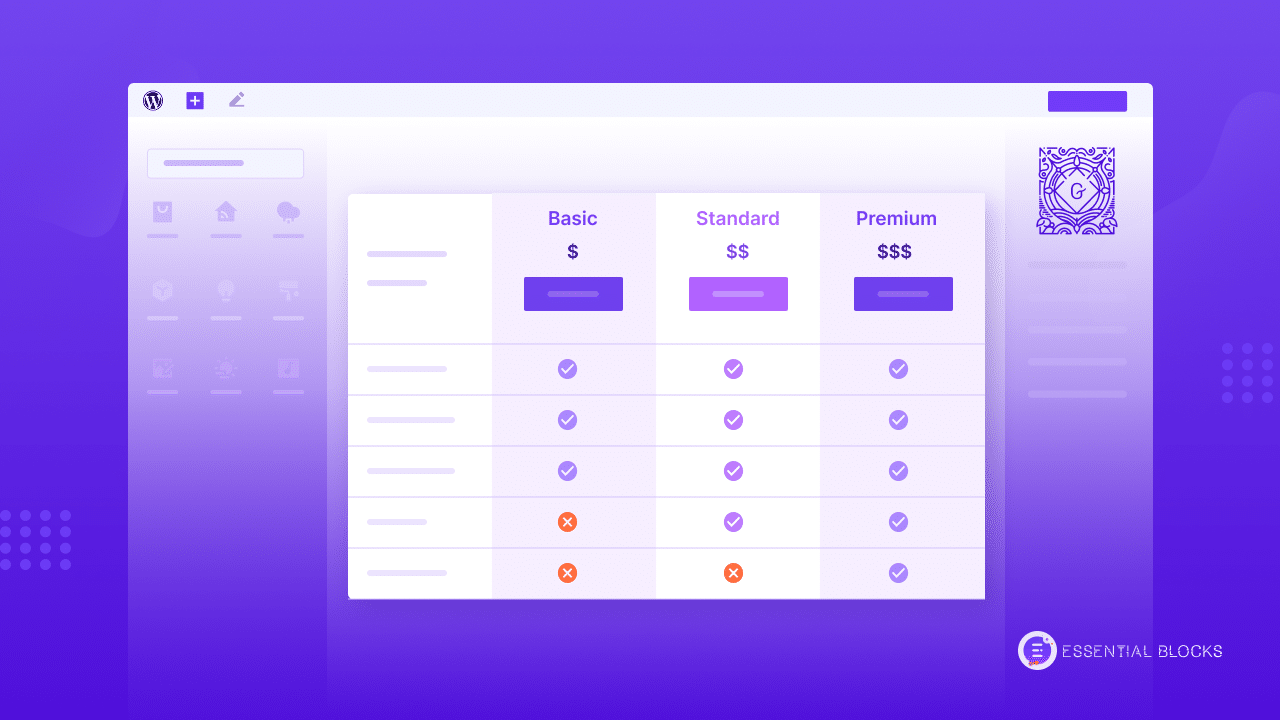 Why Should You Use Essential Blocks' Multicolumn Pricing Table?
The Multicolumn Pricing Table block is a groundbreaking addition to the Gutenberg editor, and it's exclusively brought to you by Essential Blocks. Unlike anything seen before in Gutenberg, this premium block allows you to create stunning pricing comparison tables that captivate your visitors and help you convert them into potential customers effectively. The Multicolumn Pricing Table block empowers web designers and content creators to present product or service pricing plans with finesse.
🧱 Detailed Comparison: You can now provide your audience with a comprehensive comparison of your pricing plans, highlighting the features and benefits of each plan in an easy-to-read format, making it simple for visitors to understand the value you offer.
🧱 Interactive CTAs: You can engage your visitors with interactive call-to-action buttons. Drive them to take the desired action, whether it's signing up for a service, making a purchase, or requesting more information. These buttons can be customized to match your website's design and branding.
🧱 Flexible Block Options: The Multicolumn Pricing Table block offers multiple block-adding options, allowing you to tailor the layout to your specific needs. Whether you prefer a two-column or three-column design, the block provides the flexibility to accommodate your pricing structure seamlessly.
How Multicolumn Pricing Table Helps Designing Website
By presenting a multicolumn pricing table block, you can provide visitors with a detailed comparison of your product or service pricing. Let's explore how this innovative Gutenberg block can elevate your web design efforts.
🎨 Enhanced Visual Appeal: The Multicolumn Pricing Table block adds a touch of professionalism and elegance to your website. With its clean and visually appealing design, you can leave a lasting impression on your audience.
🎨 Improved User Experience: Complex pricing structures can often confuse visitors. This block simplifies the information, making it easier for users to compare your offerings and choose the best option for them.
🎨 Increased Conversions: The interactive call-to-action buttons provide a clear path for visitors to take action, leading to higher conversion rates. Whether it's generating leads or boosting sales, this block can significantly impact your website's performance.
When it comes to crafting an attractive and effective pricing section for your website or project, it's time to set aside the traditional pricing blocks and embrace creative innovation with Essential Blocks' Multicolumn Pricing Block. This distinctive block revolutionizes how you present your pricing tiers, packages, or product options in a visually appealing and organized manner with its sleek and versatile design.
3-Step Guide: How To Add Multicolumn Pricing Table In Gutenberg
Using the Multicolumn Pricing Table on the Gutenberg site is easy and only requires a few simple steps. Here's how you can add the new block and customize it the way you want; find out from our step-by-step guide below.
Step 1: Activate And Add Multicolumn Pricing Table Block
To activate the Multicolumn Pricing Table block, navigate to 'Essential Blocks → 'Blocks'. Then, toggle to enable this 'Multicolumn Pricing Table' block.
Note: As the Essential Blocks Multicolumn Pricing Table is a premium block, you need to install and activate Essential Blocks PRO on your website along with the free version.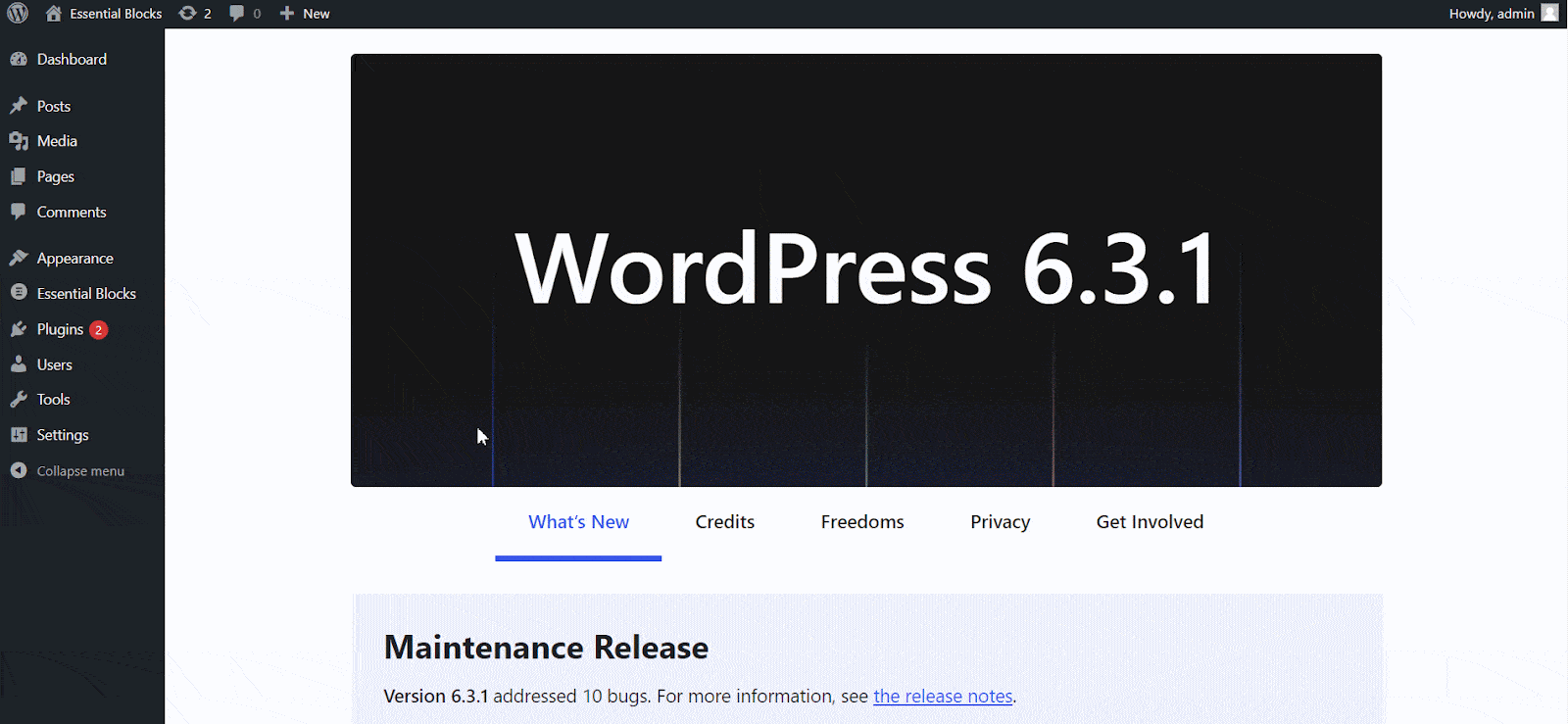 Now, you're ready to add this block to your page. From your WordPress website dashboard, go to a page or post where you want to add this. Now, click on the '+' icon and find 'Multicolumn Pricing Table' in the search bar. Simply click on the block, and it will be added, or you can directly drag and drop it to the desired location.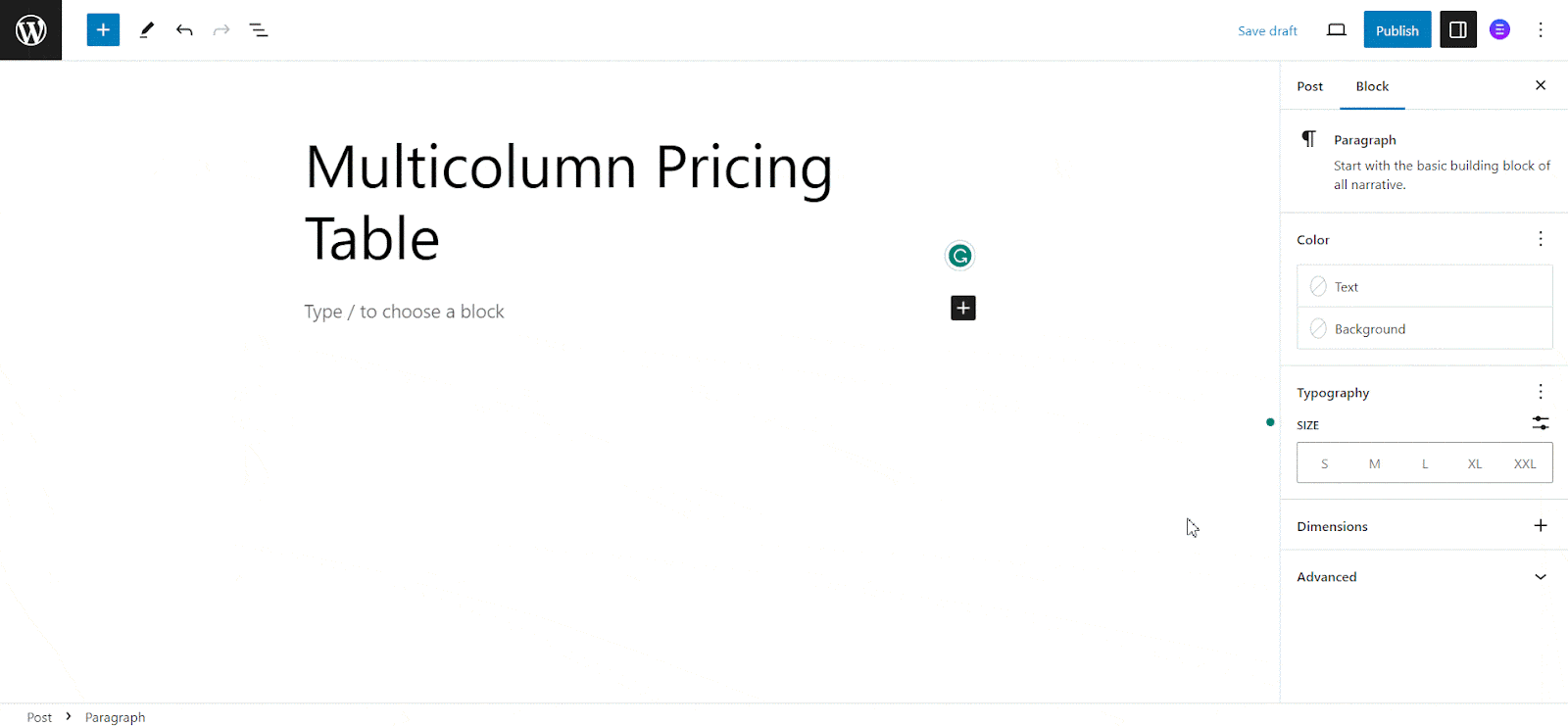 Now that you have added the Multicolumn Pricing Table block to your post/page, you can configure the preferences according to your needs.
Step 2: Configure Multicolumn Pricing Table
The Essential Blocks Multicolumn Pricing Table has multiple presets, layout options, and separate blocks on each column/row to enjoy the most customization options to maximize your pricing table dynamics. You can choose from two presets.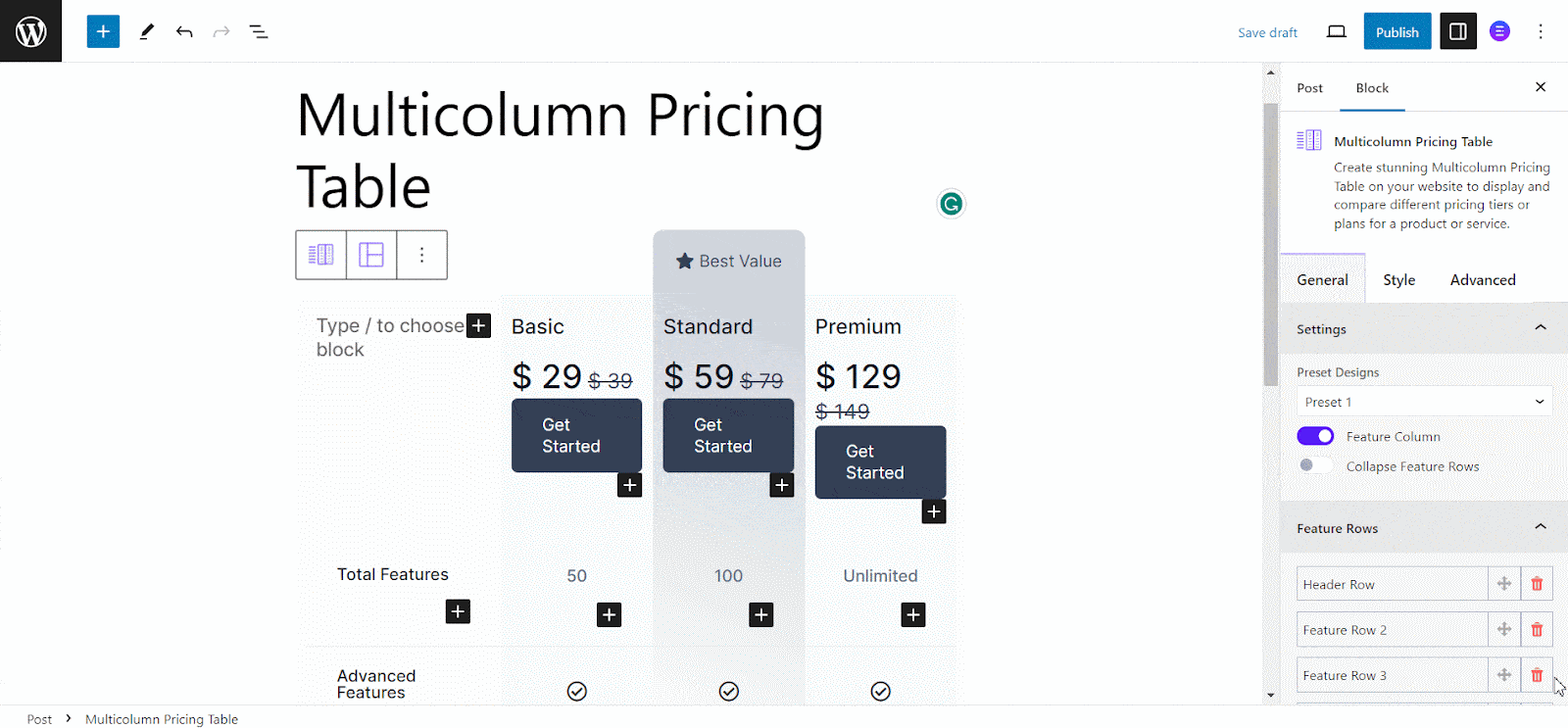 You can add additional blocks as well, and each of the pricing table's columns/rows has a separate block-adding feature. So you can add more blocks to integrate into this Pricing Table and maximize your creativity while displaying your pricing plans.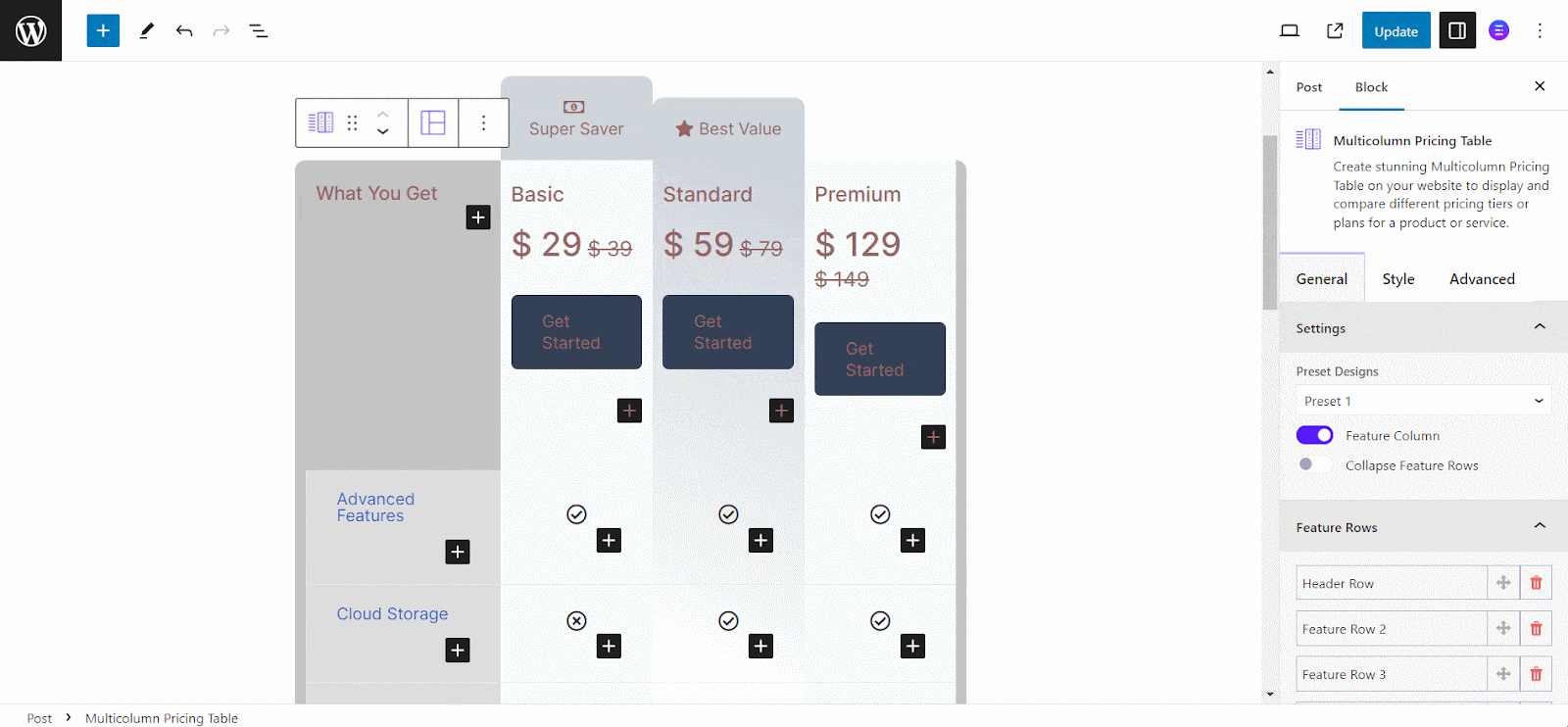 The Feature Row option from the Multicolumn Pricing Table lets you add or delete as many rows as you need. You can change the title of each row, reposition them with dragging options, and more.
Step 3: Style Multicolumn Pricing Table
After building your Multicolumn Pricing Table, you can design it with different color and styling options to make it more interactive for visitors. Go to the 'Style' tab, and you will find options to adjust the margin and padding to align your table with the page position.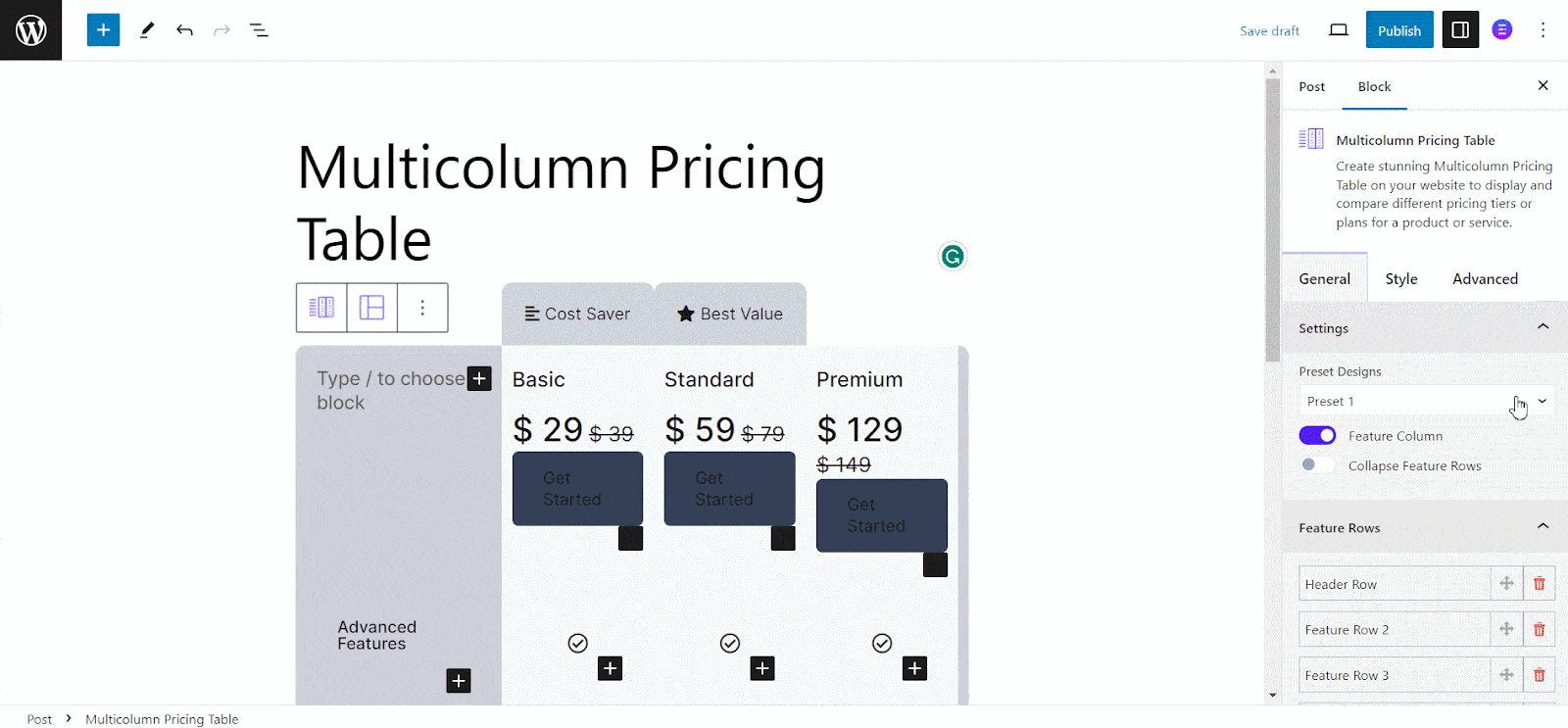 Additionally, you will have options to adjust the background color, border style, and more to make the perfect color combination and table adjustment for your pricing table's elements.
After you are done adding all the rows and columns, and designing according to your preferences, publish your page/post.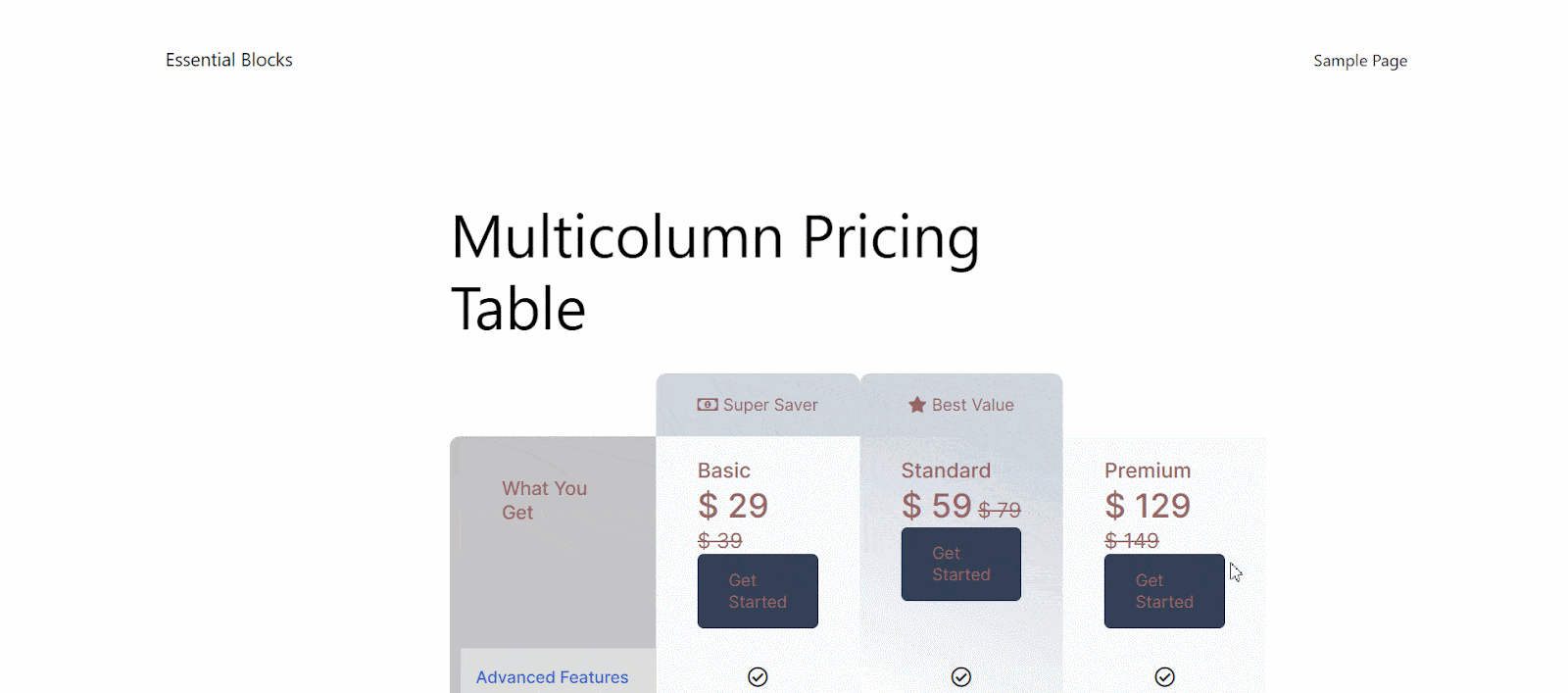 Thus, following the simple steps, you can quickly add and configure the Multicolumn Pricing Table on your website.
What's More, You Can Get In This Gutenberg Block?
In this unique Gutenberg block, you will find many exclusive features to make your pricing table even more attractive and useful. Have a look below to learn its exclusive features.
#1 Icon Picker And Price blocks
Essential Blocks has introduced an Icon Picker block and a Price block to take the functionalities of the Multicolumn Pricing Table block a step higher. These blocks help display a suitable icon for your pricing table and make your pricing charts one of a kind in Gutenberg.
#2 Enable Or Disable The Collapse Options
You can enable or disable the Collapse options with a single button for the rows. This feature helps display the most advanced elements you want to highlight on your pricing plans while allowing visitors to expand to see all the available items in each column.
#3 Active Column And Add A Badge
You can add or remove columns and customize them to your needs. Additionally, you can choose an active column and add a badge to design even more dynamically.
#4 Column, Body, Sale Badge, & Collapse Button
Multiple Pricing Table has a few unique design customization options in the Style tab, developed solely for this block, including Column, Body, Sale Badge, and Collapse Button. You will find alignment, color, and design options to design the table elements separately as you see fit.
#5 Advanced Tab For Effect, Animations, Etc
The Multicolumn Pricing Table has an Advanced tab to customize your pricing table further with hover effects, animation options, background images, overlays, border styles, screen options, and more. 
Time To Make An Extraordinary Pricing Table In A Few Clicks
In the ever-competitive online landscape, it's essential to stay innovative and offer an exceptional user experience. The Multicolumn Pricing Table block by Essential Blocks in Gutenberg empowers web designers and content creators to do just that. With its ability to create visually stunning pricing comparison tables, engage visitors with interactive buttons, and enhance user experience, this block is a must-have tool for anyone designing websites that stand out.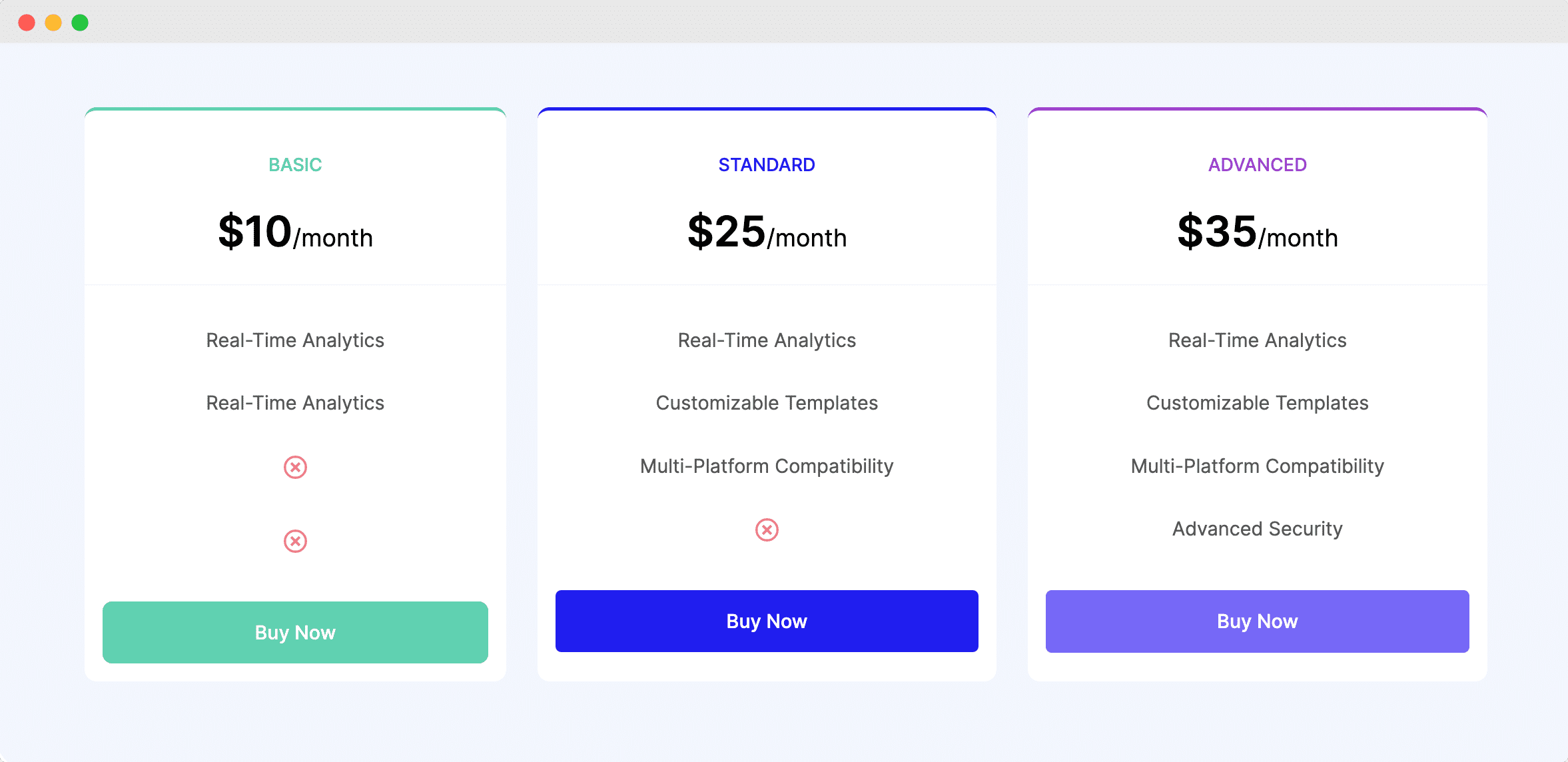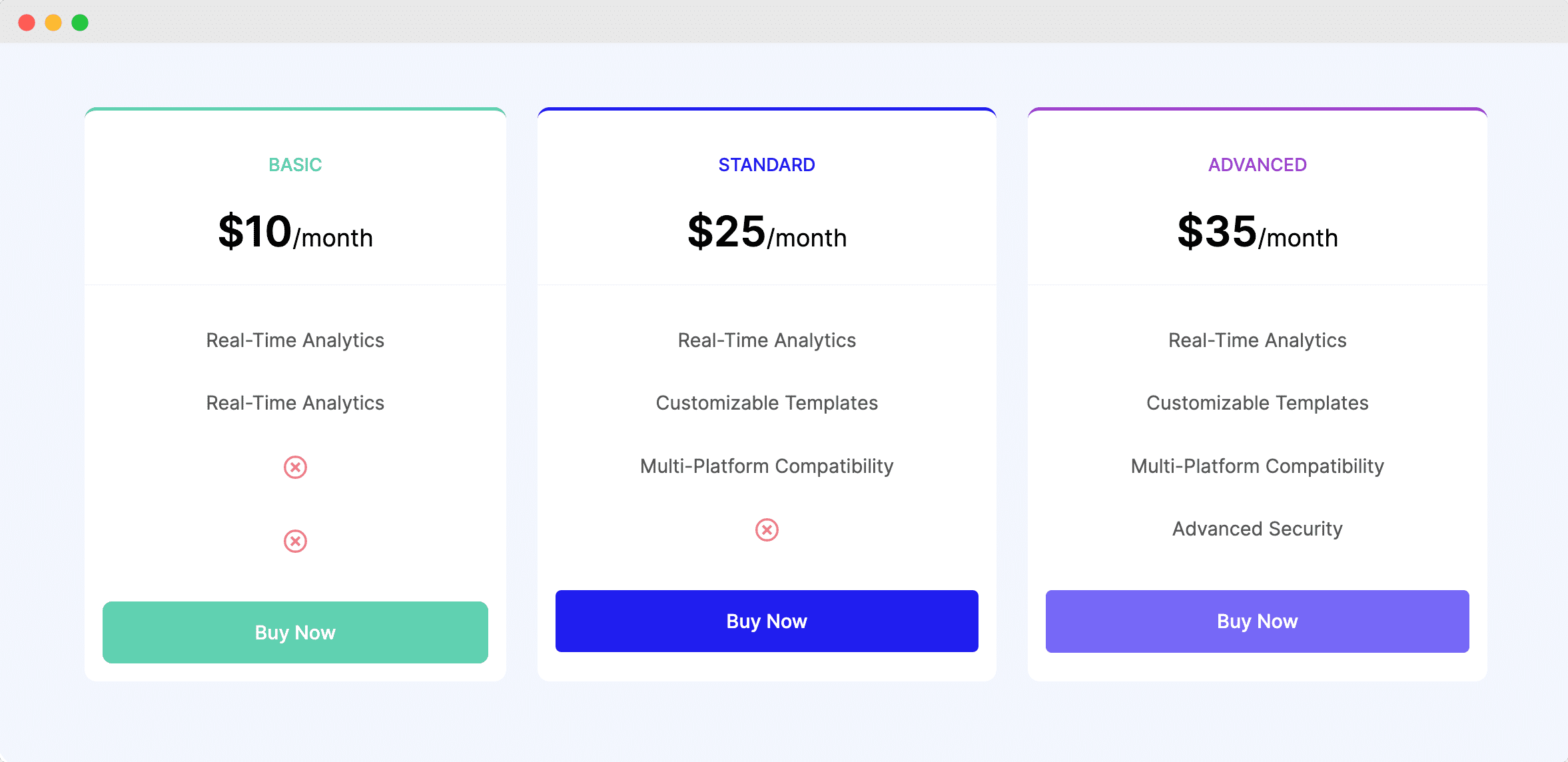 Don't miss out on the opportunity to unleash your creative designs and boost your website's effectiveness. Embrace the Multicolumn Pricing Table block in Gutenberg and take your web design game to the next level. Your visitors will thank you, and your business will reap the rewards of a more engaging and conversion-focused website design.
If you enjoyed this post, subscribe to our blog and join our Facebook community to connect with web creators and Gutenberg users. Leave your comment below and stay connected.