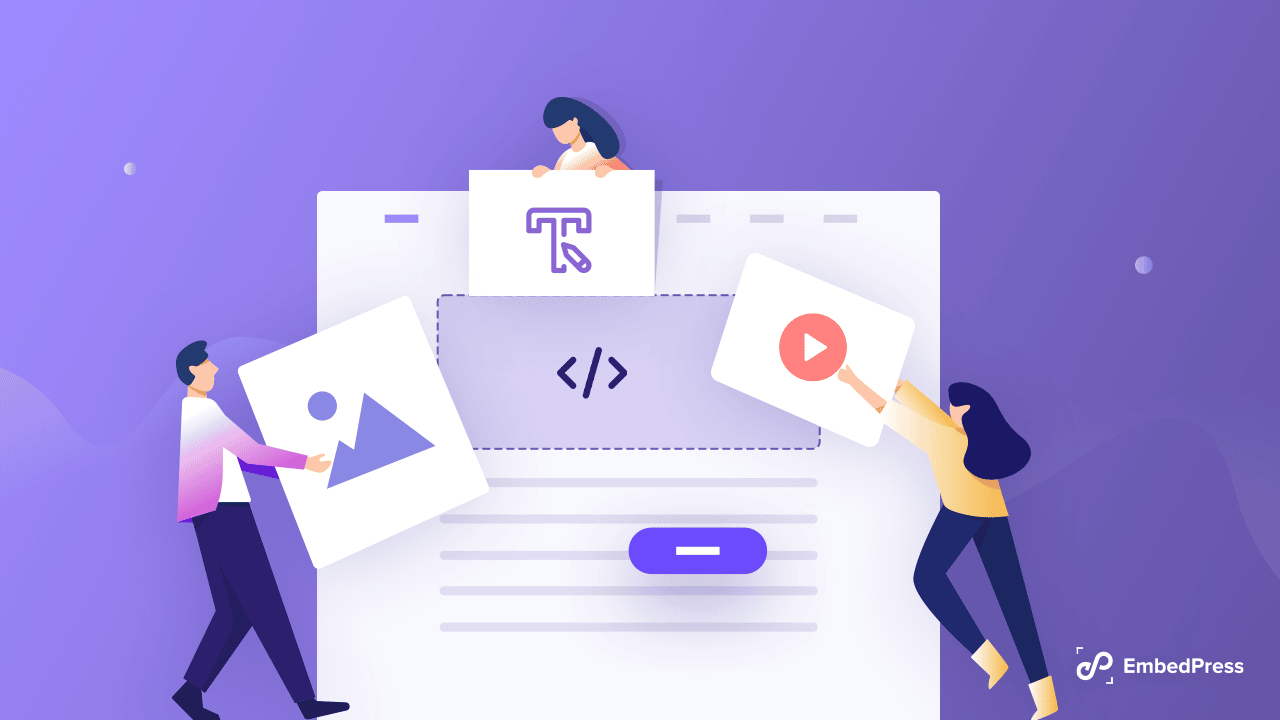 How To Embed 100 Sources In Gutenberg In 1-Click?
Ever wondered how you could create unique content, if you were able to embed 100 sources in 1-click? In Gutenberg, embedding content from different sources is easier than ever if you follow the correct procedure. We are going to walk you through the easiest method to embed 100 sources in Gutenberg instantly today.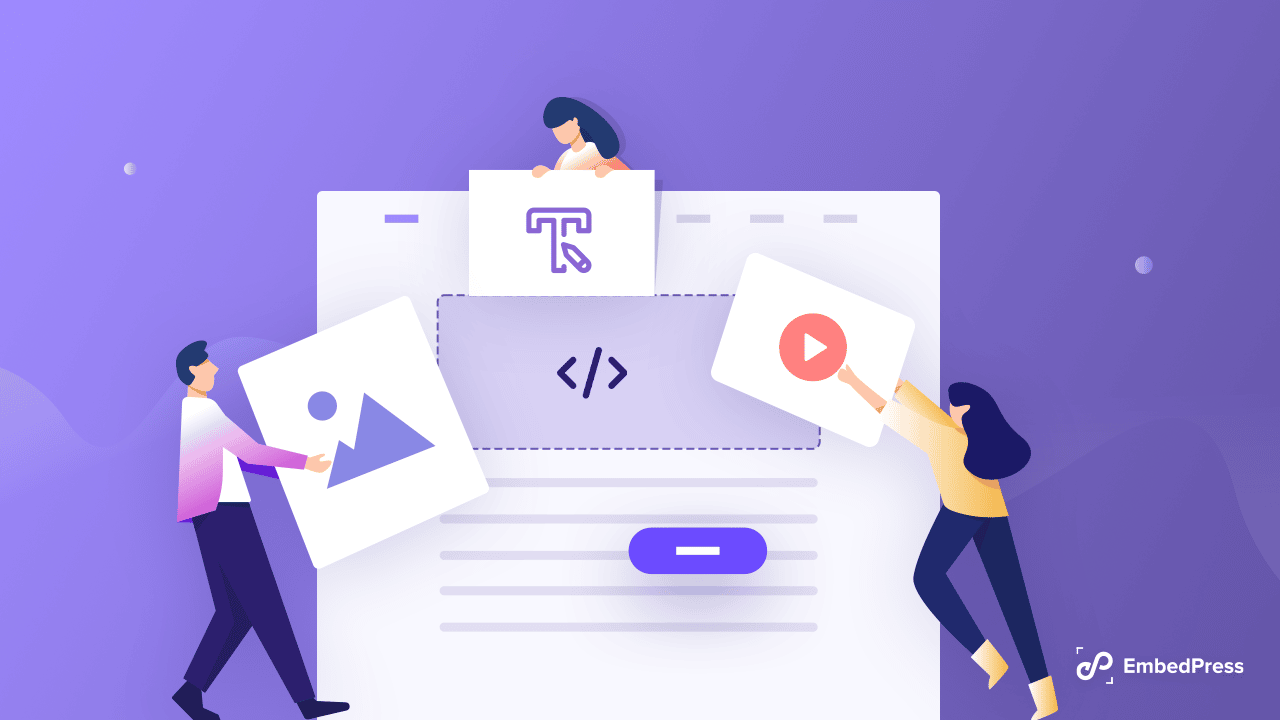 A website doesn't only consist of images and texts. To improve interaction in websites embedding versatile sources. Moreover, when you embed 100 sources or more into your website it will also help you in increasing credibility.
Why Should You Embed Content Instead Of Uploading?
📍 The best way to display images, videos, etc is definitely by uploading them to your website server. But at the same time, you have to keep in mind how much space it is wasting on your database. Especially when the number of images or content goes over 100+. It will make your website heavy, increase the loading time, and thus results in higher bounce rate.
📍 Also, when you want to display images, videos, and files from other sources, not from your own right-reserved files, you may be caught for plagiarism or cyber-security crimes. Your website may get in so much trouble! So why take such a risk by uploading without giving the credits? When you embed 100 sources or more, the authority of the content still remains to the owner, you are only displaying them on your site.
📍 Moreover, when there are different sources for uploading and managing files, videos, and images, why repeatedly upload the same things on your website and waste space? While you embed sources, you can also display multiple contents at once without any hassle.
📍 Another way to display social media posts or files is by coding. But coding is not a cup of tea for all! Also, when you go for experts you will always be dependent and it will cost you a penny. When you embed 100 sources, you only have to retrieve the share link and in one click can embed it in WordPress.
Considering all pros and cons, embedding 100 sources on your website is much wiser and easier than uploading them one by one.
3 Benefits You'll Only Get To Embed Sources In Gutenberg?
Let's move on to the facts about why you should choose Gutenberg block editor to embed 100 sources or more in WordPress. At present Gutenberg is the default editor of WordPress. So the number of users is increasing radically. Let's check out the benefits to embed 100 sources in Gutenberg: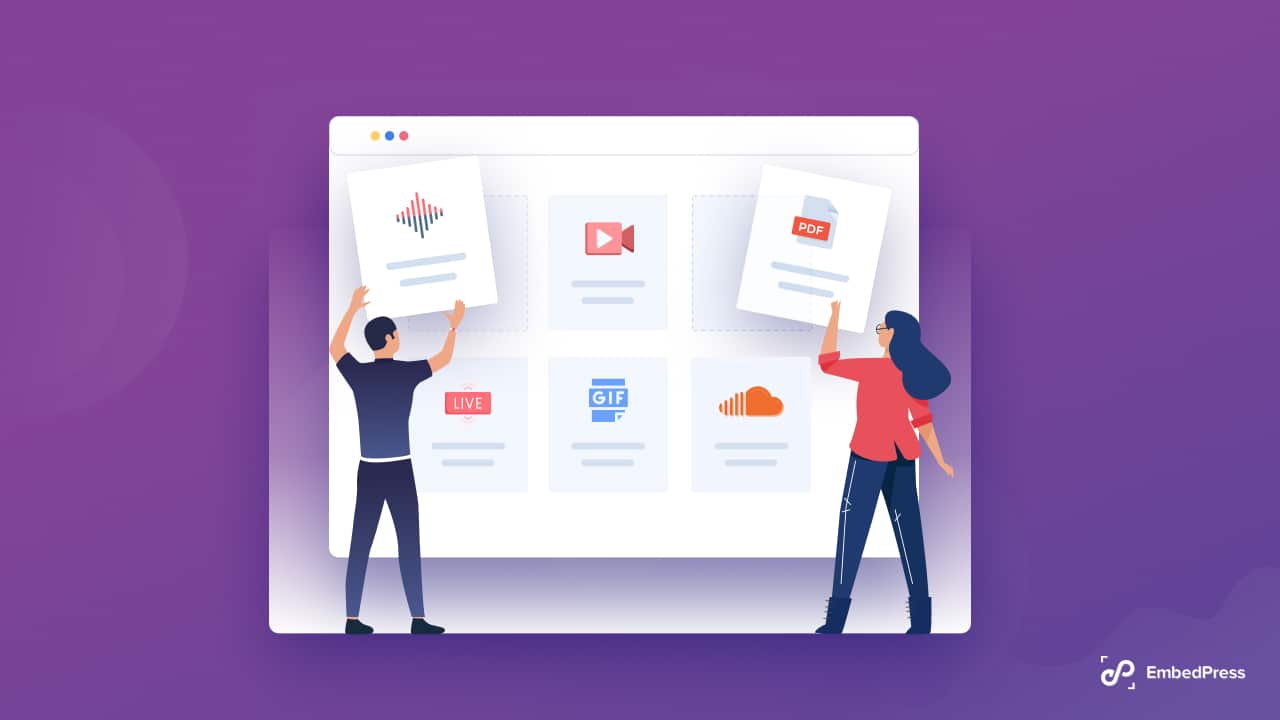 🌟 Gutenberg block editor is highly popular among blog-based websites. When you are embedding in Gutenberg, you don't have to leave the page, you can embed and see the preview from the same interface.
🌟 Gutenberg comes with so many styling and customization options for blocks. Using those you can easily give an outstanding appearance to your embedding sources.
🌟Most importantly, you don't have to use shortcodes to embed sources. Gutenberg has its own block to help you in embedding.
These privileges you are only going to have with Gutenberg editor. So, undoubtedly Gutenberg is a great option to embed sources in WordPress.
The Best Embedding Solution For Gutenberg: EmbedPress
As we already acknowledged the benefits of embedding sources in Gutenberg. Now, which way is the best to embed 100 sources in Gutenberg? In this case, you can go for the most popular WordPress plugin, EmbedPress. At present, it has the highest number of happy users as an embed plugin. You can embed anything in Gutenberg with this plugin.

You might be wondering, why go for an embed plugin, when Gutenberg editor has its own embed block? Well, the freedom of embedding you are going to get in EmbedPress is something you do not want to miss out on. You will be surprised to know that, you can embed 150+ sources in Gutenberg with EmbedPress. And with the default embed block, the count is nearly 50+. So why use multiple solutions for embedding in Gutenberg, with EmbedPress you can easily embed nearly unlimited sources.
Also, you can easily embed 100 sources or more using the single EmbedPress block. You don't have to switch between different blocks for YouTube sources, Google sources, and all. And embedding any sources in EmbedPress is completely free. Let's have a look at the key benefits of using EmbedPress to embed 100 sources in Gutenberg.
Embed 15+ Video Sources In Gutenberg
Not only YouTube or Vimeo, but you can also seamlessly embed almost all popular video sources with EmbedPress. Video plays a big role to engage site visitors. Moreover, to portray the purpose of service or products more interactively, videos help a lot. No matter on which platform you manage videos, you can easily embed them with EmbedPress. At present, you can embed 15+ video sources in Gutenberg.
Here is the list of exclusive embed video controls that you will get in EmbedPress:
💡Customize the play bar, control when to start, and keep the embedded video play in a loop.
💡Add branding materials like a custom logo, call to action button, subscriber buttons, etc.
💡Enable live chats that will directly connect site viewers from your website to the live streaming.
💡Wistia, Video, YouTube, etc platform have their own control options to customize the embedded video appearance.
Directly Display Social Posts From Sources In Gutenberg
To build credibility and connect site visitors directly with the latest updates, social media platforms are playing a big role. Using EmbedPress you can also embed your social platforms like Facebook, LinkedIn, Instagram, Twitter, etc. in one click. Moreover, posts from pages or groups, you can display all seamlessly. Just by entering credentials once, you can embed social media posts multiple times on your website easily.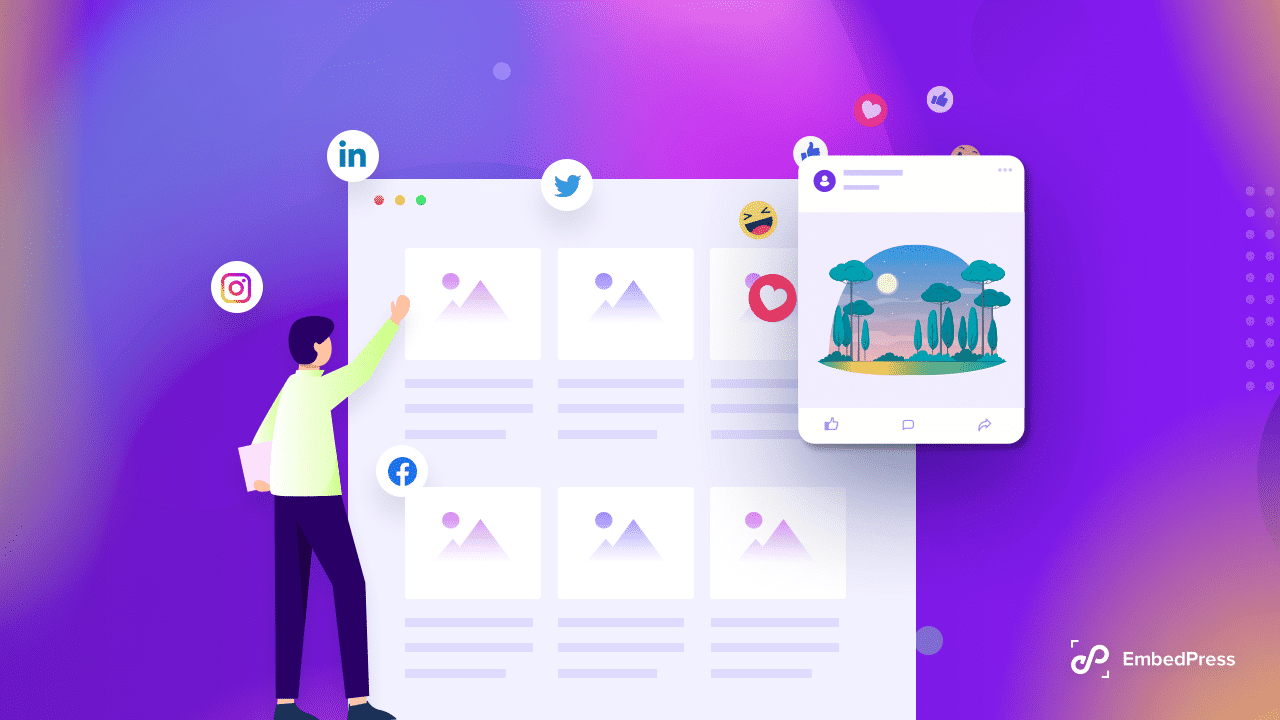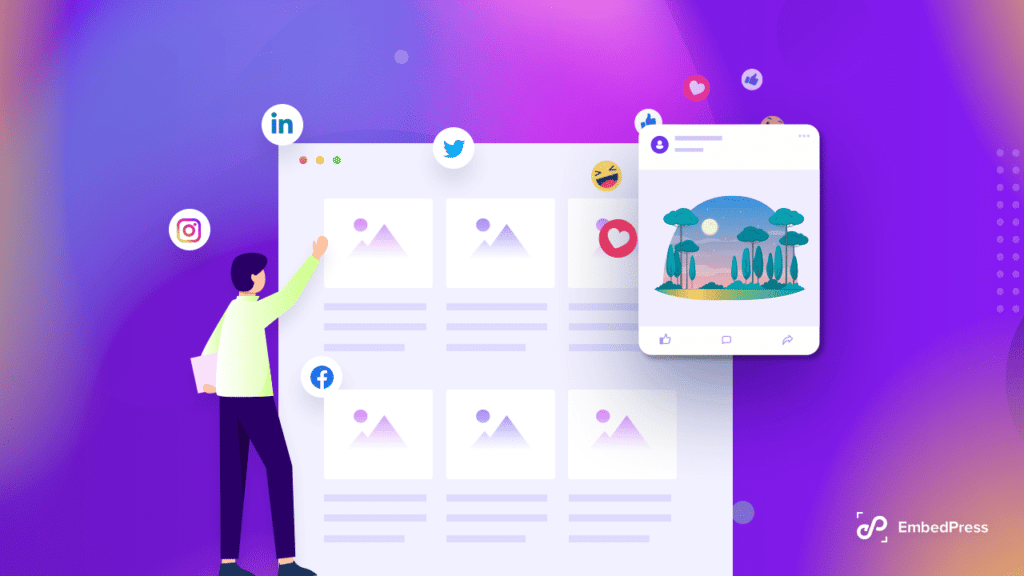 Add Audio Sources In WordPress Instantly
If embedding audio sources are in your embed 100 sources list, then EmebdPress is the ultimate solution. Popular audio sources like SoundCloud, Spotify, and others can be easily embedded with EmbedPress. You can also add personalization to these sources by adding brand logos, displaying artist profiles, and all.
Embed Pdfs, Documents, Polls & Forms Seamlessly
There was a concern about not being able to preview PDFs when embedding. In previous times, users can only embed dynamic files not static files like PDFs. With EmbedPress, you can preview the PDFs, provide download options, and even include custom branding. This stunning feature is not only available for Gutenberg users but also for Elementor, Classic Editor, Divi, Beaver Builder, and the list goes on.
Engage More Viewers With Live Streaming
Live streaming is what you using for versatile purposes these days. From gamers to small eCommerce owners to personal vloggers, live streaming is getting popular day by day. These days you can host live streaming through Twitch, Facebook, YouTube, etc. Using EmbedPress you can easily embed live streaming in Gutenberg without any coding.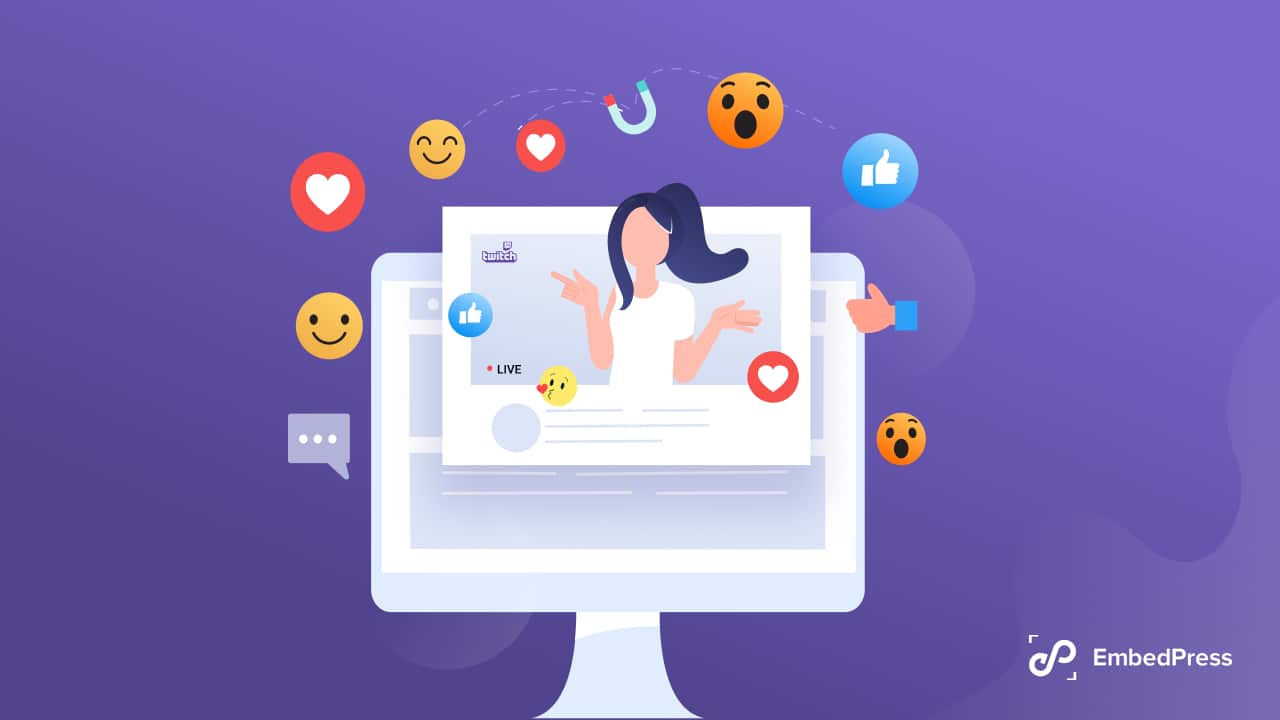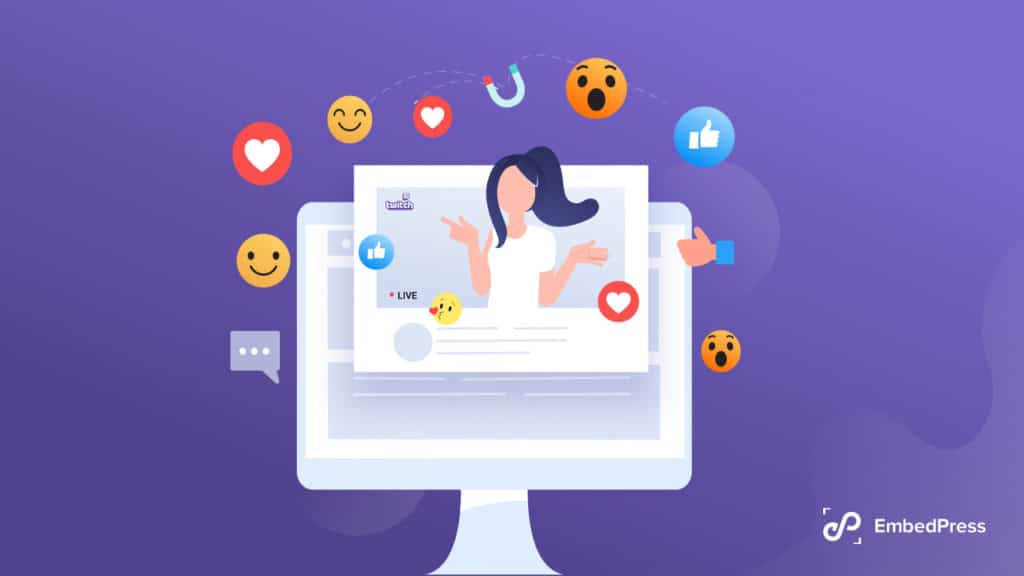 Get Stunning Controls For Embedded Content In EmbedPress
Apart from embedding countess sources in Gutenberg, it comes with handy customization options. That will help you to manage and embed 100 sources, their appearances and all. Let's check out the top exclusive control options at a glance.
🌟 Add Custom Branding
Want to display your own custom logo than the embedded source logo? Nothing to worry about when you are using EmbedPress. You can easily upload your own branding materials and give your embedded 100 sources a personalized appearance instantly.
🌟 Add Lazy Loading
When your website has to load the entire website content along with embedded 100 sources, it takes a longer time. Sometimes it causes you to lose site visitors. That's what lazy loading is used. With the help of EmbedPress, you can apply lazy loading on a WordPress website with one click.
🌟 Use Shortcode To Embed In Unlimited Page Builders
EmbedPress is a handy embedding solution not only for Gutenberg users but also for other page builders as well. If you are planning to embed 100 sources in Classic Editor, Divi, Beaver Builder, etc. you can do it using the shortcodes.
Ultimate Guideline: Embed 100 Sources In Gutenberg With EmbedPress In 1-Click
Time to learn how to embed 100 sources instantly in Gutenberg using EmbedPress. Here is the step-by-step guideline by following which you can embed any sources in Gutenberg in 1-click.
Step 1: Get EmbedPress For Your Website
To get started embedding with EmbedPress, you have to get the plugin in your WordPress dashboard. To do that, go to Plugins → 'Add New' and then search for the EmbedPress plugin. Then install and activate the EmbedPress plugin on your website.
Step 2: Search For EmbedPress Block In Gutenberg
Now, open the page in Gutenberg where you want to embed 100 sources or more. Click on the '+' icon and search for 'EmbedPress' block. You can also find the EmbedPress block by using the '/' in the editor. Then click on the block and the block will be added instantly.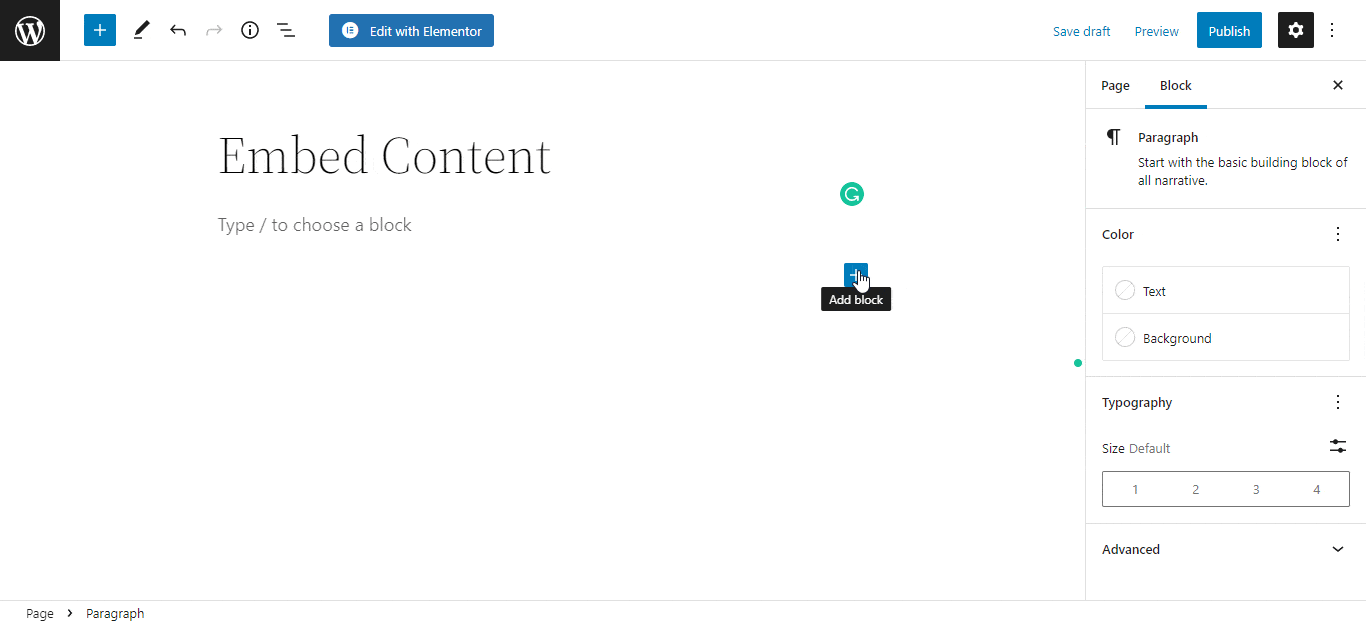 Step 3: Embed Sources In 1-Click
The next and last step is to embed the source from 100 sources. Go to the source page and copy the shared link of the source. All open audience source URLs can be copied with one click. But if you want to embed from specific profiles, then you have to retrieve the API data and add it to the EmbedPress dashboard
For the tutorial purpose, we are going to embed YouTube source content. Browse the video which you want to embed and copy the URL. then paste the video URL and click 'Embed' button. That's it. In one click the video will be embedded instantly.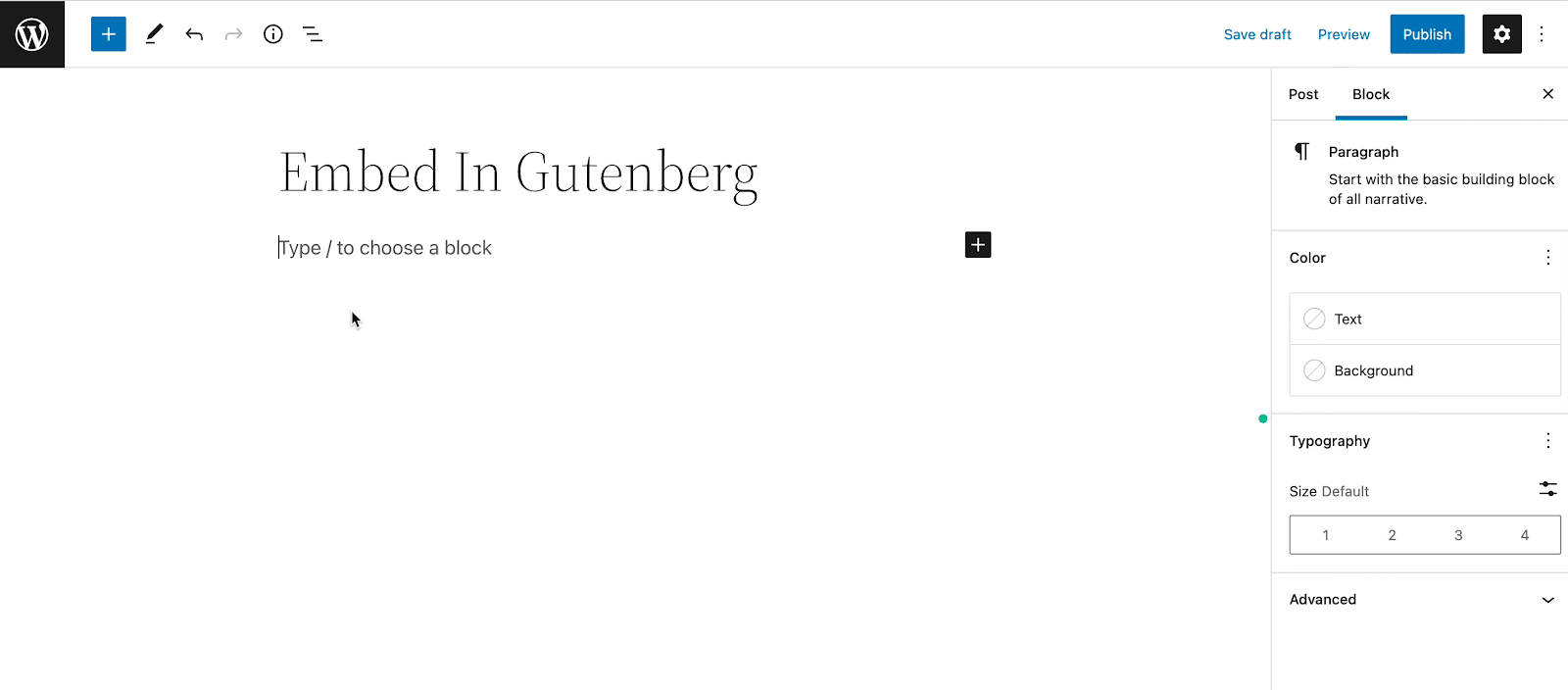 This is how easily you embed 100 sources in one click in Gutenberg using the EmbedPress plugin. After that, customize the appearance and make the page of the site live.
Increase Engagement With Stunning Embedded Content
With a stunning plugin like EmbedPress, embedding 100 sources or more is fun and easy. Most importantly, you can embed it all by yourself without using any custom coding. Thus you can increase engagement on site and skyrocket the growth.
If you really find what you were looking for in this article, then do share it with others. Also, subscribe to our blog, to be the first to get the latest updates on Gutenberg, embedding, and all.