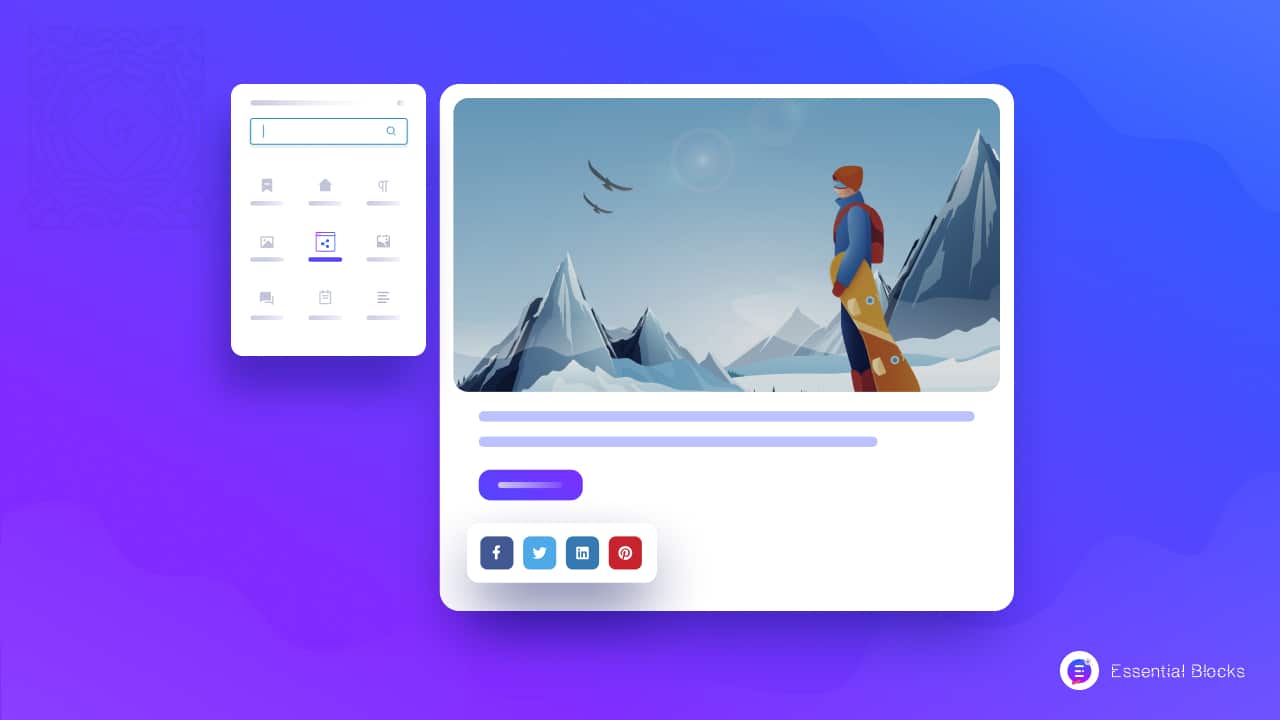 WordPress Guide: How To Easily Add Social Share In Gutenberg? [2023]
Would it not be great if you could instantly social share WordPress website's posts on popular platforms? It would help you instantly boost organic traffic flow on your site and add to the conversion rates. With this blog, we will give you a quick and super guide on how to add social share in Gutenberg and get your business growing on all platforms.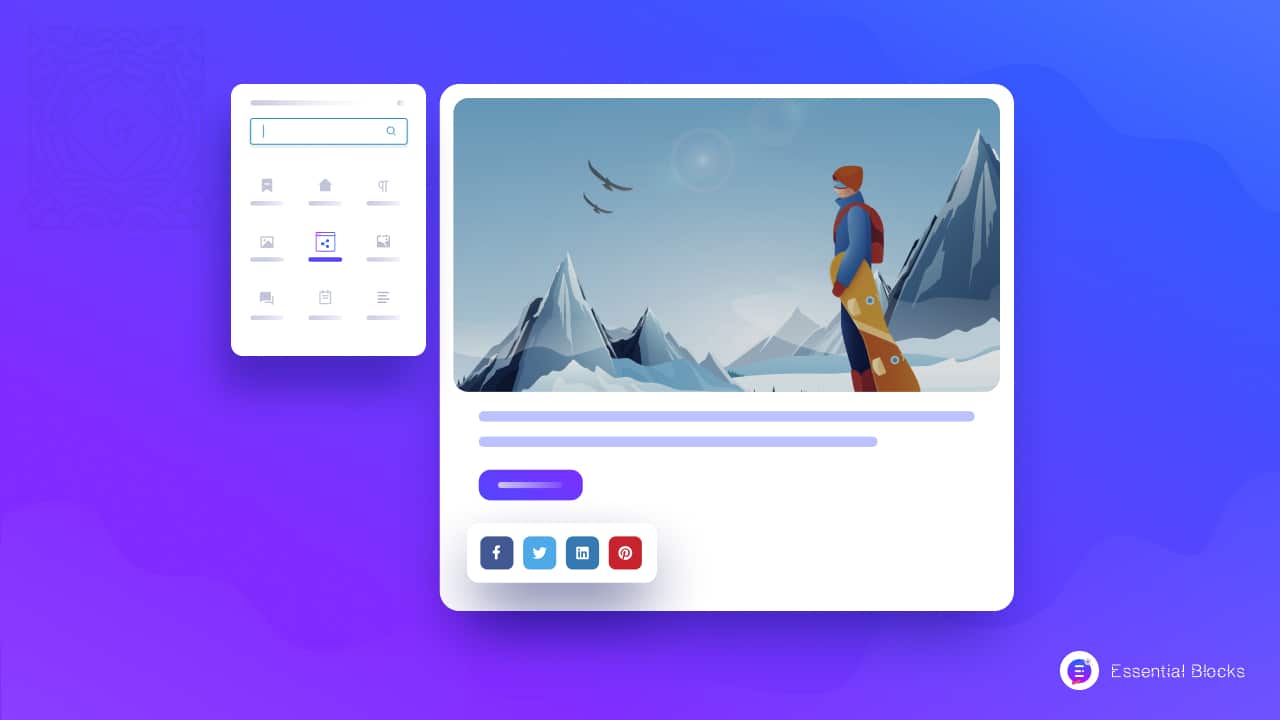 Advantages Of Social Share On WordPress Website
By now, we do not need to explain how popular various social networking sites like Facebook, Instagram, Twitter, Linked In, etc are getting day by day. These have become not only networking platforms but also effective business & marketing tools used by most renowned brands around the world. Businesses are focusing on how they can increase social media engagement & boost their growth, all the while positively impacting the marketing metrics of their WordPress websites.
If you own a business website or your own blogging site, you must be thinking about increasing its engagement, too. Sharing your web content on social media can certainly help you in achieving your goals – not just engagement, but open rates, click-through rates, conversions, etc. Wondering how? Let's get into the details.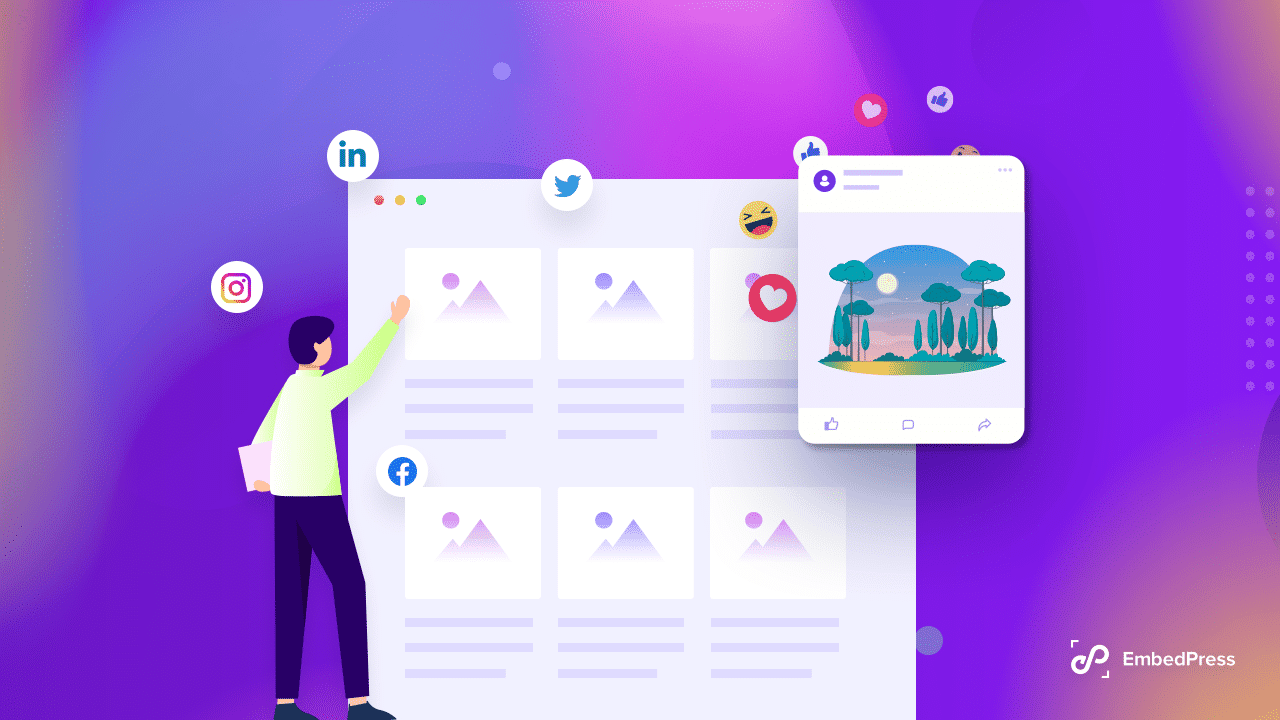 👉 Sharing website content on various social media platforms helps to increase your connection and reach among people. Adding social share options on the website lets you & the visitors or customers share information about your products, blog posts, images, and more. Instead of a direct message sent by the company itself, this has a better impact on the viewers – it adds to your business's credibility.
👉 Social sharing leads to better conversion as it increases the chances of visibility – your business endeavors get more chances to get conversions. People tend to buy products or read content that fascinates them the most. So if a good quality product gets popular among the people and widely shared, chances are high that people will desire to have them. So the possibility of purchases also increases. Thus, your business may get better conversion rates and get the growth it seeks to achieve.
👉 Another positive outcome of social sharing is that it helps increase brand awareness. A huge amount of people use social media today which creates a better opportunity for businesses to have their targetted audience. So, adding social share options lets your business approach a significant number of customers. Thus, social sharing makes it easy for your business to create brand awareness.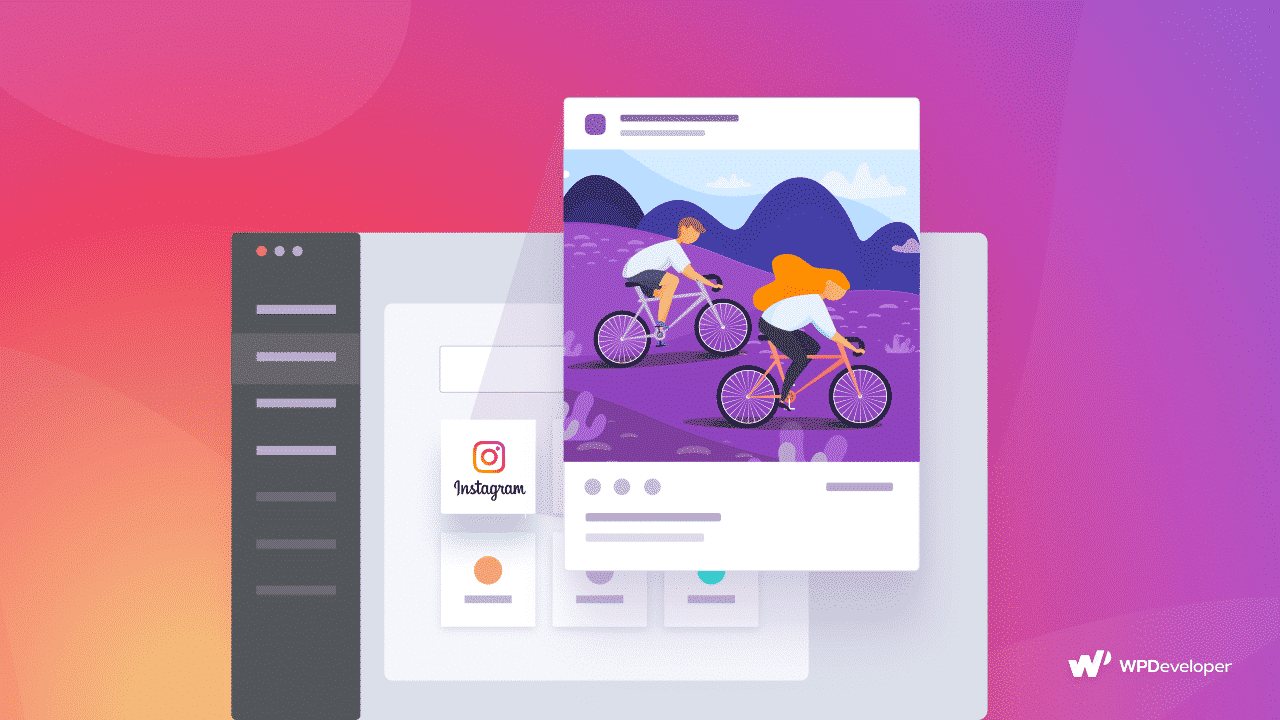 👉 If you allow your web content for social sharing, it can have a positive impact on customer satisfaction as well. People feel more inclined to a brand that is popular. This holds true for your blog website as well. If you come up with good-quality products or content, people will share it more. To convince them that you are a good choice among the competitors, it is essential to establish a strong voice for your company. It will also help you get more organic traffic to your website through word-of-mouth marketing and it's important for creating brand awareness.
With social sharing, this gets easy for you when the audience shares your web content on social media platforms at a large scale. Thus, you can minimize doubt among the customers about your brand authority & credibility which leads to better customer satisfaction.
There are many of us who appreciate good-quality web content or products and want to share them with others on different social media platforms. So, you should not be ignoring the chance to spread your work more among potential customers. And allowing for social share helps you exactly do the same.
So it is important to make your website content shareable to all relevant social platforms and you can easily do it by adding social sharing buttons to your product page, blog posts, or other popular content. This will allow you to make your website visible to more people leading to increased website traffic and people will be able to enjoy more content from you.
Introducing EB Social Share Block From Essential Blocks
Thinking about how to add social share in Gutenberg for your WordPress website posts and content? Essential Blocks For Gutenberg is there for you. It comes with 35+ amazing ready Gutenberg blocks to enhance the web-building experience that has an amazing EB Social Share block to let you easily add social share in Gutenberg.

Easy Steps To Add Social Media On WordPress Using Gutenberg
With the EB Social Share from Essential Blocks, you can easily add social share in Gutenberg in just a few steps without any coding. With just a click using the plugin, you can use it for multiple social media channels (as many as they want), and customize the layout/design/color just the way you want.
Once added, these will appear on the live web pages, and users can effortlessly share the entire web content to their preferred social media accounts using the designated button in just a click. Interested to learn how? Follow the quick tutorial with three easy steps below.
Step 1: Add EB Social Share Block
First, go to Post → 'Add New' from your WordPress dashboard to create a new post, or select an existing one where you want to add the Social Share block. Then, click on the '+' icon to add the block and search 'Social Share' at the search bar and you will see the block. Simply click on the block and it will be added to your post page.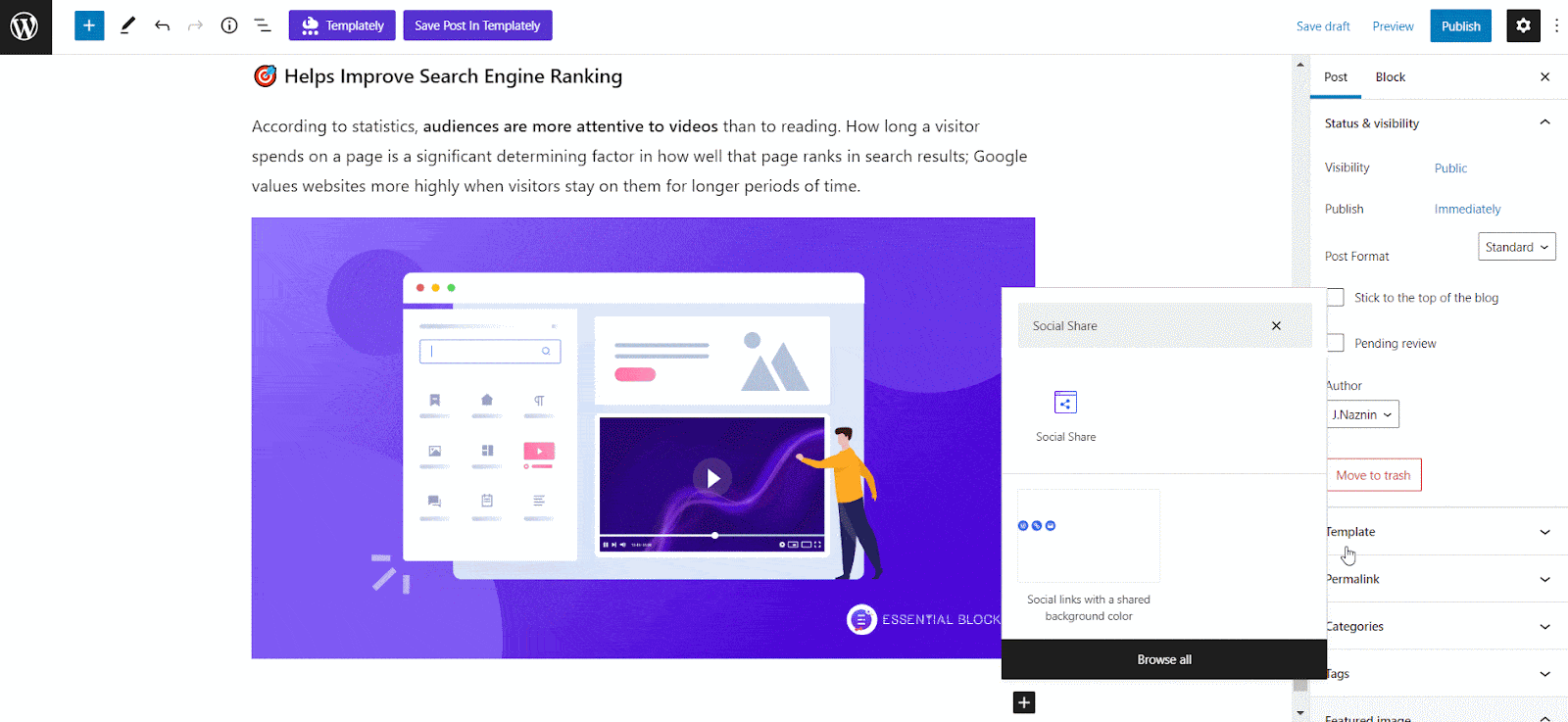 Step 2: Select The Social Share Channel
You will see an option to include or exclude your preferred social media channel that you want to keep on the blog post page to share directly in Gutenberg. You can keep the icons floating on your web page, too, by toggling the Floating button.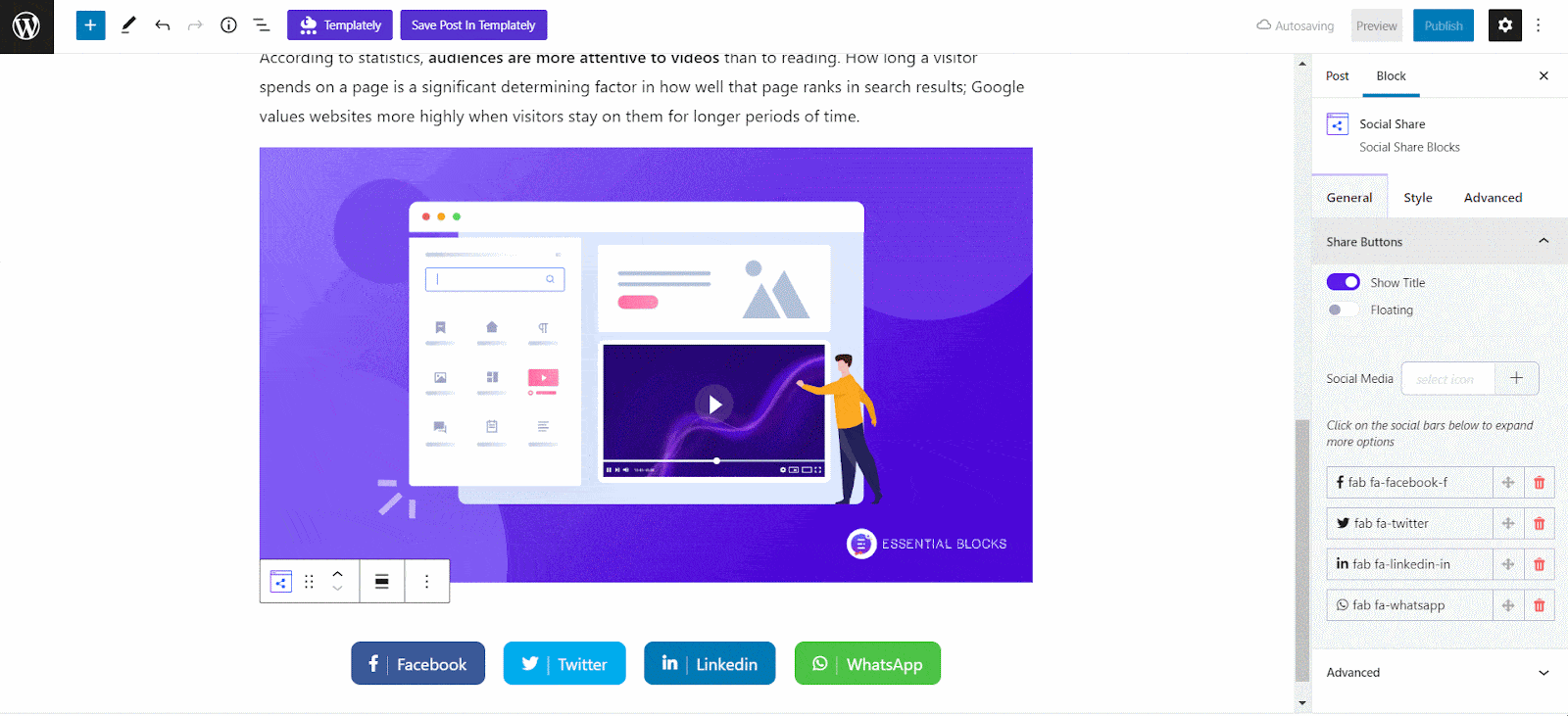 Step 3: Style & Configure EB Social Share Block
You can configure the block settings as needed to truly customize the button to your brand image. A settings panel appears on the right side when you click on the block. You can customize the EB Social Share block's appearance, styling, and content from here.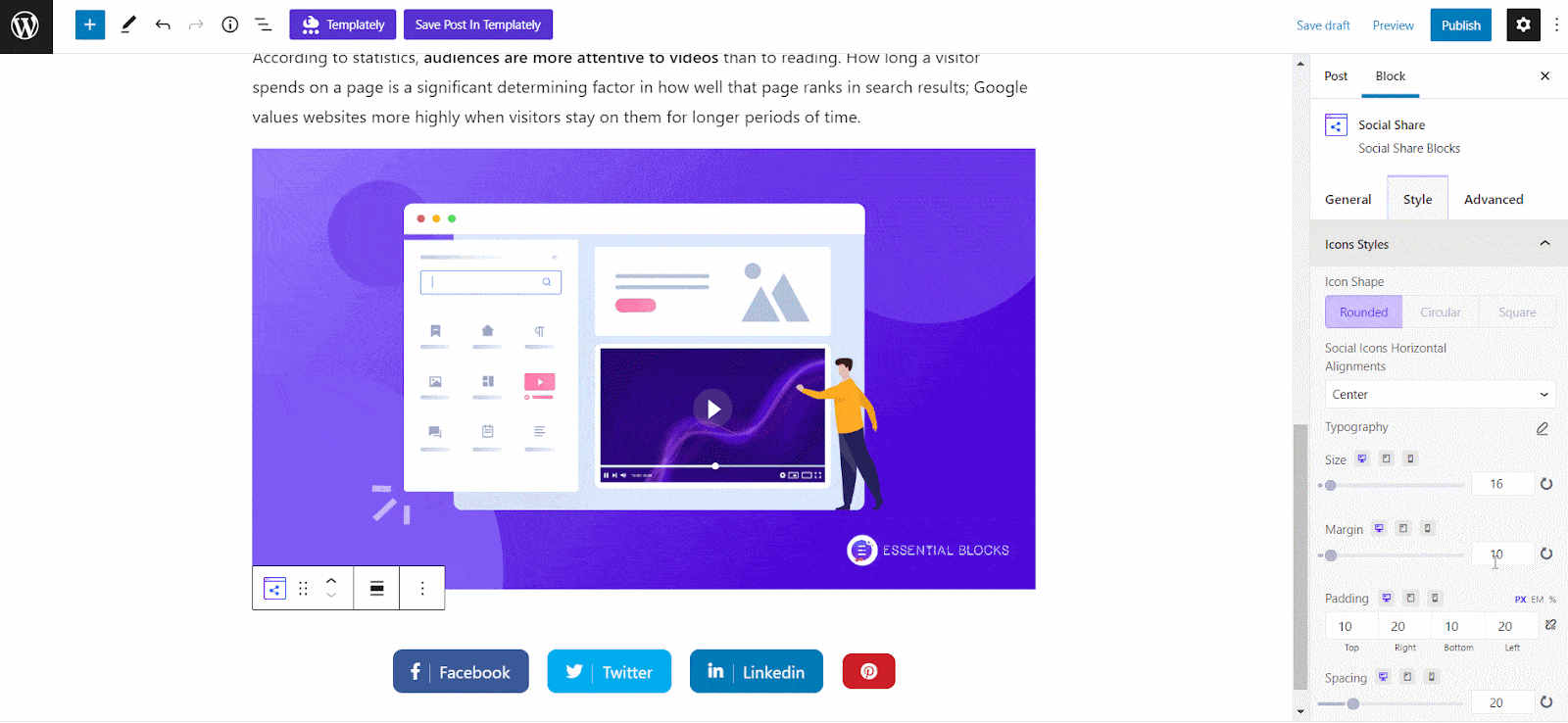 More advanced styling and customization options are available in this EB Social Share block. So you can design it the way you want to match it with your website's appearance.
Thus, you can easily add Social Share in Gutenberg using Essential Blocks. On clicking on the buttons you will be directed to log in to your social profiles and share the content with others.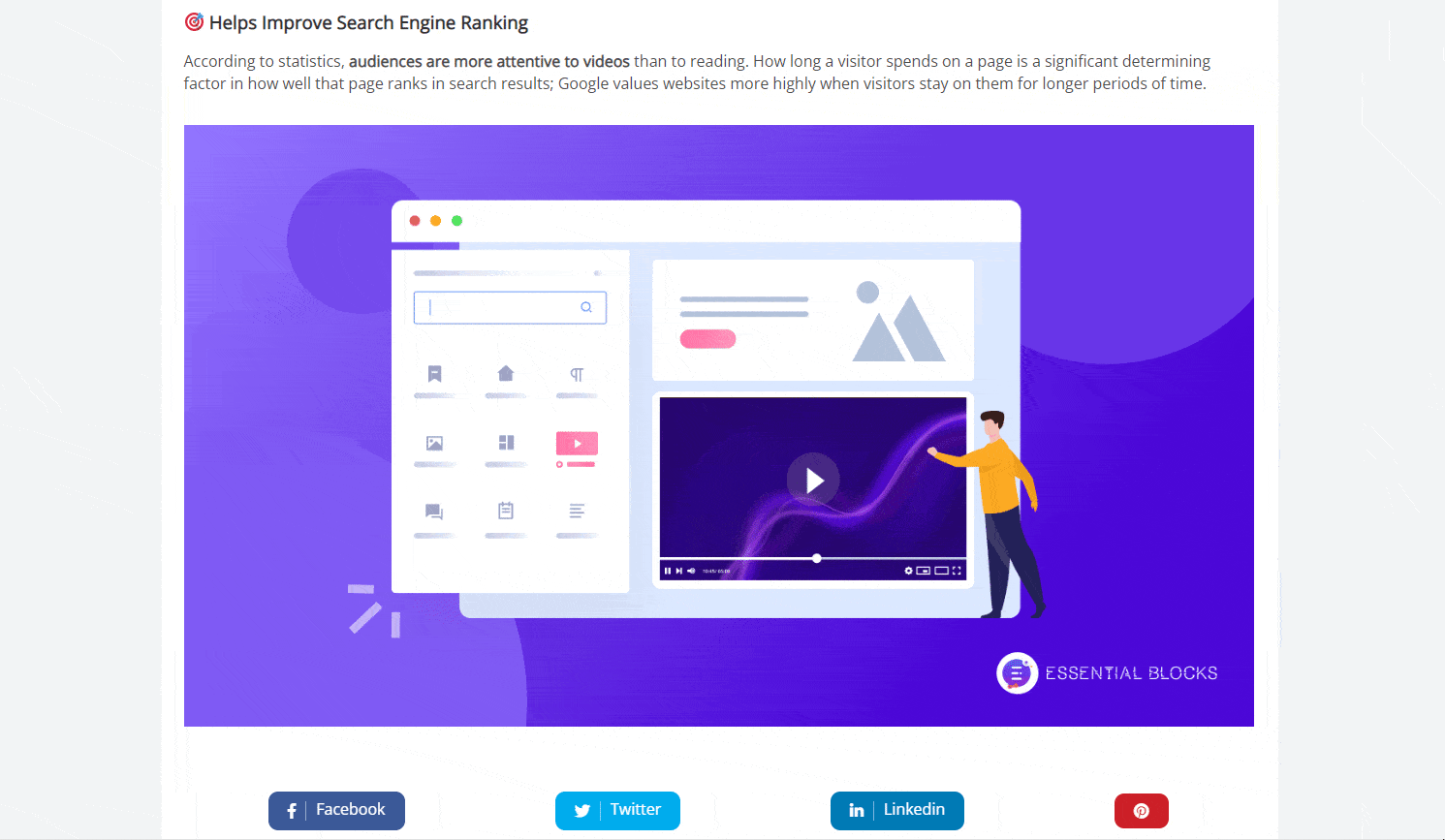 Boost Engagements With Social Share On WordPress Using Gutenberg
Now that you know the benefits of using social share on WordPress, it's your time to implement. So are you going to use this amazing EB Social Share block to increase your website traffic and boost engagement? Share your thoughts in our Facebook community and subscribe to our blogs for more useful tutorials to make your web-building experience in Gutenberg better. See you again!