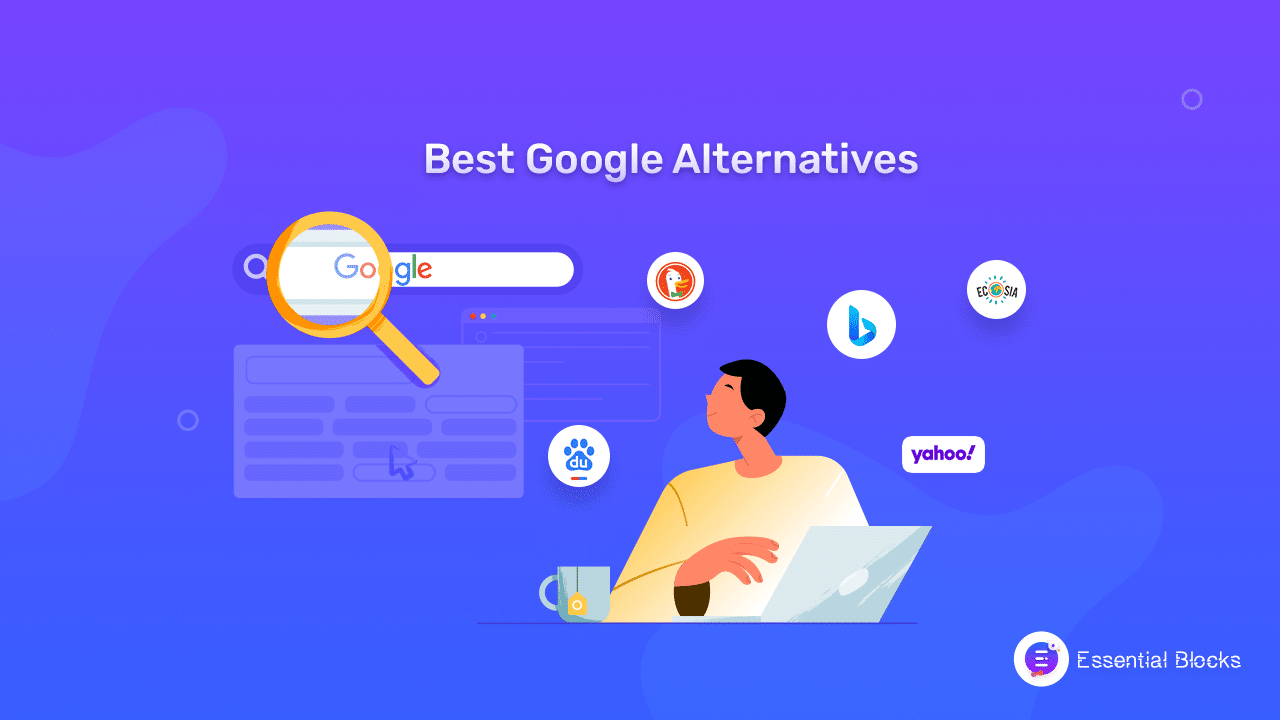 5 Best Google Alternatives (Search Engine) In 2023 – Comparison
When you hear about search engines, what comes to your mind first? Google, right? It might be the giant in the industry, but that doesn't necessarily mean it's the only option for you – especially if you focus on specific criteria like privacy, eco-friendliness, and more. There are many more Google alternatives for you that has just as much to offer. In this blog, we will talk about the 5 best Google alternatives (search engine) that you can utilize in 2023.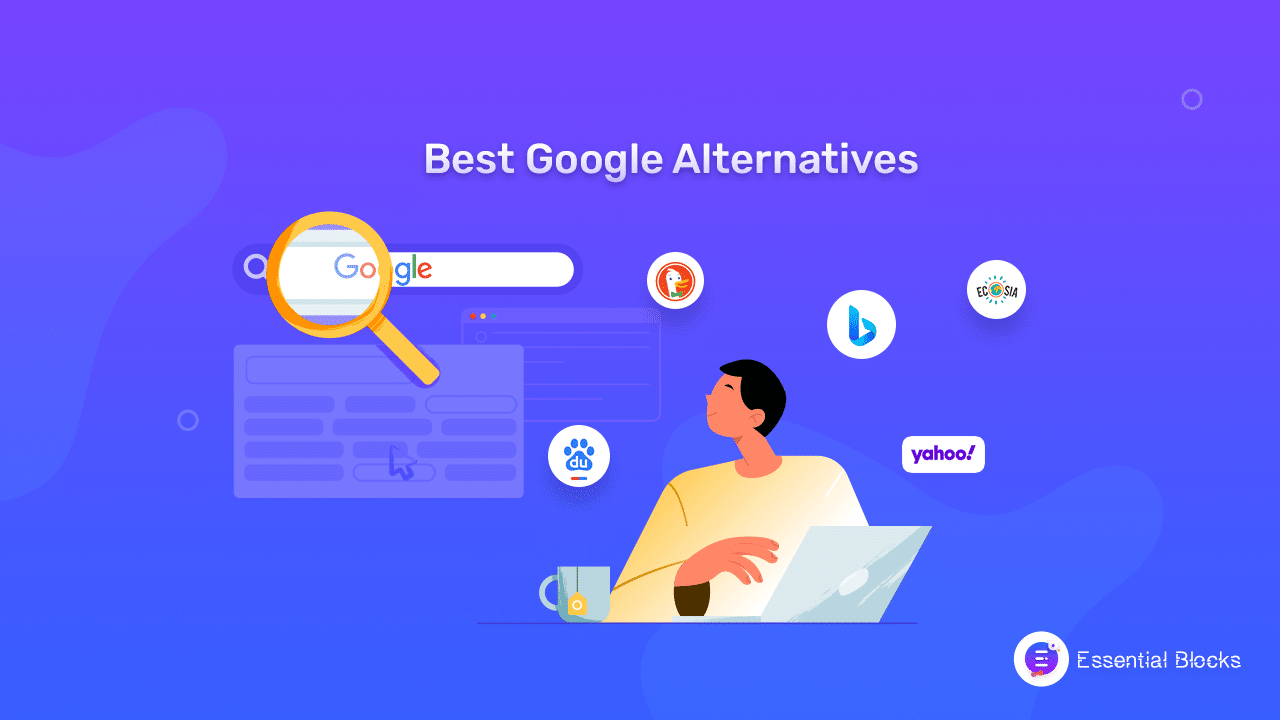 When Do You Need To Use Google Alternatives?
Google dominates the worldwide search engine market. As of December 2022, Google holds 96.17% of worldwide mobile search traffic along with 83.08% of traffic for other devices – laptops or desktops. It receives 9 billion search requests on average per day by approximately 1.7 billion users. These figures only validate its immense popularity.
Google tracks your search history to provide a customized search environment for you. This is beneficial for both you and other business owners, as Google knows which ads to display to which user. Business owners can easily reach customers, and users can access websites, products, or content they are interested in.
But there might be people who don't want to share their data. For such people, there are Google alternatives that would not track your search footprint and will strictly maintain your data privacy.
Again, as the most popular search engine, Google receives huge data traffic, so, it's difficult to rank higher on Google among so many competitors. You will get an advantage in other platforms if you want to rank your website due to less competition. So, as a website owner, you might want to target multiple search engines to have a better chance of reaching more and more people. These Google alternatives offer many more benefits, explore them, and who knows, you might actually want to permanently switch to them!
5 Best Google Alternatives Compared (Search Engine)
You might have many more reasons why you don't want to use Google. But don't worry; there are many capable Google alternatives for you in the market. Let's take a look at some of them.
1. Bing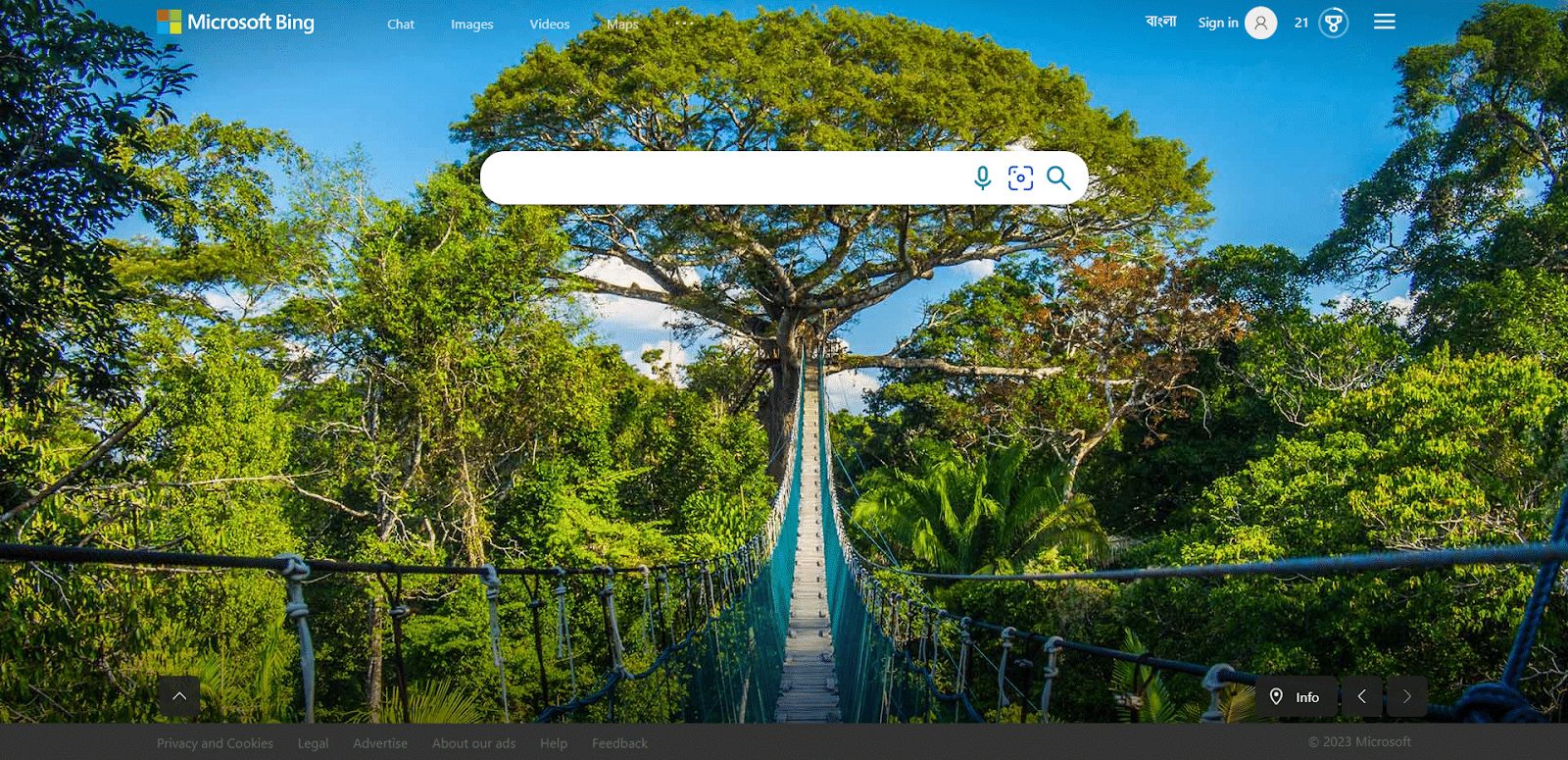 You will get a nearly similar search experience to Google with Bing in terms of the richness of search results. It's the second largest after the Google search engine. Just like Google, Bing also provides many more services like Outlook, Office Online, and OneDrive. This one is also poached with internal features like the Google search engine such as currency conversion, flight tracking, translation, and much more making it one of the best Google alternatives for you.
Bing is especially known for its powerful image and voice search options. You can drag an image to the search bar or instantly take an image to use it as a search query. And for voice search, it takes an audio input and reads out loud the search results if you want.
It offers advanced video searches that are well organized with thumbnails and scrollable with horizontal arrow keys. You will have to scroll more to see the exact similar number of videos on Google. These video search results are displayed with large thumbnails. And also, people can preview them with sound just by hovering over them.
Bing also has an impressive webmaster tool (Bing WMT) that allows you to add your web content to the Bing crawler to display their content in the search results. You can also monitor and maintain a site's presence with this one.
Bing has introduced another interesting feature, "My saves." You will be able to save all the search results in one place with this feature. It also offers you Rewards as you search through it. You can use these rewards to purchase apps and movies, or you can even donate them. Pretty much interesting of a Google search engine alternative, right?
2. DuckDuckGo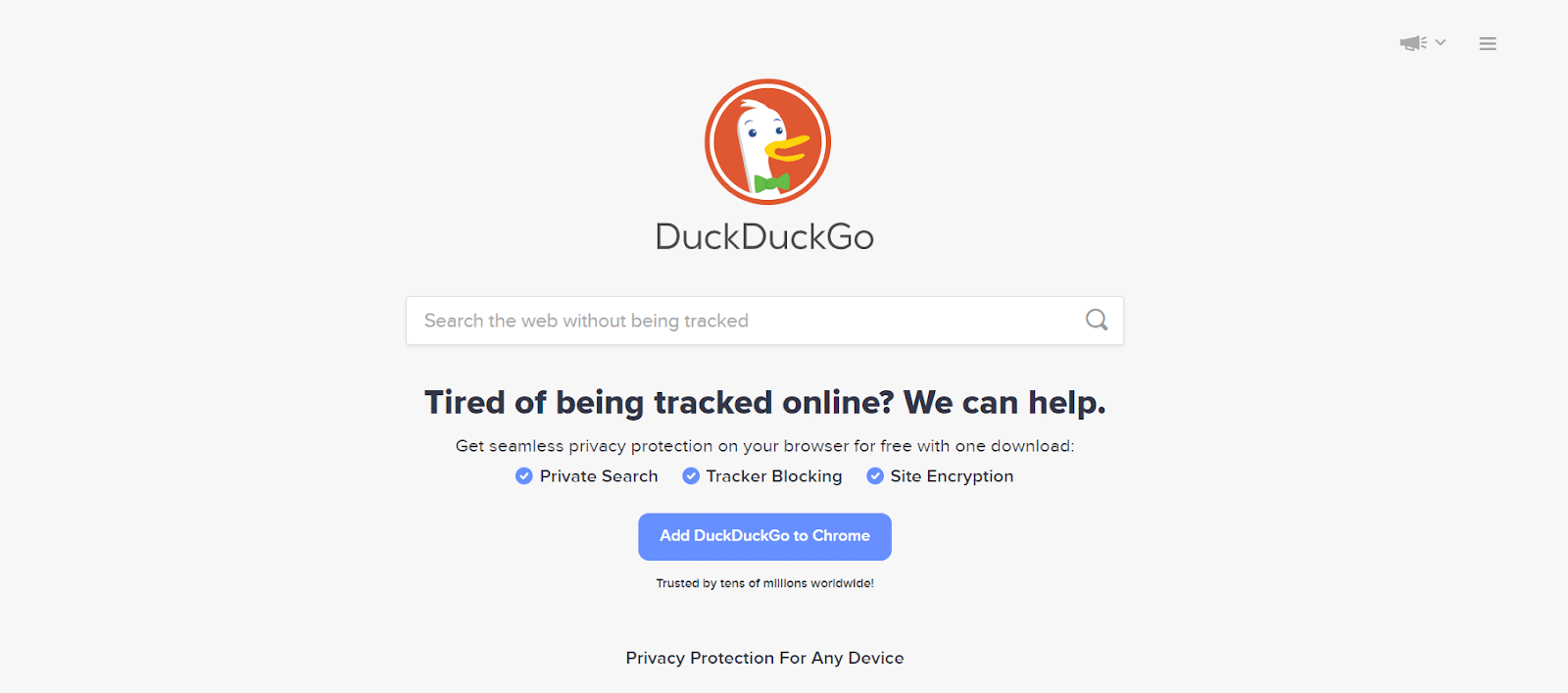 DuckduckGo is a popular private Google alternative that doesn't collect private users' data. And this is one of the key attractions of DuckDuckGo. For people who are concerned about online privacy, DuckDuckGo can be a good search engine option to them. It offers many facilities and one of them is built-in maps, powered by Apple Maps.
Another lucrative service this Google alternative provide is that it would block all the Google trackers for you. Not only with the search engine, but you're also being tracked with other Google services such as Gmail, YouTube, Google Maps, and much more. Furthermore, almost 75% of the top million websites use Google tracker. There's a high possibility that any random site that you have landed on has a Google tracker hidden on it.
Google Analytics is a popular tool that most website owners choose to use to have a better track record on everything about their business such as who has visited which product, who bought them and who didn't, and much more. But it also feeds these data to Google itself. Google does all of these to keep you surrounded with things of your preferences. But if you don't want that, DuckDuckGo will help you to keep yourself safe from all of these.
DuckDuckGo, the popular Google alternative also has a built-in feature called bangs which is a super interesting one. It will let you directly search other sites that you want, entirely skipping the DuckDuckGo. Let's use an example to make it more clear.
Let's say you are searching for a solution to a specific problem, and you only want to search for that in Quora. So, all you have to do is search for "!q" this, and DuckDuckGo will directly take you there. You can also use the full name instead of the shortcut. It has bangs compatibility with more than thousands of other sites.
DuckDuckgo launched in 2008, and since then, it's been rising in its popularity. Today it's one of the most popular private search engines, with an estimated 80 million users.
3. Yahoo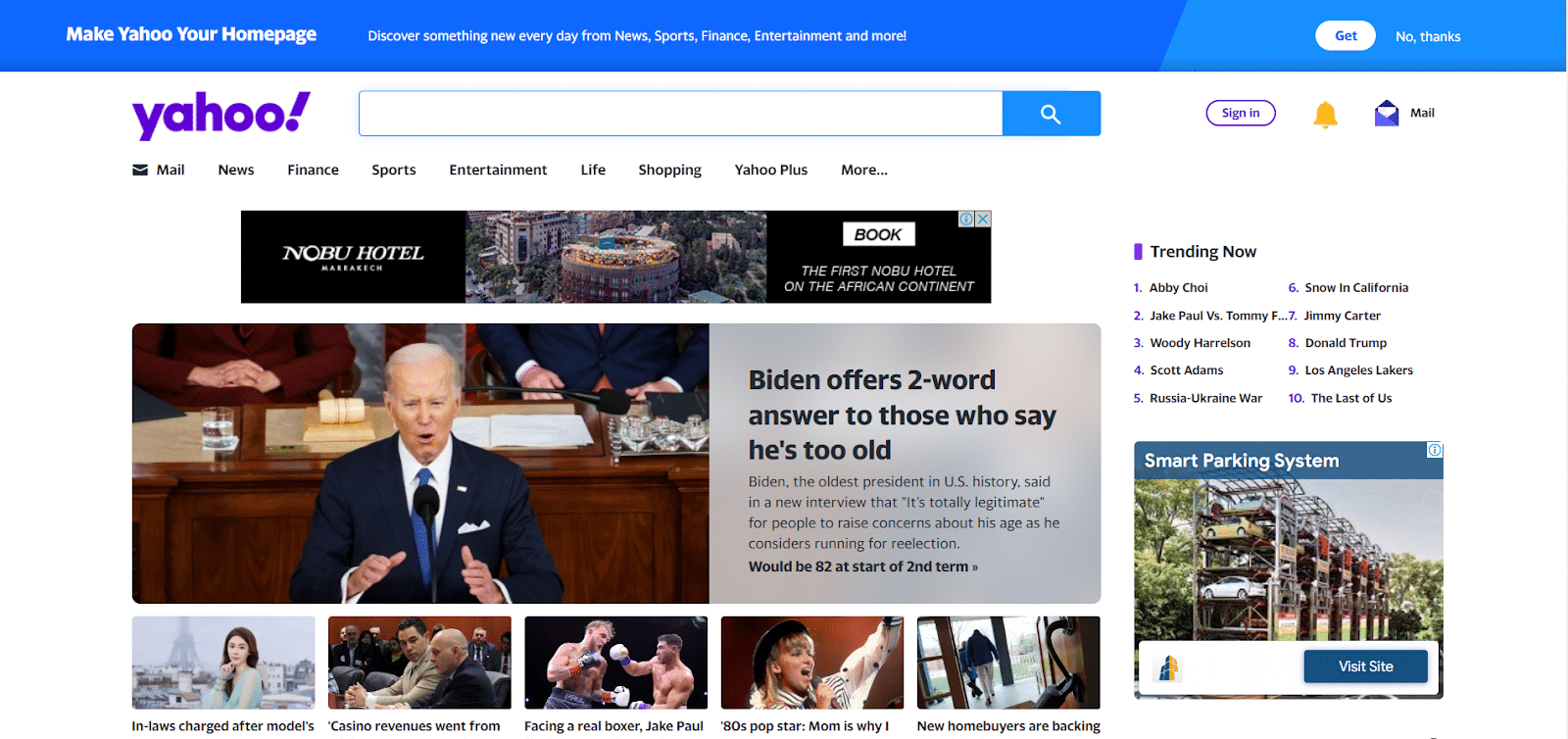 Yahoo came way before Google in the market, but as we know, Google is dominating the market, even so, it's still one of the most popular search engine platforms in the world. Furthermore, it is one of the most dominating ones in the US search engine market. Yahoo provides efficient instant search results. At the bottom of the landing page, you will find local weather forecasts and trending searches, and articles. Yahoo uses Bing to power search results. But it also has its own algorithm to display trending searches and other features.
Yahoo is not only a search engine. It's much more than that. Yahoo offers email, online shopping, news, games, and much more services. This one has compatibility with Flickr, Yahoo Answers, and Yahoo Finance. Also, it offers efficient image results and information-rich search results.
4. Baidu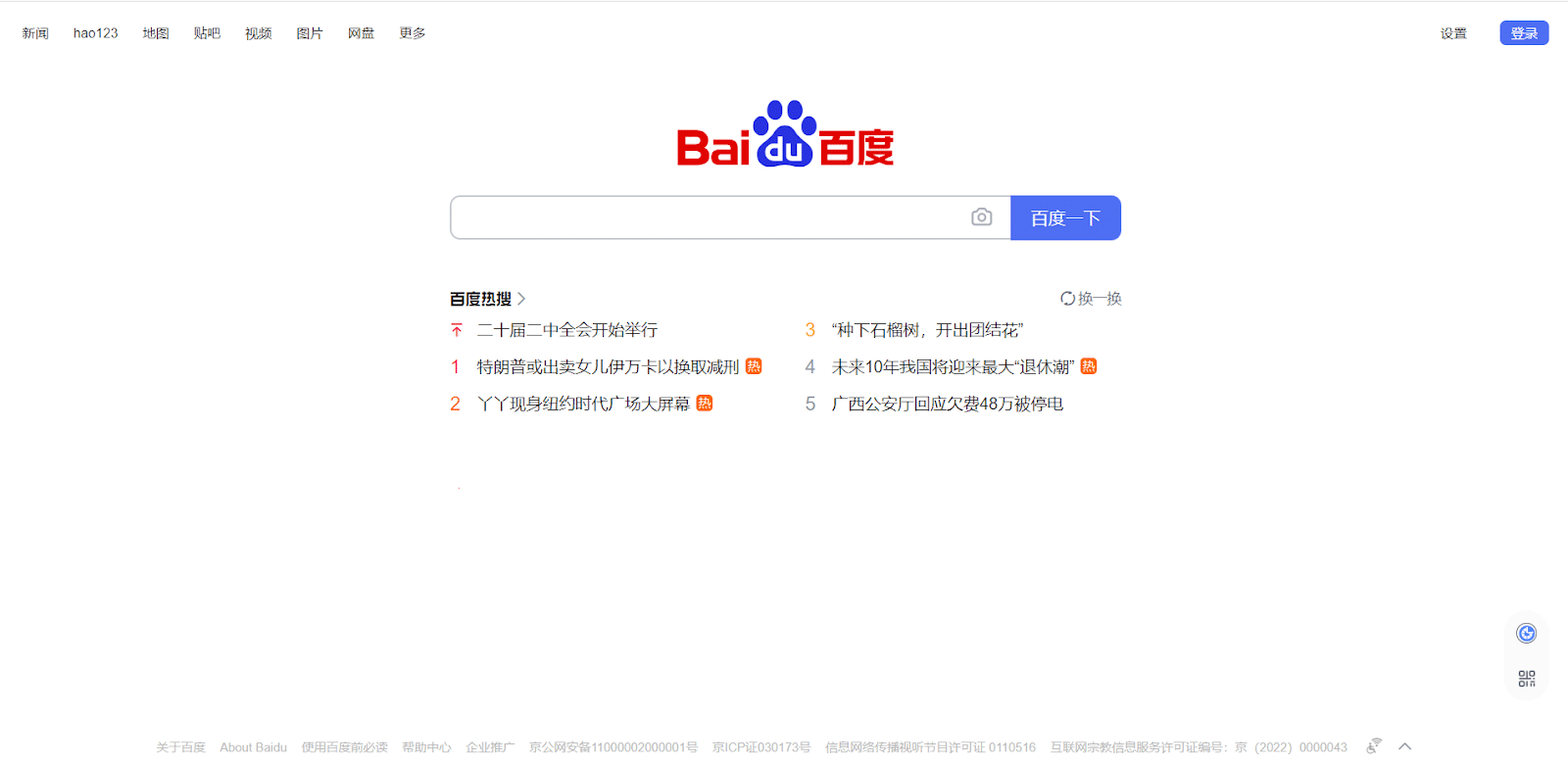 Baidu is the most popular search engine in China. Even if it's in Mandarin, it gives a similar vibe to Google. Almost all of its search results have Chinese content domination. If you don't know Mandarin, it might not be the perfect choice for you, but if you know the language and looking for Chinese content, it might be the best choice for you. Baidu is a heavily censored search engine. Specific images, content, and sites are banned on it.
Baidu also offers services like multimedia, maps, a Wikipedia-like website, and much more. There's a separate section for advertisements for brands that want to target Chinese audiences. Ad promoters can also bid on keywords to trigger their ads. You can also pay to get a higher placement in search results.
Baidu is clear about its privacy policy. It collects users' data to provide them with a personalized search experience. No third party gets access to these data. Baidu also uses cookies to track its users but you have the option to reject them.
5. Ecosia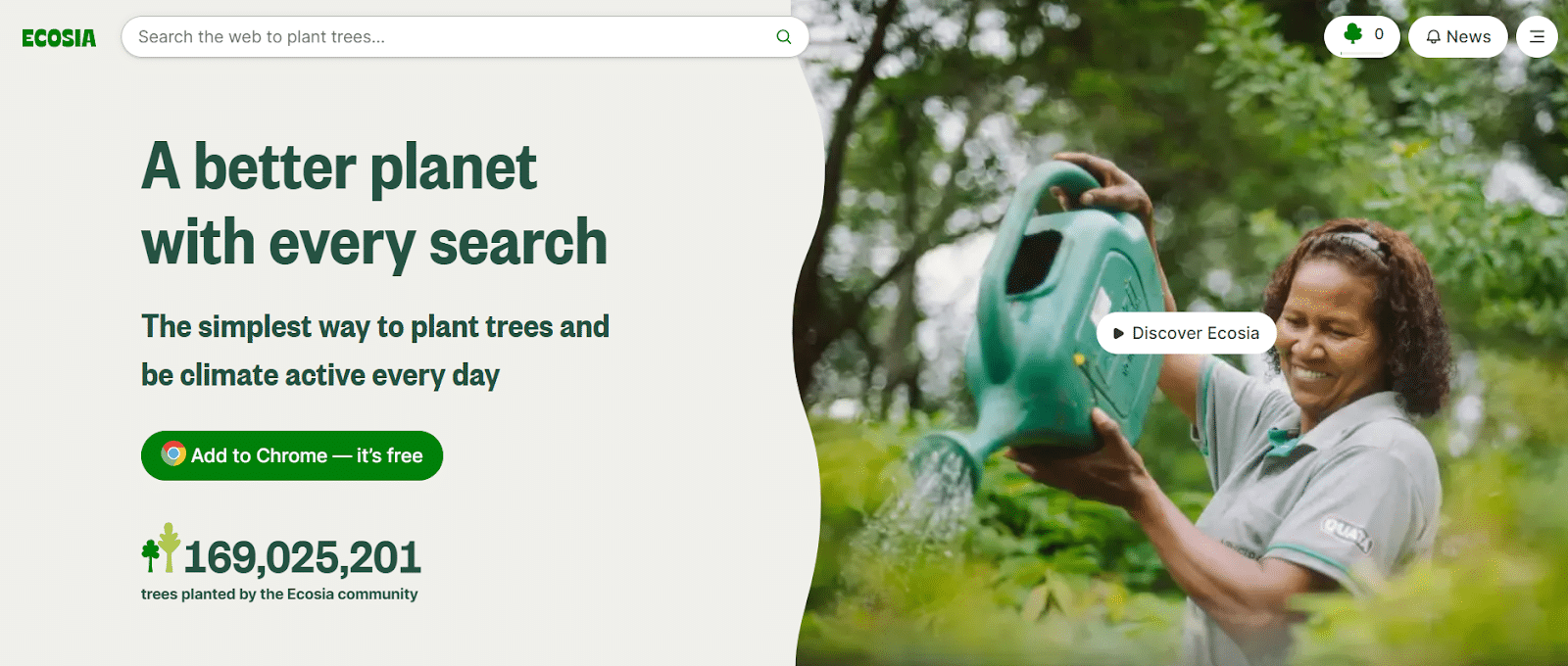 Ecosia is one popular eco-friendly search Google alternative. It brought a different vibe to the tech world. Usually, Google searches leave a carbon footprint. All the server resources to power up your Google search results emit carbon-di-oxide into nature. Thanks to Ecosia, who came into the market trying to handle this issue with a search engine.
To achieve their goal, the first thing they did was to run all of their servers with renewable energy sources. They also spend a considerable amount of their revenue from user searches on tree plantations and supporting non-profit organizations. On average, for 45 searches, Ecosia plants one tree.
Ecosia has made a name for itself as a safe search engine that doesn't violate your privacy. All the searches performed by Ecosia are encrypted, as suggested by the lock icon on the address bar. It claims it doesn't use any third-party tool or create personal profiles of its users based on their search history. Furthermore, Ecosia anonymizes all searches within one week, whereas Bing and Google hold onto some data even after deleting browser history and cookies.
Well, it still uses a tracking tool to gather a very small amount of data to improve its services, but as there's no third party, no one else can access those data. Then again, if you don't want Ecosia to get even that bit of data from you, you can use the "Do Not Track" feature. Ecosia offers clean and simple, yet advanced navigation settings. Considering its rich search result and data privacy, it can be said that it's a worthwhile Google alternative.
Search In Your Terms And Get Whatever You Want
Online search is a sensitive matter as the search result influences your activities. Different search engines have strengths in different criteria. In this blog, we tried to get you to know about popular Google alternatives. Did you find this one helpful enough? If yes, then subscribe to our blog to get more informative blogs. You can also join our Facebook Community to get updated information new updates.