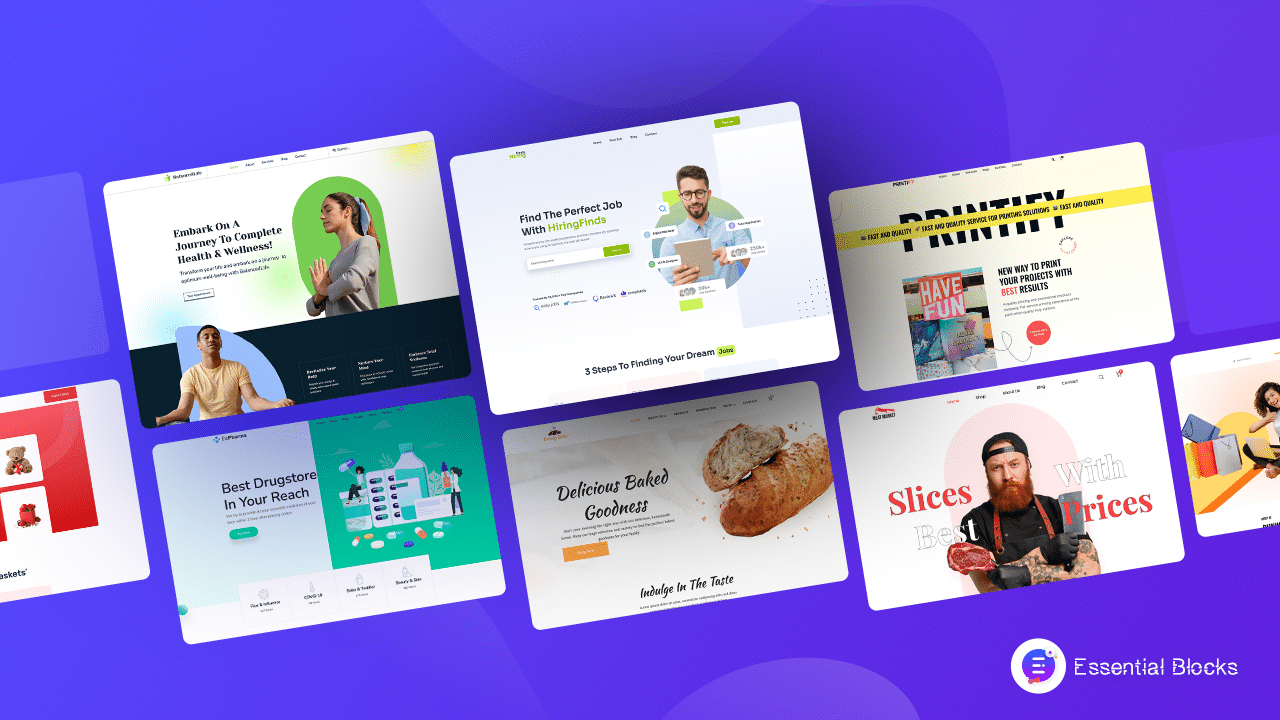 Best Gutenberg Website Templates Collection From May 2023
May 2023 was a busy month for Templately, which powers up over 200,000 WordPress websites worldwide with more than 4,000 ready templates. This past month, the ultimate WordPress templates cloud introduced several exclusive Gutenberg website templates to help you take your web design experience with your favorite block editor to the next level.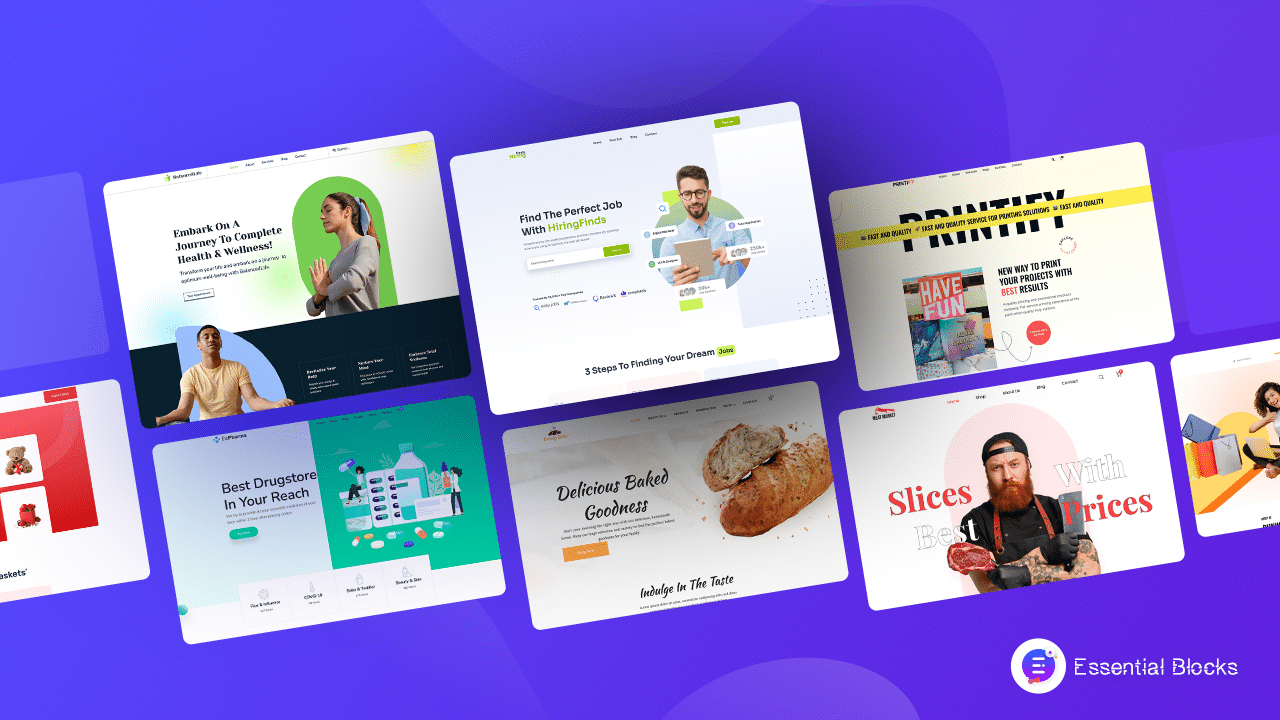 Templately's 1600+ Gutenberg page templates can save you the hours of building from scratch and the money of hiring a web designer. So, if you plan to design a new WordPress website or revamp an existing one, check out our picks for the best Gutenberg website templates for every niche in this blog.
🤔 Why Do You Need To Design Websites With Ready Gutenberg Templates?
As an online business owner or blogger, you would want to get your website up and running in no time. Wondering why? You can then spend more hours on your products, planning, and web content development for your business's growth while keeping the web design aside. That's where ready Gutenberg block templates from Templately come in handy, with unlimited flexibility and multiple customization options.
But it's not just customization facilities, Gutenberg website templates come with so many advantages when creating a website on WordPress. Let's find out some of the benefits Gutenberg editor templates have to offer.
👉 The ready Gutenberg website templates can save you the hassle of creating a website from scratch, especially if you don't know how to code. In fact, making a professional website is quick and effortless with an eye-catching template pack that goes with your brand if you have pre-designed templates that allow customization without any coding requirement.
👉 Gutenberg page templates by Templately are built with Essential Blocks, the ultimate blocks library for the Gutenberg page editor. Essential Blocks comes with 45+ advanced blocks to take your page-building experience to the ultimate level. Plus, its 1600+ ready Gutenberg templates will reduce the hassle of starting from scratch.
👉 Ready Gutenberg page templates – especially the ones from Templately – often include user-friendly features like easy navigating tabs, intriguing Call-To-Action buttons, and attention-grabbing images to keep visitors engaged on your website.
🎉 Best 10+ Templates Released By Templately In May 2023 For Gutenberg
Templately – the ultimate template cloud for WordPress, is a great place for anyone looking for a wide variety of responsive and editable Gutenberg website templates. It brings you ready designs for almost every kind of website and niche, be it an online shop, portfolios, blogs, and more.
Numerous Gutenberg block templates released in May 2023 can take your websites to new heights of success. Let's see what those are, categorized by their compatibility and niche.
📌 WooCommerce-Compatible Gutenberg Website Templates
WooCommerce-compatible website templates for WordPress offer complete support for the eCommerce platform, its available add-ons, and extensions. With these templates, you can flexibly launch an online business and sell your products.
🥧 Bready Bake – Bakery Template For Gutenberg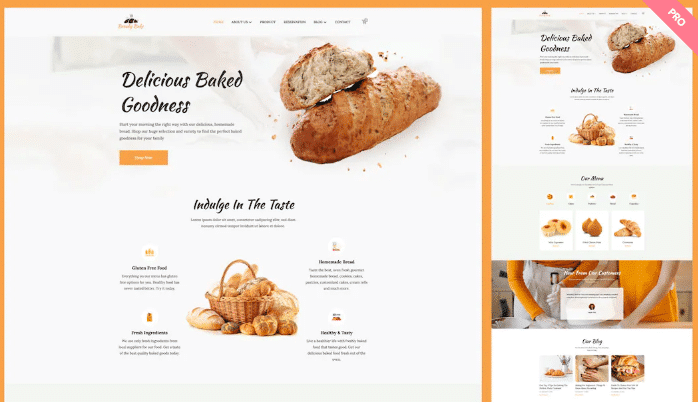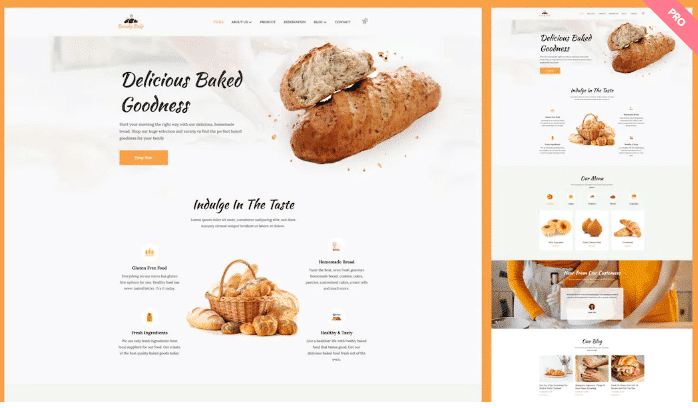 Whether you're opening a new online pastry store, bakery cafe, restaurant, or other similar business or re-establishing an existing one, Bready Bake can help you build a stunning website on Gutenberg in minutes. The template pack is filled with unique designs, interactive sections, soothing color palettes, and much more that you can also personalize to your preferences without any coding.
Built using Gutenberg and Essential Blocks, Bready Bake's pages are completely responsive, ensuring your website will run smoothly on any device or screen size. And the best part? It comes with seamless integration with WooCommerce to help you display and sell baked goods with ease. Along with eight attractive landing pages, the pack comes with stunning artwork, dynamic motion effects, and enticing Call-To-Action buttons.
🛍️ Runway – Buying House Template For Gutenberg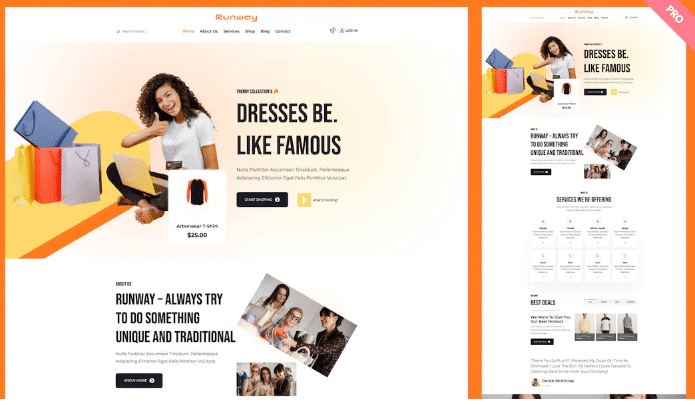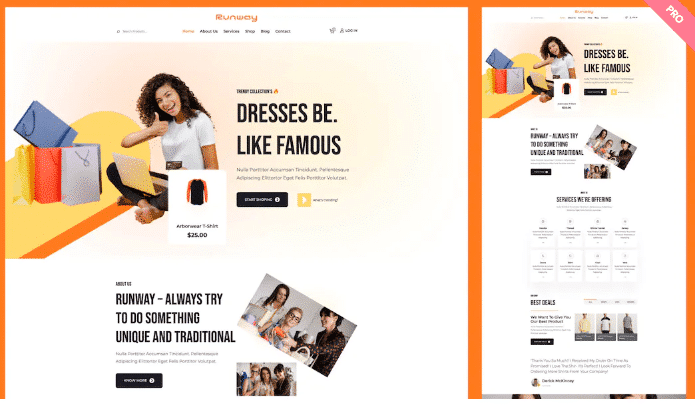 Are you looking for ways to create a website for buying houses, fashion brands, fabric producers, merchandisers, textile enterprises, and more without any coding? If you are, Runway could be the solution, as it is a stylish and trendy pack of Gutenberg website templates.
Built with Gutenberg and Essential Blocks, this template pack is also WooCommerce-compatible. Plus, the pack comes with six pages that are developed with complete responsiveness. On top of that, Runway has a ton of compelling sections and buttons, including parallax effects, an infobox, an animated counter, and more.
🖨️ Printify – Gutenberg Printing Website Template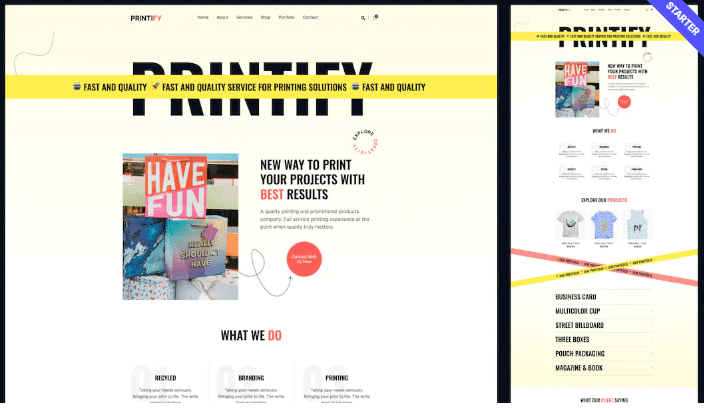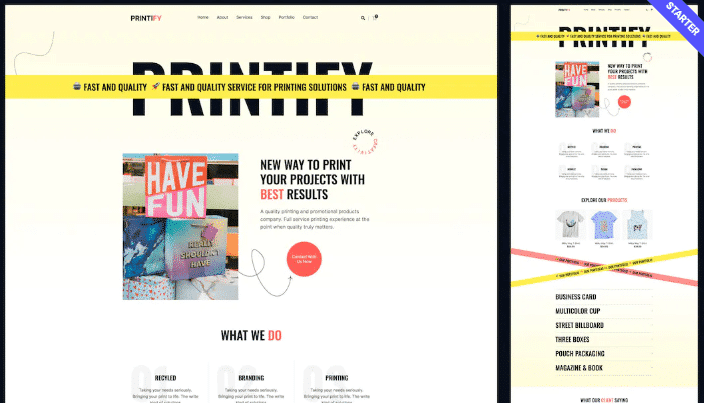 Introducing Printify, a colorful, trendy, and eye-catching WordPress template collection for online printing service websites. This template pack, too, is developed with Gutenberg, Essential Blocks, and WooCommerce, and provides limitless customization choices for creating a professional printing service website without writing any code.
The dynamic design set of Printify includes six gorgeous, colorful landing pages that will fascinate your visitors. Plus, these Gutenberg website templates are responsive across all devices and browsers.
💞 Honey Candy – Valentine's Day Template For Gutenberg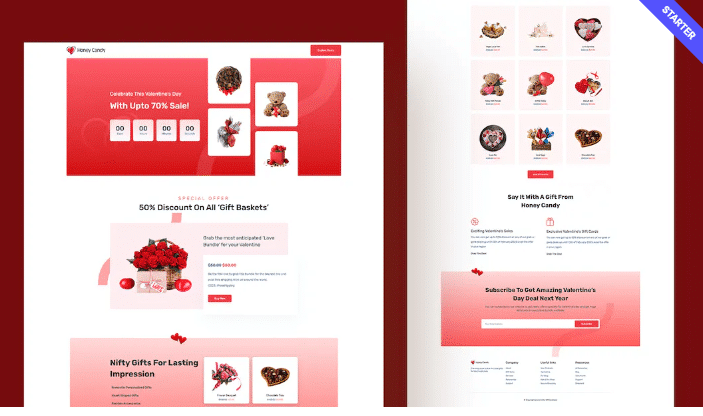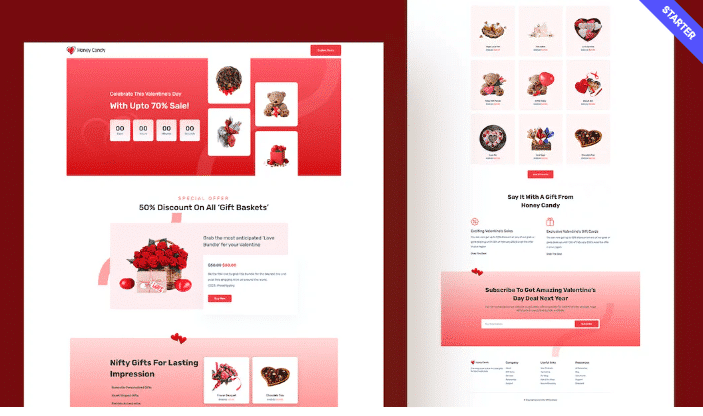 If you want something cheery and aesthetic to create a landing page for Valentine's Day or other special days to skyrocket sales on your website, Honey Candy is what you need. With this single-page Gutenberg block template, you can boost your online gift shop sales or promote similar businesses with its stunning visual representation.
Built with Essential Blocks and WooCommerce, the Gutenberg website templates are fully responsive, allowing you to modify whatever you see fit. Its artistic and charming Valentine's Day drawings, product showcase, and attention-grabbing CTA buttons will surely awe visitors.
💊 ElePharma – eCommerce Drug Store For Gutenberg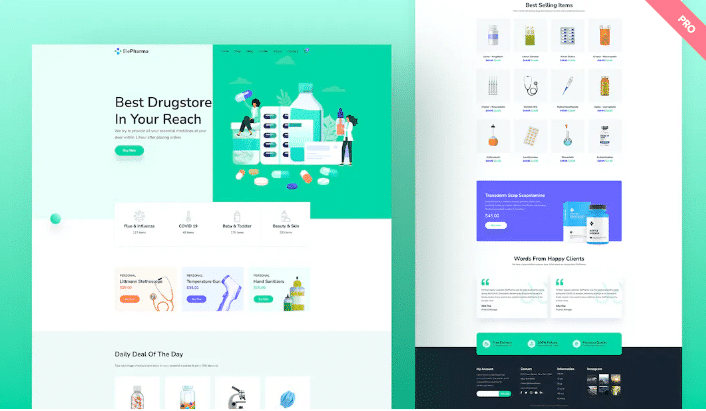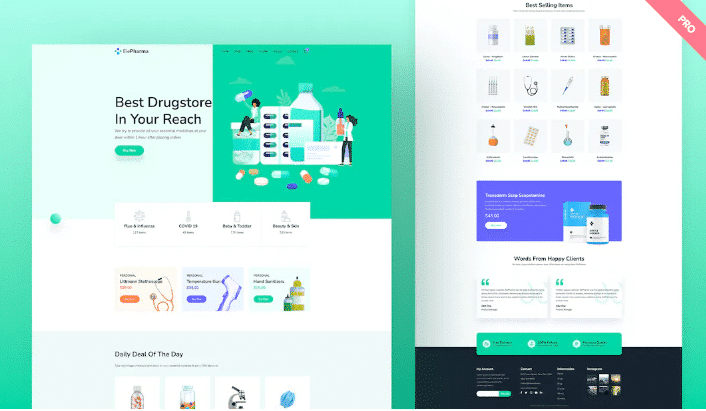 Made perfect for online pharmacies and drug store websites, ElePharma is a premium WordPress template collection with six beautiful, pre-built pages. These Gutenberg website templates landing pages and sections are completely customizable on Gutenberg, as they are built with the block editor and Essential Blocks.
It includes six adaptive pages that are responsive on all devices and browsers. In addition, it's fully compatible with WooCommerce and Fluent Form, so you can showcase your products and include contact forms without any hassle.
🌽 Food Mart – Grocery Shop Website For Gutenberg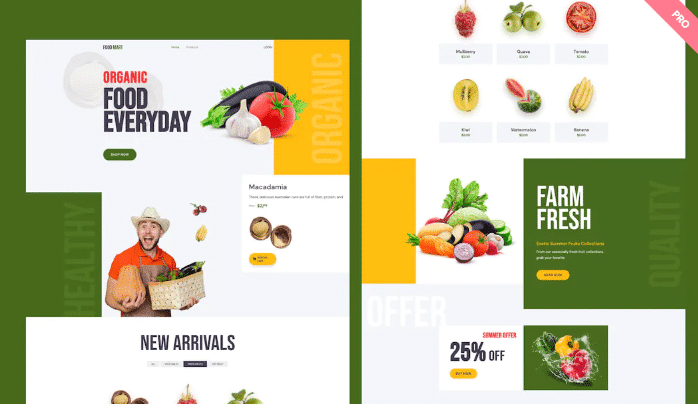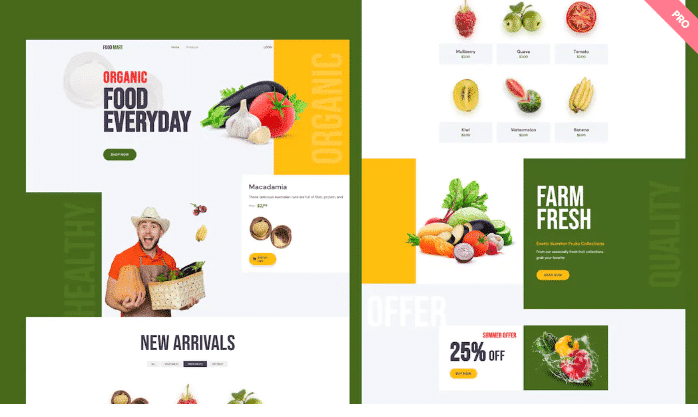 The Food Mart is a premium collection of Gutenberg editor templates for quickly and easily setting up an online supermarket. This Gutenberg website template bundle is perfect for showcasing your fresh or organic foods, veggies, and other grocery store necessities.
Made using Gutenberg and Essential Blocks, it includes fully editable pages and blocks. Plus, the pack is integrated with WooCommerce and is completely responsive on all devices and browsers. On top of that, the magnificent CTAs, gorgeous font, and cool animations make this a perfect fit for your online grocery store.
🥩 Meat Market – Butcher Shop Website For Gutenberg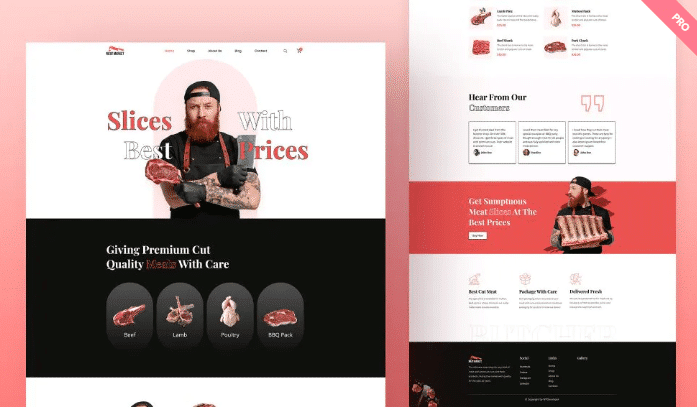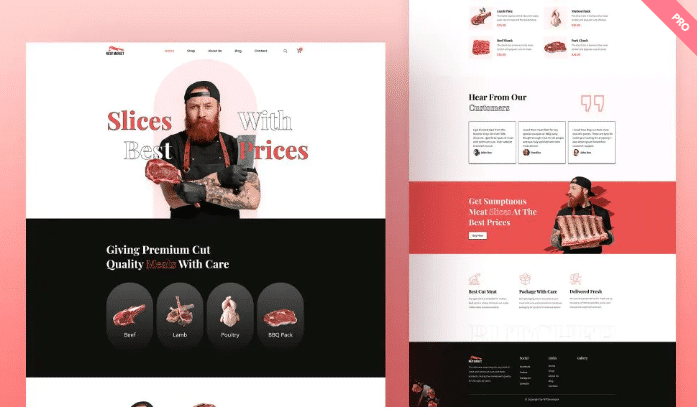 Meat Market is an innovative and beautifully crafted collection of WordPress Gutenberg website templates made for butcher shops, supermarkets, and other food establishments. The design is minimal, yet the bold color scheme is sure to grab anyone's attention.
The template bundle was developed using Gutenberg and Essential Blocks, making the pages and blocks flexible and adaptable to any device. Plus, it works well with WooCommerce. This bundle includes five landing page templates with which you can launch a full-featured website.
🏡 Property And Home Furnishing Website Templates For Gutenberg
Templately's wide variety of interior design and property business website templates can get your website running in no time. Along with displaying your services in sections, the soothing colors of these templates will also cheer up your mood at home or at work.
🛠️ TemplatelyBuilders – Real Estate Website For Gutenberg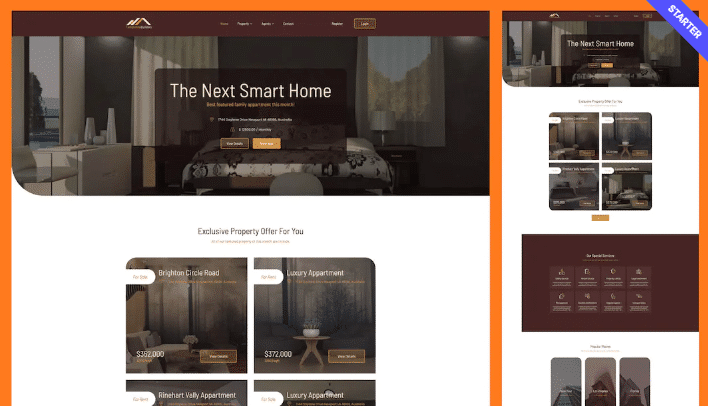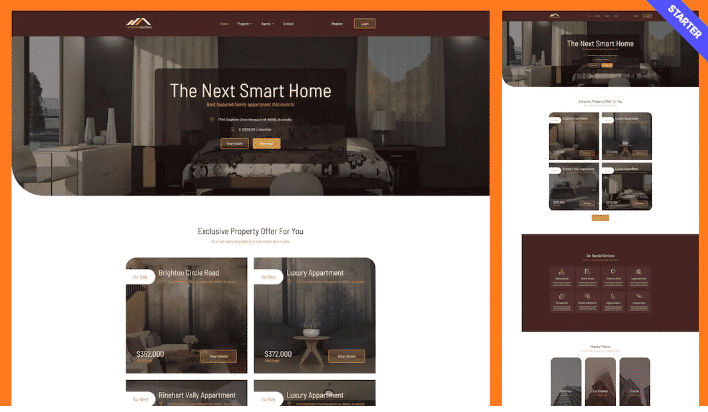 Introducing TemplatelyBuilders, a collection of modern, well-designed Gutenberg page templates for construction companies, real estate firms, and the like. The combination of Gutenberg and Essential Blocks while designing TemplatelyBuilders makes it possible to build a fully-functional website without knowing how to code.
The included six incredibly engaging landing pages with responsiveness across all devices and browsers will help your site stand out from the crowd. Plus, you can showcase stunning properties and embed eye-catching videos on property pages.
🛋️ InnerSide – Interior Design Website Template For Gutenberg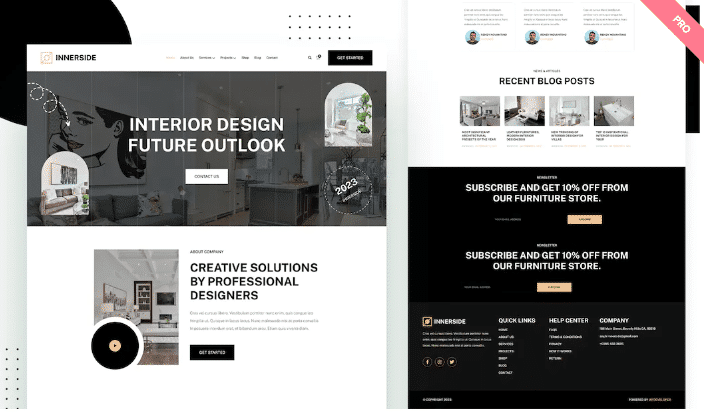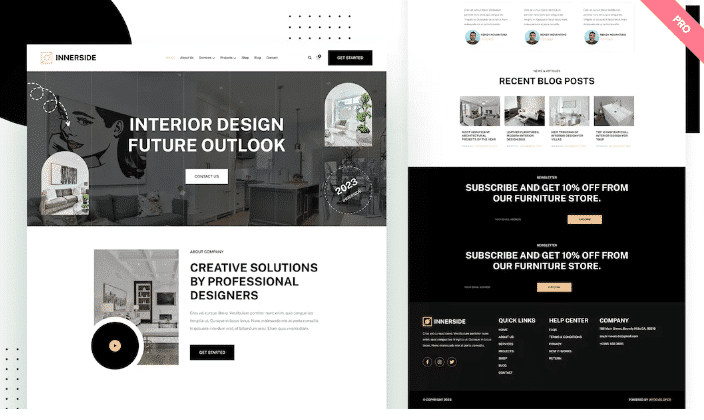 Create an eye-catching interior design website in Gutenberg with InnerSide, an aesthetically pleasing and dynamic WordPress template pack for the Gutenberg editor. Built with Essential Blocks and Gutenberg, this pack of Gutenberg block templates can be used to showcase interior design projects in a variety of settings, including homes, businesses, public spaces, and dining arrangements.
The attractive pack of Gutenberg website templates has nine landing pages, all of which are mobile-friendly and work swiftly in any web browser. Plus, the dynamic counters, engaging testimonial sliders, responsive filters, and more make it a perfect pack for interior art showcases.
📒 Blogs And Magazine Templates For Gutenberg
Blogs and magazines are all about beautiful texts, images, and content optimization. The Gutenberg website templates for this category offer everything, from visual representation to typography, in attention-grabbing detail for your visitors.
🎯 BlogDrip – Multipurpose Blog Website For Gutenberg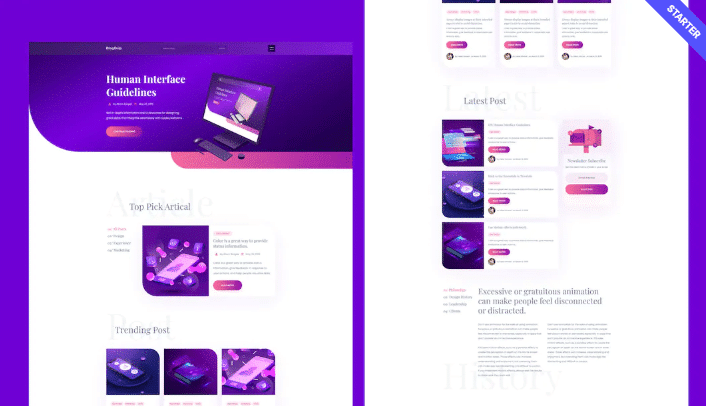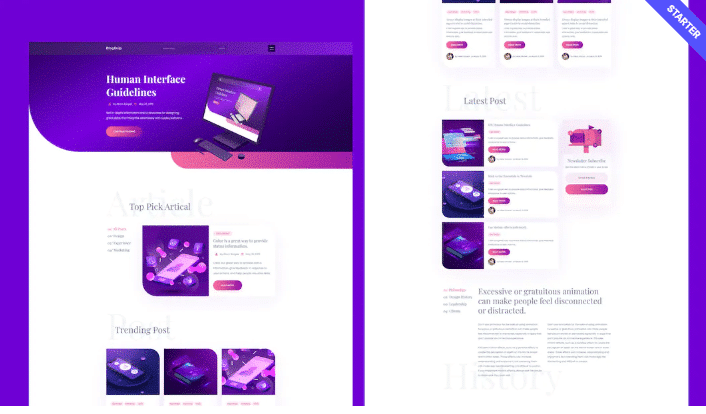 BlogDrip is a versatile, powerful, and visually appealing Gutenberg website template for building just about any kind of blog, whether it's dedicated to personal reflection, lifestyle, fashion, travel, food, or technology. This single landing page template was created using Gutenberg and Essential Blocks, so you can easily modify it in the block editor to suit your needs.
Additionally, these Gutenberg editor templates are totally responsive and load flawlessly on any device or screen size. Furthermore, this single-page template has a lot going for it: beautiful CTAs, vivid colors, places to showcase your Instagram photos, and more.
📚 BookPlace – Bookstore Template Pack For Gutenberg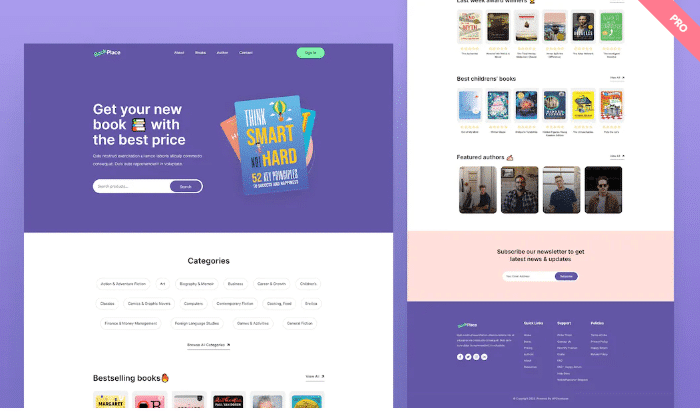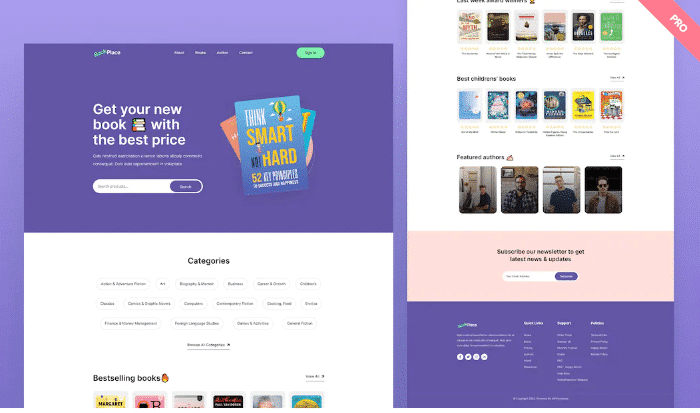 The BookPlace WordPress template pack is developed with bookstores, new publishers, digital libraries, and businesses in mind. With this pre-made template set, your bookstore's online presence may be up and running in no time.
Built with Essential Blocks and Gutenberg, you will have easy personalization options for each of the pages. Plus, five of the landing pages are completely mobile-friendly and have a soothing color palette. In a nutshell, this set of Gutenberg website templates has a beautiful design and interesting CTA buttons that are sure to pique your customers' interest.
🎯 Other Gutenberg Template Packs Of May 2023
Templately offers more than 4000 website templates for WordPress users, of which 1600+ are for Gutenberg editors. The number is huge, and so is the number of categories. Let's look at some more templates by Templately from May 2023.
🧑‍💻 HiringFinds – Job Board Website For Gutenberg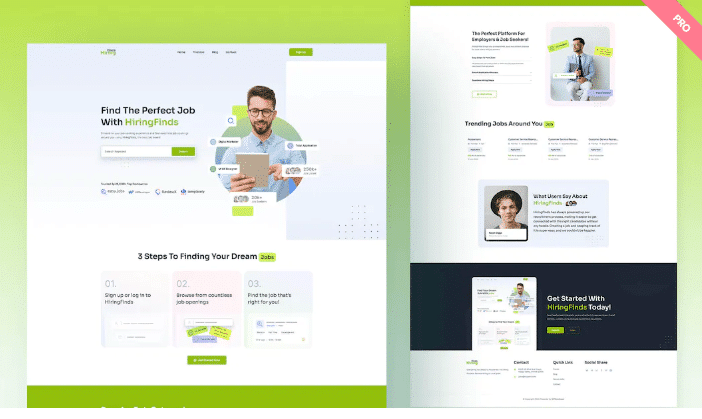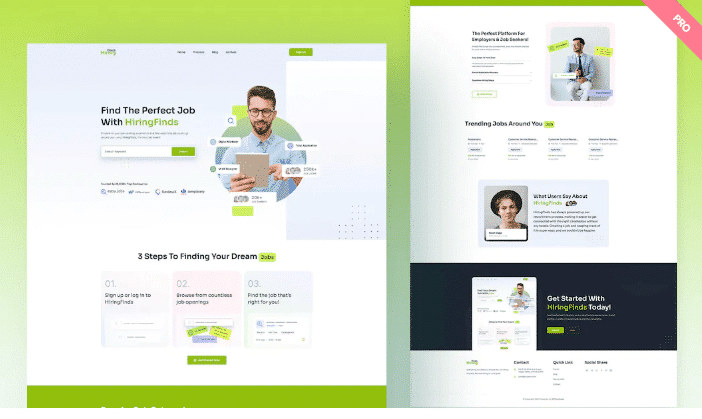 HiringFinds is an innovative pack of Gutenberg website templates that can be used to build a full-featured job board, job portal, job listing page, or employment website. Built with Essential Blocks and the Gutenberg editor, the template pack includes four separate landing pages that may be modified to your specifications.
Along with beautiful Call-To-Action buttons, muted color palettes, a user-submitted testimonial area, and more, this template bundle was designed to be totally responsive on all devices and browsers.
📡 Greentech – Fintech Startup Template For Gutenberg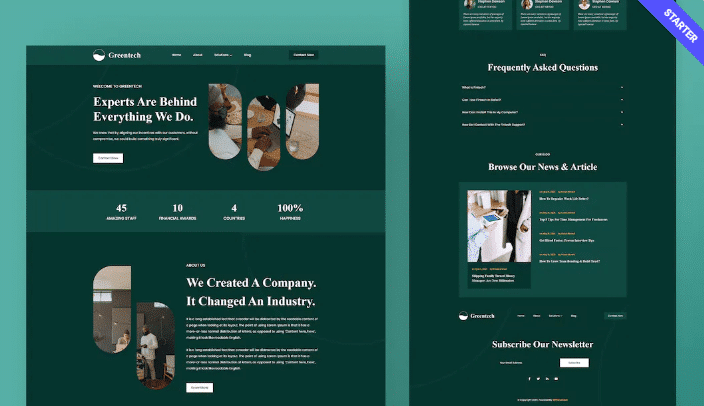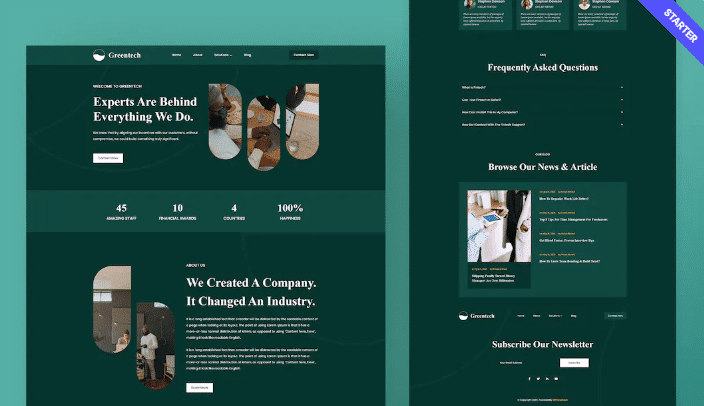 Greentech is a premium WordPress template pack built with the Gutenberg editor and tailored to the needs of fintech startups. The bundle of Gutenberg website templates comes with a vibrant, aesthetic, and eye-catching color palette, which is why it's ideal for new businesses looking to make a splash.
The six pre-designed landing pages will let you easily build a professional website from scratch. Plus, each page is adaptable to all devices and screen sizes. Furthermore, it has a dynamic design, eye-catching CTAs, a compelling testimonials section, and much more to boost engagement even further.
🩺 BalancedLife – Health & Wellness Website Template For Gutenberg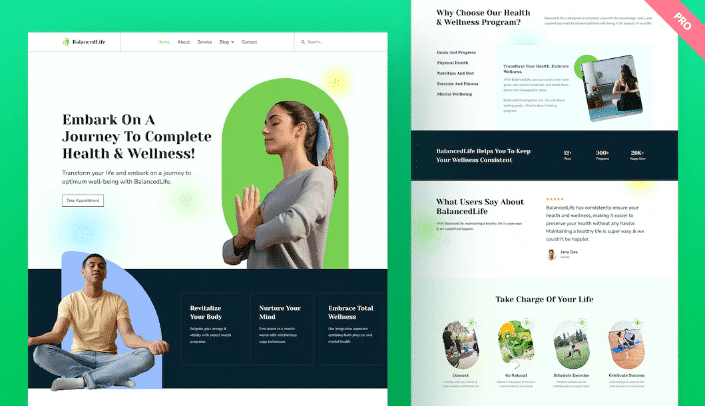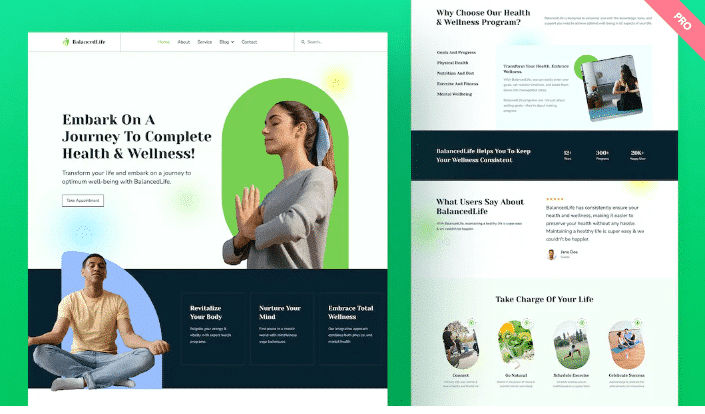 The BalancedLife template collection is jam-packed with editable elements, allowing you to quickly and easily create a gorgeous website to highlight the relaxing ambiance and extensive services of any health and beauty facility.
Created using Essential Blocks and Gutenberg, it includes five premade, aesthetically pleasing, and responsive template pages. This template set also has gorgeous animation, dynamic layouts, and call-to-action buttons to draw in clients and set your website apart from the competition.
🎠 July4 – Landing Pages For Gutenberg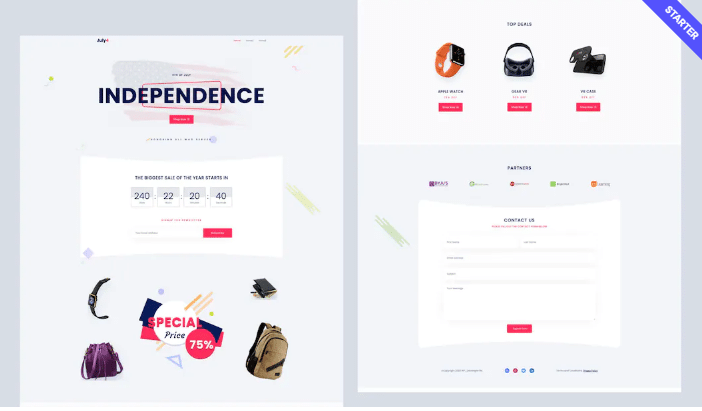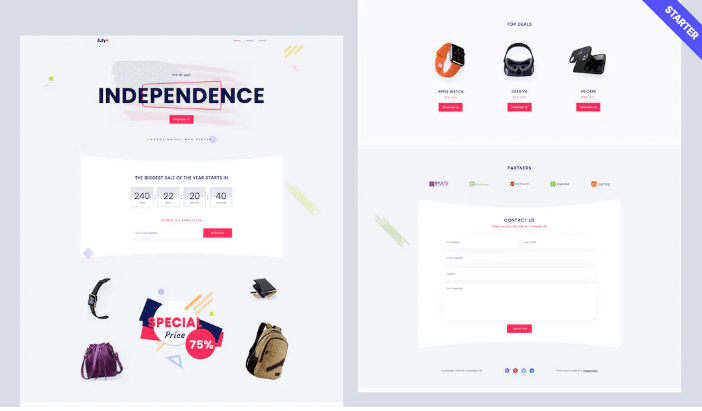 Whether you're celebrating the Fourth of July in the United States or just want to provide some great deals to your customers, the basic but distinctive July4 template is just what you need to get started. The bold color scheme makes it simple to draw attention to important sections of your website or specific goods.
The Gutenberg and Essential Blocks compatibility of July4 allows for limitless personalization. Plus, you can guarantee the greatest possible user experience across all devices thanks to the responsive design.
🎉 Web Design Made Easy: Check Out Templately Today!
You may choose the perfect template on Templately from among those designed specifically for the e-commerce, education, and health sectors. When creating a website in the WordPress Gutenberg editor, you can save a lot of time and energy by using one of the many pre-made Gutenberg block templates by Templately.
How useful do you find this blog to be? If you found this interesting, you may want to follow our blog for future posts. If you want to meet people and grow as a community, you can join our Facebook group.