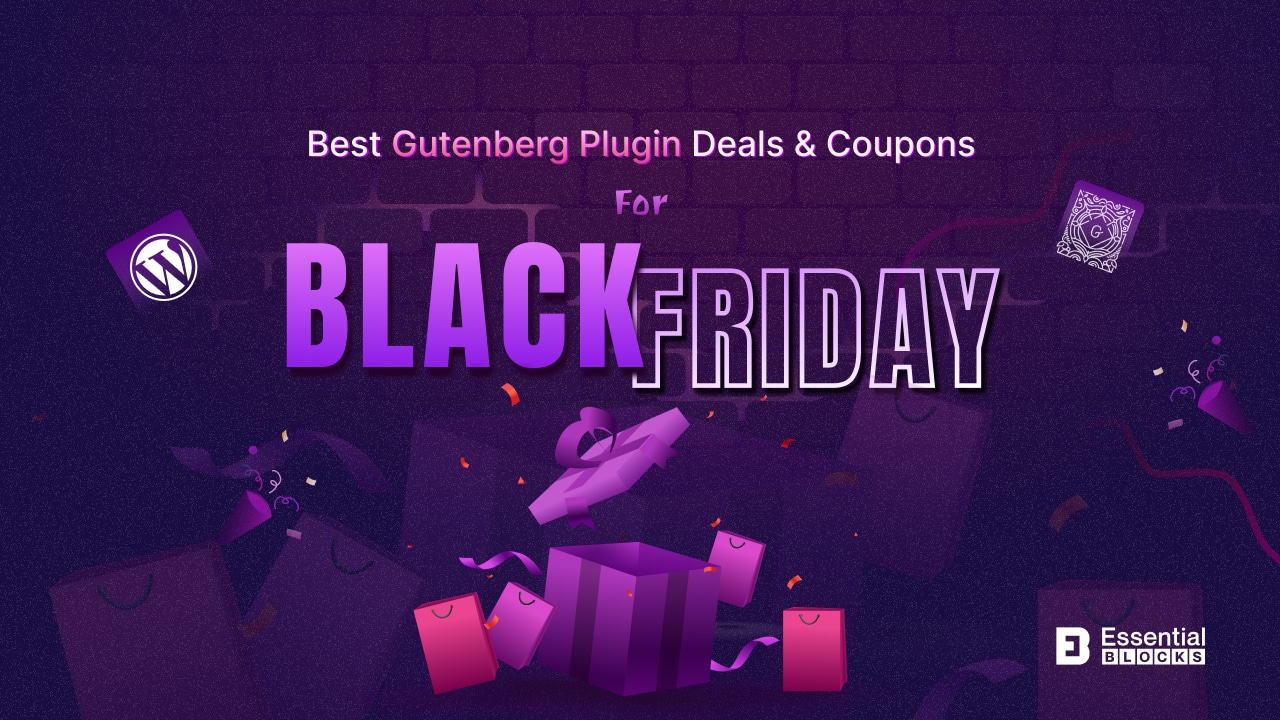 Best Gutenberg Block Plugin Deals & Coupons For Your WordPress Site
Since its introduction, the Gutenberg Block Editor has brought a groundbreaking change in content editing for WordPress. Plus, third-party Gutenberg plugins can offer the ultimate efficiency boost for designing a seamless, professional-looking website. Are you looking for premium Gutenberg block plugin deals and gear up your website with the power of Gutenberg editor? Well, you are in luck. Black Friday is near approaching with the biggest deals and coupons. Get ready to upgrade your web design skills with the best Gutenberg block plugin deals.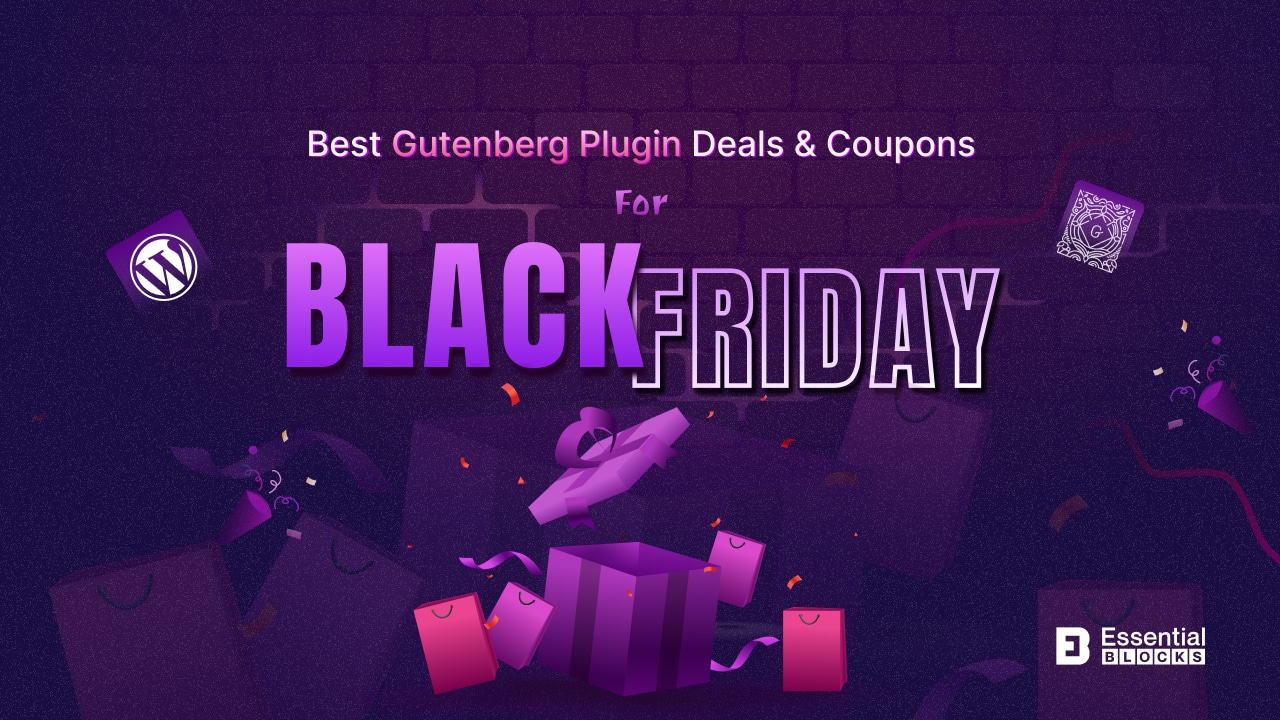 In this blog, we have compiled the best Black Friday block plugin deals to unlock massive savings in the biggest sale season of the year and supercharge your Gutenberg experience without breaking the bank. Explore the blog and embrace the upcoming holiday season with a list of irresistible WordPress Black Friday deals and coupons in 2023.
🎉 Black Friday Bonanza: Grab Exclusive WordPress Gutenberg Block Plugins
At WPDeveloper, a leading company in the WordPress product arena, we're dedicated to level up the WordPress experience worldwide, spanning over 180 countries. This shopping season, get the joy of holiday shopping with remarkable WordPress Black Friday deals on our top-tier products.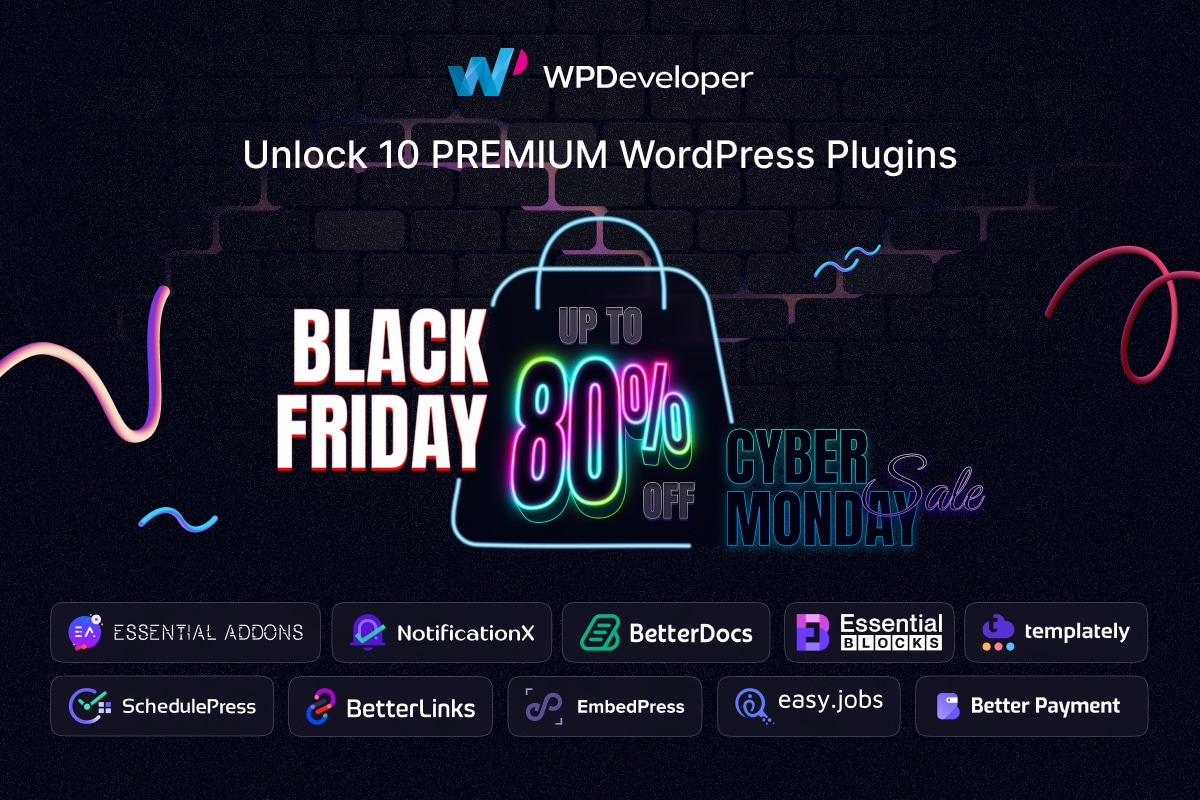 WPDeveloper is here with the biggest Black Friday block plugin deals, including Essential Blocks, Templately, NotificationX, and EmbedPress. Plus, we offer a Black Friday exclusive WPDeveloper Agency bundle featuring a collection of 10 products. Individually valued up to $6000, this bundle is now available for only $520!
Grab the exclusive offer on upgrading premium Gutenberg plugins such as:
🌟 Essential Blocks for Gutenberg (Exclusive Lifetime Launch Deal)
🌟 Templately (Starting at $3.99/Month)
🌟 NotificationX (Starting at $34/Year)
🌟 EmbedPress (Startting at $34/Year)
🔌 Best Gutenberg Block Plugin Deals & Coupons For Black Friday
Embrace the power of these exclusive plugins with their predesigned templates, incredible features, and functionalities for a seamless and enriching website creation journey.
🌟 Essential Blocks For Gutenberg – Lifetime Deal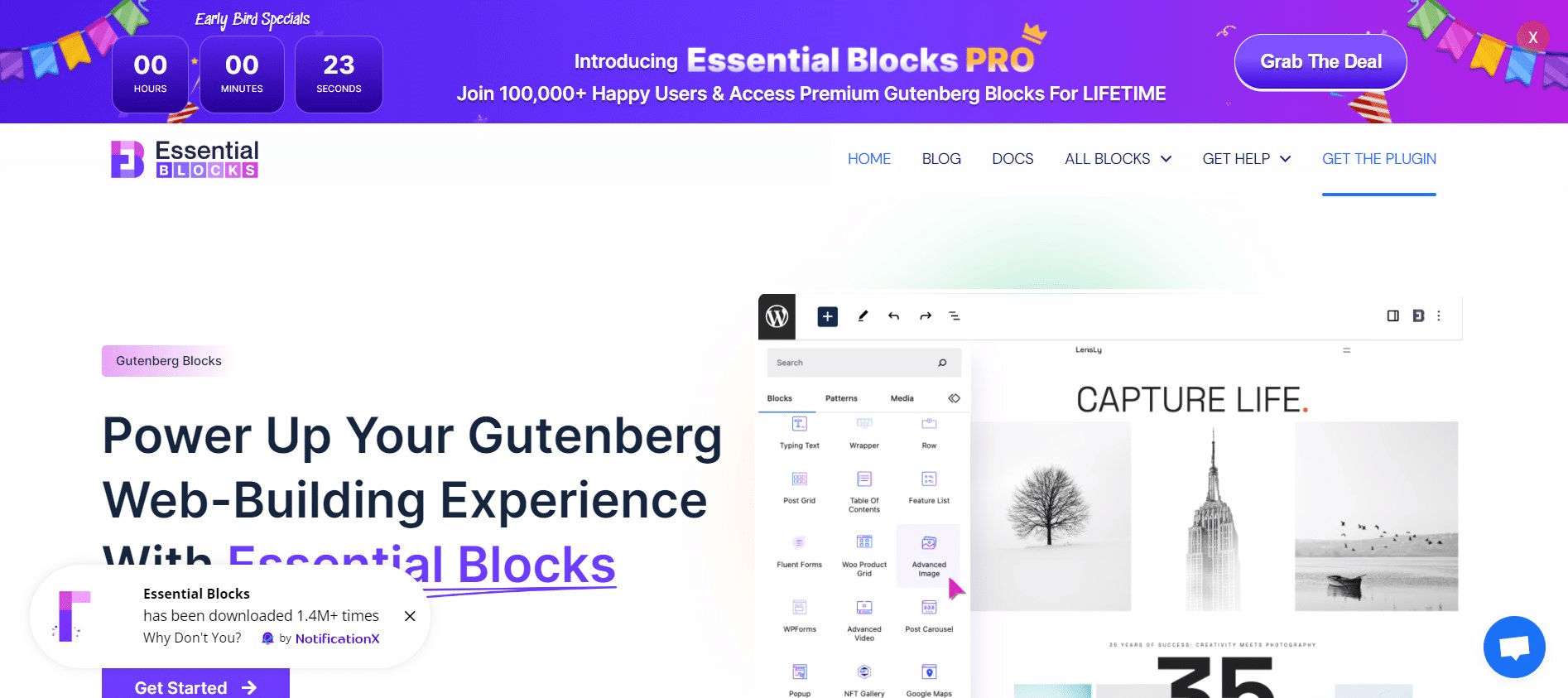 Essential Blocks For Gutenberg is the best blocks library for WordPress, ready to help you bring your ideas to life. There are now 50+ advanced blocks available to use with Gutenberg, with more on the way and trusted by 100k+ users. Our intuitive blocks will make designing your next WordPress page or post simpler and more beautiful than ever before, giving you more time to focus on the content.
Offer Details: Lifetime Deal Starts at $99 Only; PRO pack starts at $39 (50+ Blocks & More)
🌟 Templately – Up To 70% OFF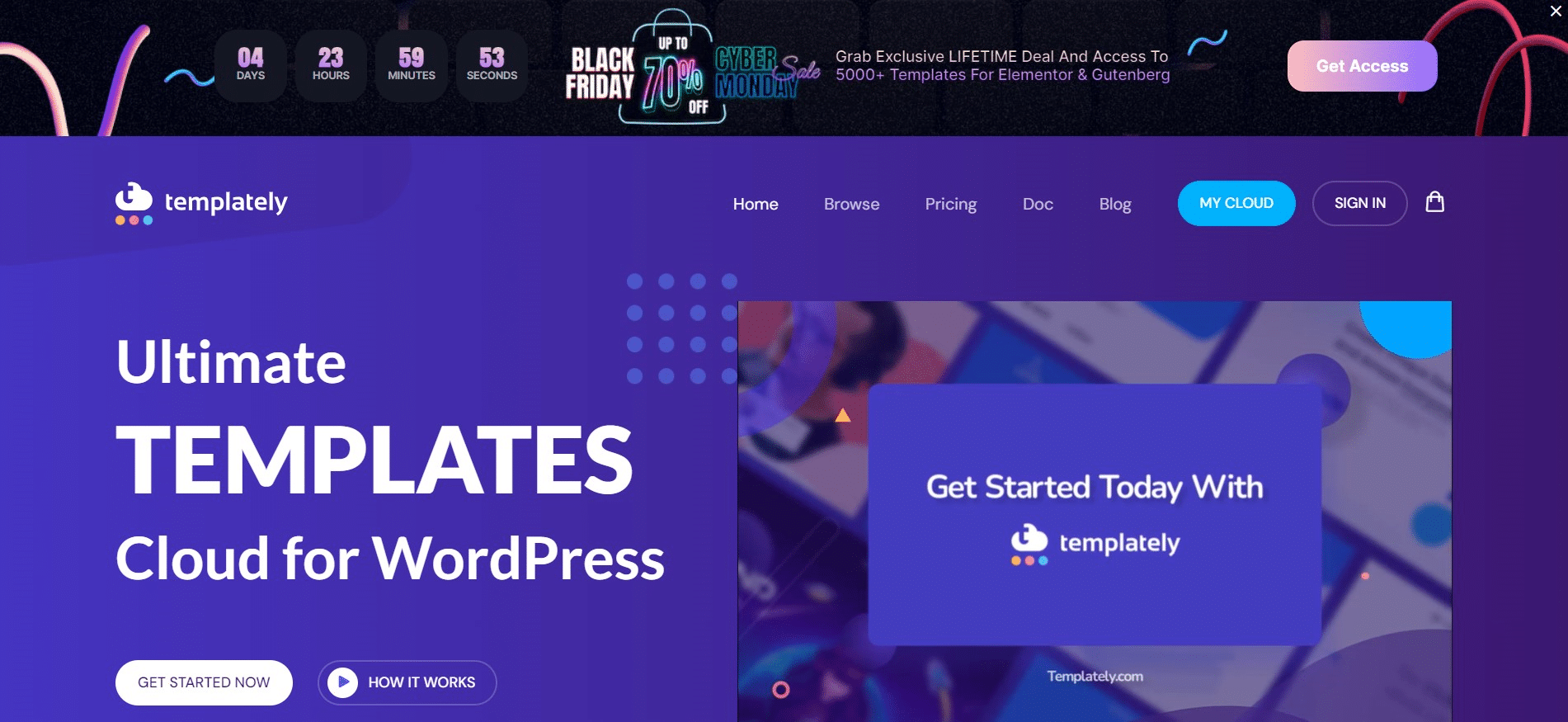 Ready website templates by Templately can significantly ease building captivating WordPress sites without coding. The platform is already providing a comprehensive suite of 5000+ templates for 200K+ users and counting. These exclusive templates can help you build professional, attractive, and engaging websites of any kind. On top of that, they ensure the best viewing experience on any device to boost your sales figures from multiple customer bases.
Offer Details: Starting at $3.99/Month
🌟 NotificationX – Up To 40% OFF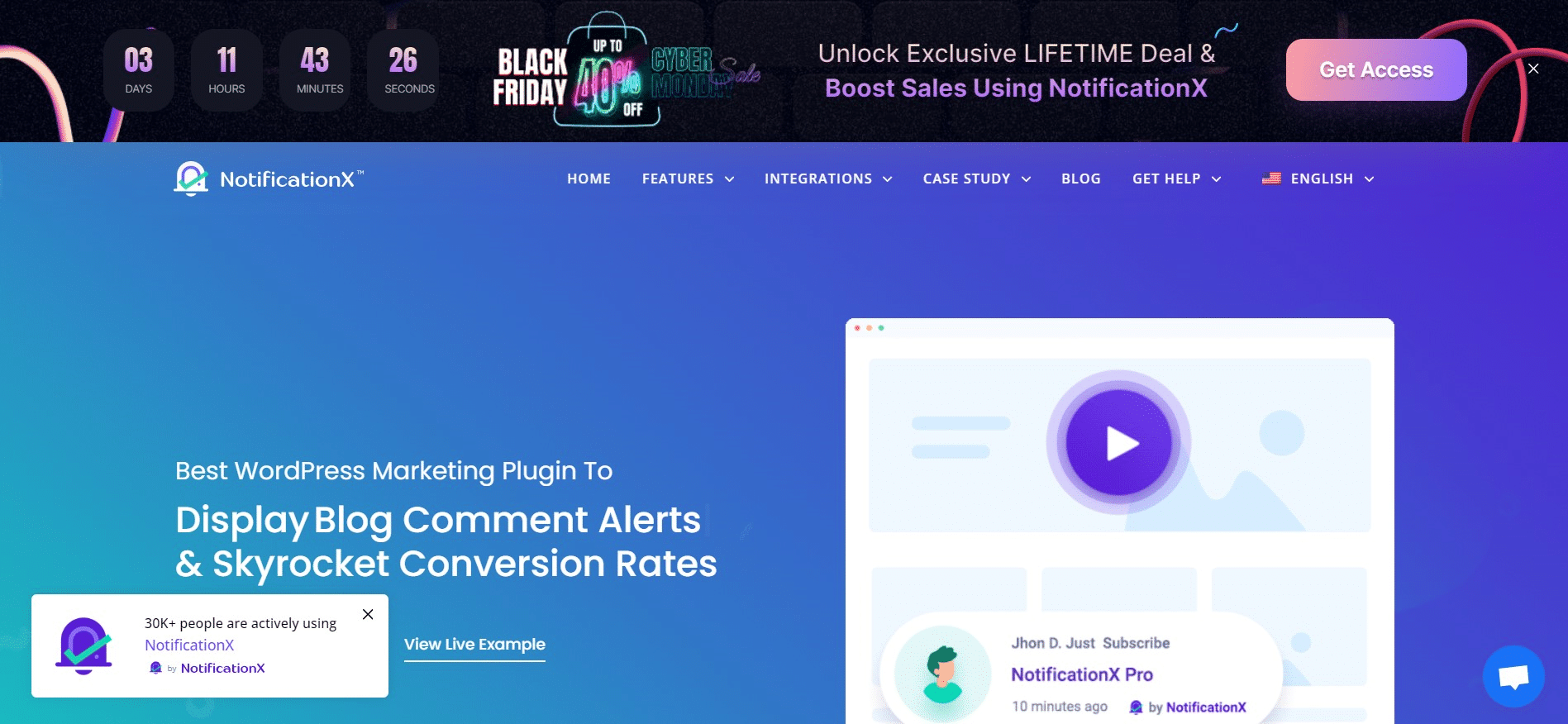 Boost your business with the ultimate FOMO, social proof, and sales popup plugin! Instantly enhance credibility with Notification Sales Popup. Leverage the power of social proof notifications to showcase what others are buying, reading, or commenting on. Capitalize on the FOMO effect – the Fear Of Missing Out – a potent marketing tool inducing urgency.
NotificationX ensures real-time sales and engagement notifications, compelling visitors to act now. No one wants to miss out, so maximize leads, sales, and engagements.
Offer Details: Starting at $34/Year
🌟 EmbedPress – Up To 40% OFF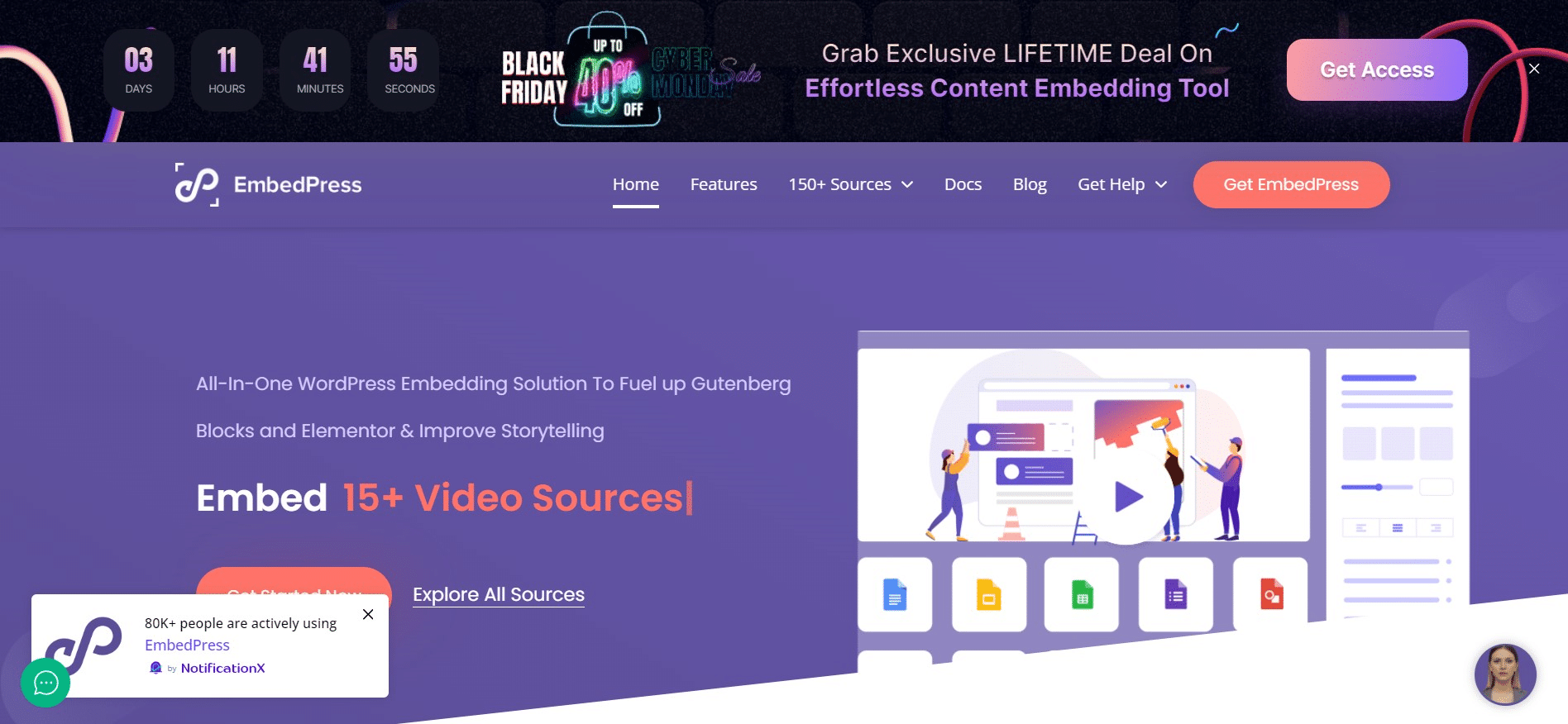 Maximize your WordPress site's multimedia potential with EmbedPress by seamlessly embedding content from over 150 sources like YouTube, Google Docs, Drive, Maps, Vimeo, Spotify, and more. Elevate your storytelling by effortlessly showcasing videos, images, posts, audio, maps, documents, PDFs, and beyond. Whether you prefer Elementor, Block Editor, Classic Editor, or other Page Builders, EmbedPress ensures a user-friendly experience.
Offer Details: Starting at $34/Year
🎉 Grab The Best Gutenberg Block Plugin Deals & Level Up Web Design
Experience the ultimate prosperity this festive season with the most extraordinary and highly lucrative sale of the year. Introducing our meticulously curated selection of the most exceptional WordPress Gutenberg deals exclusively tailored for businesses of every level. Don't miss out on the incredible opportunity of purchasing the best Gutenberg block plugin deals on this seasonal sale to maximize savings for your business during this exciting festival.
If you have found this blog helpful, feel free to share your opinion and feedback on how you would agree or disagree with our Facebook community. You can also subscribe to our blogs for valuable tutorials, guides, knowledge, tips, and the latest WordPress updates.