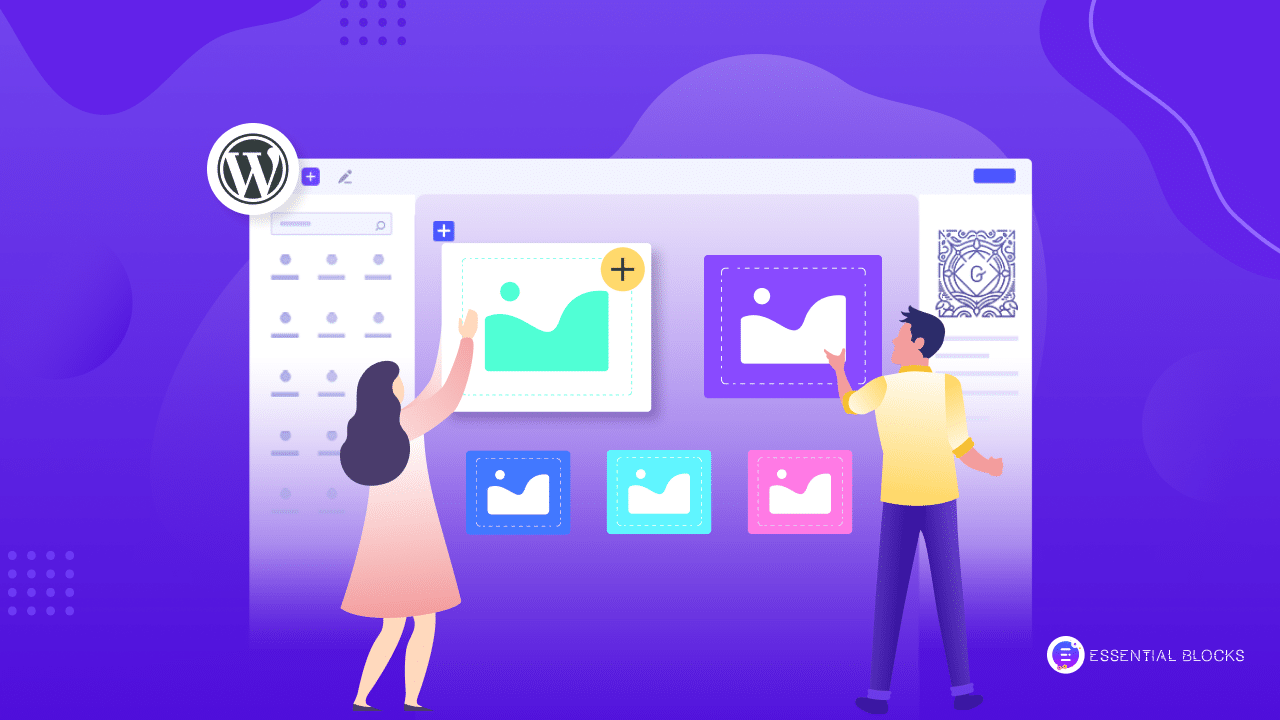 5 Best Gallery Plugins For Gutenberg You Must Check Out
Gutenberg has revolutionized the way we create and manage content on our websites. It offers a wide range of features and blocks to enhance the design and functionality of your website. One such feature is the gallery block, which allows you to create beautiful image galleries to showcase your work, products, or events.
However, the gallery block that comes with Gutenberg gives scope for basic functionalities and minimal customizations. But you can supercharge your gallery experience by using gallery plugins. In this blog post, we'll explore how gallery plugins can enhance your website and introduce you to the 5 best gallery plugins for Gutenberg.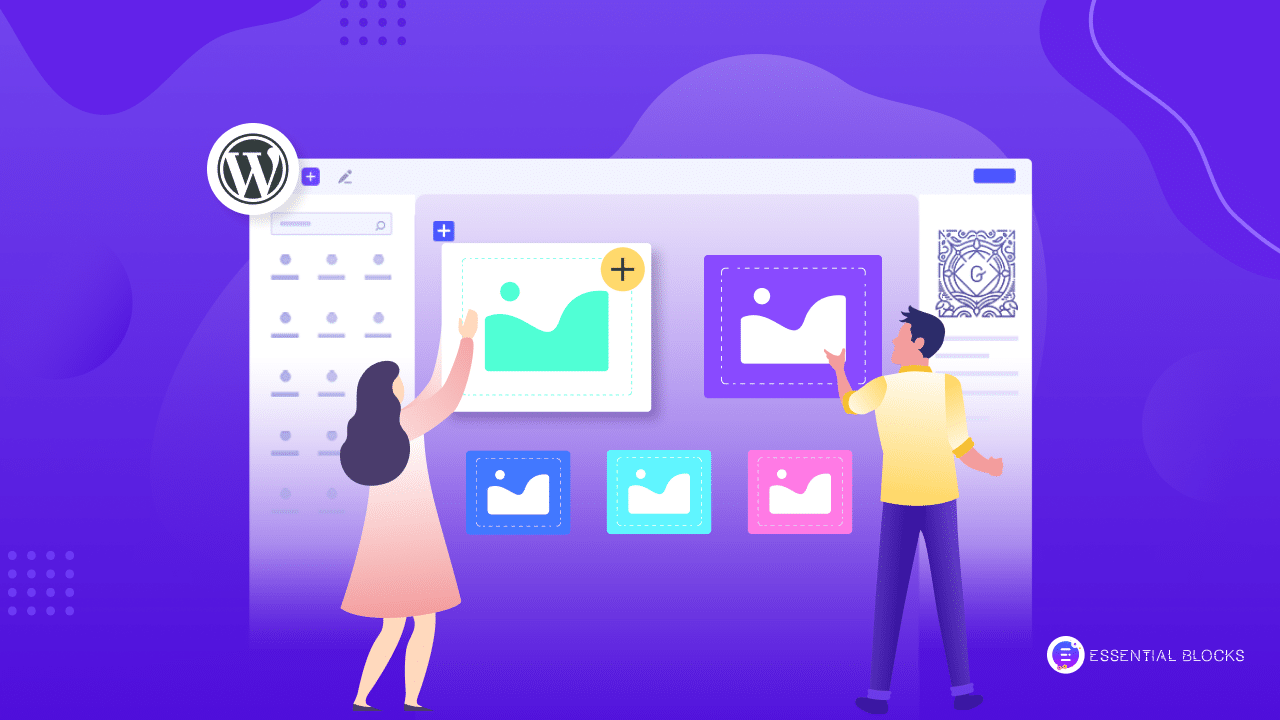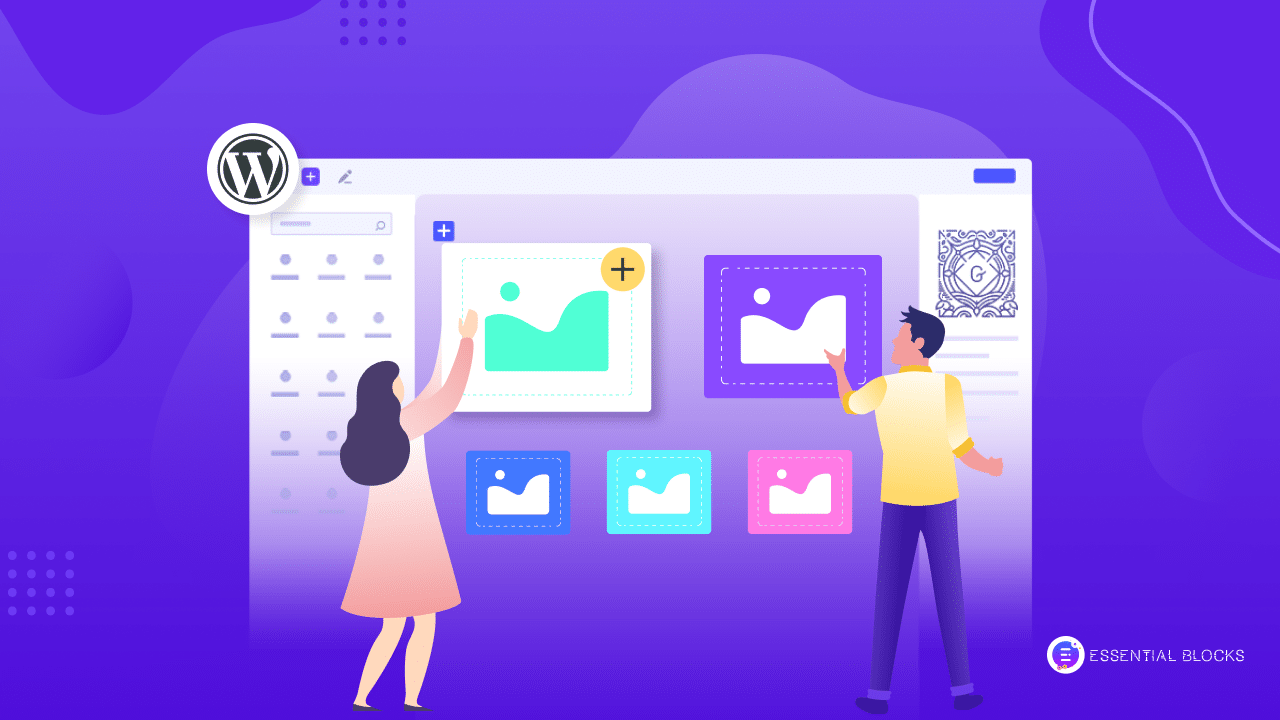 Importance Of Gallery Plugins For Attractive Websites
For attractive gallery sections, there's always a need for Gallery plugins that can enhance websites by organizing and displaying images and videos in visually appealing layouts, improving user engagement. They offer customizable templates and transitions for a more polished and captivating user experience. With features like lightboxes and sliders, these plugins make it easy to showcase content, increasing the overall attractiveness of the website. Let's have a look below to know how galleries play a crucial role in different aspects of your website-building experience.
Visual Appeal: Galleries make your website visually appealing and engaging, helping to retain visitors' attention.
Showcasing Products: For e-commerce websites, galleries are essential for displaying products or services effectively.
Portfolio Presentation: Galleries allow artists, photographers, and designers to showcase their work professionally.
Storytelling: Through galleries, you can tell a visual story, whether it's about your brand's history, an event, or a project.
User Experience: Well-organized galleries enhance the user experience by making it easy for visitors to browse and explore your content.
Top 5 Best Gallery Plugins For Gutenberg
To make the most beautiful website with an eye-catching gallery section, here's a list of the top 5 best gallery plugins seamlessly integrating with Gutenberg. These plugins offer a range of features, from customizable templates to responsive design, ensuring your website's galleries are not only stunning but also user-friendly. Let's have a look below.
1 Essential Blocks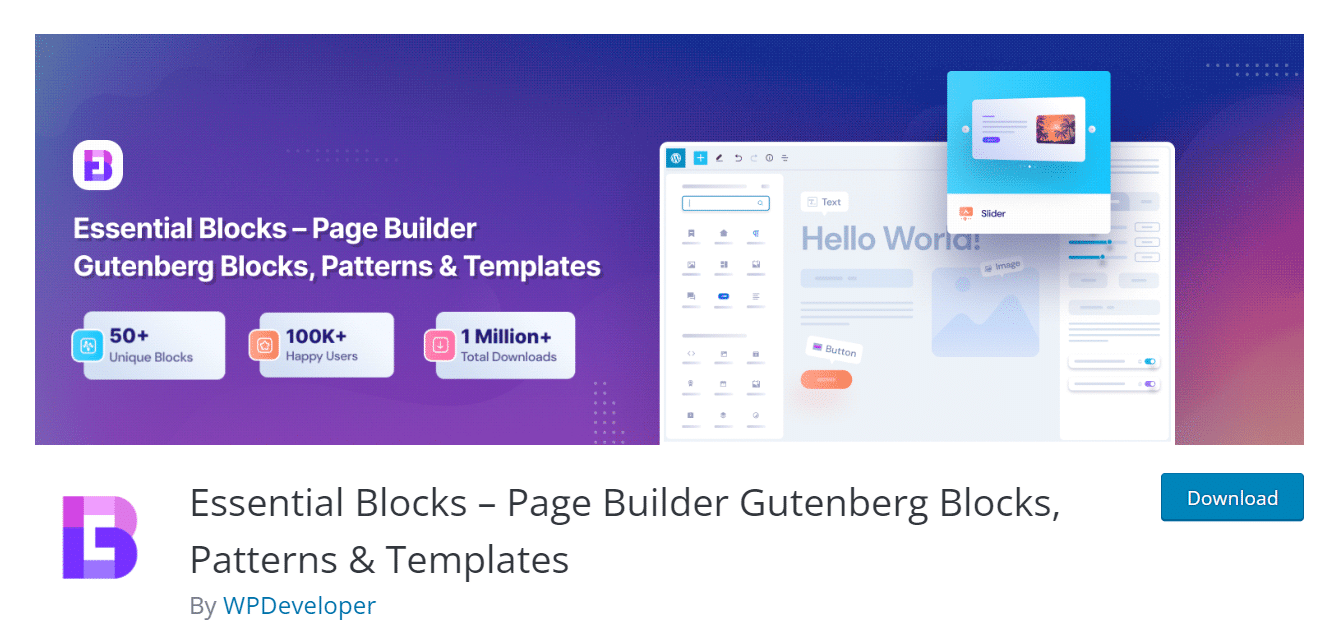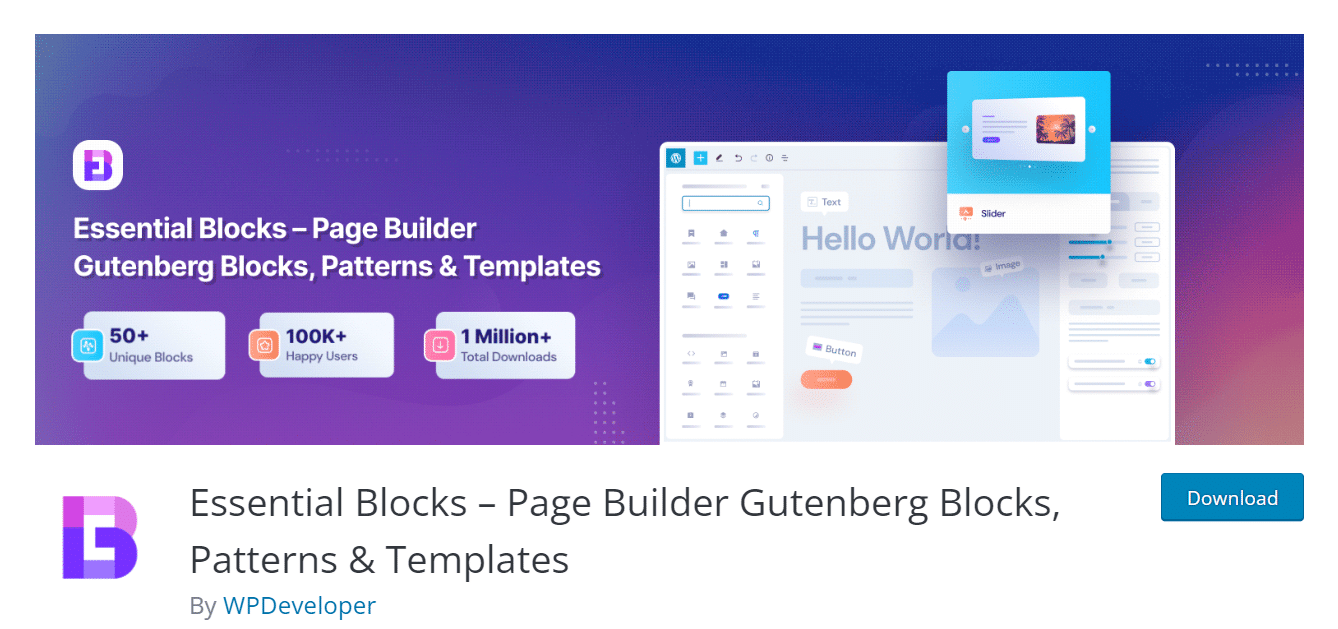 When it comes to enhancing your WordPress website with stunning gallery sections, the Essential Blocks plugin stands out as a game-changer. With over 100,000 active installations, this versatile and rapidly growing plugin offers an impressive collection of 50+ blocks, and among them are two exceptional gallery blocks: the Image Gallery Block and the NFT Gallery Block.
The Image Gallery Block lets you create visually captivating galleries with various layouts, customizable styling, lightbox integration, and the option to add captions and descriptions. You can showcase the images on your WordPress website in a beautiful manner by simply using this block and engaging visitors instantly. With appealing layouts & styles, enhance your site in an outstanding way.
On the other hand, the NFT Gallery Block caters to the growing world of Non-Fungible Tokens (NFTs), supporting different media formats, responsive design, and customizable displays. With this plugin, you can effortlessly craft awe-inspiring gallery sections that engage your audience, making it a must-have tool for any website builder looking to take their web design to the next level.
2 NextGEN Gallery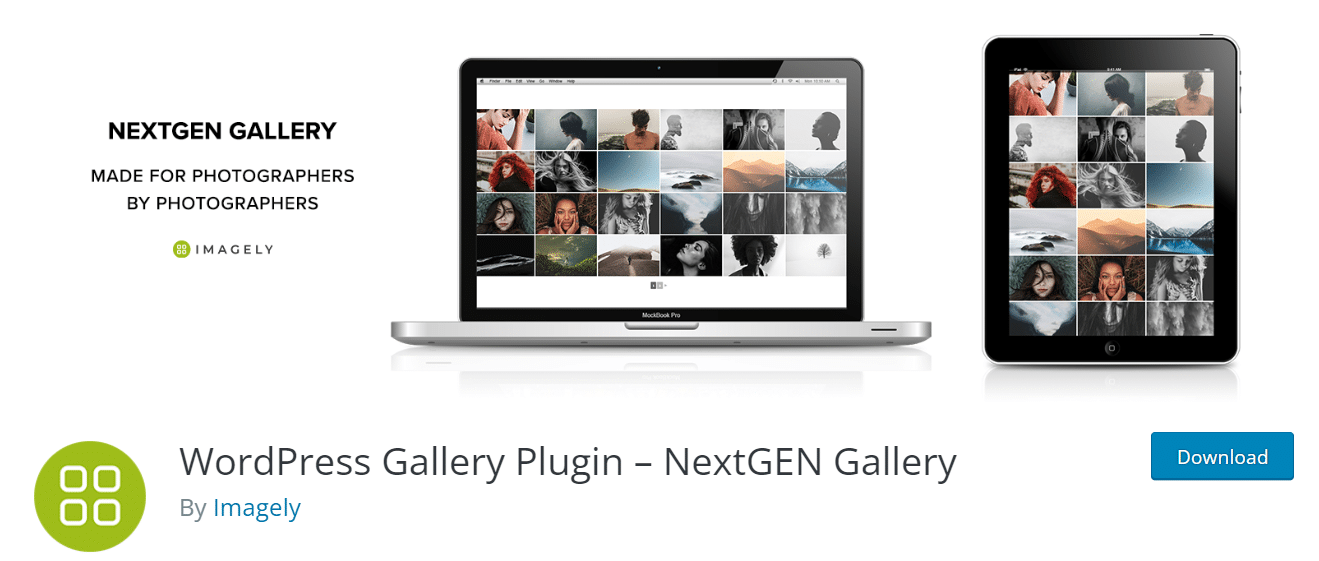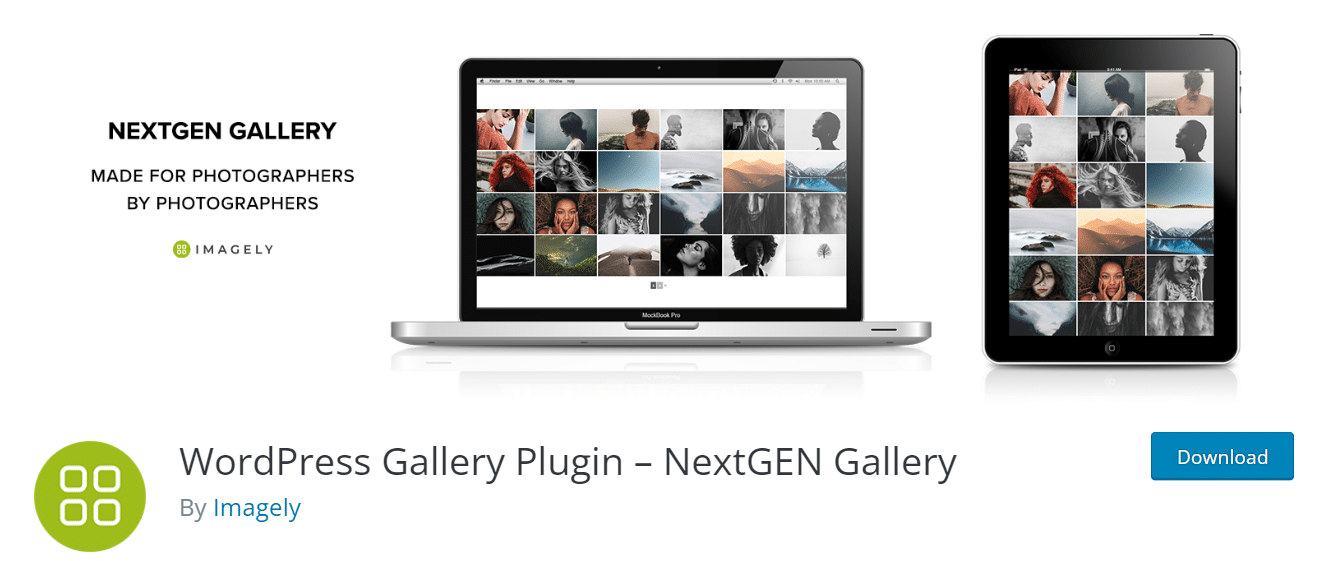 With over 500,000 active installations, NextGEN Gallery is a widely used plugin. It provides various gallery styles, album management, e-commerce integration, and deep social media integration. Its appeal lies in its versatility, making it suitable for everyone from casual photographers to the most discerning visual artists and imaging professionals.
NextGEN boasts three primary gallery styles (slideshow, thumbnail, and image browser) and two album styles (compact and extended), each offering an extensive range of customization options. Users can fine-tune parameters such as size, style, timing, transitions, controls, lightbox effects, and more to create galleries and albums that suit their unique vision.
3 Robo Gallery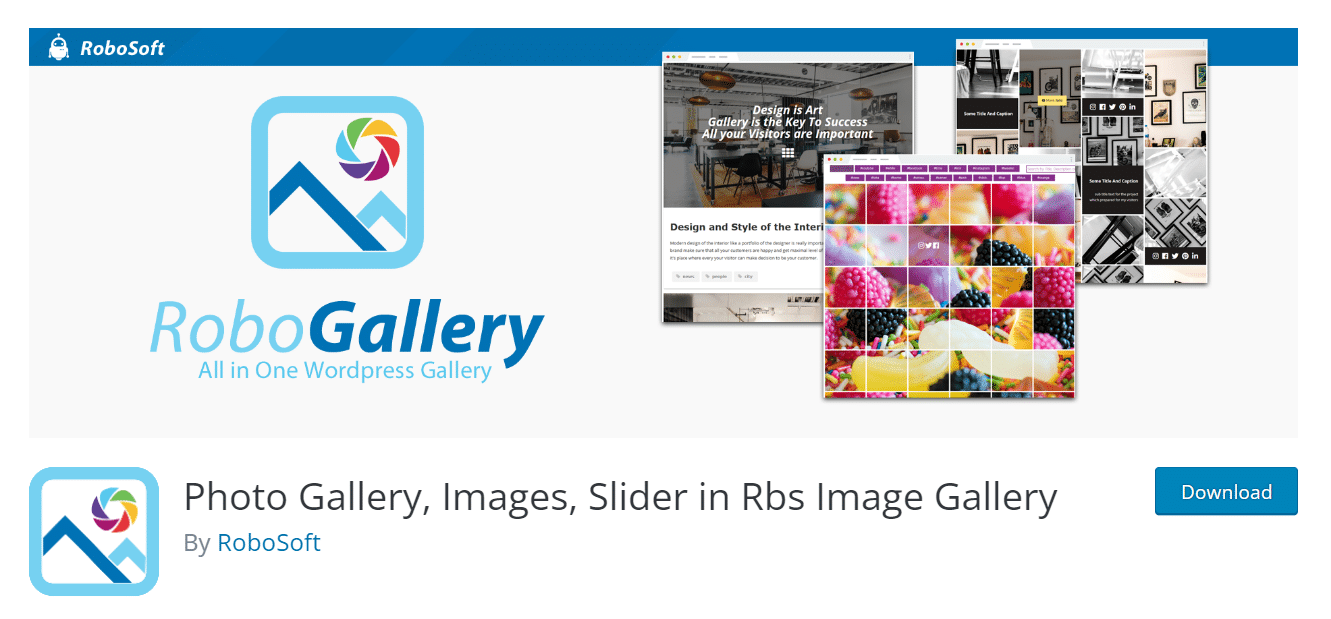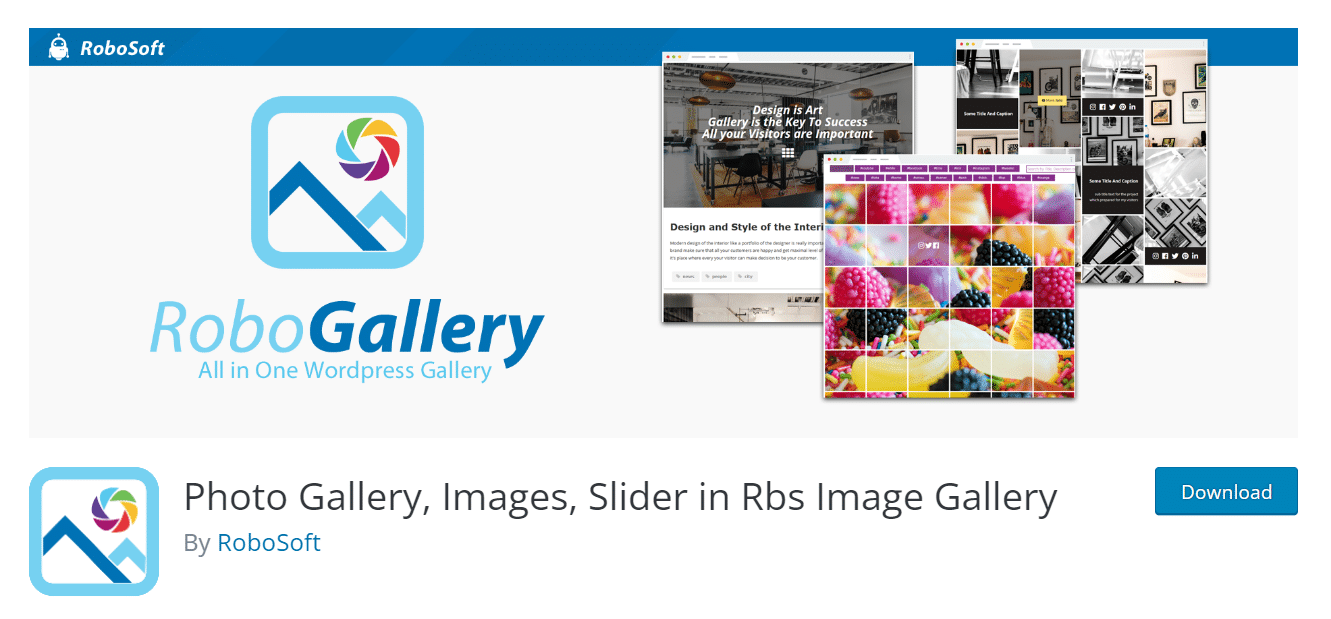 The Robo Gallery plugin is a comprehensive and feature-rich solution for WordPress users seeking robust gallery functionality. With its array of 50+ pre-configured styles, it empowers users to create visually appealing galleries and albums with ease. Whether you're looking to showcase images, and videos, or even integrate YouTube content, Robo Gallery delivers a flexible and user-friendly gallery solution for WordPress websites. It can be a top choice for those who demand excellence in their online portfolios.
In addition to its numerous free features, the Pro version of Robo Gallery unlocks even more possibilities, providing advanced themes, layouts, and settings for users who require the utmost customization and sophistication in their galleries. With its support for multisite installations, drag-and-drop categories manager, and statistics tracking, this plugin ensures a seamless and powerful gallery-building experience for WordPress users at all levels of expertise.
4 MetaSlider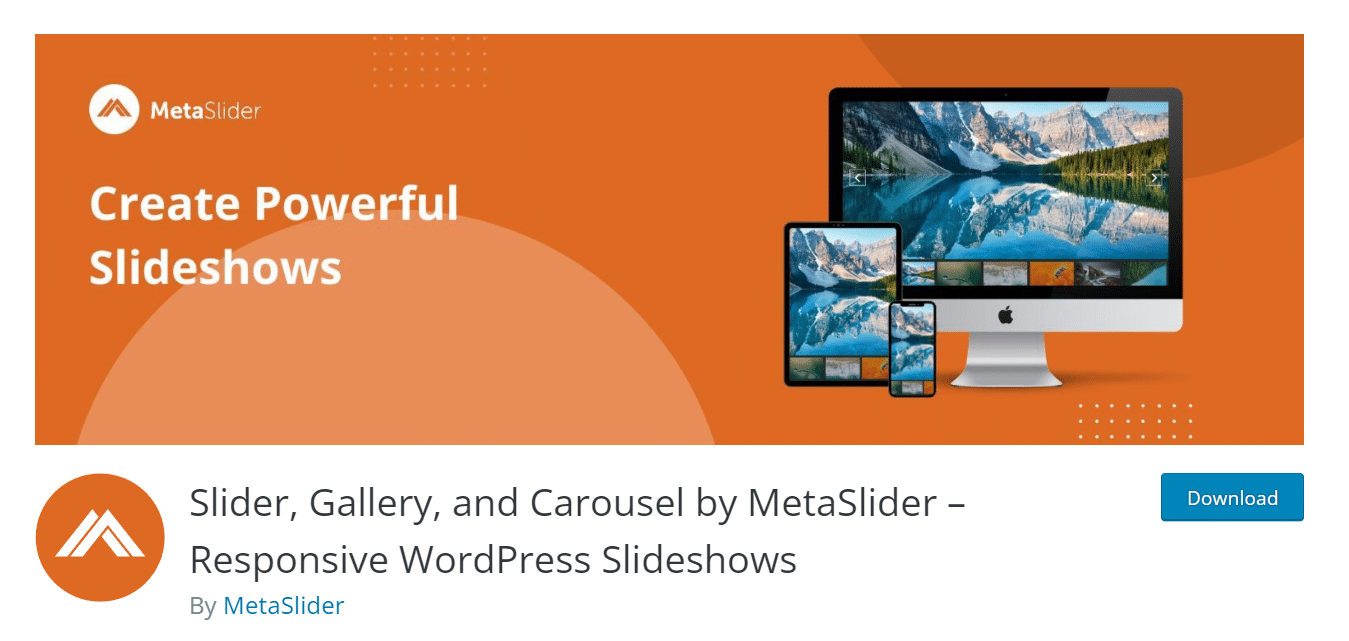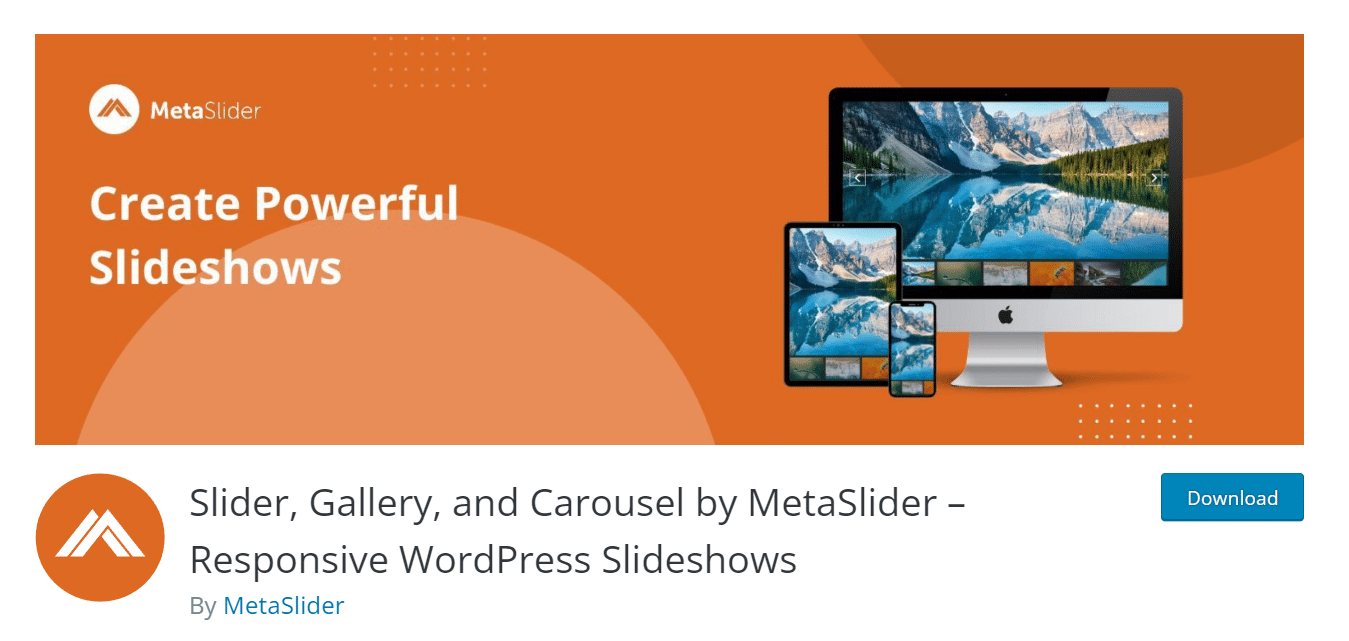 MetaSlider is the go-to solution for creating dynamic and SEO-optimized sliders, carousels, slideshows, and galleries within minutes. As the world's leading responsive WordPress slider plugin, it empowers users to effortlessly enhance their websites with visually engaging content. Whether you're showcasing images, photos, videos from YouTube or Vimeo, custom layers, HTML content, WooCommerce products, or post feeds, MetaSlider has you covered.
With both MetaSlider and MetaSlider Pro, the process of elevating your blog or website becomes a breeze. By selecting content directly from your WordPress Media Library, arranging it with a simple drag-and-drop interface, and customizing slide captions, links, and SEO elements all on a single page, this plugin streamlines the creation of dynamic and visually striking sliders. MetaSlider simplifies the task of enriching your WordPress site with captivating content, making it an invaluable asset for bloggers, website owners, and digital marketers.
5 Modula Image Gallery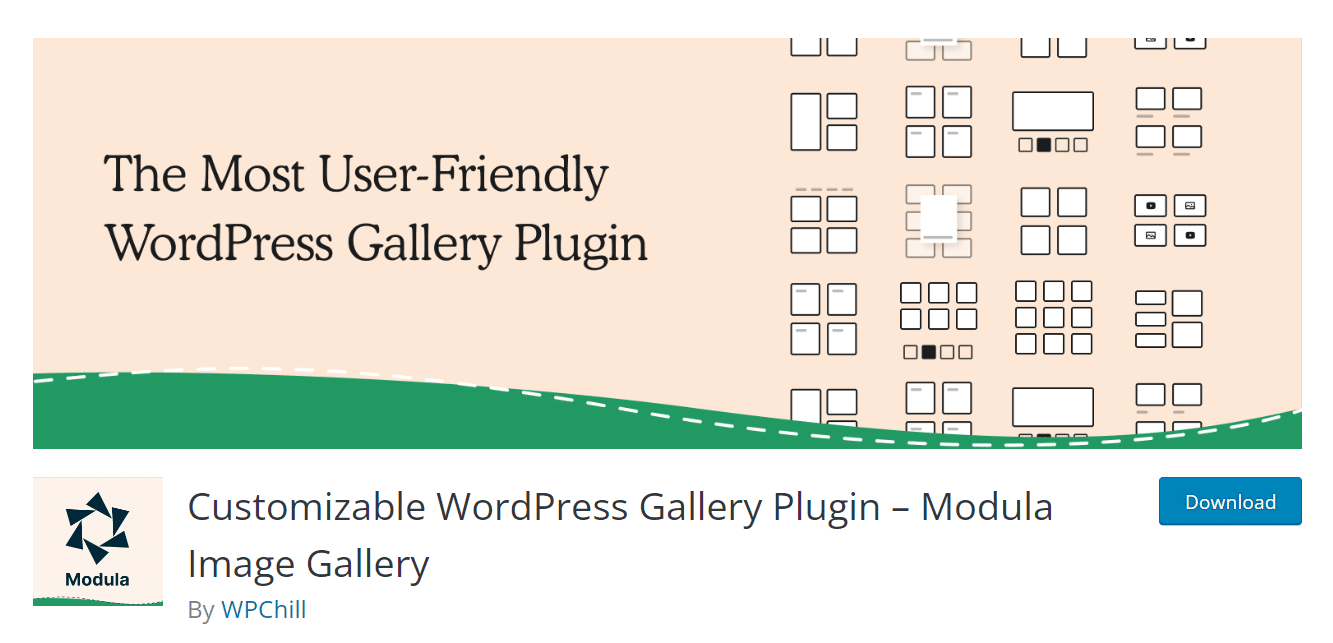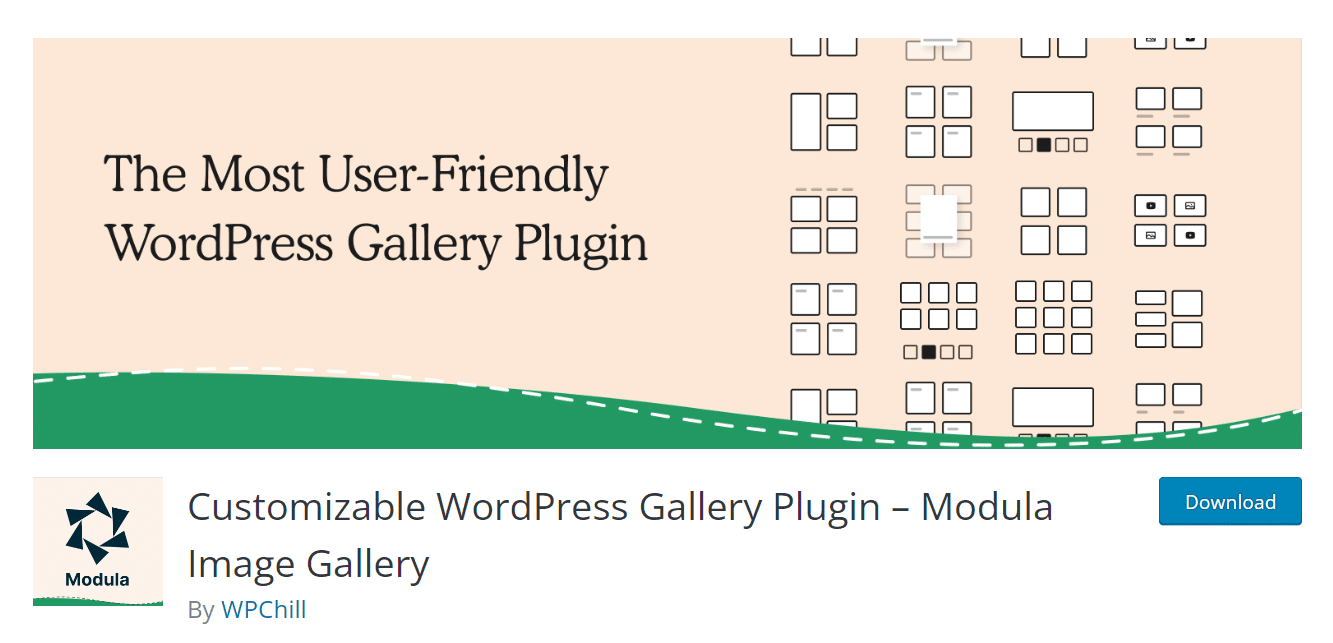 Modula is a versatile and user-friendly WordPress gallery plugin that simplifies the process of creating stunning lightbox galleries, masonry grids, and custom grids with ease. It offers both a free version, Modula Lite, and a premium version, Modula Pro, catering to users of all levels. With the free version, you can create image galleries, customize image and gallery settings, enable social sharing, and more.
Modula Pro takes gallery customization to the next level with premium features like presets, video gallery support, password protection, slider galleries, gallery filters, albums, SEO optimization, image loading effects, right-click protection, and more. Whether a beginner or a pro, Modula empowers you to showcase your content beautifully on your WordPress website.
Now It's Your Turn To Create Stunning Gallery
Incorporating gallery plugins into your Gutenberg-powered WordPress website can significantly enhance its visual appeal and user experience. Whether you're a photographer, e-commerce store owner, or content creator, these plugins offer a wide range of features to make your galleries shine. Explore the plugins and choose the one that best suits your needs.
If you enjoyed this post, subscribe to our blog and join our Facebook community to connect with web creators and Gutenberg users. Leave your comment below and stay connected.