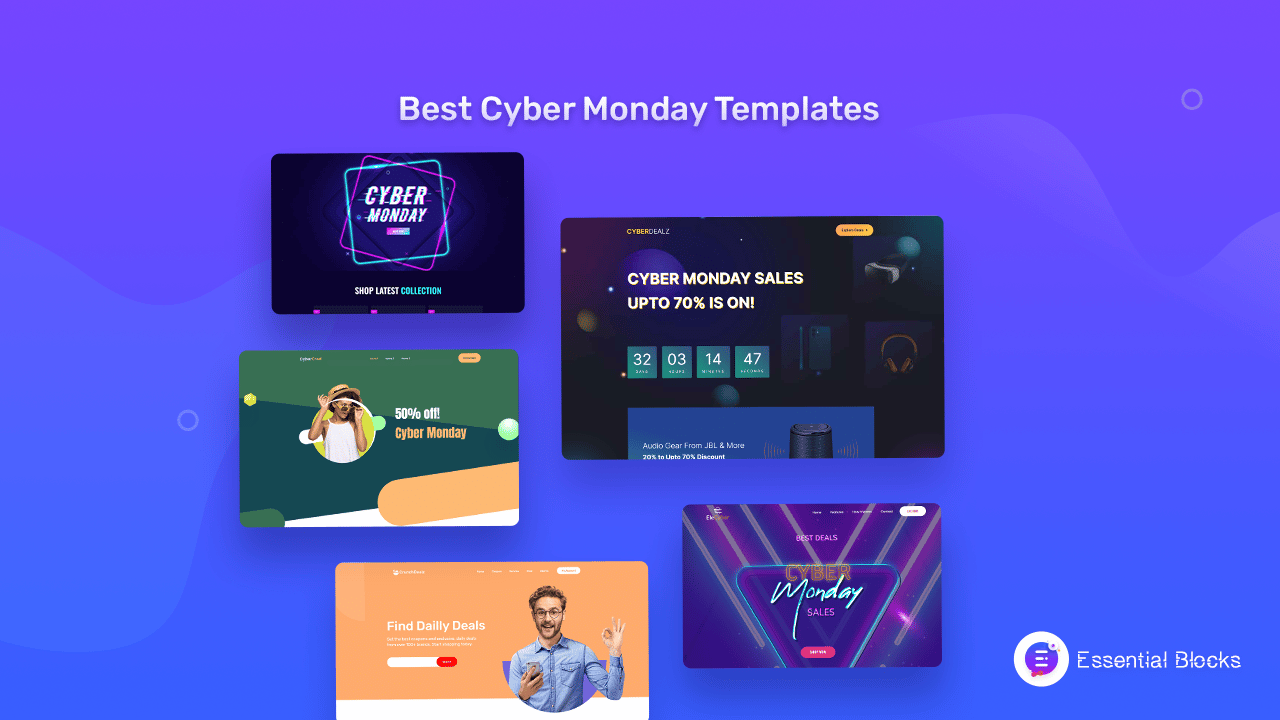 5+ Best Cyber Monday Templates For Gutenberg To Boost Sales
You're most likely not thinking about turkey and cranberry sauce yet, but maybe it's time you did! After all, the holiday season is approaching, starting with Thanksgiving, and following that comes one of the most important days for any business.
That's right, we are talking about Cyber Monday, one of the biggest shopping days for online store owners! And to help you get your website ready, we are going to share some of the best Cyber Monday templates for Gutenberg.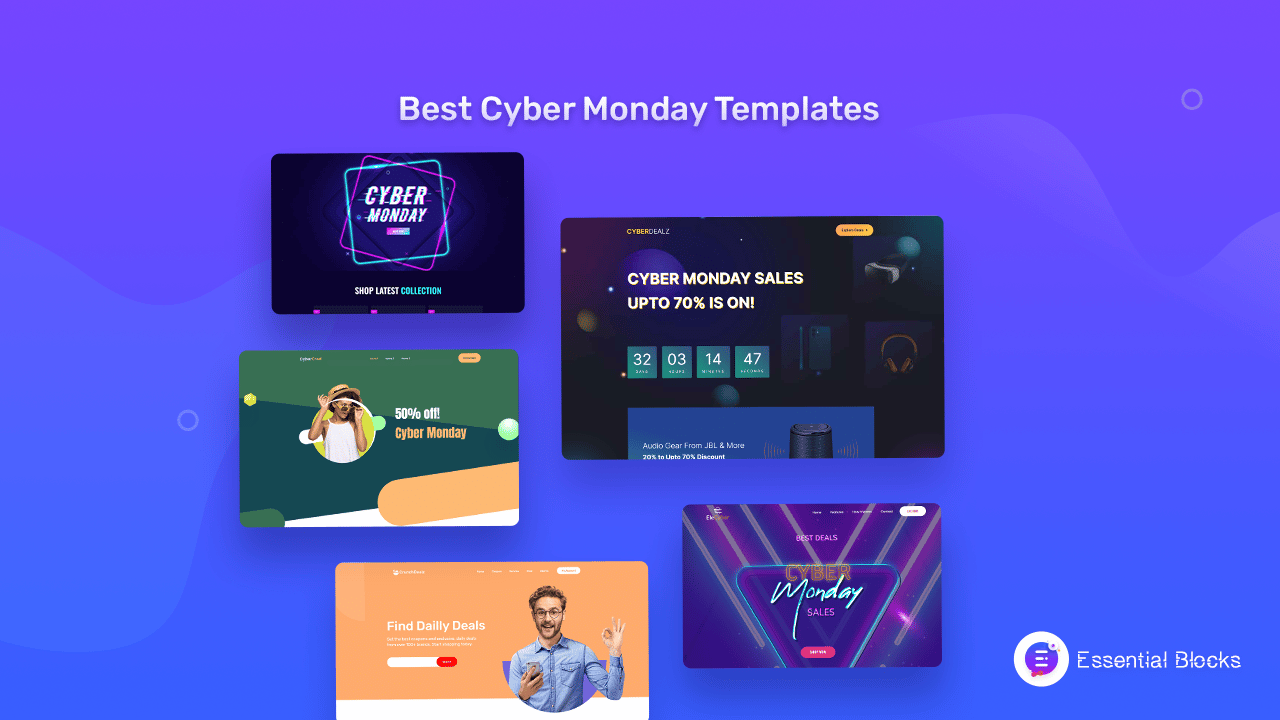 How To Prepare Your WordPress Website For Cyber Monday Sales
Traditionally, the Thanksgiving holiday weekend has always been a record-breaking shopping occasion, because right after Thanksgiving comes Black Friday and Cyber Monday. During this time, people have increasingly turned to their screens for Cyber Monday deals rather than retail stores throughout the years.
So how do you prepare your WordPress website for Cyber Monday sales? Here are some tips and tricks.
Properly Plan Your Sales Goals For Cyber Monday
Believe it or not, holiday shoppers are already researching items and looking for bargains. So it's critical — absolutely essential — to plan ahead of time by outlining the sales you'll provide throughout the Black Friday/Cyber Monday weekend.
The sooner you have a strategy in place, the sooner you can publicize your Cyber Monday offer and prepare individuals to spend their Christmas money at your store. A basic Excel document is useful for organizing planned sales – specify products or a fixed discount, regular and sale pricing, the sale duration, and how you want to promote the offer.
Promote Cyber Monday Deals Through Email Marketing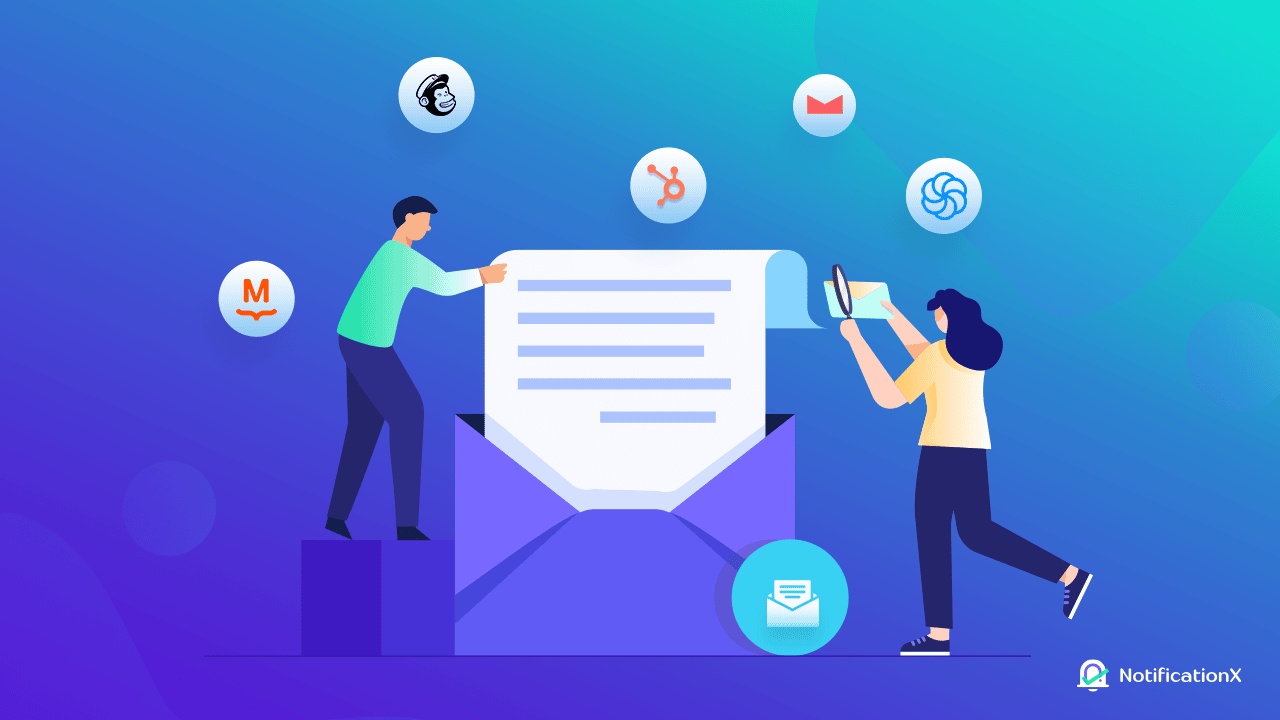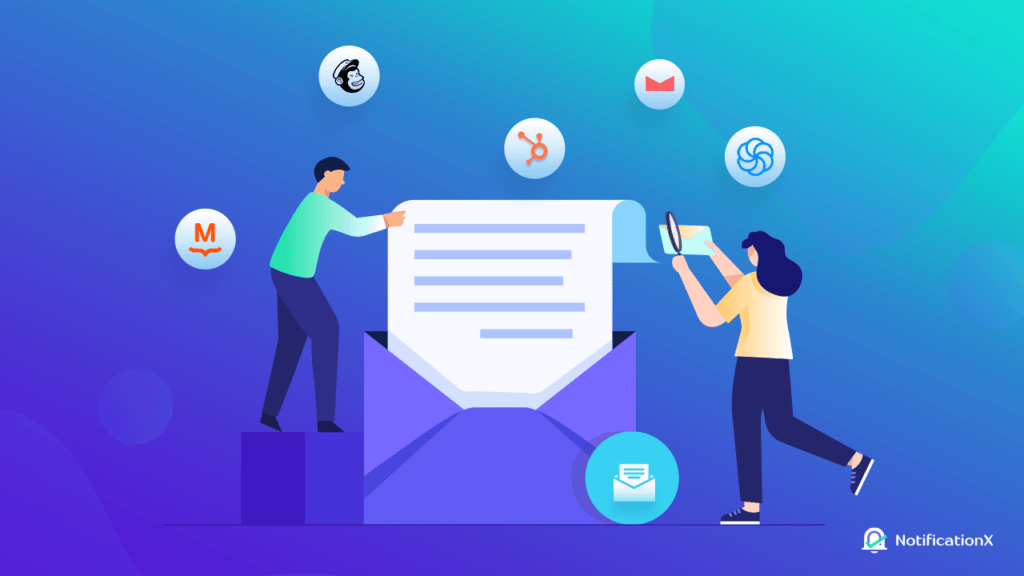 If you're not sure where, to begin with promoting your Cyber Monday deals, email is a sure choice because a healthy, growing email list is vital for your small business or eCommerce website.
Sending marketing campaigns to customers who have decided to connect with your company helps you to design personalized messages that will have the most impact when it comes time to buy. Your promotions can also aid in the development of an email list. It's like an enormous benefit circle.
Keep An Eye On The Competitors
With a rising tide of Black Friday and Cyber Monday discounts hitting the web, your small business must differentiate itself from other small businesses and big-name shops.
Additional flourishes can help distinguish your site from a competitor online retailer; try including a gift (or an extra discount on future return orders) with each transaction, expedited or free delivery, unique packaging, or personalized thank-you-for-shopping letters from your company.
Optimize Your Cyber Monday Deals Page With SEO
Search engines are used by shoppers to identify store specials or product-specific deals. Customers, for example, look for terms like "gaming computer Cyber Monday," "Cyber Monday offers 2022," or "Apple watches Cyber Monday."
Increase your reach by implementing SEO methods on your website, product listings, and Cyber Monday landing pages.
Use Google's suggestions to enhance your site:
🛎️ Create your page early: Create your Cyber Monday web pages ahead of time so that search engines can scan and index your site.
🛎️ Use internal links: Connect your major websites, such as your homepage, to your Cyber Monday assets to increase visibility.
🛎️ Use the same web page annually: Because older pages have greater SEO impact, Google advises against mentioning the year in your URL.
Best Cyber Monday Templates To Skyrocket Your Holiday Sales
In the following section, we have made a list of some of the finest Cyber Monday templates for your WordPress website from Templately. These ready templates will power your website for the upcoming sale.
1. EleCyber – A Beautiful Gutenberg Cyber Monday Template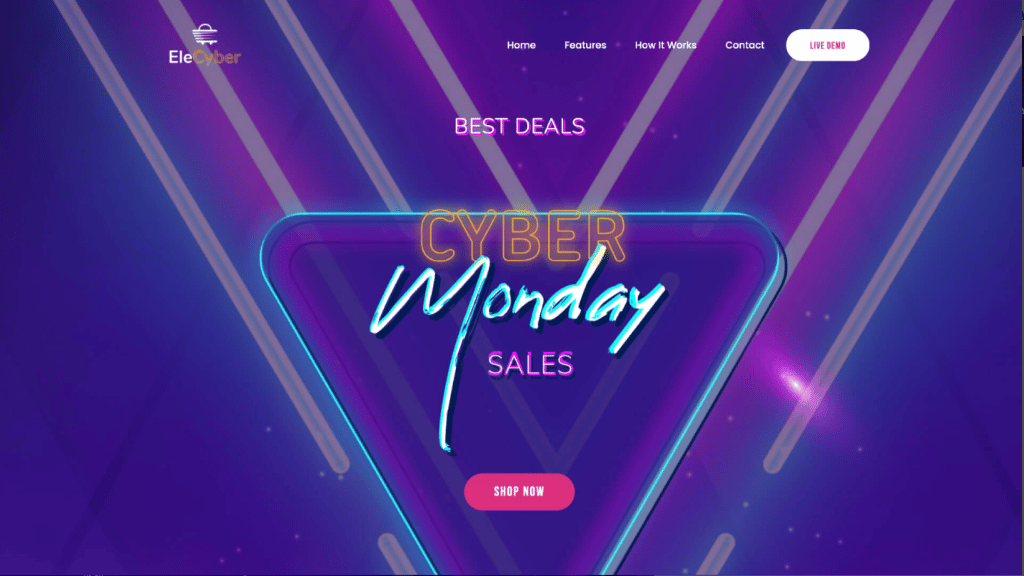 EleCyber is a stunning, stylish, and fully responsive WordPress theme designed for Cyber Monday sale retailers or websites. This fantastic landing page template has been created just for showing your Cyber Monday sales specials, sales promotions, monster discounts, and other similar activities.
You can use CyberSell to construct any section of your Cyber Monday campaign website or sales offers page as needed, and increase interaction with interactive Call To Action, dynamic countdown timers, and other features.
2. CyberCred – Colorful Gutenberg Website Template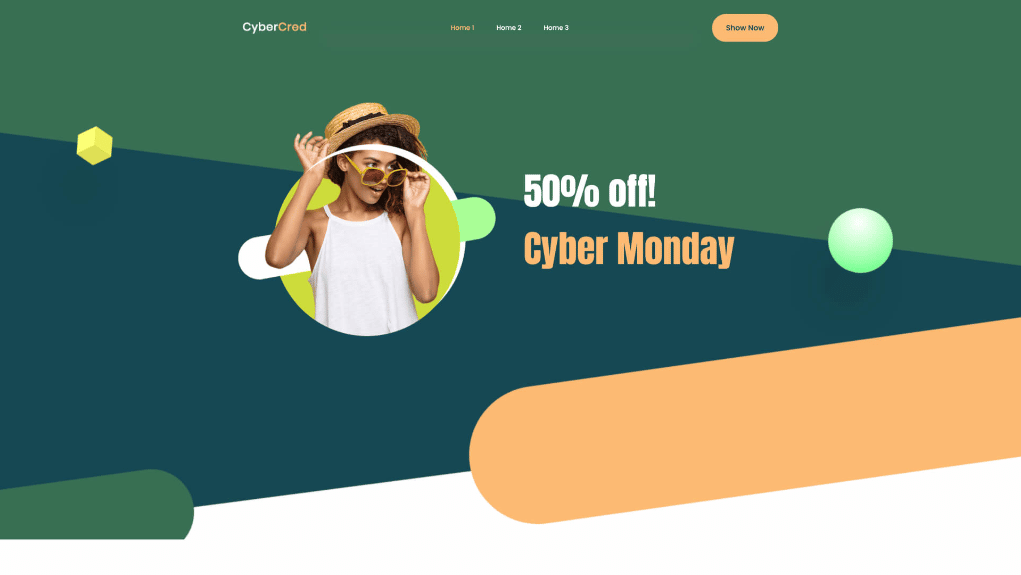 CyberCred is a vibrant, eye-catching, and colorful Gutenberg website template set created specifically for building outstanding Cyber Monday deals pages. You can rapidly build a massive discount page, campaign page, deal page, or any other special offer page with this completely responsive pack.
This Cyber Monday template set is built using Gutenberg and Essential Blocks and is entirely configurable without the need for any code.
3. CyberDealz – Cyber Monday Discount Page For Gutenberg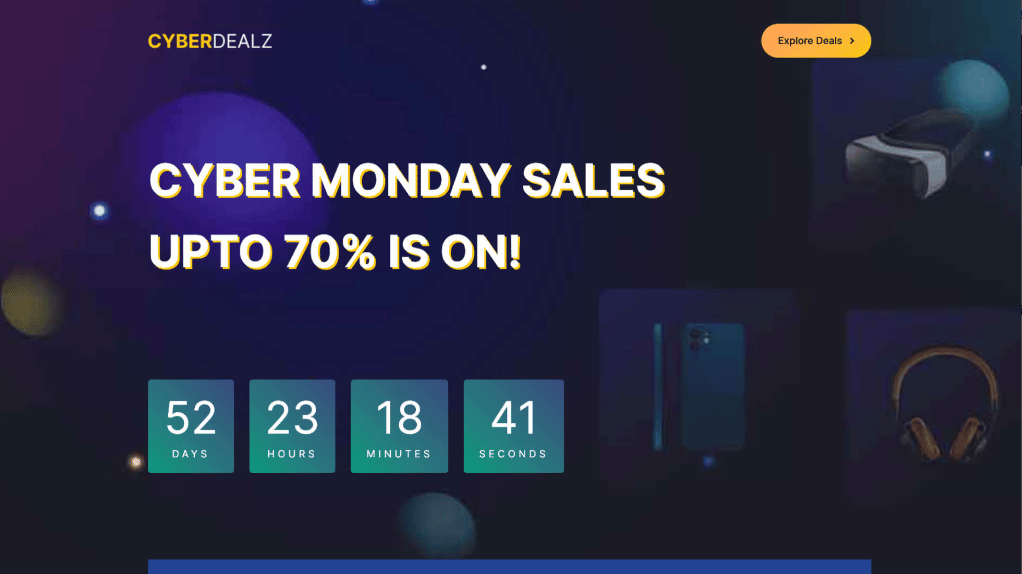 CyberDealz is a colorful, high-tech, eye-catching Gutenberg website landing page template designed for creating spectacular Cyber Monday sale sites. With this completely responsive website template, you can quickly design a Black Friday discount page, campaign page, deal page, or any other special offer page.
CyberDealz has a stylish countdown, WooCommerce product grid, Call-To-Action buttons, and a social share block to help you effortlessly increase sales on your marketing campaigns.
4. CrunchDealz – Eye-Catching Ready Page Template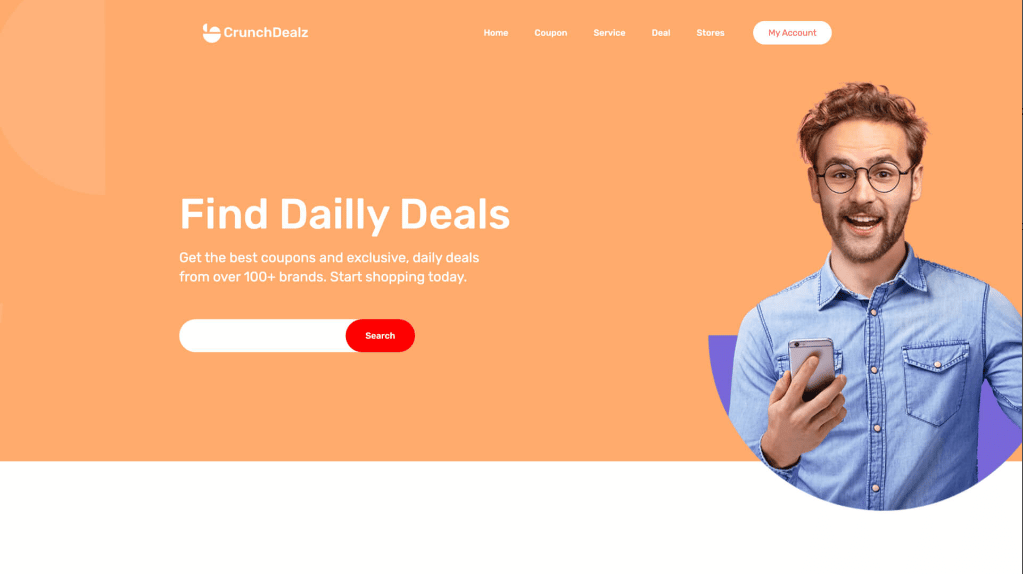 CrunchDealz is a bold, modern, and minimalist WordPress website landing page template designed specifically for creating discount and deal web pages in Gutenberg. You can quickly create any discount page, affiliates page, or affiliate marketing page, or showcase your unique promotional deals with this completely responsive website template.
It has amazing CTA buttons, lovely animations, eye-catching product grids, a testimonials section, and much more. Also, with its colorful layout and dynamic designs, this template could be the ideal template for running effective marketing campaigns and growing your brand.
5. CyberSell – Fully Responsive Gutenberg Template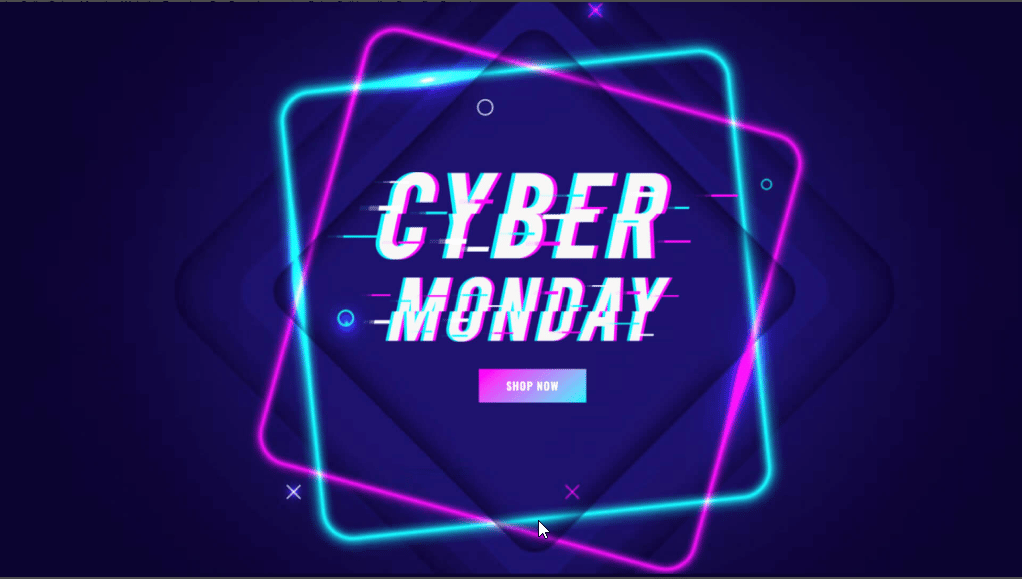 CyberSell is a stunning, stylish, and completely responsive WordPress theme designed for Cyber Monday offers or websites. This awesome landing page template is intended just for displaying your Cyber Monday sales specials, sales promotions, huge discounts, and other similar activities.
This beautiful template is robustly built using Gutenberg and Essential Blocks, making it fully editable and responsive on any device. As a result, with a little tweaking of the style and content, you can also use it for Black Friday.
Don't Miss Out On These Best Black Friday Templates For Gutenberg
The biggest shopping season is just around the corner, and companies are getting ready. Using ready-made Black Friday templates, you can quickly create a customized Black Friday sale page that will help you increase your revenues. This blog is intended for Gutenberg users who want to design a high-converting Black Friday landing page. So, go through this blog and pick the best template that suits you best.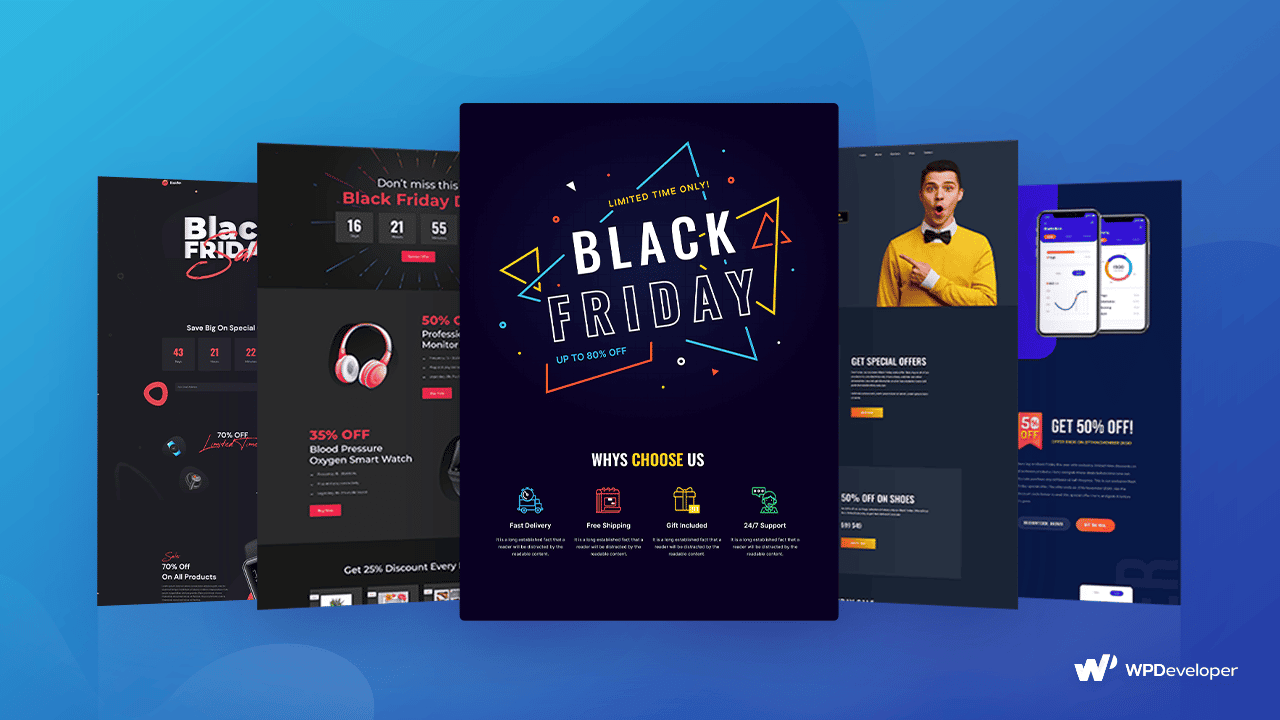 Prepare Your Website & Sales Strategy For The Upcoming Cyber Monday
Preparing your website for Cyber Monday is important if you want to attract new clients, retain existing ones, and increase revenue. Organizing your marketing strategy is difficult, especially during the holiday season, because you must choose the best strategies to attract and connect with clients, among other things.
Subscribe to our blog page for more articles about template tutorials and guides. Join our super-friendly Facebook Community for more exciting updates.